I will have Cuban Ropa Vieja on my tailgate recipe list until 3005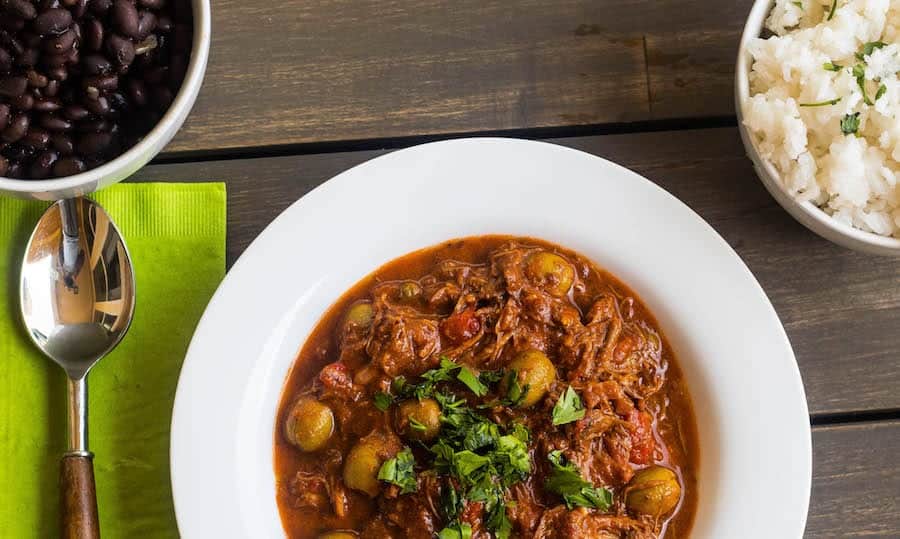 Ropa Vieja is one of the national dishes of Cuba, consisting of stewed beef with vegetables. It's great for a weekend family meal, entertaining, or in this case as a tailgating dish. Ropa vieja is your quintessential slow-cook recipe which makes it a great option for crock-pot if that is your thing. Full confession, I'm not much for crock-pot as a cooking vessel as they tend to fall down with respect to optimizing flavors. However they are great for texture as far as breaking down tough cuts of meat. I use crock-pots more as a "warming" tool for things I've already cooked. Most recipes call for draining the olives and capers before adding to the pot. I prefer to include the juices as the brine actually adds additionally level of flavor. Just be sure not to be too salt heavy as far as adding any extra salt cause the dish will be salty enough.
I cooked this on a Thursday night and let sit in the refrigerator until gameday Saturday morning, dropped it in the crockpot and headed to the stadium. I made Cuban black beans and coconut cilantro rice to accompany the dish. My crew topped a bowl full of the rice and beans with the ropa vieja. A few of us made sandwiches which is my favorite way to enjoy ropa vieja. When i make sandiches i reserve some of the ropa vieja au jus in a small bowl/ramekin as a dip for my sandwich. It's so delicious, and so tailgating!
Great beats, better eats. Enjoy!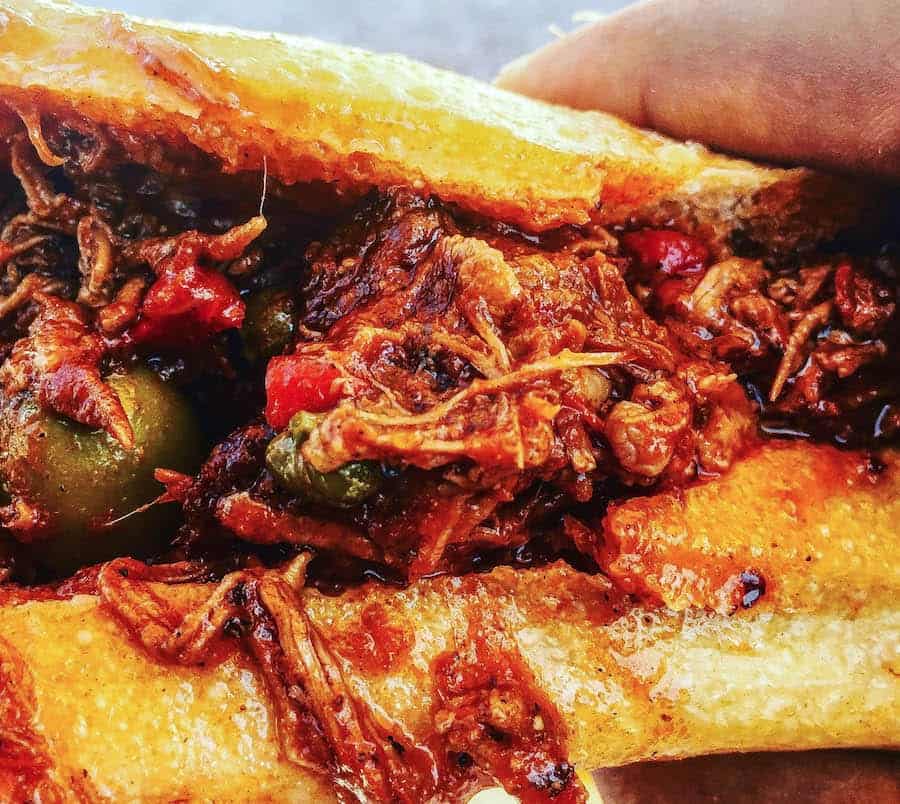 Cuban Ropa Vieja
Dish can be enjoyed as a sandwich or as a stew with black beans and rice.
Print
Ingredients
1 1/2 

pounds 

chuck roast or flank steak

1

tablespoon

olive oil

1 

large yellow onion thinly sliced

1

medium red onion

thinly sliced

1

teaspoon

sugar

2

large red bell peppers

thinly sliced

4 

cloves 

garlic minced

2 

teaspoons 

dried oregano

1

teaspoon

dried thyme

1

teaspoon

dried basil

2 

teaspoons 

ground cumin

1 

tablespoon 

sweet smoked paprika

1/2

teaspoon 

ground allspice

1/2

teaspoon 

ground cloves

2 

teaspoons 

kosher salt

1 

teaspoon 

freshly ground black pepper

1

cup 

dry white wine

1 

cup 

chicken broth chicken broth

1 16 

ounce 

can crushed tomatoes

1 6 

ounce 

can tomato paste

2 

bay leaves

1 

cup 

Green Olives with pimentos and oil/water

1 

cup 

Roasted Red Peppers drained and thinly sliced

2 

tablespoons 

capers rinsed and drained

1/3 

cup 

chopped fresh parsley
Instructions
Pat the beef dry and season with salt and freshly ground black pepper.
Heat a olive oil in a Dutch oven over high heat. Once very hot add the beef and brown generously on all sides. Transfer the beef to a plate. Leave the drippings and any remaining browned bits in the pot. If necessary add some more oil to the pot.

Add the sliced onions to the pot and cook over medium heat for 15-20 minutes until caramelized. About halfway through add the sugar to help with caramelization.

Add the red peppers and sauce for another 2-3 minutes.

Add the garlic and spices and cook for another minute.

Add the white wine and bring it to a rapid boil, deglazing the bottom of the pan with a wooden spoon.
Add the broth, crushed tomatoes, tomato paste and bay leaves. Simmer for 5 minutes.
Return the roast to the pot. Bring to a boil, reduce the heat to low, cover and simmer for 3-4 hours or until the beef is fork tender and falls apart easily. Discard the bay leaves.
Transfer the beef to a plate and shred it.
Stir in the olives and its liquid, roasted red peppers, and capers.

Simmer uncovered to thicken the sauce for 30 minutes. If you have time stop at this step, refrigerate and let sit overnight as the flavors will come together even more.

Stir in the parsley and add salt and pepper to taste.

Optional serve with rustic bread to make a sandwich.