I've always wanted to cook with dragonfruit, but it's not one of those accessible fruits nor is it always top of mind. I am grateful to have it available for this dragonfruit and fig ice cream recipe.  Dragonfruit taste and texturewise I'd describe as a pear kiwi combo.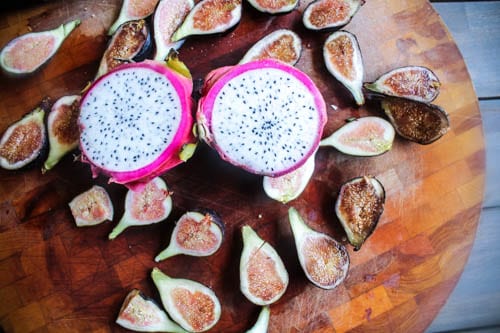 This simple dairy-free dragonfruit and fig ice cream recipe has its origins in my childhood. When I was a kid on Sundays I used to help my grandmother collect the weekly circular coupons. We received the early Saturday edition of the Sunday paper which the Dallas Morning News made available. It was absent of some news aspects, but included the all important circulars. Most importantly it allowed MaDear to get a jump on her grocery planning. Given most of Sunday was devoted to Church and remainder Sunday meal prep, MaDear wanted to plan on Saturday and shop Sunday before the first service. One particular Saturday evening while listening to Albert King sing the blues and gathering coupons we bagged Nabisco coupons; That's how it was in our house – Saturday's Pops controlled the music which meant B.B. or Albert King and MaDear ran Sundays where it was all Mahalia Jackson and Shirley Caesar. Now I had never heard of Fig Newtons, but they appeared in the circular that night with Chips A Hoy chocolate chip cookies which I knew well. Like any youngsta I used my deductive reasoning skills and determined they had to be good if they were included with Chips A Hoy. Needless to say Fig Newtons made it into the grocery basket that weekend and my brother and cousins were all indebted to me for it.
After my first pantry trip which netted me two newtons, my grandfather observed my next haul of an entire row and promptly reminded me that I had better eat every last one. Pops never made threats, only promises. I struggled to eat them all, but I did finish after about an hour and a serious belly ache that shut me down for the rest of the day. The next Saturday, Pops woke me up super early for a trip to the farmers market. There was always this one "specialty" farmer there and on that particular day he was the only farmer we visited. We bought apricots, ugly tomatoes, and these dark, soft and funny looking pieces of fruit. On the way home Pops explained they were figs, specifically Black Mission figs. Since Pops answered to no-one you never knew why he did certain things, but you always understood there was a reason and most often an important for a damn good reason. Now I eventually put two and two together and got the message. The fact that the farmers market figs tasted so much better than the jam in the Fig Newtons helped facilitate the education.
As an adult, around June every year I go on a quest for figs and continue through the second growing season. This year on one of my trips I had the good fortune to also get some dragonfruit. As soon as I saw them, I knew right then and there a new dragonfruit and fig ice cream recipe was in my kids' and my future and also yours. This is a dairy free recipe but very tasty and exotic.
Dope beats, fresh eats. Enjoy this dragonfruit and fig ice cream!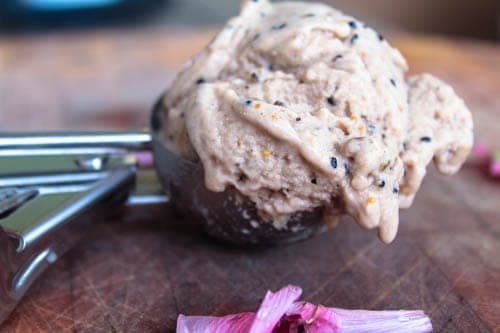 Dairy Free Dragonfruit and Fig Ice Cream
Print
Ingredients
Caramelized Figs
3

tbsp

coconut oil

1/4

cup

water

1/2

cup

brown sugar

1

lb

ripe Black Mission Figs halved

1

lemon

juiced

pinch

sea salt
Ice Cream Base
1 1/2

cups

homemade almond milk

or other non-dairy milk

1

whole vanilla bean

1

tablespoon

honey

1

can organic full fat coconut milk

2

medium dragon fruit

5

dates

pitted
Instructions
Caramelize the figs
Heat the coconut oil over medium heat in a saucepan. Add brown sugar and water, stir to dissolve. Place figs in the saucepan with lemon juice. Cook over medium heat, stirring frequently, until you have a fairly thick, jam-like mixture. This should take about 25-30 minutes, or so. Stir in salt, set aside and let cool completely.
Make the ice cream base
Heat almond milk on low heat. Cut open vanilla bean and scrape seeds into milk. Add honey and stir mixing well. Let simmer for 5 minutes, then set aside and let cool.

Put the coconut milk, dragonfruit, and dates in a blender and puree until smooth. Add the almond milk mixture and puree further.

Using an ice cream machine, pour the ice cream base into the frozen basin and mix according to ice cream machine directions. Add in the fig jam mixture about 10 minutes into the process. Continue to process for around 10 minutes. Pour the semi-frozen mixture into a pyrex dish or glass tupperware. Freeze for at least two hours before serving.