You never know when you will receive blessings, but be thankful when you do. Such is my relationship with this ground beef cabbage skillet recipe.
The first time I had ground beef cabbage skillet was way back when I was a little guy trying to find my way. I was the youngest and by far the smallest kid in the neighborhood. However, because of my non-sympathetic brother no one in the hood viewed me as such. So it was expected that I'd do everything they did because in their mind age wasn't nothing but a number.
So at 5 years old that's how I ended up playing tackle football with a bunch of 8 and 9 year olds. Only it wasn't really a football game, but more like an initiation. The rule was simple – I had to run from my neighbor's driveway across our front lawn to our adjacent driveway. The kicker, I had to run through a gauntlet of goons led by my big brother. Note I was never told I had to get through their defense as it was never communicated to me that any tackling was included. The instructions were only to run from one driveway to the next. Needless to say I was surprised to find a forearm pushing my throat in succeeded by a mass of bodies piling on top of me after I had crumbled to the ground.
This was surely my first ever concussion. As you can imagine I cried, yelled some kindergarten cuss words, and ran for refuge inside to my grandmother. Madear looked at me, but without any acknowledgement of my busted lip, streaming tears, and grassy afro and said "go finish what you started" which I astutely interpreted as "ain't no love for you here lil fella". Madear knew that I had a choice to make that would be crucial in my development as one of the boys in da hood. now she didn't tell me what to do but she framed the choices in a way that I really only had one.
I picked my shame up off the floor and went back aside to face the music. Three more attempts, three more increasingly worse beatdowns. The fourth try was the charm as the legion of goons were intimidated by my determination and ferocity and cleared a path for me. I spiked the ball, got on my big wheel and went for a spin.
Later when I returned home, I was met with an aroma that would make a vegan eat beef. Though still salty with Madear I had to make it to the kitchen where she handed me a plate goodness. It was her version of a ground beef cabbage skillet which in hindsight was likely hamburger helper with cabbage substituted for the noodles. Madear knew how much I loved cabbage; always have and always will. And just like that Madear went back to goddess status in my eyes. I eventually forgave my brother, but I never forgot. I've gotten even on many occasions….
The seasonings in the cabbage and beef always stuck with me. Madear would make versions of this dish over the years but only for me which made it even more special. Keep in mind I grew up in a house with an older brother, three grown uncles and my grandparents, so I was always the low man. Today we eat cabbage in some form regularly, at least once a week. I recently came across a Mexican recipe for ground beef cabbage skillet that resembled my Madear's dish. It was in Diane Kennedy's book The Essential Cuisines of Mexico. This recipe is a combination of her recipe "Carne De Res Con Col" and my memory of Madear's dish.
Dope beats, fresh eats. Enjoy this ground beef cabbage skillet recipe!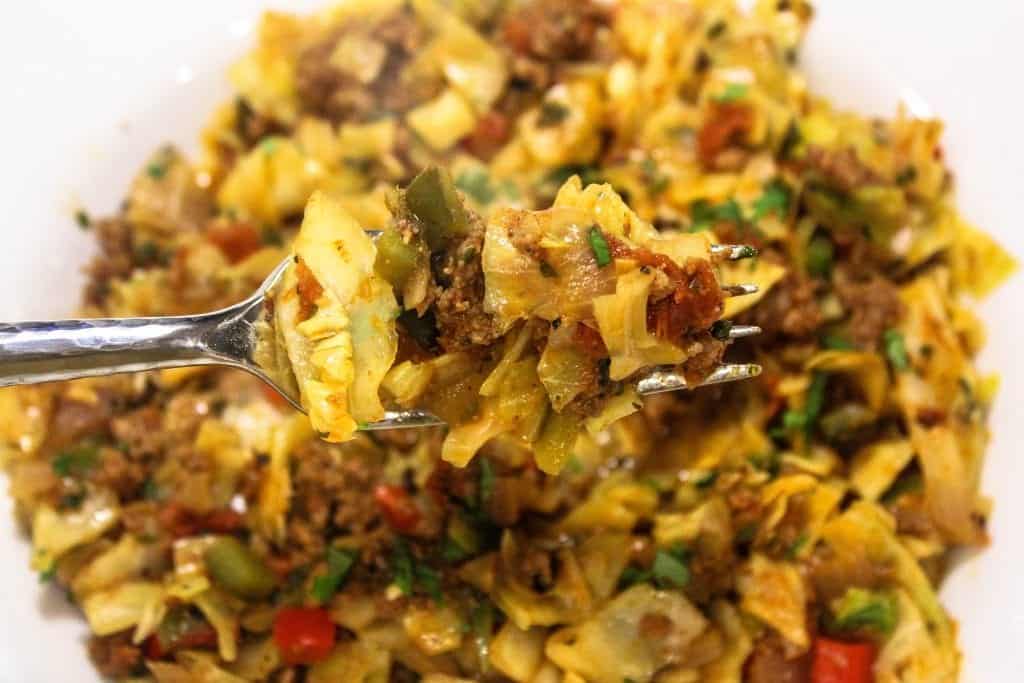 Cabbage with Ground Beef
Print
Ingredients
3

Garlic Cloves

(roughly chopped)

1

pound

lean ground beef

3

tbsp

vegetable oil

1/4

cup

yellow onions

(finally chopped)

2

jalapenos

(de-seeded and finely chopped)

1

medium yellow or red bell pepper

(diced)

1 12

oz

can diced fire roasted tomatoes

1

medium sized cabbage

(finely shredded)

1

cup

water

1

cup

cilantro

(roughly chopped)

2

tbsp

black pepper

2

tbsp

kosher salt

2

tbsp

smoked sweet paprika
Instructions
Let the ground beef reach room temperature.

Crush the garlic and mix well into the ground beef along with half of the salt, pepper, and paprika. For best results let sit for an hour.

Heat oil in a large heavy skillet, add the onions, jalapenos, bell pepper, and some salt. Cook over medium heat for 1-2 minutes. Add the tomatoes and continue cooking until most of the juice has been absorbed about 3-5 minutes.

Stir the meat into the pan and cook over medium high heat, stirring occasionally for 5-7 minutes. Add the cabbage, water, and half the cilantro and continue cooking over medium heat. Season with salt, pepper, and paprika to desired level of seasoning and season time to time as dish cooks for about 15 minutes. Dish should be moist but not juicy.

Serve with remaining cilantro