Once a year, usually close to Fourth of July, I either go to my butcher or partner with a restaurant chef to procure about 20-30 pounds of pork belly. I portion it and use in different ways, one of which is always some homemade bacon. Making bacon is simple. You just need quality pork belly.
A nice curing recipe goes a long way. The pink salt is critical as it keeps the bacteria at bay during the curing process.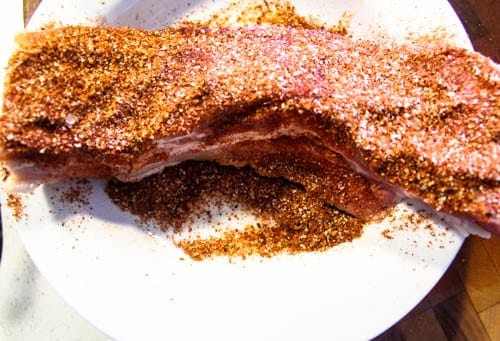 Time is the next critical element as the curing process typically lasts at least 7 full days.
Once cured and ready for the smoker, grab your favorite bottle of whiskey and put John Lee Hooker in rotation as he provides the perfect soundtrack to such an endeavor. If you don't know which album to play, just stream "Whiskey & Wimmen" and let it roll. My favorite track is "Grinder Man".
After about 3 hours on the smoker and about 3 rotations of "Whiskey & Wimmen" she should be ready.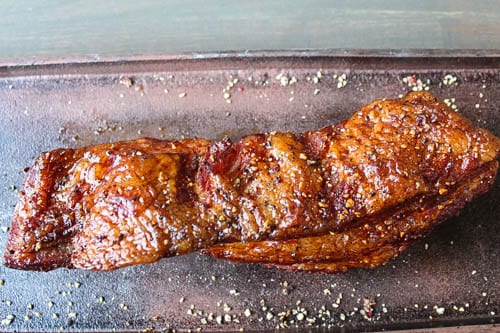 Feel free to slice it up and cook for ready consumption or store for another time. I will make bacon for breakfast or cut off chunks to season soups or greens.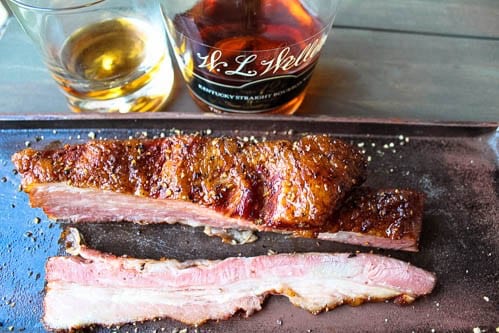 Enjoy!
Ingredients
5

pounds

pork belly

, skin on

1/4

cup

kosher salt

2

teaspoons

pink curing salt

1/4

cup

packed dark brown sugar

2

tablespoons

red pepper flakes

2

tablespoons

smoked sweet paprika

2

tablespoons

black pepper
Instructions
Rinse the pork belly and pat dry. Transfer to a resealable 2-gallon plastic bag.

Make the spice rub by mixing all seasonings together in a bowl. Generously coat the pork belly all over with the mixture.

Close the bag and refrigerate for a week, flipping once or twice a day, until the pork belly feels firm.

Remove the pork belly from the bag, rinse thoroughly and pat dry. Refrigerate the belly uncovered for a day, but preferably two days.

Set up your smoker and set to 180 degrees F. Smoke the pork belly 3 hours using apple wood chunks and lump coals. The bacon is done when it reaches an internal temperature of 150 degrees F.

Slice the belly and cook as desired or store by wrapping the bacon in plastic wrap and refrigerating up to 1 week or freezing up to 2 months.