Got leftover jerk chicken? Make this jerk chicken salad. Note I always buy or make extra jerk chicken to include as part of leftover recipes including this salad.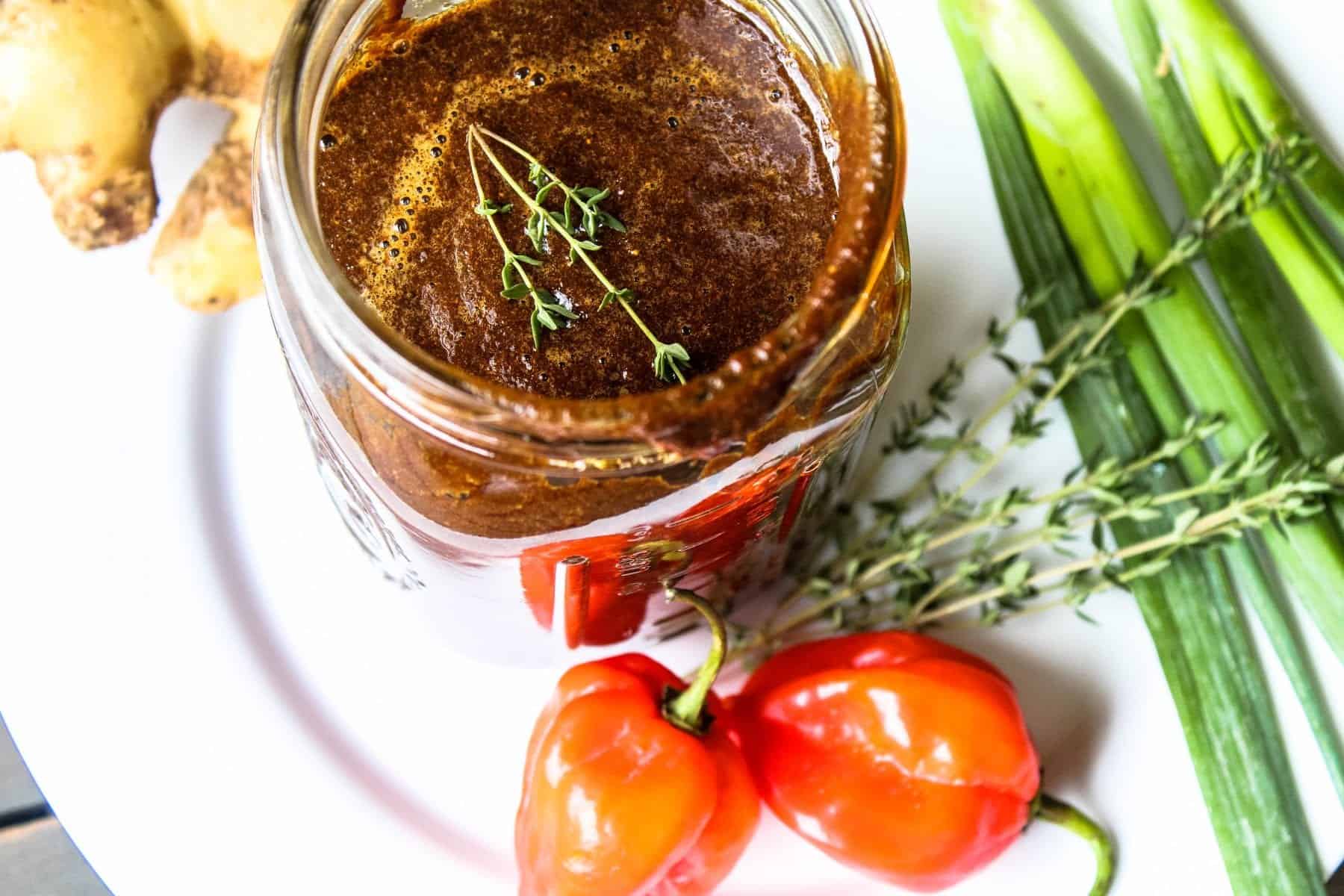 Jerk Chicken deserves its own patent. A few years ago my wife and I along with a few other couples took a trip to Jamaica. We rented a house which came with a great Jamaican cook so we had authentic traditional Jamaican food including ackee, beef patties, and Escoveitch fish.
I had the opportunity to sit down with our cook, Miss Lola, and plan the menu for the entirety of our stay as well as accompanied her to the local market to buy most of the ingredients. In a show of both surprise and appreciation of my respect, knowledge, and genuine interest in her cuisine and cooking she inquired if I were Jamaican. Proud of such a high compliment and now feeling myself, I replied, "no, I just jerk a lot". She completely missed or didn't see the humor in my poor pun attempt on Big Pun's "I'm Not A Player" song. Her eyes said "don't get fresh with me", but with grace she smiled politely and kept it moving.

I had two primary goals in collaborating with Miss Lola; One I wanted to score a connection on callaloo leaves/seeds and two I wanted to learn the secret to real authentic jerk. The latter proved easy as Miss Lola was generous in sharing her tips. It basically comes down to use of pimento wood. When she fired the grill she cooked the chicken haves directly on top of branches of pimento wood which is where allspice berries come from. Pimento wood is native to Jamaica so not readily available in the States. Your options are to Buy Online or use a substitute like hickory or cherry wood. Another effective and easy solution would be to make a foil pouch featuring water soaked allspice berries and bay leaves. You would simply place the berries and bay leaves on a layer of foil and then fold the foil into a pouch. Place the pouch directly on your coals where the pouch will begin to smolder and add that pimento essence to your dish.
I eat jerk chicken often enough to frequently have leftovers on hand to throw in a salad. See earlier Bison Steak Salad post for simple salad recipe to pair with the left over chicken or use the one below which features roasted beets and strawberries.
Dope beats, fresh eats. Enjoy this jerk chicken salad for a simple lunch and break from the weekday monotony.
Jerk Chicken
Print
Ingredients
4

medium sized chicken breasts or thighs

1

medium onion

coarsely chopped

4

medium scallions

green onions chopped

2

Tablespoons

Fresh Thyme

1½

tablespoons

fresh ginger

peeled and chopped

8

Garlic cloves

chopped

1

Tablespoon

ground cinnamon

1

Tablespoon

ground Allspice

½

Tablespoon

freshly grated nutmeg

2

tablespoons

dark brown sugar

2

Tablespoons

Honey

2

Tablespoons

Soy sauce

1-3

Scotch Bonnet Peppers

(adjust to taste)

1

tablespoon

Apple cider vinegar

2

limes

juiced

1

tablespoon

Salt

1

tablespoon

Pepper
Instructions
Add all ingredients except chicken to blender and mix for about 10 seconds.




Slather paste/marinade all over chicken and refrigerate overnight. Bring to room temperature before cooking and lightly sprinkle with more salt and ground allspice.

Prepare a charcoal grill: Clean and oil grates then heat grill. If have wood chips available add to fire.

When charcoal turns grayish white sear chicken in batches on the oiled rack over coals until well browned on all sides, about 3 minutes per batch. Move chicken as seared to side of grill with no coals underneath, then cook, covered with lid, until cooked through, 25 to 30 minutes more.


Let chicken rest 10 minutes before cutting and serving
Recipe Notes
Heat level can be adjusted by number of scotch bonnet peppers and/or removal of veins and seeds. Be sure to wear latex gloves when working with the peppers.
Jerk Chicken Salad with Roasted Beets and Strawberries
Print
Ingredients
1

jerk chicken breast

chopped

4

cups

bagged baby spinach

2

medium golden beets

peeled

1/4

cup

strawberries

halved

1

medium avocado

1

tbsp

goat cheese crumbles

1

medium lime

juiced

1

tbsp

olive oil

1

tsp

kosher salt

1

tsp

black pepper
Instructions
Peel and chop golden beets into cubes. Toss with vegetable oil and put on a baking sheet in a single layer. Add salt and pepper to taste. Roast at 400 degrees F for about 25 minutes, or until beets are soft. Set aside and let cool

Mix lime juice, olive oil, salt and pepper well to make the vinaigrette

Toss the spinach, strawberries, and beets with the vinaigrette. Add the chicken, avocado, and goat cheese crumbles and serve
Recipe Notes
This is a versatile salad that can be eaten as a side salad w/o the chicken or any protein can be substituted in place of the chicken for another main dish option.