Vegan Miso Soup
Miso soup with collard greens! Warm, comforting, healthy, and on the table in 15 minutes. Even better, it makes for an interesting Japanese and soul food fusion dish. It's superfast and requires very little chopping yet nets a delicious savory masterpiece.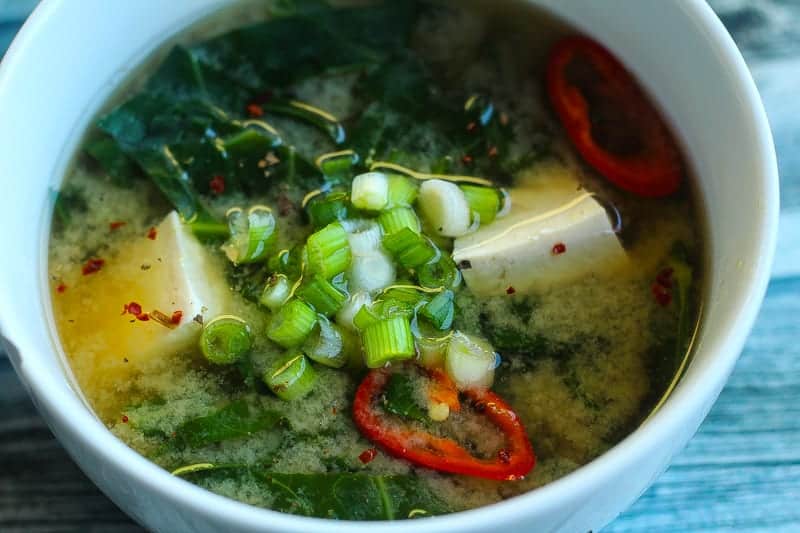 Every Sunday, at my local farmers market I load up different types of greens whether its kale, chard or in this case collard greens which I'm very partial to. I tend to buy the best selections on hand and by plenty of it. I figure I will always be able to create enough greens recipes so as not to waste any food. Plus it's always fun to have the added challenge of having to be creative.
On a rare cool Fall evening in Austin, I decided to make miso soup with collard greens as a twist. Typically I use seaweed but given its rarity and resulting price tag, I don't always have on hand. I suspect I'm not alone and that nobody keeps seaweed or nori paper stocked in their kitchen. Clearly from a taste and texture perfection, there is no comparison between collard greens and seaweed, however, the collard greens make for a great substitute when you want a twist as well as a less salty option.
After making the call to include collard greens, all that was left to decide was what color and flavor profile did I want to target for this miso soup recipe. You're probably thinking nobody keeps miso paste, let alone multiple varieties on hand. I am the unicorn on this one. Since we eat a lot of vegan dishes in our house I keep a lot of different fermented products on hand because they are a great way to add flavor to vegan dishes. There are different types of miso distinguished by the type of grain used to ferment the base soybeans as well as fermentation time. I typically keep yellow and red miso on hand. Both are good in miso soups, but yellow has a mild, earthy flavor vs. the deep umami flavor of red miso. The miso soup pictured below was made with red miso hence the darker color.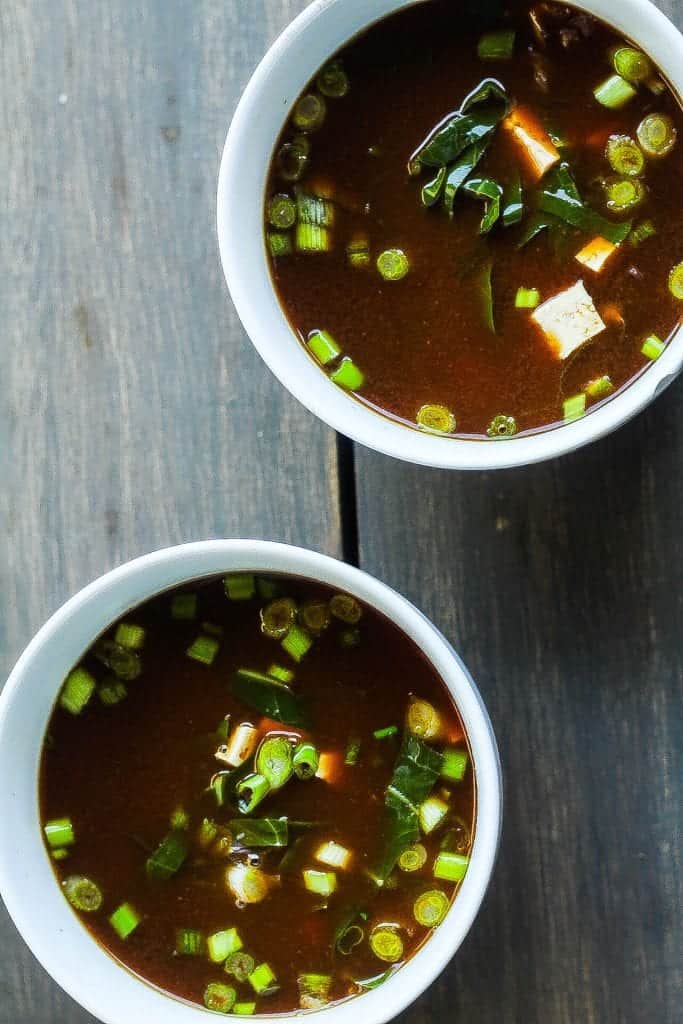 Fermented foods such as miso also have many health benefits including both gut and heart health. The gut health benefit is interesting and key as many recent studies highlight the link between gut health and improved mental health.
Miso has anti-aging properties and helps to maintain healthy skin. It also boosts the immune system, lowers the risk cancer, improves bone health and promotes a healthy nervous system. A study published in Psychiatry Research has found that people who eat more fermented foods, including miso, had fewer social anxiety symptoms.
Dope beats, fresh eats. Add collards to your future miso soup recipes!
Miso Soup with Collard Greens
Print
Ingredients
4

cups

water

1/2

cup

chopped collard greens cut into thin strips

1/4

cup

chopped green onion

1/4

cup

firm tofu

cubed

3-4

Tbsp

white miso paste

1

clove

garlic

1

teaspoon

grated ginger

1

red fresh chile (jalapeno or Thai

sliced
Instructions
In a large pot bring 2 cups of water to a boil, then add collard greens, garlic, and white part of scallions. Reduce heat to medium-low, stir and cover.  Allow the greens to cook until tender, about 8-10 minutes.

Add tofu, chili pepper, grated ginger, and three more cups of water.

Place 3 Tbsp of miso into a small bowl, add a little hot water and whisk until smooth. Then add to the soup and stir.

Add the miso water to the pot, and turn heat down as low as possible.

Serve hot, topped with scallions and red chile
Recipe Notes
Can be made with light or dark miso paste depending on your preference