Roasted Sunchoke Soup Recipe
Roasted Sunchoke Soup combines two unlikely root vegetables (sunchokes and celery root) for a creamy, delicious make-ahead soup. Ugly delicious would be an apt description for both.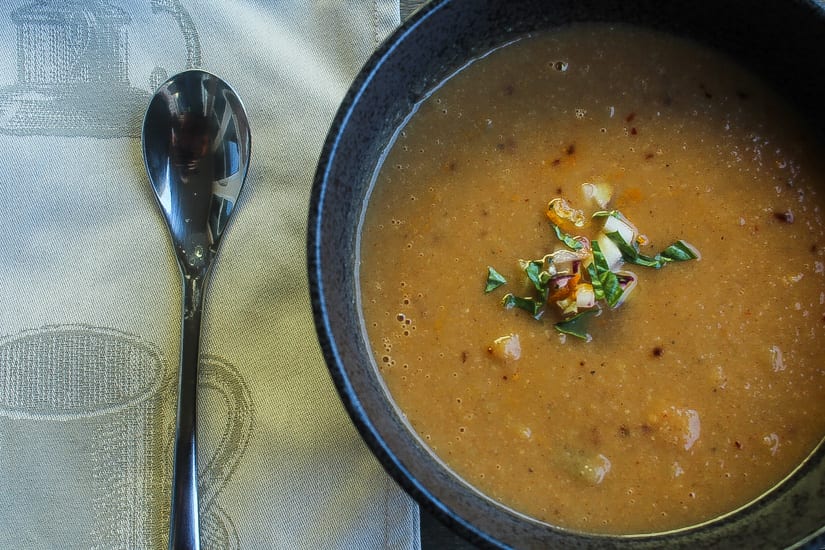 I've enjoyed sunchokes aka Jerusalem artichokes for much of the late fall through winter. I'm a big fan of roasting them. Texturally they're similar to a starchy potato but have a smoke like essence to them when roasted. I've observed celery root many times at my farmer's market but have always taken a pass. Celery ain't a flavor I'm particularly fond of unless its pickled or part of a stalk. Also working against it is its downright dirty and gnarly looks. I was curious though about what one does with such an ugly vegetable. I asked the farmer/vendor for insights and she shared that the root was actually more mellow in flavor profile vs. celery and thus more versatile and useful as an ingredient. She gifted me one with a request that I pay it forward with a "kickass" celery root recipe.
I'm not sure if this Roasted Sunchoke soup qualifies as kickass, but it's damn good! Roasting the vegetables first really concentrates the flavors. I kept the spices simple with salt, black pepper, and smoked sweet paprika. The paprika helps add some depth to the soup along with the homemade vegetable stock.
The sunchoke when pureed adds similar creaminess as a potato would. I used an immersion blender like this one by Cuisinart to puree the soup. I preferred it vs. a blender for two reasons; one – Immersion blenders allow you to blend all the ingredients in one pot thus saving on cleanup hassle. Two – I wanted a thicker more textured soup with a few mini chunks of the vegetables.
Key tips for Roasted Sunchoke Soup
For a thinner, smoother soup use a traditional blender instead of the immersion blender. Alternatively, add more stock.

Make the soup 2-3 days ahead to let the flavors combine together more resulting in even more complexity

Commercial vegetable stocks work fine but make your own as you can control the salt content and just create more flavor.
Dope beats, fresh eats. Enjoy this Roasted Sunchoke Soup with Celery Root as you close out the winter and getting ready to bring in the Spring.
For other Jerusalem artichoke recipes try these Pan Roasted Sunchokes (aka Jerusalem Artichokes). 
Keep up with my food exploits as well as original recipes! You can find me on Instagram, Facebook, Twitter, and Pinterest.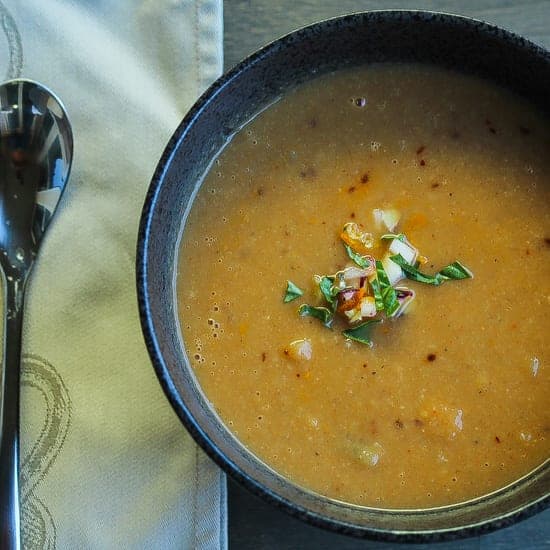 Sunchoke Soup with Celery Root
Sunchoke soup made with roasted root vegetables including celery root and then pureed into thick and creamy goodness.
Print
Ingredients
1/4

cup

olive oil

1

medium celery root

peeled and cut into 1 inch chunks

1

large white onion

diced

3

cloves

of garlic

diced

4-6

sunchokes

also known as Jerusalem Artichokes, scrubbed and chopped into 1 inch chunks

6

cups

of vegetable broth

store bought or homemade

1

teaspoon

dried thyme

omit if using homemade broth made with fresh herbs

1/2

tablespoon

Paprika

1

teaspoon

kosher salt

1

teaspoon

black pepper
Instructions
Preheat the oven to 450 degrees.

Toss together the sunchokes, celery root, onion, garlic, oil, and spices in a roasting pan, making sure the vegetables are evenly coated. Roast until they are very soft, 35 to 40 minutes.

Scrape the remaining contents of the roasting pan into a medium saucepan set over medium-high heat. Add the roasted garlic cloves and broth. Bring to a boil, then reduce the heat so the mixture is barely bubbling around the edges.

Add dried thyme and season further with spices. Cover and cook for just a few minutes, stirring, so the flavors can meld.

Use an immersion blender to create a thick, textured soup.
Recipe Notes
For a thinner, smoother soup use a traditional blender instead of the immersion blender.

Make the soup 2-3 days ahead to let the flavors combine together more resulting in even more complexity

Commercial vegetable stocks work fine, but make your own as you can control the salt content and just create more flavor.

Reserve some of the roasted vegetables for garnishes