This raw romanesco broccoli and cauliflower salad is really simple but utilizes some odd ingredients. It's colorful, crunchy, and quite flavorful.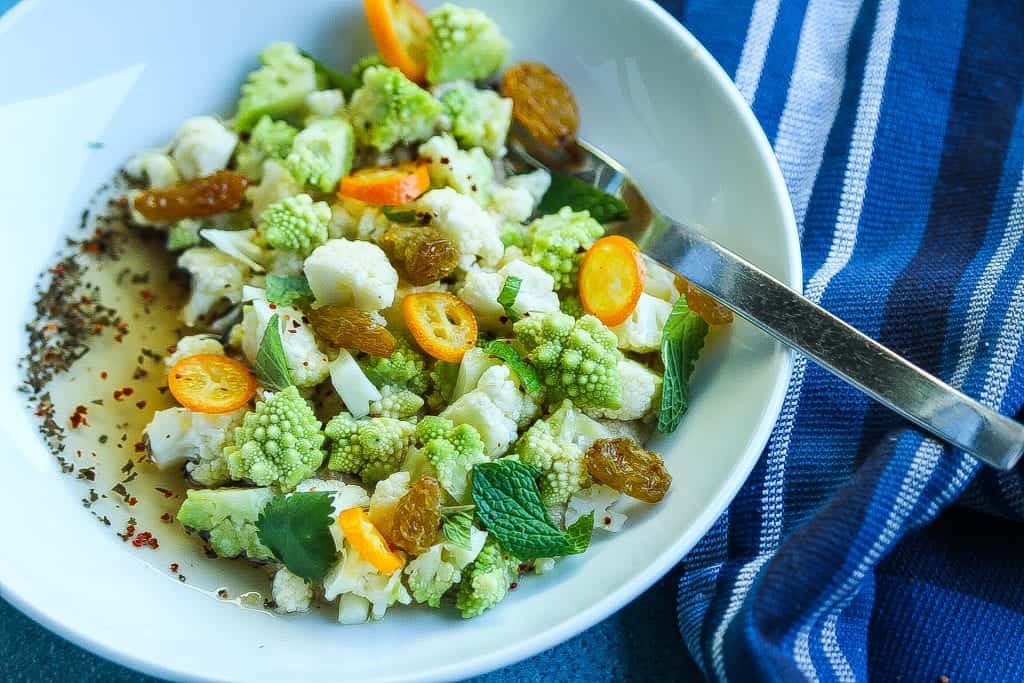 Lately I've been experimenting with recipes centered around cruciferous vegetables. From smoked cabbage to roasted brussel sprouts. This romanesco broccoli and cauliflower salad is a continuation of this. One of the farmers at our local farmers market routinely has romanesco broccoli well into the winter months; it's Texas so with the mild winters you can typcially grow Fall vegetables well into February.
Romanesco looks like something a mad agricultural scientist high on acid cooked up in a lab. I bought these weird, funky vegetables based strictly on appearance with no idea of how I'd cook them. The bright green mathematical patterned vegetable is eye catching and arresting. If you see it, you gotta cop it just on looks. Besides it's cool look you can impress your old math teacher or any of your nerd friends by explaining your prized vegetable contains "fractals." For those of you not in the know fractals mean each bud on the flower is composed of a series of smaller buds.
The idea of this recipe partially comes from a broccoli and pine nut dishI saw by Jeremy Fox. I decided to make a raw salad with the romanesco. This is where things get interesting. I had previously used jarred roasted red peppers to make my red pepper sauce recipe. I had the reserved juices used to marinate and preserve the peppers, and rather than waste them, I decided to use as a vinaigrette. When you roast red papers to a char, they release their juices or cry "pepper tears". These tears stream down into the juices, resulting in a vinegary brine hinted with smokey red pepper flavors. I used this as the vinaigrette base and doctored it with dried basil, olive oil, and aleppo pepper.
If you're considering making this recipe don't fret if romanesco is not available. Though it has that funky look, it has the same texture and similar taste as regular broccoli. To round out the salad I added fresh mint and parsley as well as golden raisins. The herbs helps lighten the dish as well as contrast that raw vegetable taste. For fun I added some citrus in the form kumquats becuse why not? If I'm using a frankensteined broccoli, red pepper juice, then kumquats seem like a natural addition. Ordinarily I would have just added citrus to the vinaigrette, but since I had these rare micro mini oranges on hand I just added slices since their skin is edible and I needed the color to make the dish pop visually.
Raw Romanesco Broccoli and Cauliflower Salad Key tips
Cut the cauliflower and romanesco broccoli into small pieces
For a main dish option serve the salad atop hummus or a nut based puree to get added protein
Kohlrabi and brussel sprouts also work well in this recipe
Dope beats, fresh eats. Enjoy this raw romanesco broccoli and cauliflower salad!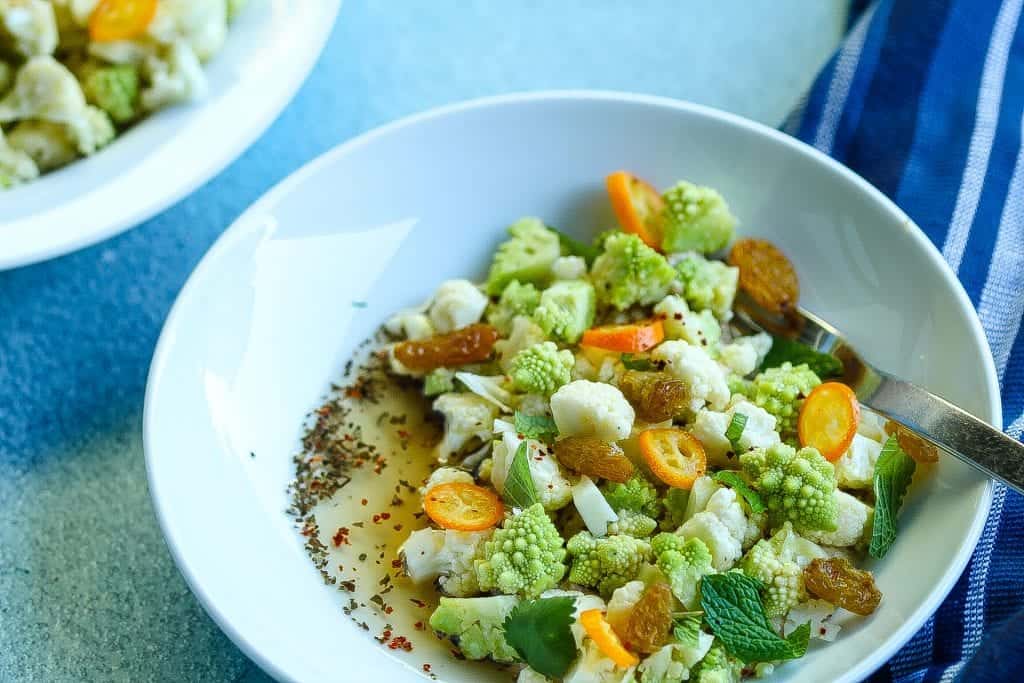 Raw Romanesco Broccoli and Cauliflower Salad
Recipe for Romanesco broccoli and cauliflower salad featuring fresh herbs, golden raisins and citrus tossed in a smokey roasted red pepper hinted vinaigrette.
Print
Ingredients
Salad Ingredients
1

cup

cauliflower florets

chopped small

1

cup

Romanesco broccoli florets

2

tablespoons

golden raisins

2

mint leaves

chopped

1/2

tablespoon

fresh parsley

chopped

2

kumquats

optional
Vinaigrette Ingredients
1/4

cup

roasted red pepper brine

2

tablespoons

olive oil

1

teaspoon

kosher salt

1

teaspoon

black pepper

1/2

teaspoon

Aleppo pepper

optional
Instructions
Mix vinaigrette ingredients in a bowl.

Assemble the salad ingredients. Add vinaigrette and mix well.

Add salt and pepper to taste.
(Visited 60 times, 1 visits today)