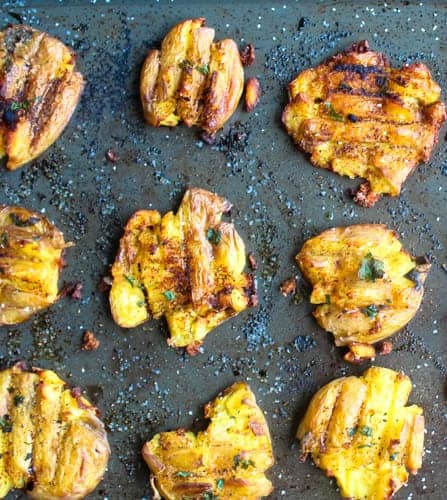 Outside of French fries this delicious crispy smashed potatoes recipe represents my favorite way to eat potatoes. They are well seasoned and texturally fit the bill of a light crunchy exterior with a soft and moist interior. The fact that their roasted in the oven vs. fried is an added bonus.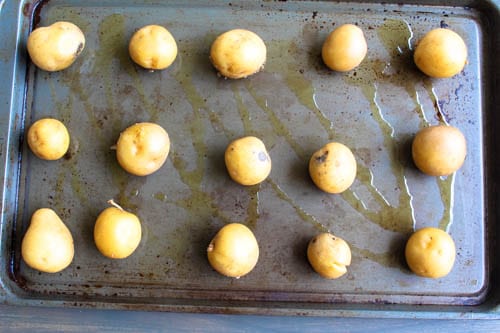 These are fun and easy to make with the kids because of the smash factor. My son has been a willing demolition expert since day one, and I have to say – though I can't use the full force of my man strength given the damage it would cause, it's definitely one of those recipes that's somewhat cathartic. It's also versatile as you could easily make this recipe with either sweet potatoes or new potatoes as well as your choice of fresh herbs and spices.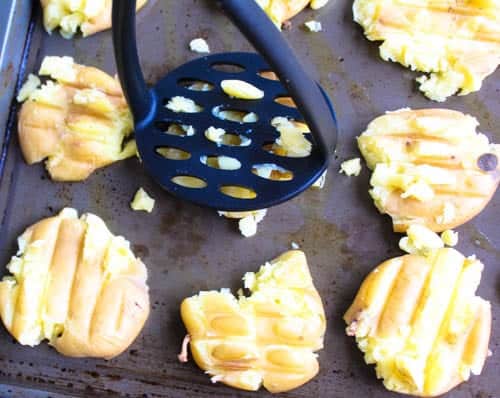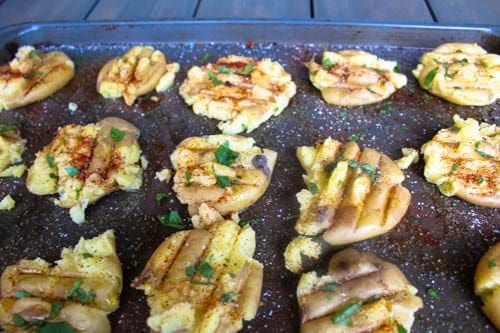 Though a quick and simple recipe, between the high temperatures and smashing these smashed potatoes require a balance of aggression and technique. You can't go John Belushi's Samurai Chef style and swing freely and wildly; this recipe calls more for your inner Teddy Pendergrass – confident and assertive but tender. These potatoes are a sure hit, and the more you eat, the more you will want so be forewarned.
Great beats, better eats. Enjoy these crispy smashed potatoes!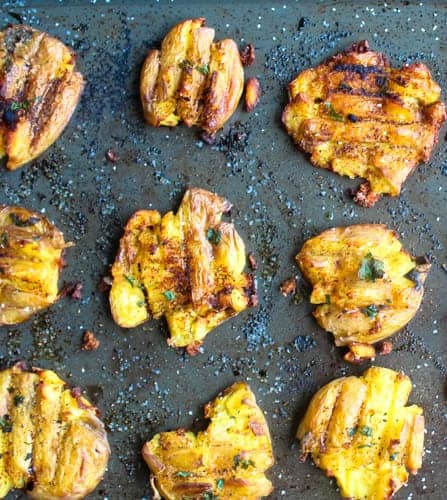 Ingredients
12

Small Round Potatoes

3

Tablespoons

Olive Oil

1

tablespoon

Kosher Salt

1/2

tablespoon

Black Pepper

1/2

tablespoon

smoked sweet paprika

2

tablespoons

Herb Medley (parsley, basil, thyme)

chopped finely
Instructions
Heat oven to 425 degrees.

Bring a pot of salted water to a boil. Add in potatoes and cook them until they are fork-tender. Drain in colander, let cool for 5 minutes and transfer to sheet/baking pan

On a sheet pan, generously drizzle olive oil or cooking spray to prevent potatoes from sticking when roasting. Place tender potatoes on the cookie sheet leaving plenty of room between each potato.

With a potato masher, hand, or flat end of meat tenderizer, gently press down each potato until it slightly mashes, rotate the potato masher 90 degrees and mash again. Brush the tops of each crushed potato generously with more olive oil. Sprinkle each with spices and herbs

Roast, turning halfway through baking time, until golden and crisp, about 25 minutes. Season again as needed
Recipe Notes
Choose the herbs of your preference.
Works also for new potatoes and sweet potatoes
SaveSave
SaveSave