I was gifted Joshua McFadden's cookbook Six Seasons of Vegetables recently and his Turnip Salad recipe immediately caught my attention. From the page it screamed vibrant colors, fresh ingredients and bright flavors.
I knew from the giddy-up I had to make this one.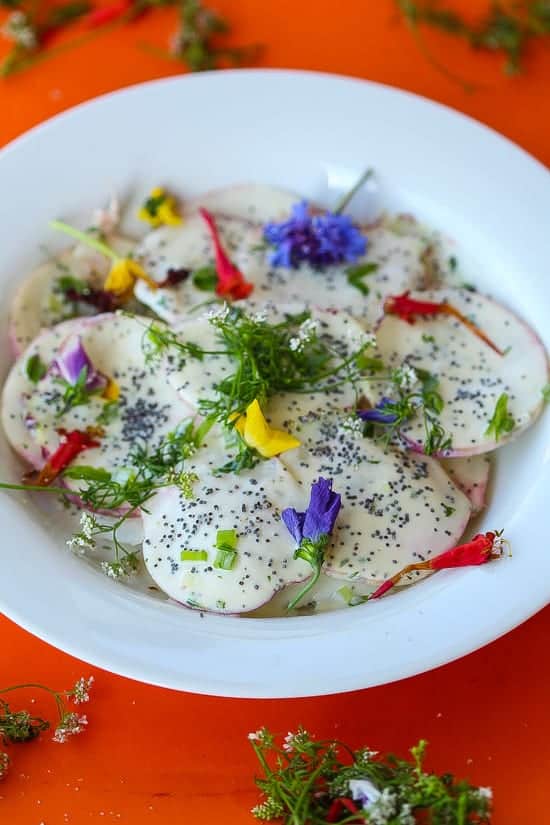 Musical Inspiration for Turnip Salad
Bernard Wright's "Haboglabotribin" is funky AF, fresh, hip, and cool with some heat. This turnip salad embodies all these things in addition to being highly colorful. If you're not familiar with Bernard Wright, you've definitely heard his influence in hip hop as well as his performance on many funk/jazz fusion and R&B songs from back in the day.
Turnip Salad Flavor Profile
The recipe calls for Japanese turnips which tend to be sweeter than traditional ones, however, I didn't have any available to me as I struck out at both my local farmers market and grocery store. No sweat, so I opted for traditional turnips and judging by the empty plate left behind, they worked just fine for my family.
There is a lot to love about this turnip salad. It's centered on one ingredient and the few other recipe ingredients really just play a supporting role to the star. Typically a turnip salad or any other root vegetable salad is overly dressed up in such a way that the dish is really a dressing with the vegetable in a carrier role; in other ways it's just raw broccoli used as a tool for you to enjoy that ranch or blue cheese dressing. There is also a surprise factor that works well. The turnips are completely raw yet entirely enjoyable. That peppery and earthy turnip flavor remains in tact and is supported and balanced with the yogurt sweetness and herbal essence. The heavy dose of poppy seeds adds a cool crunchiness and floral quality along with the edible flowers.

Turnip Salad Health Benefits
Though the root is most widely used, its top fresh greens are much more nutritious, being several times richer in vitamins, minerals and antioxidants.

Turnips contain only a 1/3 of the calories as potatoes

Cancer Prevention: contain high levels of antioxidants which reduce the risk of cancer

Cardiovascular Health: possess great anti-inflammatory properties due to the presence of large amount of vitamin K. These help in preventing heart attacks, heart strokes and other heart ailments

Brightens Your Skin: The high content of vitamins A and C helps in maintaining healthy and radiant skin
Turnip Salad Meal Planning/Cooking Tips
Use smaller turnips absent of any type of colored rings. Fully matured larger turnips tend to be somewhat bland and possibly tough in texture.

Use a mandolin to slice the turnips for speed, ease, and uniformity of slices

Crème fraîche or sour cream are good substitutes for the yogurt

Other vegetables like radishes and rutabagas work well in place of turnips. Slightly different taste profile but equally complimented and enhanced by the dressing

Make sure you drain the turnips well and serve the dish immediately, otherwise, things may get a bit soggy.

It's advantageous from a health, food waste and presentation standpoint to use the greens but make sure they are fresh and healthy

Don't fuss about ingredient quantities and measurements. Play around with it until you get your desired flavor profile
Dope beats, fresh eats, and best life. Enjoy this bright and colorful turnip salad with yogurt and poppy seeds!
For other simple salad recipes try this Shaved Root Vegetables Salad or Cucumber Salad. 
Keep up with my food exploits as well as original recipes! You can find me on Instagram, Facebook, Twitter, and Pinterest.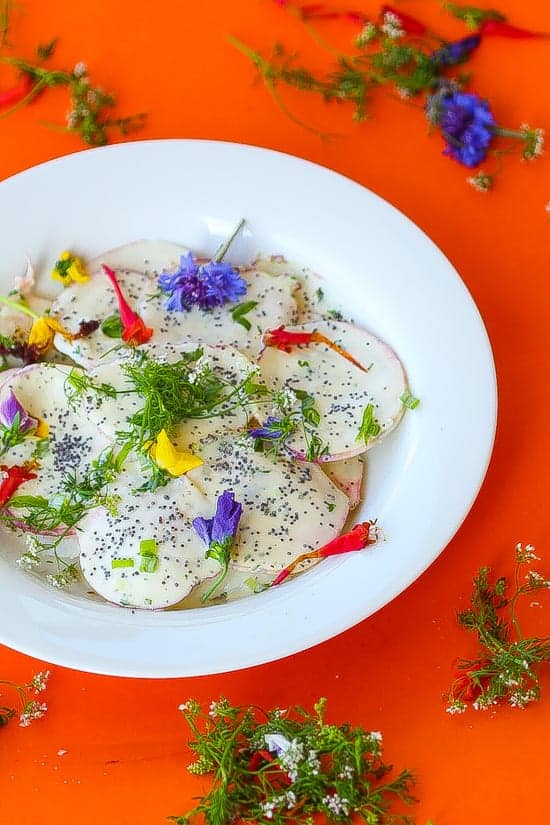 Turnip Salad with Yogurt and Poppy Seeds Dressing
Vibrant and colorful spring recipe for turnip salad. The raw turnips provide an earthy and peppery flavor balanced with the sweetness of the yogurt, poppy seed nuttiness, and fresh herbalness.
Print
Ingredients
1

bunch of Japanese turnips (or small traditional)

with their tops if fresh, trimmed so there's just a nice 1/4 inch of green stems left

1

lemon

halved

1/2

teaspoon

dried red chili flakes (optional)

1

tsp

kosher salt

1

tsp

fresh ground black pepper

1/2

cup

plain yogurt

not greek yogurt

1

cup

lightly packed mixed herbs

mint, parsley, basil, finely chopped

1/4

cup

extra virgin olive oil

1/4

cup

poppy seeds
Instructions
Slice the turnips lengthwise as thin as you can. If you have a mandolin, use it; otherwise a sharp knife and steady hand will do just fine. Soak the sliced turnips in ice water for 15 minutes then drain them very well.

(optional) Rinse, dry and roughly chop the turnip greens. If the greens seem like their old or not in the best shape you can quickly saute them in olive oil.

Put the turnips in a large bowl and squeeze half of the lemon. Add the chili flakes, salt, and black pepper and toss to blend. Add the yogurt and toss again. Add the herbs and 1/4 cup olive oil and toss again. Taste and adjust seasonings as needed.

Scatter about half of the poppy seeds on the bottom of the platter or individual serving plates, top with the turnip salad, and finish the the rest of the poppy seeds. Serve right away.
Recipe Notes
Make sure to serve this dish right away to avoid soggy turnips
Nutrition Facts
Turnip Salad with Yogurt and Poppy Seeds Dressing
Amount Per Serving (0 g)
Calories 0
% Daily Value*
Total Fat 0g 0%
Cholesterol 0mg 0%
Sodium 0mg 0%
Potassium 0mg 0%
Total Carbohydrates 0g 0%
Protein 0g 0%
* Percent Daily Values are based on a 2000 calorie diet.