Butter beans or Lima beans as they're known in certain parts are one of the worlds healthiest foods. They are a staple crop in Africa and Peru (particularly in the city of Lima after which they're named. When cooked properly, they are smooth and delicious, yet they have a reputation worse than Brussell sprouts.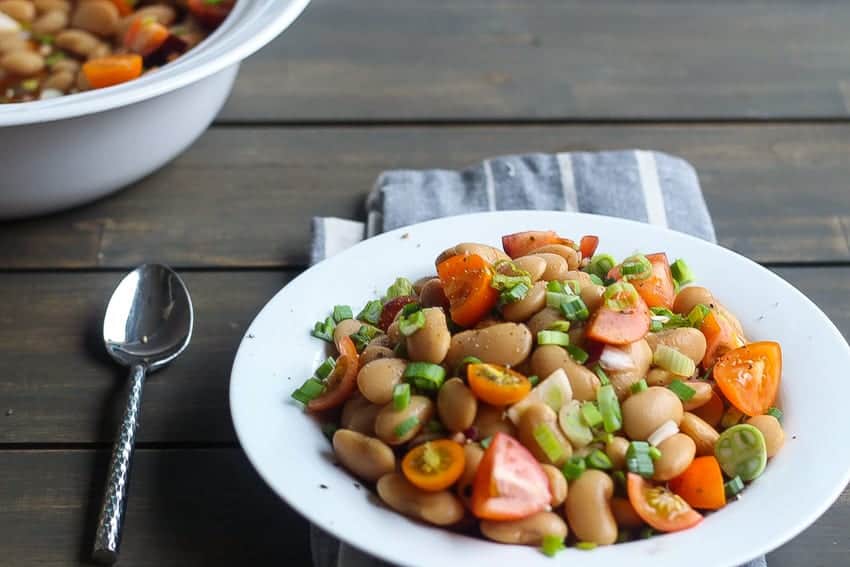 As a kid, especially during the Fall, we ate butter beans regularly. More often or not they were cooked with smokey bacon or ham. Ms. Washington's BBQ Restaurant in my neighborhood always made their butter beans with smoked neck bones. I was as fond of Ms. Washington's version as I was my MaDear's. Most versions I've had throughout the South have been made similarly. Likewise, most Southern butter bean recipes call for dried butter beans that are cooked long and slow netting rich and creamy beans.
Following my late grandfather's message to make my own way, versus following the herd, for my butter beans recipe I switched things up and made it a vegan dish. I wanted to take full advantage of the bean's health benefits as well as highlight the natural flavors of the main and complementary ingredients. Beans generally do a great job of taking on the flavors of any aromatics and other ingredients they're cooked with and butter beans are no different. Importantly I did replicate the traditional smokiness by substituting dried smoked chiles instead of the smoked meat. Feel free to use a store-bought stock, but if you have the time make your own similar to the one I used in this
red beans recipe
. I used several farmers market vegetables (ears of corn, carrots, celery and onions) for my homemade stock to get that farm to table fresh taste. The resultant broth is smokey, fresh, and herbal adding to a complex delightful taste when combined with the flavors given off by the beans.
Lima beans are very low in fat and contain no cholesterol making them invaluable in a heart-healthy diet. Also, a serving of them contains about 4 percent of the recommended daily value for protein making them ideal for vegans/vegetarians. A full detailed view of all the health benefits of lima beans can be found here.
Dope beats, fresh eats. Enjoy these tasty and nutritious butter beans.
Vegan Butter Beans Recipe
Print
Ingredients
For Beans
1 ½  

pound 

dried lima "butter" beans

1 

tablespoon 

olive oil

6  

garlic cloves minced

2  

medium onions finely diced

1  

large rib celery finely diced

2 

tablespoons 

smoked sweet paprika

1 

tablespoon 

black pepper

⅛  

teaspoon 

cayenne pepper

1  

tablespoon 

salt

2  

bay leaves

2  

teaspoons 

dried herbs mix oregano

thyme, and basil

Green onions

Cherry tomatoes

halved
Vegetable Stock
1 

large onion quartered

4 

carrots peeled and cut in 1/2

4 

ribs celery cut in 1/2

1 

ear of corn cut into quarters

5 

sprigs fresh thyme

5 

sprigs fresh parsley with stems

2 

bay leaves

8 to 10

peppercorns

2 

whole cloves garlic peeled

1 

gallon 

cold water

2 

dried morita or chipotle chiles
Instructions
For Beans
In a large bowl, cover beans in water and soak for at least 4 hours or overnight. (Water should cover beans by at least an inch.)

In a large pot heat the canola oil over medium-high heat. Saute the onion, celery, and garlic until tender.

Add the paprika, cayenne, herbs, salt and pepper. Saute for about 5 minutes then add the red beans, vegetable stock and bay leaves.

Let simmer uncovered on low for 1 1/2 to 2 hours. Stirring occasionally and adding water, if necessary.
Vegetable Stock Instructions
Put water in large stockpot. Place vegetables, herbs and spices in a steamer basket directly in the water filled stockpot. Cook on high heat until you begin to see bubbles break through the surface of the liquid. Turn heat down to medium low so that stock maintains low, gentle simmer.

Add chiles and let simmer in the pot for 20-30 minutes. Check frequently to make sure chiles don't breakdown and release seeds into the stock. Remove peppers and discard them.

Simmer uncovered for 1-2 hours. Add hot water as needed to keep vegetables submerged. Strain stock through a fine mesh strainer into another large stockpot or heatproof container discarding the solids. Cool immediately and place in refrigerator overnight