These Brazilian style 'Frango a passarinho' fried chicken wings are quite a revelation. Though small, they got some serious depths of flavor to go along with that stout crispiness.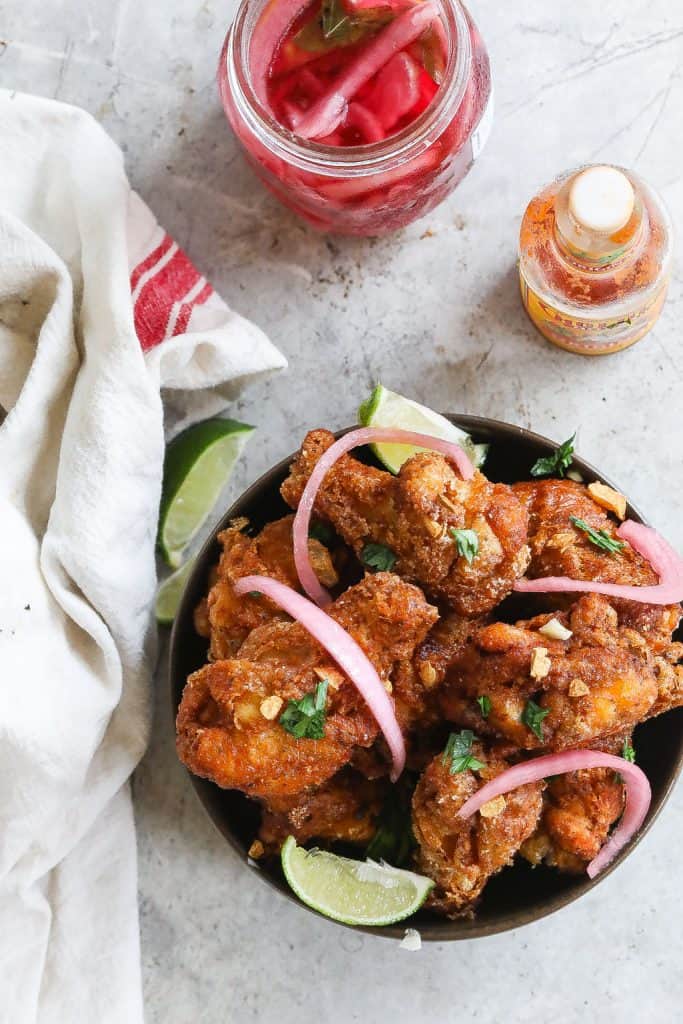 Brazilian Fried Chicken Wings Inspiration
I experiment with a lot of different fried chicken recipes. I vary everything from the marinade/brine used to the types of breading/coating. Buttermilk, pickle juice, and brewed tea have all played the brine roll, but after making ceviche a few times recently, I was curious if citrus, especially lime juice would make a good brine for fried chicken.
After a few google searches on lime marinated chicken I came across recipes for cilantro lime grilled chicken and frango a passarinho. I figured the former had been done a million times, so set out to see why all the rage with Brazilian fried chicken.
What is frango a passarinho?
Frango a passarinho means 'little birdie chicken.' These are basically fried small chicken bites that are served in tapas bars throughout Brazil. Brazilians take a chicken and cut into very small bite size pieces, then marinate in lime juice before frying to a crunchy, delicious crisp.
The best part is the finishing touch which involves topping the fried bites with garlic infused oil and the fried bits of garlic. The lime juice is everything! It adds a level of freshness and tanginess to the chicken.
Making Brazilian fried chicken wings
Making frango a passarinho is a rather simple endeavor. However it does require some consideration to maximize flavor as well as execute a crunchy exterior to a moist juicy interior. The marinade is critical to the flavor base, choosing the right breading drives the crunch factor and the garlic oil makes for a nice topping for even more flavor and over the topness.
Lime Marinade Ingredients
Lime juice
Garlic cloves
Salt
Pepper
Vodka
What does vodka add?
I like my fried chicken loud AF. I'm talking crunching like its nobody's business. Vodka is the secret ingredient that helps get you to super crunchy. Tequila works just as well, but essentially alcohol evaporates quickly and violently in frying oil which leads to a great crust.
How Long Should I Marinate the Chicken?
You can marinate the chicken overnight, but around 6 hours is long enough to get the flavor and tenderizing impact you're looking for. The big thing is you don't want to marinate so long that the chicken breaks down too much and becomes mushy. There should be some "whitening" of the chicken as the acidic lime juice cures the meat similar to how ceviche is made.
What is the best coating for chicken wings?
Most recipes call for all-purpose flour or even corn meal. My preference is to use a starch instead. Corn starch is probably more readily available, but potato or arrowroot are great starches as well. Starches are great for two reasons. When they make for a light, but crunchy exterior and two you can make these gluten-free fried chicken wings.
Don't fret, gluten-free doesn't mean taste bad when it comes to fried chicken. The absence of gluten actually is what provides that crunch. For my money, the best chicken wings are starch only. If using corn starch, be mindful of the ingredients, as not all corn starches are gluten-free.
What type of oil should I use for frying?
I prefer peanut oil. It provides a clean taste and achieves that nice golden color fairly easily. Plus you can get a few reuses out of it. Canola or vegetable oil are all solid picks as well. After you've finished frying the chicken let it drain on a wire rack. As it drains, toast fresh garlic pieces in the oil and then reserve a cup of the garlic infused oil along with the garlic pieces.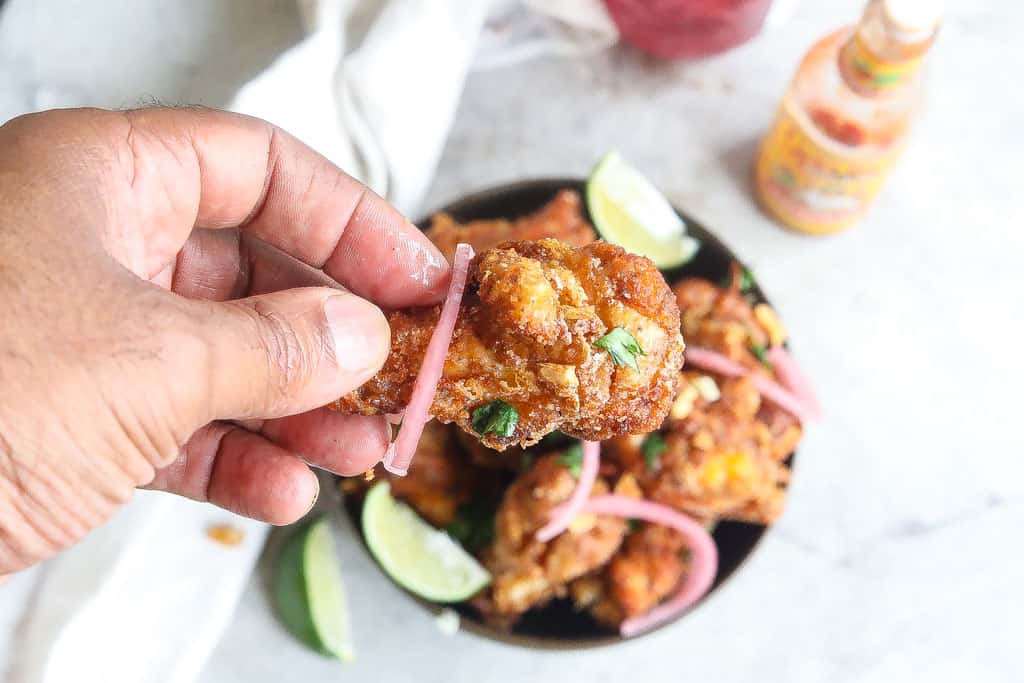 Additional Brazilian fried chicken wings tips
Its the garlic flavor that make this quintessential Brazilian fried chicken. Depending on your garlic affinity you can add garlic at multiple steps - in the marinade, dry seasoning in the breading, and as a topping with the toasted garlic
Be generous with the salt in your marinade. You want the interior of the chicken to be well seasoned by the lime based brine
You want smaller pieces of chicken. The smaller within reason the better. Bigger pieces = longer cook times so harder to get the crispiness while maintaining that juicy inside. I used chicken drummettes for convenience given their already smallish size, but feel free to cut up your own chicken bites Brazilian style if you like.
These wings aren't spicy. If you prefer more of a kick sprinkle cayenne or even dried ground habanero to the marinade or add to the coating.
Use fresh garlic and don't cook too long, otherwise the taste will be bitter.
To reheat wings try any one of these 5 methods.
What to serve with frango a passarinho?
I literally just made a bucket of these and washed them down with a super chilled cold beer. Otherwise make your favorite batch of fries such as these Belgian fries and add a side of collard greens slaw.
Making frango a passarinho
These are in the hunt for the best chicken wings award. crispy, tangy, juicy gluten-free wings, please come back and leave me a comment below with your feedback. Definitely take a photo of the dish and be sure to tag #foodfidelity so that I can see them.
You can also keep up with my food exploits as well as original recipes! You can find me on Instagram, Facebook, Twitter, and Pinterest. If you like any of the music you find on the site, visit me at Spotify to find curated monthly playlists.
To keep this more of a South American or Caribbean vibe try this Ajiaco aka Chicken and Potato Stew, Yuca Fries or Mofongo Relleno.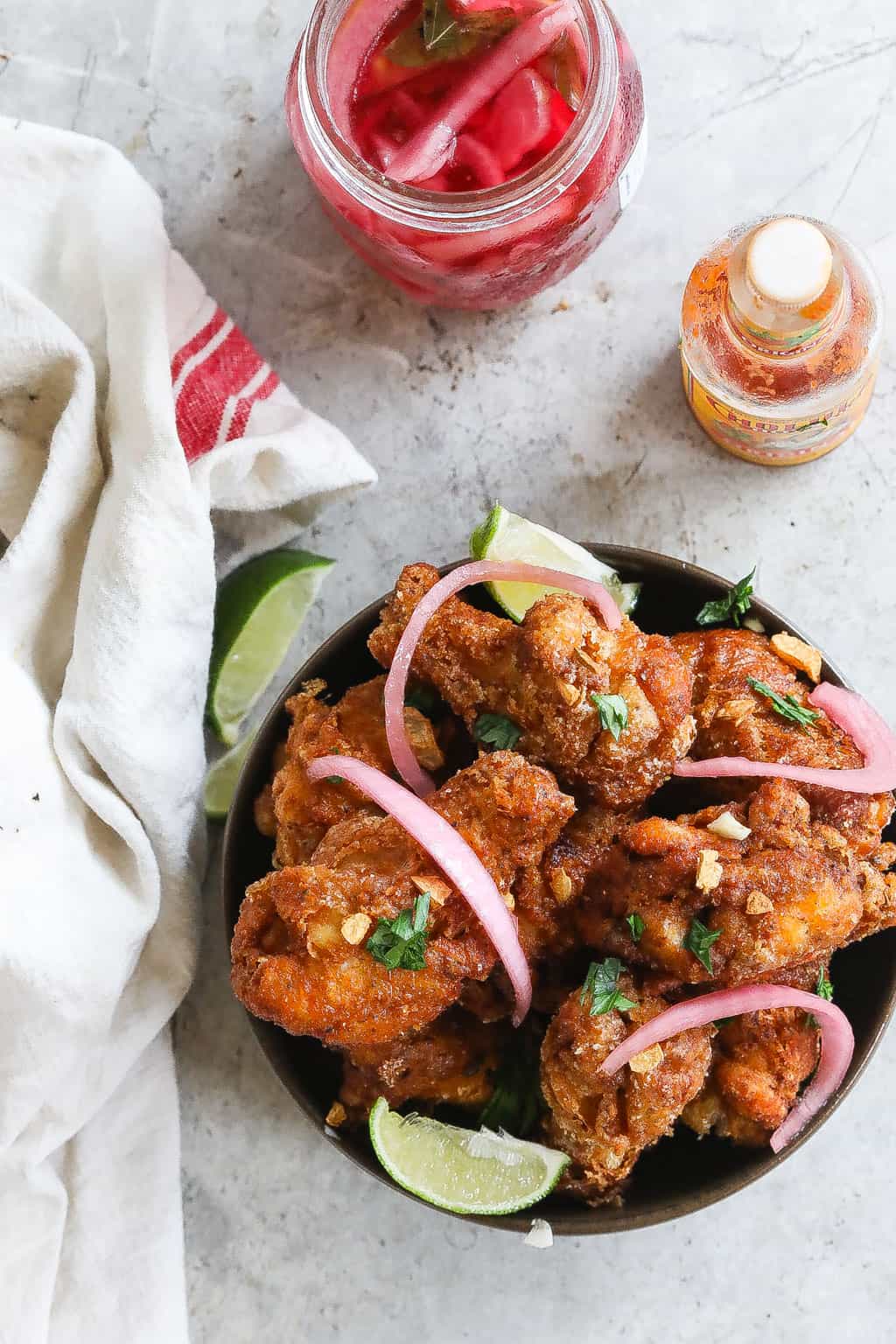 Ingredients
12

chicken drumettes

6

cloves

garlic

finely minced

1

tbsp

salt

2

tsp

ground black pepper

¼

cup

lime juice

1

tablespoon

vodka

1

cup

potato starch

oil

for frying

Parsley

for garnishing
Instructions
Mix vodka, lime juice, ½ of the garlic, salt and pepper in a bowl.

Add the chicken to the brine mixture and coat evenly. Cover with cling film and refrigerate for at least an hour.

Season your starch with salt and pepper. Dip each chicken wing in the starch, shaking off excess. Let sit and reach room temperature.

Heat oil in a large pot to 350°F.

Fry half the chicken wings until dark golden brown about 6 minutes.

Remove and sit on a cooling rack while you fry the other half.

Refry each batch for another two minutes each. Set aside and let cool. Optionally season with with salt, pepper and your preference for spices.

Toast the remaining garlic in the hot oil. (See notes for optimal way)

Serve the wings topped with toasted garlic, fresh parsley and lime wedges.
Notes
Feel free to use corn starch in place of potato starch.
I preseason my starch with salt, pepper, garlic powder, and paprika.
To toast the garlic, just pour off a ¼ cup of of the hot oil into a bowl. Add the chopped garlic for no more than 30 seconds. Spoon the garlic with some of the oil onto the wings.
Nutrition
Calories:
525
kcal
|
Carbohydrates:
70
g
|
Protein:
24
g
|
Fat:
16
g
|
Saturated Fat:
4
g
|
Cholesterol:
75
mg
|
Sodium:
2025
mg
|
Potassium:
1008
mg
|
Fiber:
5
g
|
Sugar:
3
g
|
Vitamin A:
161
IU
|
Vitamin C:
10
mg
|
Calcium:
81
mg
|
Iron:
2
mg
Subscribe To My YouTube Channel
Subscribe To My YouTube Channel for full length recipe videos. Click the bell icon to be notified when I post new videos.
My YouTube Channel