Food Fidelity aka "Beats and Eats" is a weeknight-focused food and music blog where I share quick & easy, modern takes on what soul food is and can be for busy home cooks. I believe good music makes food taste better so every recipe is inspired and paired with a dope song.
Trending Recipes
These are the tried and true soul food recipes from around the world our readers love and make daily. Recipes run the gamut from traditional Southern American dishes to more ethnic ones focused on black people in the Caribbean, Africa, and South America. Most are quick and easy modern remixes to make them more weeknight-dinner-friendly.
Latest and Greatest Posts
This is the place for more seasonal soul food recipes designed to get food on the table relatively quickly during busy weeknights.
Holiday Recipes
Classic recipes that are frequently on black people's holiday dinner menus.
See more Holiday Recipes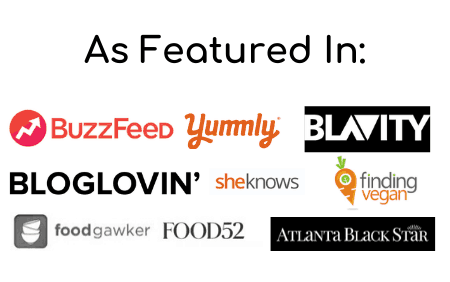 BBQ Recipes
Simple and inventive Southern BBQ recipes for barbecuing anything from meat to fruit and vegetables. In the South, though not as universally recognized, black people have made strong impactful contributions to the world of bbq. BBQ has always been an underrated and under-recognized part of the soul food repertoire.
See more BBQ recipes
Globally Inspired Dishes
Farm-fresh recipes representing flavors across the African Diaspora including Africa, the Caribbean, and South America. These are basically black food recipes that represent soul food cuisine (classics and twists on classics) across the diaspora.
See more Global recipes
Classic Soul Food
These are the quintessential iconic recipes that most think of when it comes to soul food from Southern collard greens to fried chicken and macaroni and cheese.
See more Classic Soul Food Recipes
Modern Soul Food
Modern remixes of classic soul food staples that leverage new ingredients, techniques, and flavor combinations. Most importantly most of these recipes convert super involved classic recipes into interesting convenient weeknight dinner options.
See more Modern Soul Food recipes
Jamaican Jerk Recipes
I'm not Jamaican, but I jerk a lot - everything from spice rubs and marinades to chicken, seafood, and vegetables. Jerk is Jamaican soul food!
See more Jerk recipes
Soul Food Guides
Resource for key tips for enhancing your cooking. Includes information about key ingredients, cooking techniques, and food pairings essential to soul food cooking across the globe.
See more Tips & Guides