One of my all-time favorite comfort foods is fried cabbage with bacon. It's a classic soul food dish that is simple to make, with little prep time, but oh so satisfying!
There is nothing like a comforting pan of Southern fried cabbage. The cabbage is fried in smoky bacon fat infused with caramelized onions and peppers for a perfect Sunday dinner side.
The key to fried cabbage is to get it nice and crispy, and the best way to do that is to cook it in bacon fat. First, you need to render the bacon until it is nice and crisp. Then, you add the cabbage and cook it until it is tender and slightly browned.
You'll want to make a big batch of this cause it's hard to just eat a small side of it.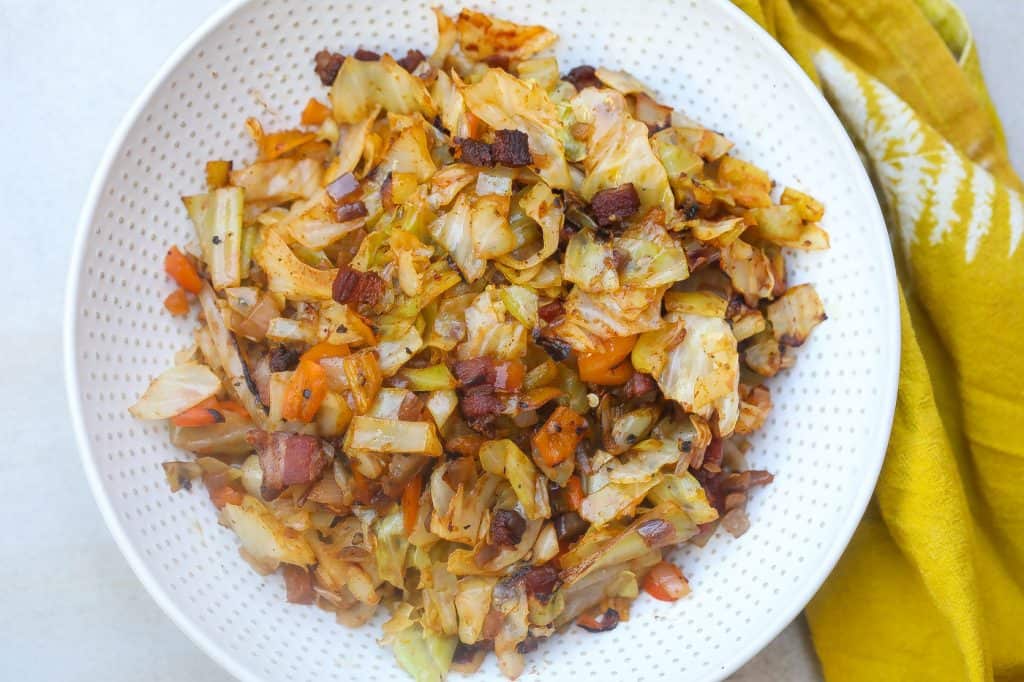 MOOD MUSIC
Cabbage in my opinion is the forgotten soul food staple. Greens, sweet potatoes, and black-eyed peas get all the attention, but cabbage actually is that vegetable!
FRIED CABBAGE INGREDIENTS
This is quintessential soul food cooking meaning you take a very simple vegetable and season it extremely well to make culinary goodness!
SOUTHERN PAN FRIED CABBAGE COOKING INSTRUCTIONS (step by step)
Pre-mix Cajun Seasoning Mix
Mix the cayenne pepper, paprika, black pepper, and salt in a small bowl and set aside. Alternatively you can use your favorite pre-made store bought cajun seasoning.
Fry Bacon
Dice the bacon into small pieces. Preheat large pan or cast iron skillet to medium high heat. Add olive oil and fry the bacon pieces. Remove the bacon cubes and drain them on a paper towel lined plate.
Saute Vegetables
Add onion and saute in the grease for 3 minutes. Stir as needed. Lower heat and add garlic cloves cooking for another minute or two. Stir as much as needed. Season with a portion of the seasoning mix.
Fry Cabbage
Add the cabbage and give it a quick stir or two to mix in well and make sure all the cabbage strips get a healthy coating of the seasoned vegetables and olive oil. Cook for 2 minutes.
While the cabbage cooks, dice the peppers. Add the diced peppers to the cabbage and mix in well.
Add more seasoning, mix well, cover and cook at a simmer for 8-10 minutes.
Remove the lid and add in the cooked bacon. Mix and allow the cabbage with bacon to cook for a minute or two stirring occasionally.
Season to taste and serve the sauteed cabbage. Hot buttermilk biscuits are great with this dish. Also consider any of these popular soul food meat dishes.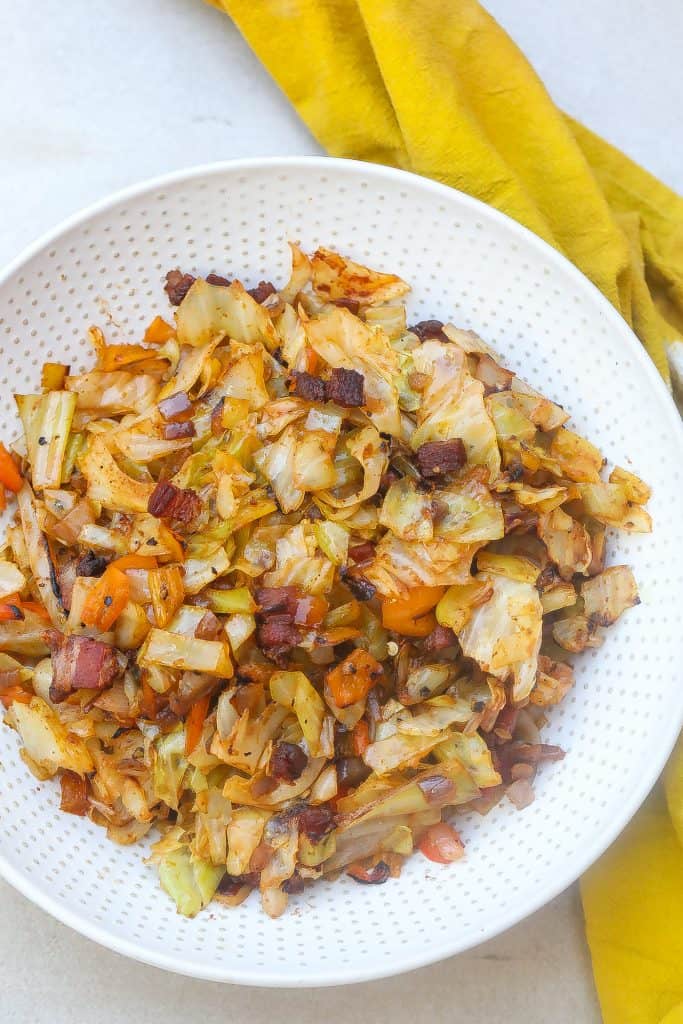 CONSIDERATIONS AND TIPS FOR PERFECT FRIED CABBAGE AND BACON RECIPE
I prefer shredded cabbage. Cut the cabbage into strips vs. big chunks. Not only do smaller strips cook faster, they also more easily absorb all the flavor.
When frying the bacon be mindful of rendering too much grease. Flavorful bacon drippings are a good thing but there is always a chance for too much of a good thing. Too much needs soggy and greasy bacon. Skim off excess bacon grease and save for later use.
Don't overcook the bacon. That burnt taste is strong and will kill this dish. You want crispy bacon but with some chew. Keep in mind the bacon will still cook some off heat so factor that into the cooking time.
Allow the onions to cook a bit. You want them to caramelize some to optimize flavor.
When pan frying cabbage use a larger than needed pan or cast iron skillet. I shoot for more surface area than I need as it allows more of the cabbage to fry at one time vs. layered up on top of each other. The cabbage cooks faster, evenly, and more efficiently.
Don't get cute with the cabbage. While I love purple cabbage as well as Napa cabbage, plain Jane old green cabbage is the way to go in this recipe.
Bacon is pork - not turkey, beef, or anything else.
Use a mix of bell pepper types. Trim-Colors add to appearance.
Choose a quality bacon, preferably a smoky one. This adds to the flavor quite a bit. I also prefer thicker cuts. Not only does this add to the texture of the dish, but also its heartiness can elevate this to a main dish.
Serve immediately using a slotted spoon after cooking. This dish is best served hot, straight out of the pan
Season as you go at each step.
Bacon adds a delicious smoky flavor to the cabbage, and the vinegar gives it a nice tang. Serve this dish with cornbread and collard greens for a complete soul food feast
Frequently Asked Questions (FAQs) About Making Southern Fried Cabbage
How Do You cut cabbage for frying?
The smaller the better. I prefer to cut my cabbage head into smaller strips. This allows for faster and even cooking, plus it makes for easier eating.
What Can I Use Instead of Bacon?
Bacon adds that deep, complex smoky flavor. To replicate this you'll need a good smoked protein like turkey leg, wings, or tails. I prefer turkey legs in this case as it's got a bit more meat on the bone that could be cut into bite size pieces and fried.
Do you include the cabbage core in cooking?
I tend to cut the core out and saute for flavor with the bacon then discard just before adding the cabbage.
Is Fried Cabbage and Bacon Keto?
This dish is very much keto friendly. It's just cabbage, bacon, and fat. Cabbage is definitely low carb.
How Do I Store Fried Cabbage?
Add cabbage and bacon to an airtight container and store in your refrigerator for up to three days.
MORE CABBAGE RECIPES
make this recipe
If you're looking for a easy side dish that will be an instant favorite at your next get-together, look no further than this Southern fried cabbage with bacon. This recipe is simple to follow and can be made in just minutes. So what are you waiting for? Give this tasty dish a try today!
If you make this Soulful Bacon Fried Cabbage recipe, please come back and leave me a comment below with your feedback. Definitely take a photo of the dish and be sure to tag #foodfidelity so that I can see them.
You can also keep up with my food exploits as well as original recipes! You can find me on Instagram, Facebook, Twitter, and Pinterest. If you like any of the music you find on the site, visit me at Spotify to find curated monthly playlists.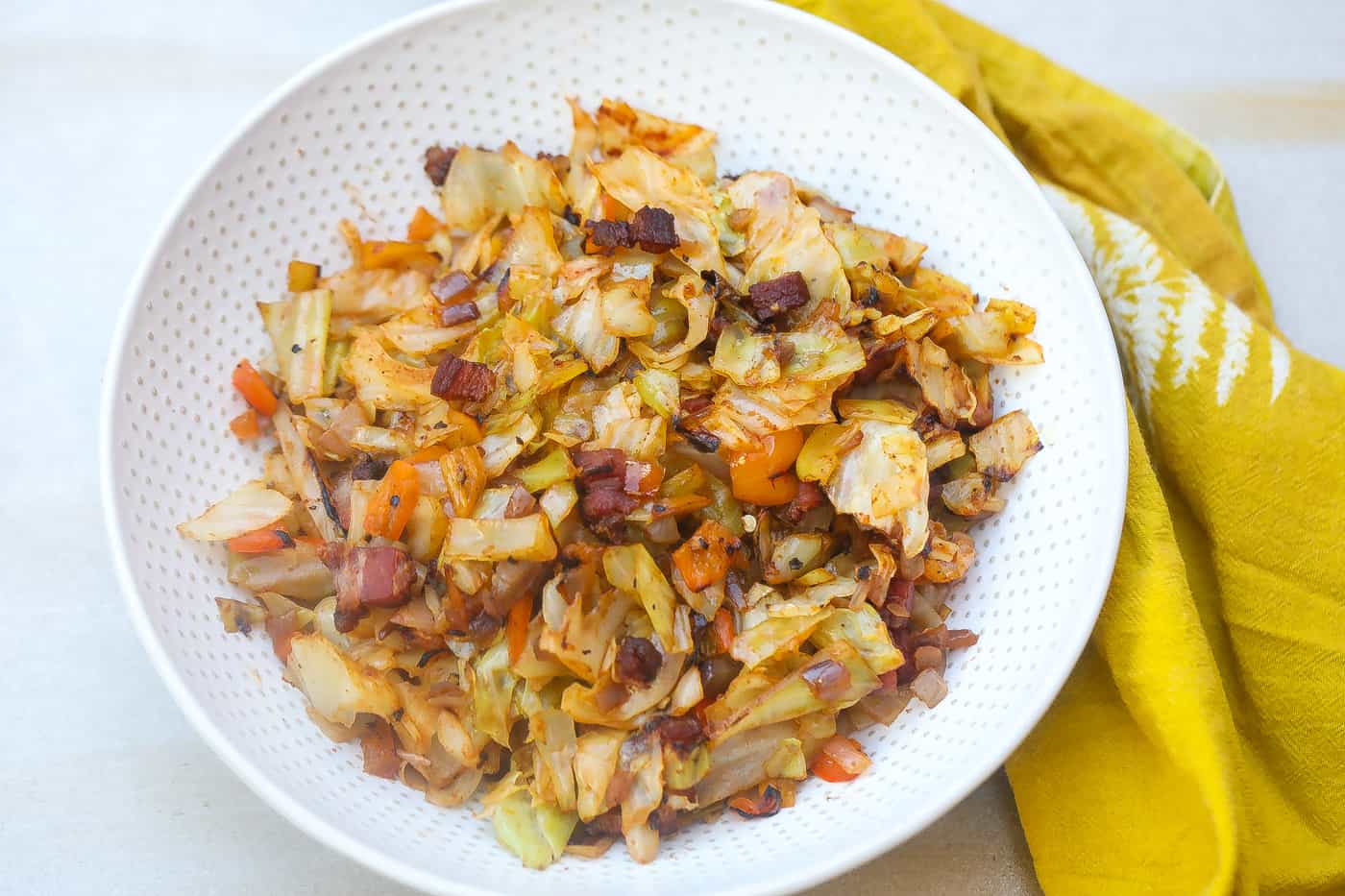 Ingredients
1

small

Cabbage head

cored and thinly chopped

5

slices

thick-cut smoked Bacon

diced

1

small

yellow Onion

diced

4

cloves

Garlic

diced

2

teaspoon

Paprika

½

teaspoon

Cayenne

1

teaspoon

Black Pepper

1

teaspoon

Kosher Salt

1

medium

red bell pepper
Instructions
Heat large skillet on medium heat. Add bacon and fry.

Remove bacon and drain on paper towel-lined plate.

Add onions to grease and saute 3-4 minutes. Add garlic and cook another minute. Season with about a quarter of the spices.

Add cabbage and mix well making sure all the cabbage pieces get coated in the seasoned bacon fat. Add half of the remaining spices then mix well.

Add peppers to the pan, mix into the cabbage, then cover with lid, and cook for 10-15 minutes.

Remove lid and add bacon back as well as any additional seasoning. Serve
Video
Nutrition
Calories:
123
kcal
|
Carbohydrates:
11
g
|
Protein:
4
g
|
Fat:
8
g
|
Saturated Fat:
3
g
|
Cholesterol:
12
mg
|
Sodium:
533
mg
|
Potassium:
323
mg
|
Fiber:
4
g
|
Sugar:
5
g
|
Vitamin A:
1178
IU
|
Vitamin C:
70
mg
|
Calcium:
56
mg
|
Iron:
1
mg
Subscribe To My YouTube Channel
Subscribe To My YouTube Channel for full length recipe videos. Click the bell icon to be notified when I post new videos.
My YouTube Channel