"Healthy" fried black eyed peas recipe makes for quick, but still comforting alternative to a traditional long-simmered pot of the soul-food version.
For a quick black eyed peas recipe, this is your ticket.
I love old traditional ways of cooking especially my grandmother's soul food recipes, which require high involvement and are slow and long. However, given the pace of our lives I'm always looking for effective and efficient ways to reproduce the flavor in those recipes that require less time.
These pan-fried peas are highly flavorful, with the smoky, complex flavor coming mostly from the paprika-infused cooking oil.

Fried Black eyed Peas Ingredients
Not including the salt and pepper, this is a 6 ingredient recipe featuring ingredients you're likely to have in your pantry and/or fridge. I won't judge you if you don't keep canned black-eyed peas on hand, but you might start after trying this dish.
Canned Black-eyed Peas

Olive Oil

Garlic Cloves

Smoked Paprika

Red Bell Pepper

Kosher Salt and Black Pepper
How To Fry Black eyed Peas
Step 1: Drain the peas thoroughly
Step 2: Infuse the oil
Heat the pan on med-high, add the oil to the hot pan then saute the garlic 2-3 minutes. Reduce the heat to low, then add half of the paprika, salt, and pepper. Let simmer (1-2 minutes) to better infuse the oil with flavor.
Step 3: Fry the peas
Serving Suggestions
After finishing the peas remove from heat and garnish with fresh herbs like cilantro, parsley or basil. Serve with other vegan sides or main dish meat options like these:
Instant Pot Collard Greens with Smoked Brisket
How Do Fried Black eyed Peas Taste?
My Ma Dear's black-eyed peas were always garlicky and smokey, the latter achieved via smoked ham hocks. While I can't argue that my 15 minute pan fried black eyed peas have the same deep love of Ma Dear's, but technically they deliver the goods from a flavor perspective. I spent many long enjoyable days in the kitchen with her. I was part sous chef and part Young and the Restless recap for her.
Her health declined as I came into my own in the kitchen so we never really had the opportunity to talk shop and/or cook together. I would have loved to be back with now to cook with her, swapping flavor and technique tips. There is no doubt we'd have had the chemistry of some of the greatest duets of all time including Marvin and Tammi, Ashford and Simpson, and Roberta and Donny.
The flavors are replicated by infusing the olive oil first. I used a lot of garlic and was generous with the smoked sweet paprika. And for good measure I added onions and red peppers for a quick saute in the same oil before adding the black-eyed peas.
Fried black eyed peas cooking tips
Rinse and drain the black-eyed peas fully to get rid of the tin can flavor
Sky's the limit on seasoning. Use your favorite whether its curry, cajun, etc.
Blot the black eyed peas dry with paper towels to get rid of any excess moisture which is essential for that good crispiness
Fried Peas Frequently Asked Questions (FAQs)
Do You Use Fresh, Canned, Dried, or Frozen Black Eyed Peas?
I have a lot of black eyed peas recipes, and depending on the technique I rely on different versions of them. For reasons of time and convenience, I used canned for fried black-eyed peas. They also have the extra texture benefit. Because of the short cook time, these black-eyed peas have some snap and crunch to them vs. the creamy old school soul food version.
Are These Black Eyed Peas Vegan?
Though I've never tried it, I suspect bacon or duck fat would add even more flavor. However, I wanted to keep these pan fried black eyed peas vegan. Chickpeas are enjoying their time in the sun, as there are many recipes for crispy fried chickpeas out there.
That's great since I'm a fan of chickpeas, but flavor-wise they don't stand against blackeyed peas. And though the cooking process is similar, pan fried blackeyed peas are definitely a side vs. a snack that fried chickpeas are consumed as. Another pro for black-eyed peas is they don't require peeling which chickpeas do if you want to maximize their flavor and texture.
I'd read a number of blog posts by professional bloggers that made a case for peeling chickpeas. I was sold on the benefits, but still I wrote peeling chickpeas off as an activity reserved for people for whom blogging is a full-time job.
What Health Benefits of Blackeyed peas?
Don't let "fried" scare you away from these delicious legumes! It's not like you're deep frying them in refined oils of fat. Like most legumes, black-eyed peas are potassium rich, good source of fiber, they improve digestion and help lower blood pressure.
For similar recipes you might like, try these:
Instant Pot Black eyed Peas with Cacia e Pepe
Southern Black eyed Peas and Rice aka Hoppin John
Blackeyed Pea Salad
If you make this super quick pan fried black eyed peas recipe please come back and leave me a comment below with your feedback. Definitely take a photo of the dish and be sure to tag #foodfidelity so that I can see them.
You can also keep up with my food exploits as well as original recipes! You can find me on Instagram, Facebook, Twitter, and Pinterest. If you like any of the music you find on the site, visit me at Spotify to find curated monthly playlists.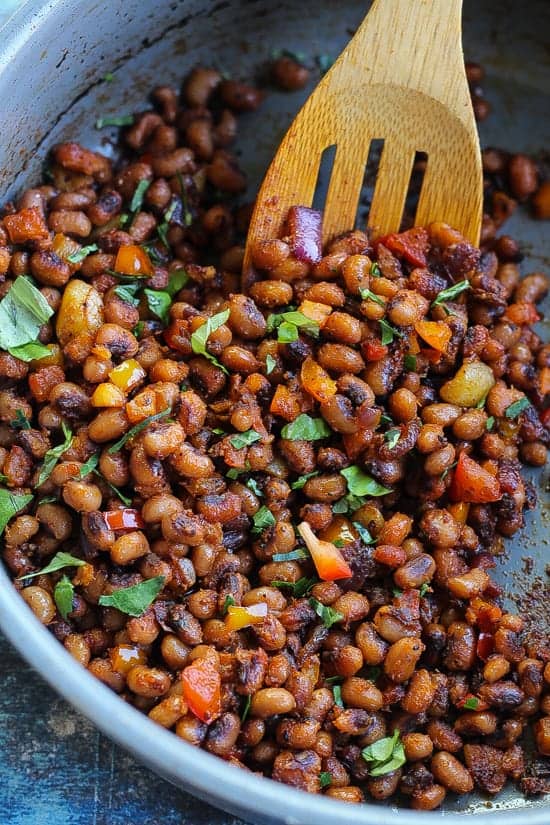 Ingredients
1

can black-eyed peas

2

tablespoon

olive oil

4

garlic cloves

roughly chopped

2

teaspoon

sweet smoked paprika

½

small red onion

diced

1

medium red bell pepper

diced

Kosher salt and pepper to taste
Instructions
Drain and rinse black-eyed peas thoroughly

Heat skillet on low heat. Add garlic and saute 2-3 minutes. Add paprika and cook for another 1-2 minutes.

Increase heat to medium. Add red onions and red peppers and mix well. Add black-eyed peas and fry for 5 minutes stirring occasionally to make sure all individual peas are touched by the infused oil. Season as needed with salt, pepper, and more paprika. Remove from heat and garnish with fresh basil or parsley.
Video
Notes
Note: If using packages of dried black-eyed peas boil in vegetable stock, garlic and onions for twenty minutes. Then dry fully before frying.
Nutrition
Serving:
0
g
|
Calories:
84
kcal
|
Carbohydrates:
5
g
|
Protein:
1
g
|
Fat:
7
g
|
Saturated Fat:
1
g
|
Sodium:
3
mg
|
Potassium:
118
mg
|
Fiber:
1
g
|
Sugar:
2
g
|
Vitamin A:
1425
IU
|
Vitamin C:
40
mg
|
Calcium:
13
mg
|
Iron:
1
mg
Subscribe To My YouTube Channel
Subscribe To My YouTube Channel for full length recipe videos. Click the bell icon to be notified when I post new videos.
My YouTube Channel