Fried Cabbage Masala - A quick, flavorful, and nourishing way to get cabbage on the table during a busy weeknight or Sunday dinner monotony breaker.
This fried cabbage recipe is a cultural mashup of Southern fried cabbage and Indian spices in the form of the popular garam masala spice mix. I've had masala dishes often over the years, but it wasn't until our family trip to Dubai over Thanksgiving that I had an Indian cabbage recipe. It made an immediate impression. The aromas caught my attention first, followed by the color and then it delivered on flavor. Though spicy, it was more subtle than outright fire! After the experience, there was no way I was not going to make my own version. The more and more I familiarize myself with Indian cooking, the more I realize how similar it is to what we in the States consider "soul food" in terms of the emphasis on spices and seasonings to make recipes sing!
I think the pairing of cabbage and garam masala is as surprisingly brilliant as the musical collaboration between Fontella Bass and The Cinematic Orchestra. If you've heard the classic soul song "Rescue Me" and mistakenly thought it was Aretha Franklin you've heard Fontella Bass before. Imagine that booming beautiful voice over a British electronic track by The Cinematic Orchestra. The beat will put you in a slow-motion trance and at about 3 minutes in you'll be awakened but mesmerized by Ms. Bass. The garam masala has the same effect when it meets the hot coconut oil and every ounce of the essence of its flavor is released into your kitchen.
Growing up as a kid we always had what's considered Southern fried cabbage, which is also a simple and tasty recipe. My grandmother's version included chopped cabbage and onions pan-fried in with bacon and heavily seasoned with paprika, garlic, cayenne, salt and pepper. My Indian fried cabbage recipe is a modified version of my grandmother's recipe. I skipped the bacon to make this vegan relying on coconut oil instead. I added fire-roasted tomatoes to bring some acidity to the dish and used a garam masala spice mix that I brought back from Dubai with me. The smell of this dish cooking will fill your kitchen with blissful aromas.
What is Garam Masala
Garam masala is a very specific traditional Indian spice blend. It's as synonymous with Indian cuisine as jerk spice is to Jamaican. You will likely find different versions of it depending on where you buy it, but it should not taste like curry, which many people confuse it with. Traditional blends will include fennel (anise like flavor), cinnamon (sweetness), cloves (complexity), black pepper (mild heat), and cardamom (floral and distinctly Indian) and caraway (also pungent). Overall the flavor is very balanced with the combination of sweet and pungency, but unlike curry, you don't get those cumin, coriander, and turmeric notes. Garam masala has become popular enough that you can easily find it. Most grocery stores should have it and I've seen it on Walmart's website.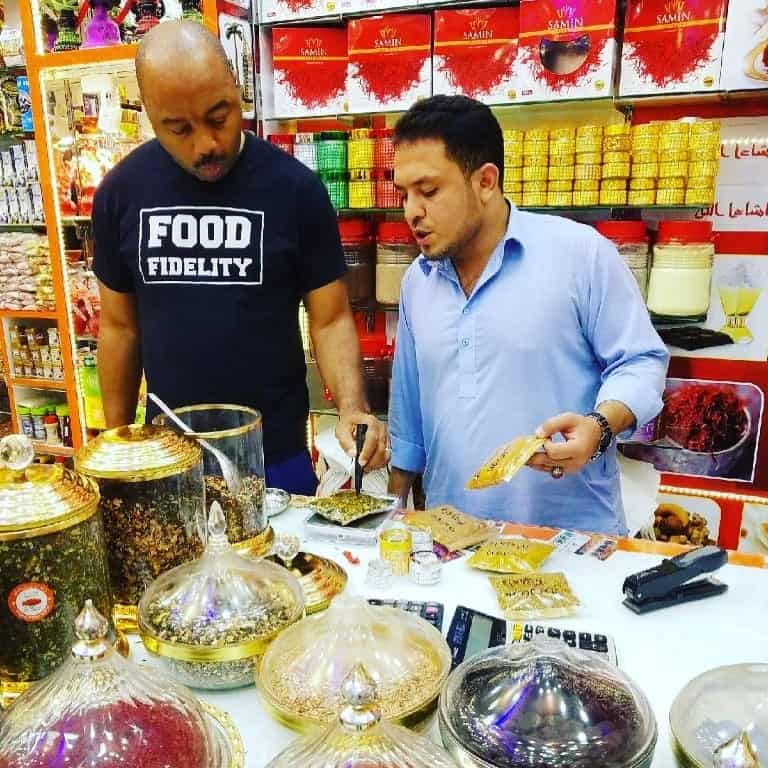 Health Benefits of Cabbage
I wanted this to be a vegan cabbage recipe to enjoy everything good about cabbage. Cabbage is considered a very healthy food, which is one of the reasons it's so common around the world. Its benefits include frequent use as a treatment for arthritis, constipation and skin disorders. However, it's probably most well known for its weight loss properties. I don't subscribe to all these marketing claims behind so-called "cabbage soup diets" but I do know that cabbage is low in calories and high in fiber which is a great combination
Fried Cabbage Masala Cooking Tips
Look for

cabbage heads with shiny, compact leaves that are heavy for their size and free of blemishes. Avoid those with leaf damage. If you pick it up and the cabbage feels like you're holding a bowling ball. That's good.
Wash/clean your cabbage before cooking to get rid of any dirt and grittiness
Shred the cabbage almost "cole slaw" like vs. chopping coarsely and chunkily. This will speed up cooking time and improve texture. The cabbage will absorb the flavors yet retain some crunch. The thinner you slice it the faster it cooks so keep in mind as you don't want it too stringy or the texture won't hold.
Heat the spices in the oil before adding the vegetables. This will help release their flavors.
Vegetable or olive oils can be used in place of coconut oil. Similarly feel free to use your spice mix of choice. I'm made a similar version using Caribbean spices, as well as Moroccan.
Indian Fried Cabbage Recipe with Masala
If you make these delicious cabbage masala, please come back and leave me a comment below with your feedback. Definitely take a photo of the dish and be sure to tag #foodfidelity so that I can see them.
You can also keep up with my food exploits as well as original recipes! You can find me on Instagram, Facebook, Twitter, and Pinterest. If you like any of the music you find on the site, visit me at Spotify to find curated monthly playlists.
For other cabbage recipes try this Jamaican Corned Beef and Cabbage, Southern Fried Cabbage, Whole Smoked Cabbage, or Cabbage Soup.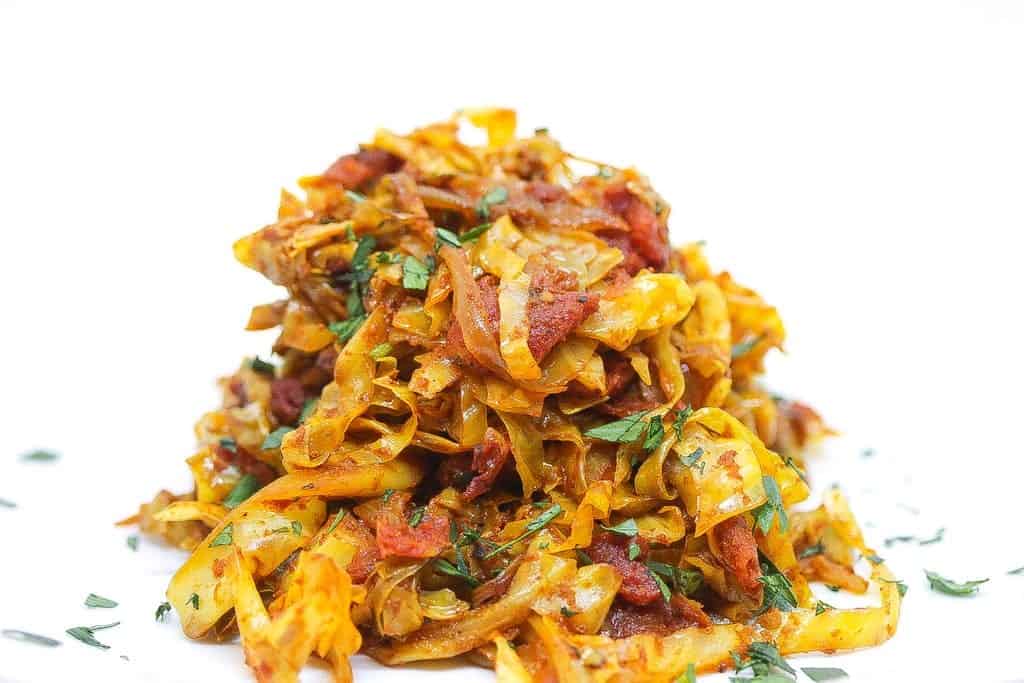 Ingredients
1

medium cabbage

outer leaves removed, washed and shredded

2

tablespoon

Coconut oil

1

teaspoon

Mustard seeds

1

teaspoon

Cumin seeds

Coriander

3-4

garlic cloves

1

inch

Ginger

minced

1

large Onion

sliced

½

tablespoon

Garam masala

½

teaspoon

turmeric

1

teaspoon

coriander

1

teaspoon

kosher salt

1

teaspoon

black pepper

1

can

diced fire roasted tomatoes (14oz)

1

teaspoon

sugar

½

cup

fresh cilantro chopped
Instructions
Heat oil in a pan and add the mustard and cumin seeds. Once they pop, add the garlic and ginger and cook until slightly soft (1-2 minutes)

Next, add the onion and cook until soft and translucent. Lastly, add the salt, pepper, turmeric, garam masala, and coriander, and cook for another 2-3 minutes.

Now add the tomatoes and sugar to the pan. Mix well, cover and cook for 5 minutes.

Lastly, add the cabbage and cook until your liking. When you feel the cabbage is all done, boil off any excess water. Add additional seasoning if needed and top with cilantro.
Notes
If you don't have spice seeds on hand, just use the powdered/ground versions and add them after the onions have cooked some.
Nutrition
Calories:
112
kcal
|
Carbohydrates:
15
g
|
Protein:
3
g
|
Fat:
5
g
|
Saturated Fat:
4
g
|
Cholesterol:
0
mg
|
Sodium:
523
mg
|
Potassium:
303
mg
|
Fiber:
4
g
|
Sugar:
7
g
|
Vitamin A:
510
IU
|
Vitamin C:
59.4
mg
|
Calcium:
91
mg
|
Iron:
1.5
mg
Subscribe To My YouTube Channel
Subscribe To My YouTube Channel for full length recipe videos. Click the bell icon to be notified when I post new videos.
My YouTube Channel