Napa Cabbage Salad Recipe
I've always been intrigued with napa cabbage salad recipes. Napa cabbage seems so sophisticated, but recipes featuring it are usually pretty simple. This Napa Cabbage Salad follows suit and is as delicious as it is quick, simple, and fast to make. It takes all of about 5 minutes to have a sophisticated and brag-worthy dish on the table.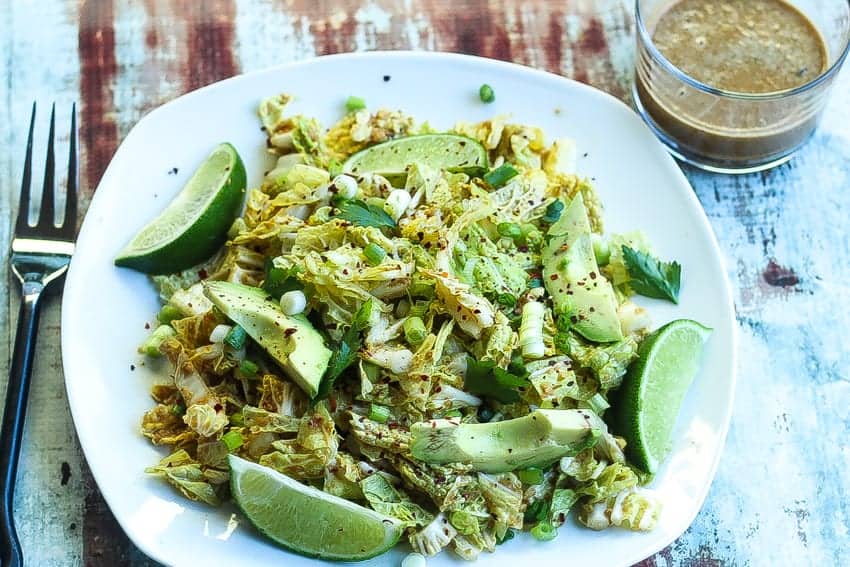 Still suffering from Christmas cooking burnout but needing to develop Afro-centric recipes for our Kwanzaa celebration I adapted this Napa Cabbage Salad recipe from Marcus Samuelson's book exploring cuisine across Africa.
This version is vegan as I chose to forgo sardines, which I personally had no qualms about removing. I swore as a kid that once I had money there were three things that would never be in my kitchen – Vienna Sausages, Spam, and Sardines. We had cans of all three plus cheap jars of peanut butter for days in our house growing up. Though I never ate those canned sardines back in the day, I was all too familiar with the bad funky smell of them. You ain't smelled nothing as funky as an open can of sardines in a hot ass Texas kitchen. My older brother, who was like the black Biff from the movie Back To The Future, was well aware of my aversion and took every opportunity to exploit it by both leaving open cans out, intentionally not washing the fish juice down the sink, and his favorite – greeting me with fish burps. I remember visiting one of my Danish grad school classmates who ate the small, slimy, smelly creatures Dutch style i.e. deep throated after cocking his head back to a slightly ridiculous angle and taking one large bite of the entire herring.
Now that I've spent an enormous amount of time discussing an ingredient that is not even included in this recipe, let's discuss the awesomeness that is this Napa Cabbage salad. Napa cabbage doesn't actually hail from the California wine country but is actually a Chinese cabbage. It is yellow to bright green and eye-catching with thick white ribs and crinkly green leaves. It has a more delicate flavor and texture than Western cabbages, making it perfect for using raw in salads and slaws.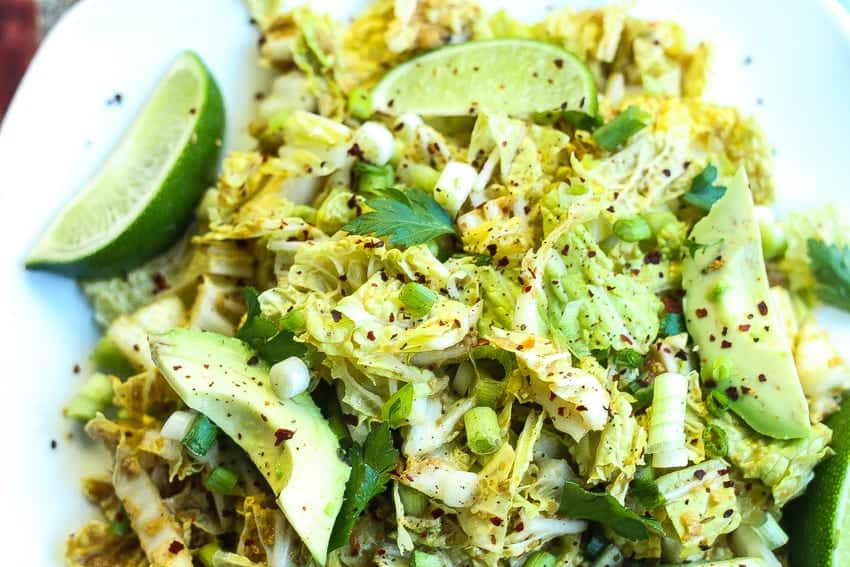 I kept the ingredients to a minimum adding only fresh avocado to replace the healthy fat lost by excluding the sardines. The sauce is a dandy and is where the African influence comes in. Peanuts and chiles are staples in African cooking depending on the region. This sauce blends two common African ingredients with ginger, soy sauce and sesame oil for an African-Asian fusion that works really well. The grated ginger adds some zest and warmth to the sauce as well as gives it an aromatic character that is enhanced with the lime juice. Don't fear the habanero, as the de-seeding and de-veining should remove all the heat.Â
This Napa cabbage salad is as simple as it gets. The extent of the work is roughly chopping the cabbage. For the peanut dressing your blender does all the work.
Dope beats, fresh eats. Enjoy this delicious 5 minutes Napa Cabbage salad recipe with equally simple peanut sauce.