I made this smoked oxtail recipe and it was so good! If you're looking for a flavorful and hearty dish, then definitely give this one a try. The smokey flavor of the oxtail goes perfectly with the Jamaican jerk marinade and BBQ sauce.
Smoked oxtail - Bone nibbling comfort food you won't want to use use a knife and fork for. Smoky, fiery, tender beef oxtails with a slightly crisped crust.
Oxtail stew is a popular dish in many parts of the world, but it is particularly associated with Jamaican cuisine. The oxtail is traditionally slow-cooked to create a rich, flavorful stew with butter beans. However, it can also be smoked to give it a distinct jerk flavor.
First, the oxtail is rubbed with a jerk seasoning blend. Next, it is placed in a smoker and cooked until tender. The final step is to baste the oxtail with a mixture of fat and vinegar, which helps to create a crispy outer layer.
What Are Oxtails?
For those unfamiliar, oxtails aren't actually the tail from an ox but are from the tail of a cow cut into pieces. Each piece has a thick cylindrical bone with chunks of tough, fatty meat.
If cooked the right way they are as delicious as beef short ribs. They are perfect for slow-cooked braising and stews as the process basically renders them butter-like tender.
Oxtails for a long time have been a staple in serious soul food cooking. My grandmother would make big pots of them on Sundays and we'd have many guests pop over and enjoy individual bowlfuls with cornbread and hot sauce.
Before prices got so out of hand you were as likely to see big pots of oxtails in our house as you would a pot roast.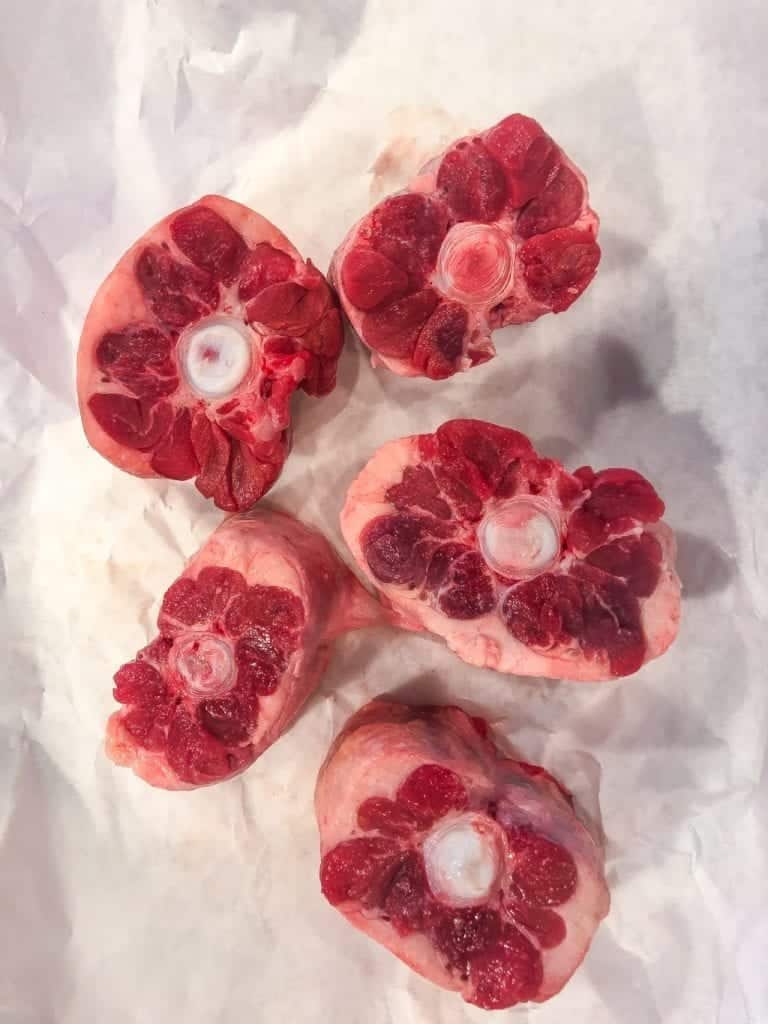 Smoked Jerk Oxtail Ingredients
The ingredient list for this recipe is a short one. It's just the oxtails and jerk marinade (my homemade version or store-bought), plus a combination of apple juice and apple cider used to spray the oxtails during cooking to ensure moisture.
Jerk Marinade Store-bought Walkerswood is a good alternative
Apple juice
Apple cider vinegar
How To Make Smoked Oxtails (Step by Step)
Step 1: Marinate oxtails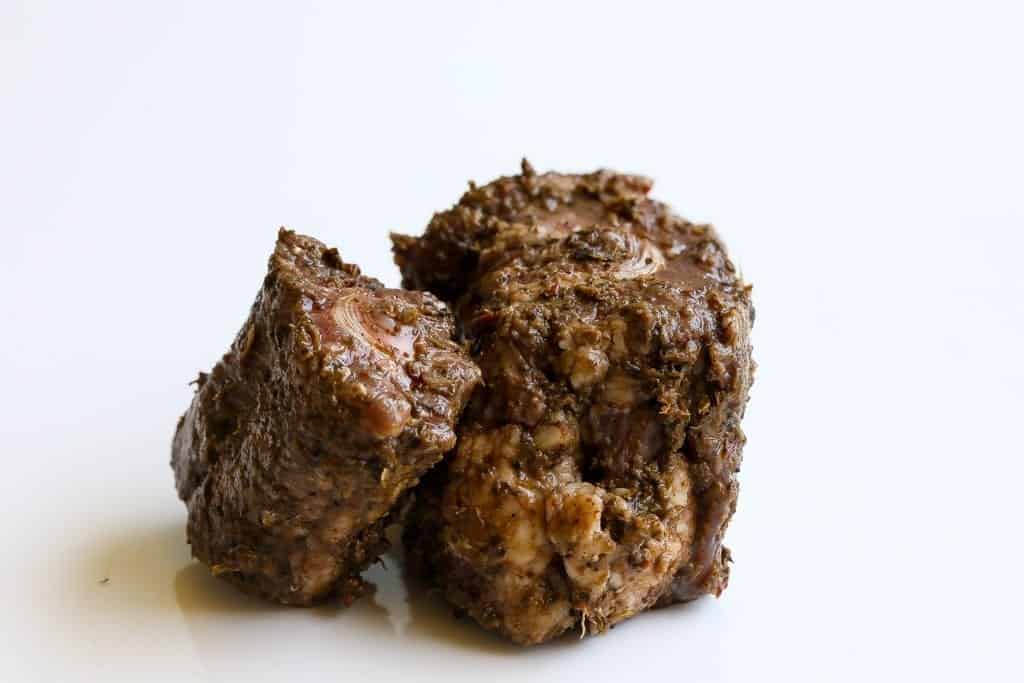 Season oxtails generously with the marinade, place in an airtight container, and refrigerate overnight.
Step 2: Smoke the oxtails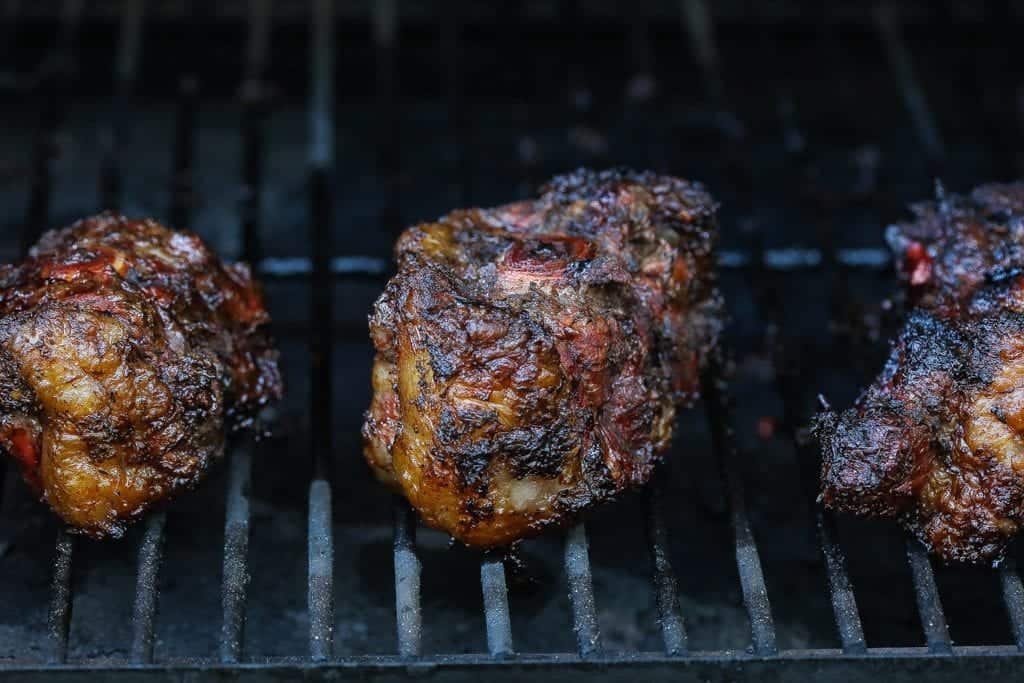 Remove oxtail pieces from the refrigerator and let them reach room temperature. Prepare smoker by letting hot coals cook down and preheat to 250 degrees.
Place oxtails on the grill grates and smoke them over indirect heat between 225-250 degrees for 2 hours.
After two hours spray the oxtails with the apple juice & cider mixture. Cook for another hour or so
Step 3: Let Oxtails Rest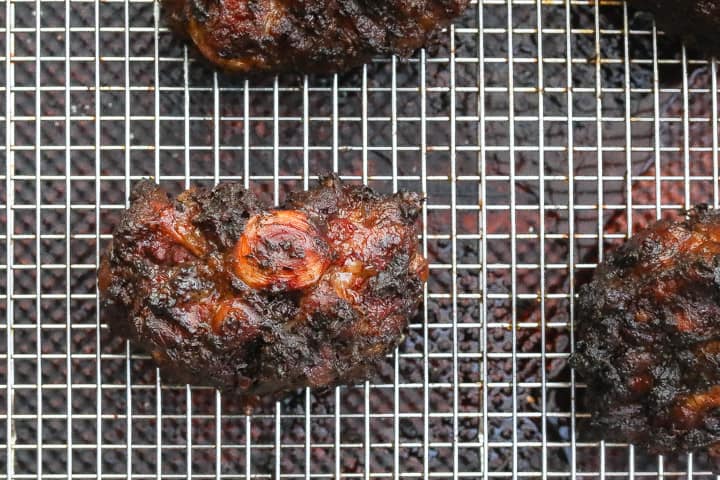 Garnish with green onions. Serve as is or top with jerk bbq sauce.
Smoked Oxtail Cooking Considerations and Tips
Trim excess fat away from the oxtail meat with a sharp knife
Use a braising liquid or alternatively put them in a shallow metal pan and tightly cover with aluminum foil cooking for 1.5 – 2 hours more to get fork-tender.
Oxtails take long to cook. They don't need much attention but be prepared for a few hours of cooking.
Look to buy them on sale or shop for them at Hispanic markets as they tend to carry them often and at lower prices
The pieces of oxtail bones are ideal for making a flavorful stock. Save the bones, use them in a stock and get your money's worth
Eat this alone as an appetizer or pair with rice and beans for a hearty full meal
I used a store-bought jerk marinade. Walkerswood makes a good one, but feel free to make your own if preferred.
Cooking time will vary depending on oxtail size and smoking temperature. Anticipate about 1 ½ -2 hours cook time.
Low and slow cooking results in rich flavor. That deep smoke flavor also gives these oxtails a really distinct flavor profile.
Serve with hearty sides like white rice, plaintains, black beans, Jamaican cabbage, or collard greens slaw. I served these with a jerk barbecue sauce as well. You don't need anything more than this. To keep it Caribbean I recommend some Mashed Root Vegetables.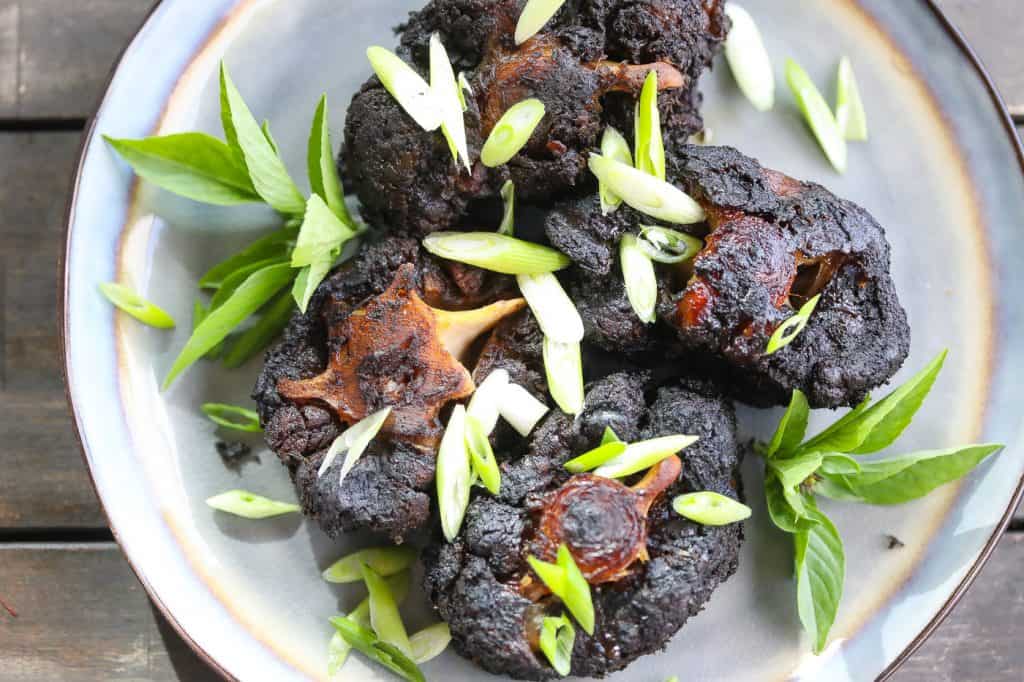 Smoked Jerk Oxtails Frequently Asked Questions (FAQs)
What do Oxtails Cost?
Unfortunately, like neighborhoods all across trendy U.S. cities, once the masses discovered the deliciousness of what once was humble undesirable cuts of meat, gentrification occurred and the original soul food consumers have been priced out. Now that's some ironic strange arithmetic.
Chefs putting oxtails on their restaurant menu is akin to a Starbucks popping up in the hood. It's just a matter of time before prices skyrocket. Oxtails in Austin stay around $7 or $8 per pound. If you can find them for $5 per pound grab them, as it's considered a steal now.
It's not just oxtails, I remember going to a restaurant in Chicago where they had chicharrones aka "pork skins" on the menu as a $9 appetizer. A bag in the hood used to be less than a dollar.
Where Can You Find Oxtail?
Most grocery stores will carry them. If you don't see them in your local neighborhood spot, then Asian markets as well as Hispanic ones will have them in large quantities.
How Should I Season the Oxtails?
I had the idea for a soul food tapas menu, I decided to add smoked oxtail once I came across a sale on the oxtails. I wanted an alternative way of enjoying them beyond the typical stews and braises.
This oxtails recipe is actually simple as I relied solely on jerk seasoning and smoke for flavor and the results were pretty damn impressive if you don't mind me saying. I marinated the oxtails in a jerk marinade overnight and that's all was needed.
What Temperature Should I Smoke The Oxtails?
Smoking them on the pit requires low temperatures. I recommend staying between 225-250 degrees. Cooking at temperatures any higher will result in tough, chewy meat. At 250 degrees the texture will be more like tender, juicy smoked spareribs with the benefit of the full jerk flavor experience.
What kind of grill or smoker do you use?
I used a Traeger pellet smoker for this recipe, but also use my Kamado Joe Smoker for these as well.
What kind of pellets do you use for smoked oxtail?
I actually used special pimento wood pellets that I ordered from Jamaican to best mimic that authentic jerk flavor. But it's an expensive import. Feel free to use apple wood pellets or oak wood pellets. I'm a big fan of both!
For similar recipes you might like, try these:
Smoked oxtail is an underrated dish that is perfect for a summer bbq. The beefy, fatty flavor of the oxtail pairs well with rich, earthy, and spicy jerk flavor. This recipe takes a little bit of time to prepare but it is definitely worth the effort.
If you're looking for something different to serve at your next dinner party, or just want to treat yourself to something special, give this smoked oxtail recipe a try!
If you have suggestions for making this Oxtails recipe please come back and leave me a comment below with your feedback. Definitely take a photo of the dish and be sure to tag #foodfidelity so that I can see them.
You can also keep up with my food exploits as well as original recipes! You can find me on Instagram, Facebook, Twitter, and Pinterest. If you like any of the music you find on the site, visit me at Spotify to find curated monthly playlists.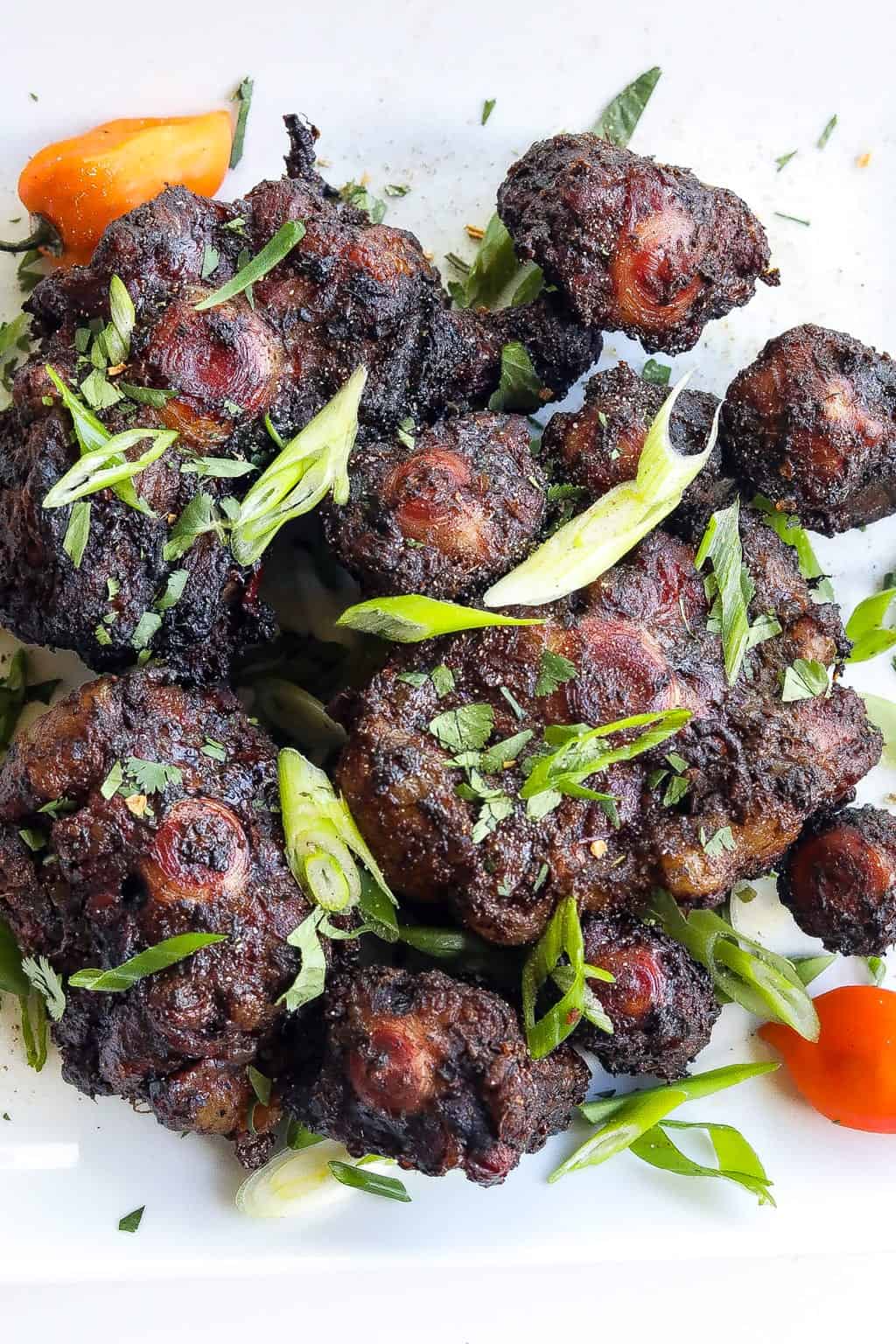 Ingredients
4

lbs

oxtails

¼

cup

Jerk Marinade

Store-bought Walkerswood is a good alternative

¼

cup

apple juice

2

tbsp

apple cider vinegar
Instructions
Place the oxtails in a large bowl. Rub jerk marinade all over the meat. Cover and refrigerate overnight.

Heat the barbecue to 250F degrees. Smoke over indirect heat for 2 hours. Combine the apple juice and vinegar in a spray bottle. Open the smoker and spray the meat.

Continue cooking for 2-3 more hours, until the internal temperature of the meat reaches 180F degrees. Spray liberally with the apple mixture intermittently as necessary to keep oxtails moist. Remove from the smoker and let rest 15 minutes before serving.
Video
Nutrition
Calories:
2257
kcal
|
Carbohydrates:
3
g
|
Protein:
280
g
|
Fat:
120
g
|
Saturated Fat:
48
g
|
Cholesterol:
998
mg
|
Sodium:
1762
mg
|
Potassium:
30
mg
|
Sugar:
3
g
|
Calcium:
181
mg
|
Iron:
36
mg
Subscribe To My YouTube Channel
Subscribe To My YouTube Channel for full length recipe videos. Click the bell icon to be notified when I post new videos.
My YouTube Channel