Related Posts:
Welcome to the rich and flavorful world of some serious soul food cooking! Today, we are going to talk about one of the most beloved dishes in our culture: braised beef neck bones. This hearty and comforting meal is perfect for a Sunday family dinner or for any occasion when you want to indulge in some delicious home-cooking.
Beef neck bones are an affordable and flavorful cut of meat that, when cooked properly, can create a mouth-watering dish that will leave your guests asking for seconds. So, put on your big boy apron, grab your ingredients, and let's get ready to cook up a pot of soulful goodness!
Beef neck bones braised to fall off the bone tenderness in deep and rich red wine-based broth for an upgrade on a classic soul food staple dish.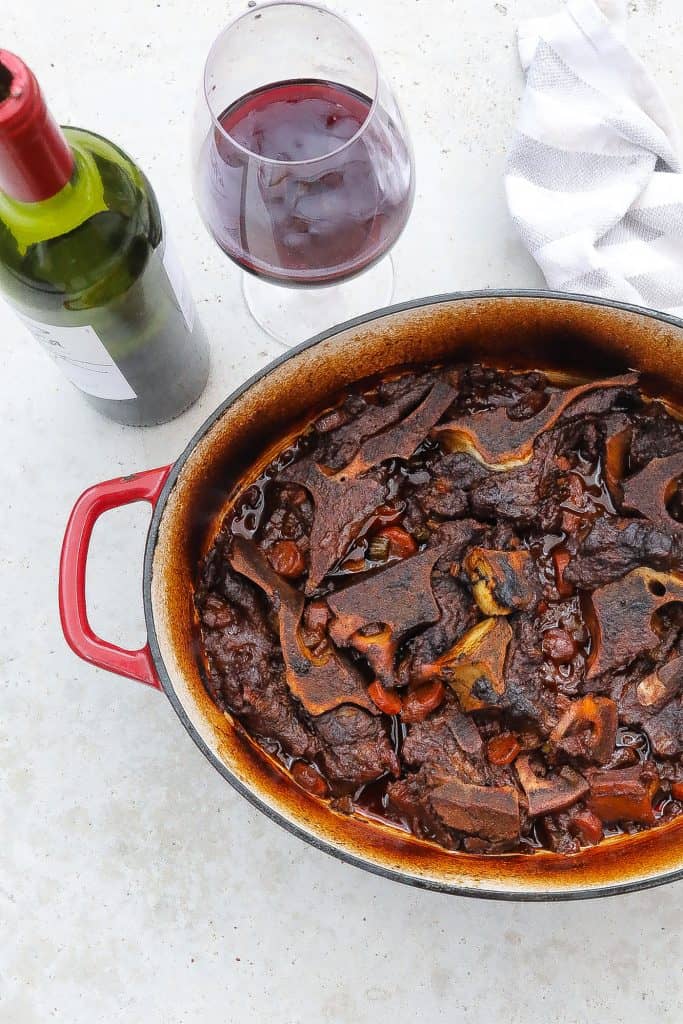 Neck Bones ain't on the menu in this generation of the Browns too often, but they were a weekly affair when I was a kid. Every now and then I have to go there to show respect to my culinary forefathers, showcase my skills, and just grub-out to some cheap, gutter, grimy good food.
When you can take some humble ingredients like neck bones and make it into pure tasty bliss you got skills. This is that dish that your Aunt Phyllis would love. If you don't have an Aunt Phyllis think about that one Auntie with the big laugh and big heart who brings her on to go plate to the Sunday dinner.
Beef neck bones ingredients
what are beef neck bones?
Neck bones in general are highly slept on by the main stream. Whether we're talking about turkey necks, pork neck bones, or beef neck bones, seasoned neck bones, slow cooked in a flavorful broth are a beautiful thing!
I describe neck bones as a poor man's or hood beef short ribs. They're just as tender but less fatty than short ribs and even its cousin oxtails. As much as I love neck bones, I hope they kinda remain a best-kept secret and not go the way of oxtails.
Next thing you know, neck bones will be appropriated like them and we'll be paying $20 a pound. Cheap, tasty, and versatile; so what's not to like about the underrated beef neck bones? If you're interested in oxtails check out my detailed braised oxtails post.
how to cook beef neck bones (step by step)
Neck bones are best cooked via a traditional braising approach. Slow and low cooking is perfect for breaking down an otherwise tough cut of meat. A wine-based braising liquid along with caramelized vegetables like onions, celery, and carrots help provide an unmatched depth of flavor.
And even better, the results leave behind a killer gravy that is mucho sop worthy; just be sure to have some good crusty bread on hand for steady soppin!
step 1: season and brown the neck bones
I like to mix my spices together in a small ramekin or mixing bowl then season as I go. Season neck bones generously reserving a portion for the pot later.
Heat large pot or dutch oven over medium high heat. Add olive oil and then sear neck bones browning on all sides. Remove and set aside.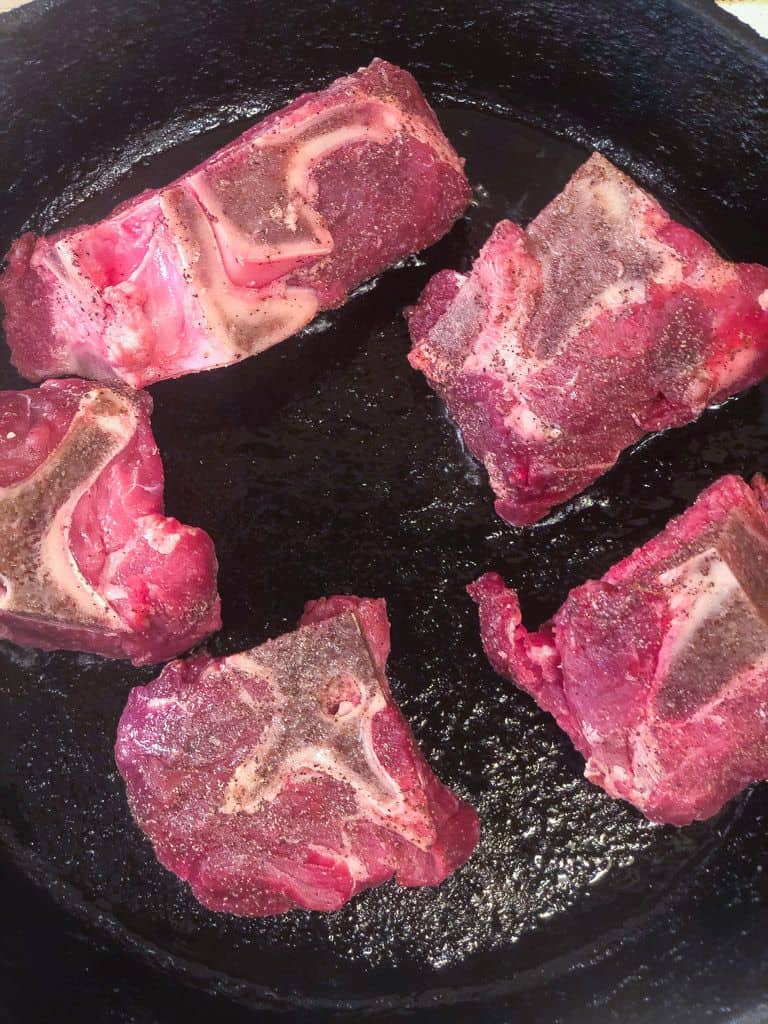 step 2: saute vegetables
Add the vegetables to the neck bone drippings and saute for a few minutes until the veggies soften. Add a bit more of the seasoning as you saute.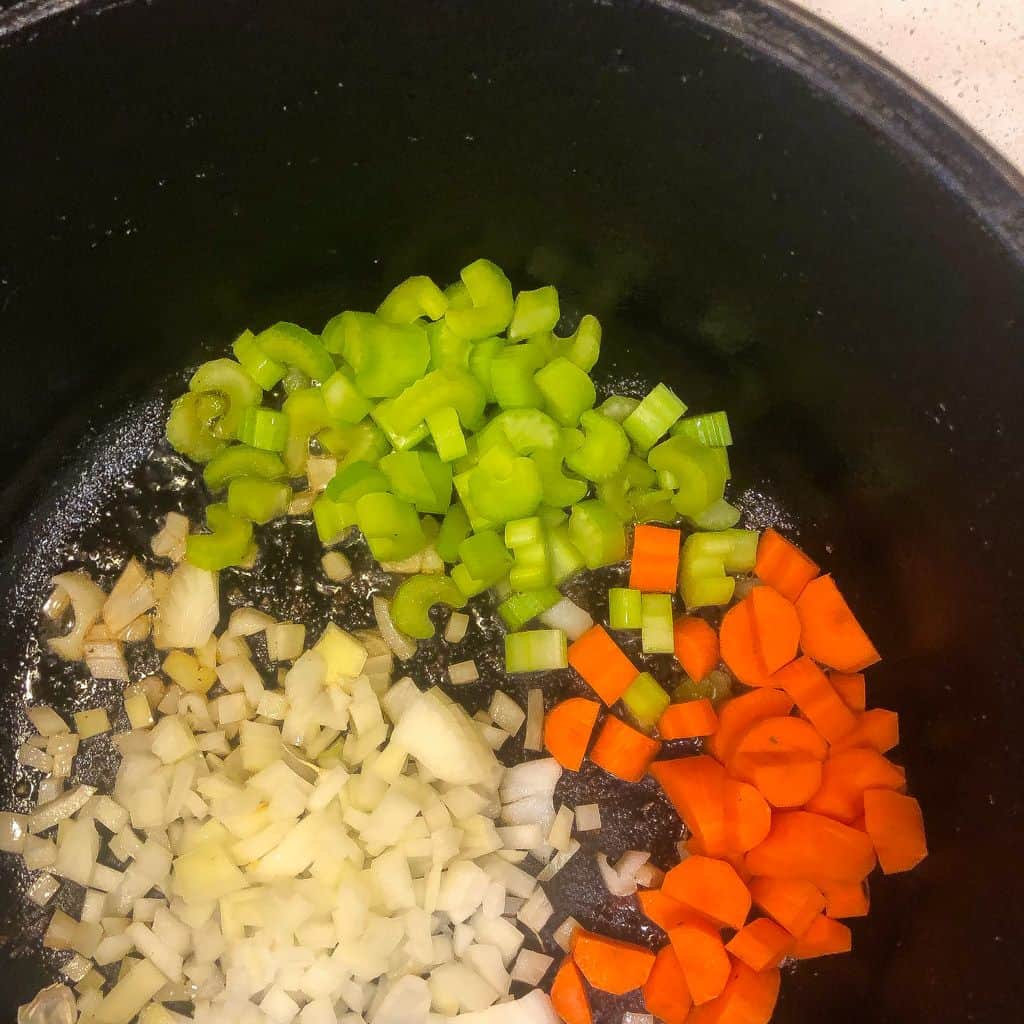 step 3: add tomato paste
Add the paste and mix in well with the vegetables. Allow to cook 1-2 minutes.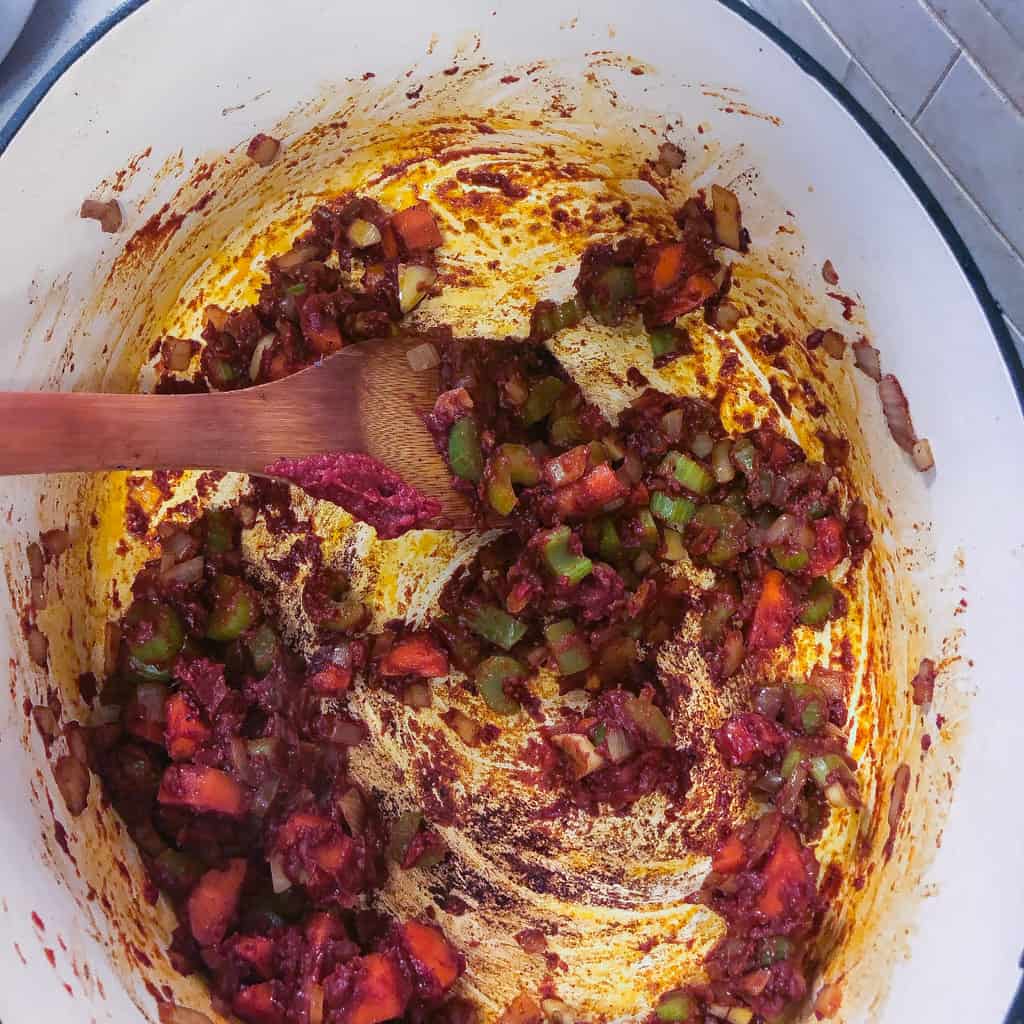 step 4: add remaining ingredients
Add the wine to the pot. Mix well using a wooden spoon deglaze the bottom of the pan by scraping up the brown bits. This is a flavor enhancer move. Cook off the alcohol and reduce the liquid by about half. Add the beef stock, bay leaf, and remaining spices.
Place neck bones back in the pot. Cover pan and braise in the oven at 275 degrees F for 4-6 hours.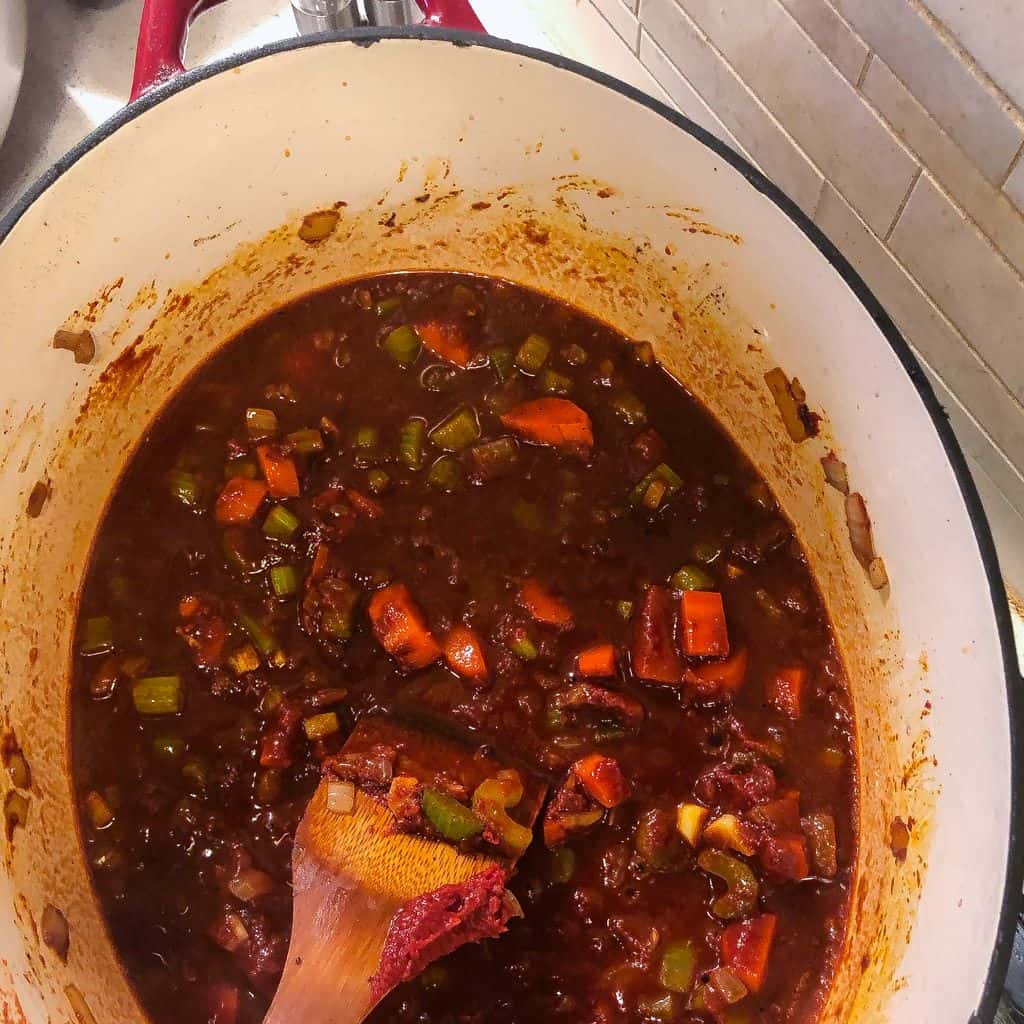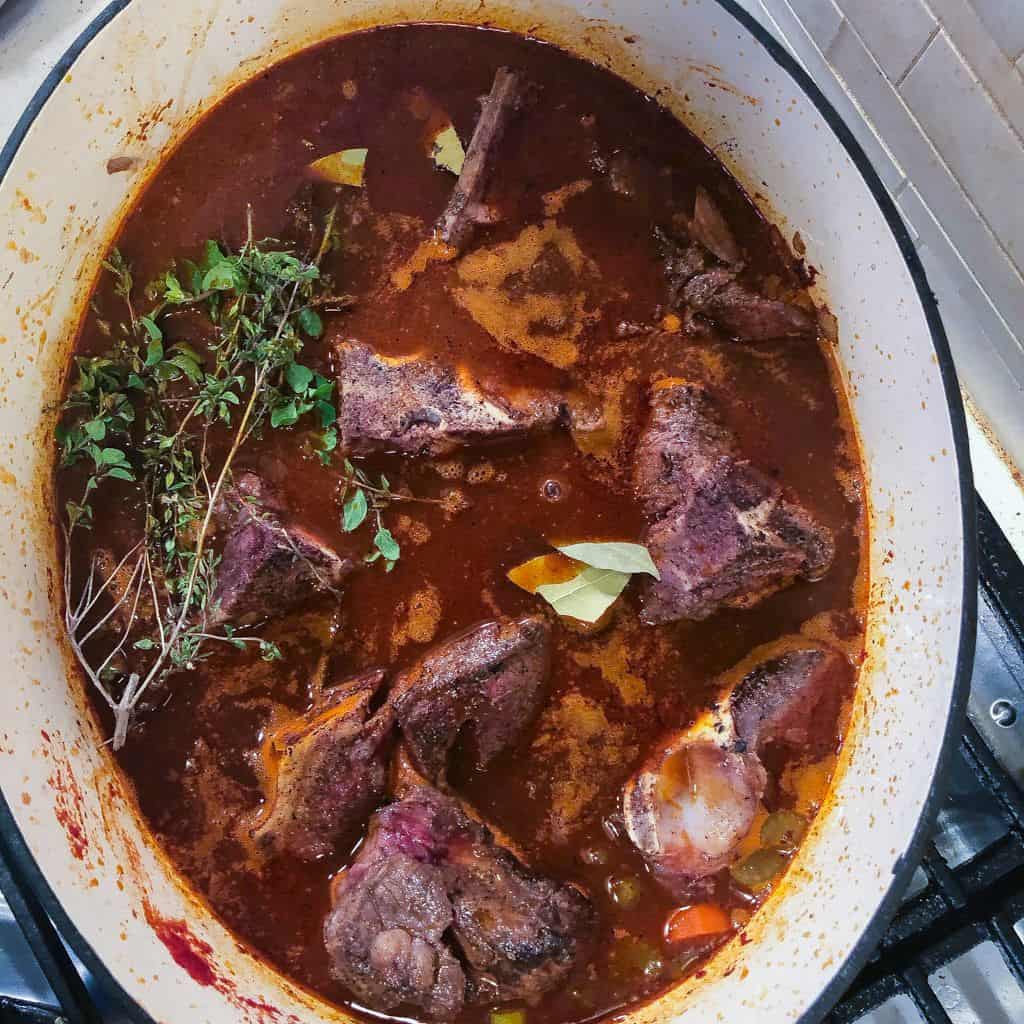 serving suggestions:
You can stop after braising and enjoy these deep, flavorful meaty neck bones as is. I like mine over grits or rice laced with the braising liquid reduction. To reduce to gravy level consistency, remove the neck bones from the pot and cook the braising liquid on a high heat until it reduces down. You can also add a slurry of water mixed with corn starch as you cook the liquid down which will thicken things quite a bit.
Serve the cooked neck bones over some mashed potatoes with a cup of blackeyed pea soup and side of collard greens.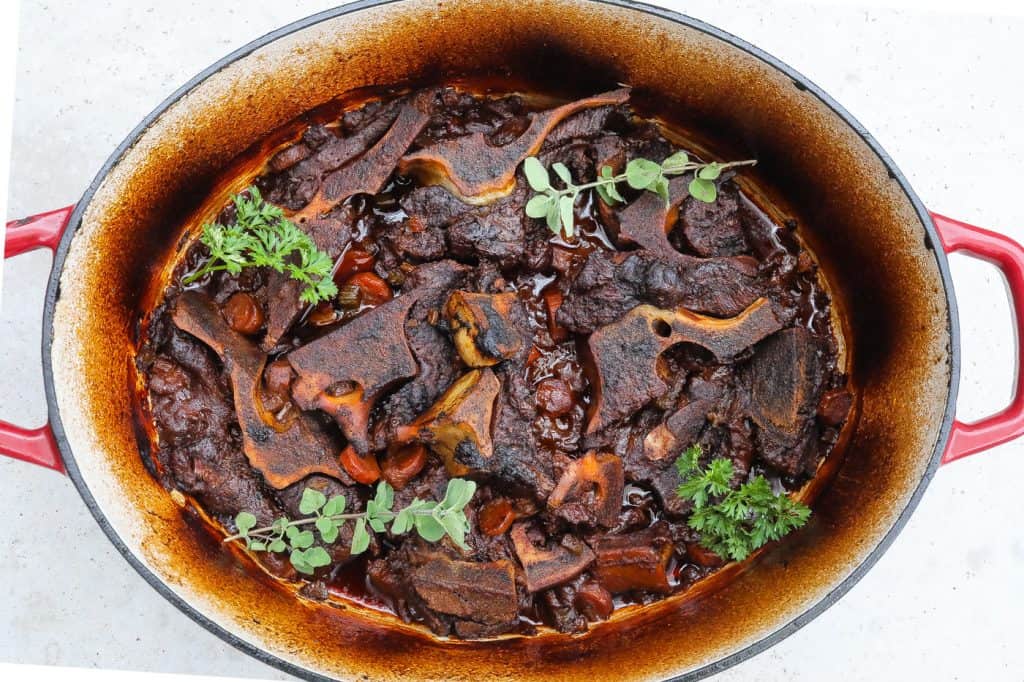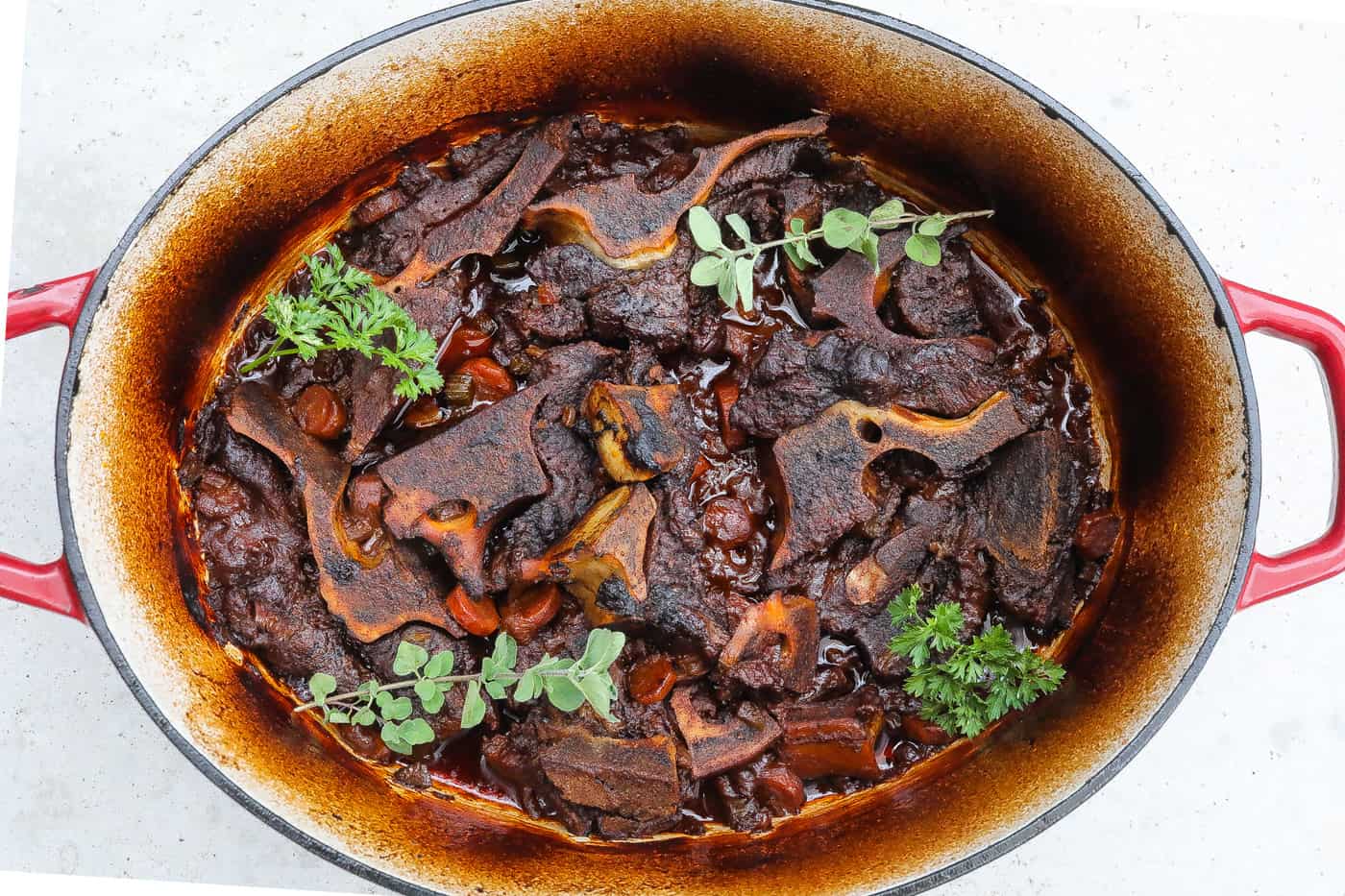 Cooking Tips and Considerations
Choose the right bones: Look for beef neck bones that are fresh, with a good amount of meat and marrow still on the bone.
Season well: Beef neck bones have a lot of flavor on their own, but they can benefit from some added seasoning. I like coarse black pepper, kosher salt, allspice, garlic powder, and smoked paprika. Did I mention to season the neck bones generously
Brown the meat: Pat neck bones dry first to improve the browning on that sear. Whether you use an instant pot, crock pot, or traditional pan you'll want to brown first.
Slow and low: Beef neck bones are tough, so they benefit from long, slow cooking to break down the collagen and make the meat tender. Consider using a slow cooker, pressure cooker, or Dutch oven to cook the bones for several hours.
Use the bones and the meat: Beef neck bones are versatile because they have both meat and the bone. Consider using the meat in soups and stews, and the bones for homemade beef broth.
Skim the fat: As the beef neck bones cook, they will release fat. Be sure to skim the excess fat off the top of the cooking liquid to keep the dish from becoming too greasy.
Frequently Asked Questions
where can I find neck bones?
Neck bones are the cheap eats so you're unlikely to find them in higher-end grocery stores or even mainstream grocery stores unless they are near or in poorer neighborhoods. Many ethnic grocery stores will carry them. You can always ask your butcher to reserve them for you.
what are good substitutes if I can't find them?
Now, I know beef neck bones ain't the most popular meat on the grocery store roster, so feel free to substitute beef short ribs or beef shanks in the recipe.
how do I ensure the finished neck bones are tender and not tough?
are there other methods of cooking neck bones?
I've used a sous vide to cook the neck bones for these sandwiches, in the past. If cooking sous-vide cook in a plastic bag with fresh thyme for 20-24 hours at 125 degrees. Slow-cooker is another option, but just be sure you sear the meat first to not only ensure tenderness but also for purposes of maximizing flavor which can be a challenge somewhat with crock-pots. I haven't used an Instant Pot yet, but can see it working well.
are neck bones good for bone broth?
Neck bones are perfect for beef bone broths. Neck bones have a lot of collagen which is what gives the broth both body and rich flavor. They also have much meat, which helps prevent that sour, off-flavor you sometimes get with roasted bones.
what else can neck bones be used for?
Beef neck bones are extremely versatile. Besides the bones being instrumental in broths/soups the meat can be used in many different types of recipes both as the star or as a supporting ingredient. You may find or use them in any of the following ways:
For other recipes featuring humble meat turned into gourmet magic, try these:
Beef OOxtail Soup with Blackeyed Peas and Collard Greens
Making This Recipe
I hope this dish of braised beef neck bones has warmed your soul and brought comfort to your taste buds. Remember to be patient with this tough cut of meat, and let the low and slow cooking method work its magic. The result will be a succulent and flavorful meat that falls right off the bone.
Pair it with some mashed potatoes or buttery cornbread, and you'll have a meal that's sure to satisfy. Don't be afraid to experiment with different seasonings and spices to make it your own. Enjoy every bite and savor the love and care that went into making this dish.
If you make these delicious braised beef neck bones, please come back and leave me a comment below with your feedback. Definitely take a photo of the dish and be sure to tag #foodfidelity so that I can see them.
You can also keep up with my food exploits as well as original recipes! You can find me on Instagram, Facebook, Twitter, and Pinterest. If you like any of the music you find on the site, visit me at Spotify to find curated monthly playlists.
Lastly, go to my YouTube channel and subscribe to be notified when new weekly videos are uploaded.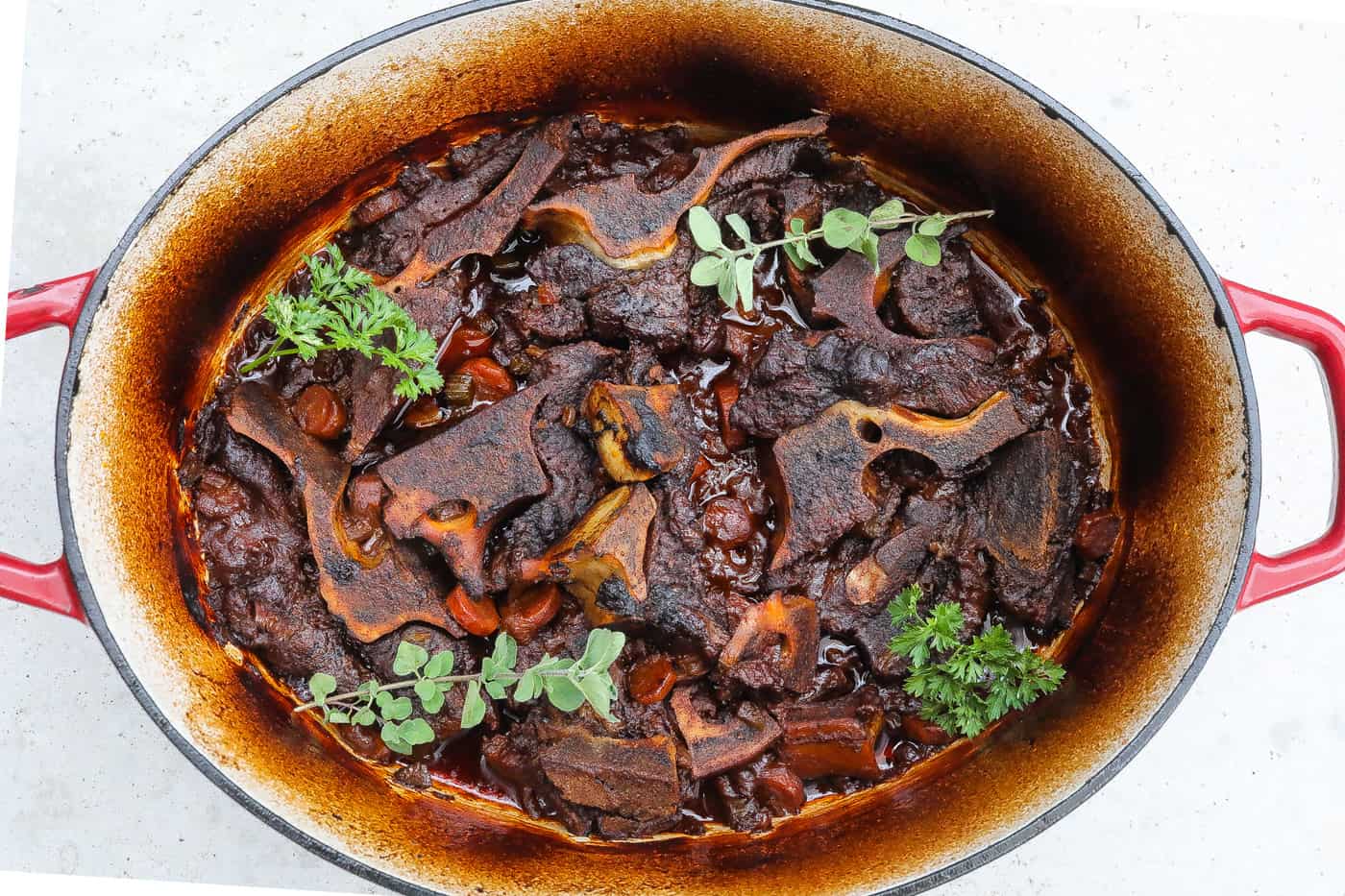 Ingredients
4

pounds

Beef Neck bones

Salt And Pepper

1

tablespoon

Olive Oil

1

medium

Onion

Finely Diced

3

medium

Carrots

Finely Diced

2

celery ribs

diced

3

cloves

Garlic

minced

2

cups

Red Wine

2

cups

Beef Broth

6

oz

tomato paste

1

tablespoon

smoked sweet paprika

½

tablespoon

all spice

1

bay leaf
Instructions
Rub the outside of the neck bones with salt and pepper. In a large skillet over high heat, brown the neck bones on all sides. Set aside and reserve.

Add carrots, onions, celery, and garlic to the pot and saute 3-5 minutes. Season with paprika, all spice and additional salt and pepper.

Add the tomato paste to the pot and mix well with the vegetables.

Add the wine and deglaze the pan with a wooden spoon scraping up any brown bits stuck to the bottom of the pan. Add the stock and bay leaf. Mix well then add the neck bones back to the pot. Top with fresh herbs.

Bring to a boil then reduce to a simmer and cooking on low for 4-6 hours. Alternatively you can braise in the oven at 275 degrees. Remove neck bones and let cool slightly. Pull the beef away from the bones and chop. Beef should be tender and easy to pull apart.
Video
Notes
Sear the neck bones first as you would any other braised meat recipe
Use a braising liquid that is somewhat acidic and make sure you have adequate liquid to submerge the neck bones
Make sure your pot has a heavy lid. If it doesn't, then top the pot with parchment paper first and then cover with lid during cooking
Cook them low and slow (275-325 degrees in the oven)
Nutrition
Calories:
360
kcal
|
Carbohydrates:
20
g
|
Protein:
20
g
|
Fat:
13
g
|
Saturated Fat:
4
g
|
Cholesterol:
49
mg
|
Sodium:
877
mg
|
Potassium:
1179
mg
|
Fiber:
4
g
|
Sugar:
9
g
|
Vitamin A:
9153
IU
|
Vitamin C:
15
mg
|
Calcium:
73
mg
|
Iron:
4
mg
Subscribe To My YouTube Channel
Subscribe To My YouTube Channel for full length recipe videos. Click the bell icon to be notified when I post new videos.
My YouTube Channel