Smoked pork belly burnt ends – sweet sticky things that a fatty cubes of goodness. Pork belly is slow-smoked to melt that delicious fat and leave nothing but tender, meaty finger food.
Disclosure: Some of the links in this post are affiliate links, meaning, at no additional cost to you, I will earn a commission if you click through and purchase. Note any product link included is for one I've used on my own quite frequently.
What Are Burnt Ends?
Burnt ends typically refer to brisket. Specifically, they are the crispy ends of sliced smoked brisket that are sauced up and served on bread or just eaten straight up as finger food.
If you've spent any time in Kansas City, then you've likely had barbecue brisket burnt ends. The fatty ends of the brisket make for the best burnt ends. For this reason, you have to try smoked pork belly burnt ends. That belly flap of fat that seems to engulf the pork makes pork belly equal or better than brisket depending on your tastes.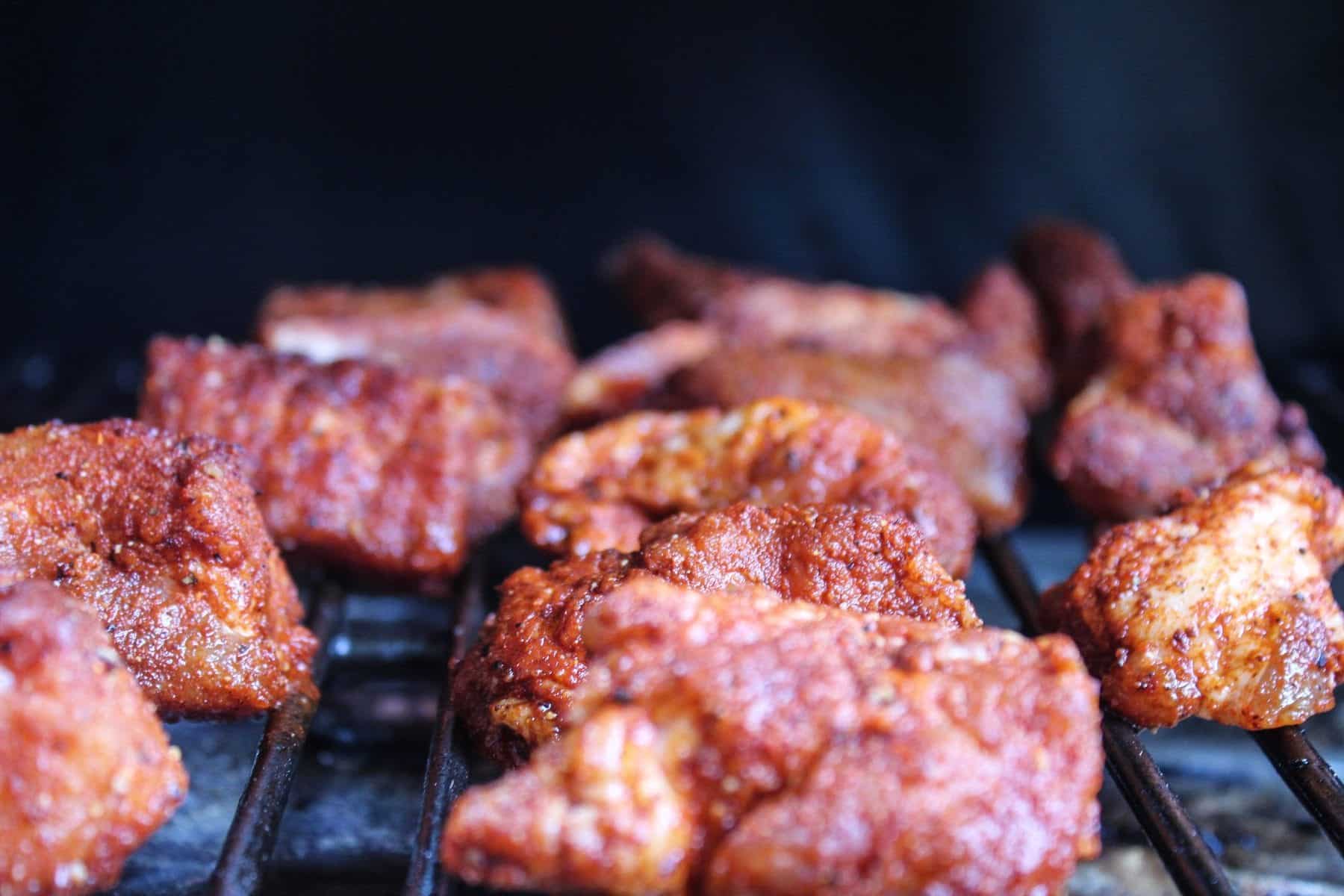 Pork Belly Burnt Ends Inspiration
The first time I ever had burnt ends was during a trip to Kansas City which is the 2nd best bbq region in the world. At the time I was at Arthur Bryant's BBQ Restaurant and baptized there with some serious brisket burnt ends. Since I've had them in many of the other top spots in KC. Eventually, I added them to my repertoire.
Recently I bought some pork belly to make homemade cured bacon. I had some extra pork belly so decided to use it as a replacement for brisket in my usual burnt ends recipe.
I don't eat pork in large doses often, but when I do I go all in as was the case here. By all in I mean buying from local or nearby farmers whose swine parenting skills are in line with mine. When it comes to swine treatment I'm a big softie. That stems from my childhood days when I worked wage free on my Uncle Bubba's hog farm. Every Saturday morning Uncle Bubba would come down in the hood to pick my brother and me up and take us to his farm.
My job was to "slop hogs" which was essentially walking through mud and transporting a "slop" bucket of vegetable scraps and food waste to a large trough. It was neither a clean nor pleasant-smelling endeavor. The smell stuck to my clothes and afro for days. For a time the one bright spot was the fact that I got to know the pigs well enough to consider them family.
My youthful naivety prevented me from making the connection to the slabs of bacon, pig feet, and hot links we frequently had on the table at home. This all changed after I witnessed my first slaughter. I had known Big Scraps since he was little Big Scraps.
Though he was two years my senior, I had a big hand in his development. Then with no warning the powers that be took my man out. I felt like Wilfred when Cornbread was killed in the movie "Cornbread, Earl and Me" or any real-life friend of Jordan Edwards.
Scraps died a gruesome death and then was gutted posthumously and allowed to bleed out with no dignity as all the staff called dibs on different body parts including the genitals. Yes, I learned of "Rocky Mountain Oysters" at the early age of 6.
Needless to say, my Saturday was ruined and eventually led me to play football so that I could avoid backstabbing my friends. Later in high school I would give up swine for a brief period which necessitated a "family meeting" as my staunch Baptist grandparents feared the combination of my swine abstinence, short haircut, and Boogie Down Productions "By Any Means Necessary" album in heavy rotation meant I was on the verge on joining the Nation of Islam.
Everybody exhaled when I resumed my weekly Saturday visits to Good Luck (hole in the wall burger and hot link joint) for a Link Basket. As I got older and began my culinary quest I started paying attention to where pigs were sourced, the conditions under which they were raised, and what they were fed. These factors all impact the taste and texture of the meat, but also give you a greater appreciation for the food you're eating.
Pork Belly Burnt Ends Cooking Tips
Use fresh uncured pork belly
Remove the rind if present. Most grocery store pork belly will come without the rind.
Cube the pork belly from the start so it can develop a slight bark on all sides.
Don't forget the foil wrap step when cooking. This provides the necessary steam and pressure to render the fat
Feel free to do some quality control as you cook. Ultimately the texture be soft and easy to squeeze with your fingers
Glaze with your favorite bbq sauce while cooking or use the recipe for chipotle bbq sauce below
These can be made ahead for later consumption including taking to a potluck. To transport just wrap them in foil and place them in a cooler topped with a towel to retain heat
Special Equipment Recommended for Pork Belly Burnt Ends
Use a vegetable grill pan to prevent pork belly burnt ends from falling through grill grates
Making Smoked Pork Belly Burnt Ends
If you make these addictive smoky pork belly burnt ends please come back and leave me a comment below with your feedback. Definitely take a photo of the dish and be sure to tag #foodfidelity so that I can see them.
You can also keep up with my food exploits as well as original recipes! You can find me on Instagram, Facebook, Twitter, and Pinterest. If you like any of the music you find on the site, visit me at Spotify to find curated monthly playlists.
For other grilled or smoker recipes try these Smoked Trout or this African Beef Suya Skewers.
Ingredients
For The Brine
1/4

cup

kosher salt

1/4

cup

brown sugar

1

tbsp

black pepper

2-3

bay leaves

4

garlic cloves

4

cups

water

1

lemon

juiced
For the Burnt Ends
4

lb

Pork Belly skin removed

½

cup

Spice Rub

buy or make your own

1

cup

BBQ Sauce

store bought or home made
Instructions
Make the Brine
Add kosher salt, brown sugar, black pepper, basil, garlic, water, and lemon juice to a bowl. Mix in bowl until sugar and salt dissolve

Cover chops with the brine and refrigerate for 1-8 hours.

Remove chops from brine. Wash well then dry fully. Season with salt and pepper and let reach room temperature.
Smoke the Pork Belly
Prepare smoker for indirect cooking at 250 degrees. I use a combo of oak and apple wood

Remove heavy flap of fat from top of the pork belly. Cube belly into 2-inch cubes.

Generously season all sides of the pork belly cubes with the rub.

Arrange cubes onto a full size cooling rack and place on smoking grate.

Smoke pork belly for 2 1/2 hours.

Place each Pork Belly Burnt End into an aluminum pan and cover with aluminum foil. Return to smoker for 1 1/2 hours.

Drain the liquid from the pan and add the BBQ Sauce to the burnt ends. Toss gently to coat each piece and return to the smoker to set the glaze for 20 minutes and serve.
Notes
Cooking times will vary by size and grill type so monitor cooking.
Nutrition
Serving:
1
g
|
Calories:
1694
kcal
|
Carbohydrates:
31
g
|
Protein:
29
g
|
Fat:
161
g
|
Saturated Fat:
58
g
|
Cholesterol:
218
mg
|
Sodium:
5314
mg
|
Potassium:
728
mg
|
Fiber:
1
g
|
Sugar:
25
g
|
Vitamin A:
137
IU
|
Vitamin C:
11
mg
|
Calcium:
59
mg
|
Iron:
2
mg
Subscribe To My YouTube Channel
Subscribe To My YouTube Channel for full length recipe videos. Click the bell icon to be notified when I post new videos.
My YouTube Channel
Ingredients
2

cups

ketchup

1

cup

water

1/2

cup

apple cider vinegar

5

tablespoons

dark brown sugar

2

tablespoons

honey

1

tablespoon

fresh ground black pepper

1/2

tablespoon

garlic powder

1/2

tablespoon

ground mustard

1

tablespoon

Worcestershire sauce

1

teaspoon

amchur powder

optional

1

dried chipotle chile

salt to taste
Instructions
In a medium saucepan, combine all ingredients. Bring mixture to a boil, reduce heat to simmer. Cook uncovered, stirring frequently, for 1 1/2 hours
Notes
Amchur powder is an ingredient used in Indian desserts. It's actually ground dried mango. It's an optional twist here if you want to add a little tartness to the sauce. You will likely only find it in Indian markets.
Subscribe To My YouTube Channel
Subscribe To My YouTube Channel for full length recipe videos. Click the bell icon to be notified when I post new videos.
My YouTube Channel