Keto Tuna Salad Recipe
This tuna tomato salad has gone from my weekday comfort salad to a quick light dinner meal. It's tangy, aromatic, and delicious featuring ingredients you likely have on hand making for easy meal prep.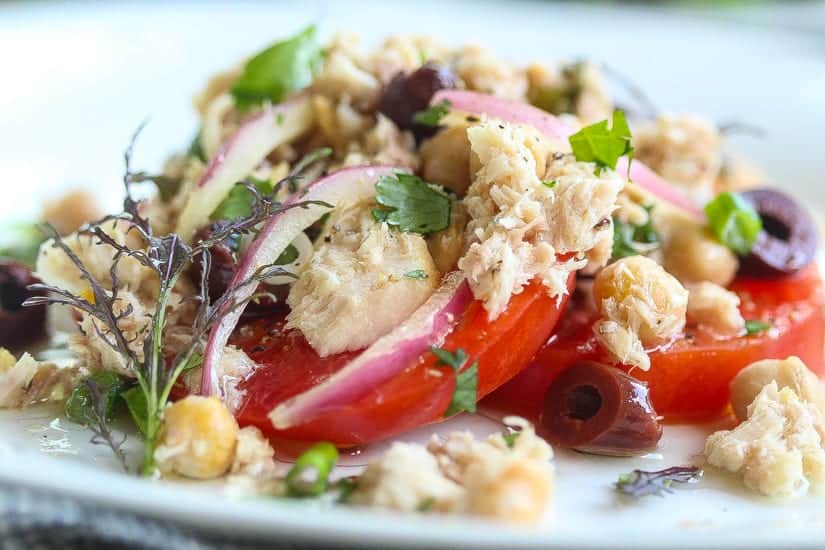 Musical Inspiration for Simple Tuna Salad Recipe
Most of the men in my family are good cooks. My late Uncle Slick was a special case, think Samuel Jackson's character Gator in the movie "Jungle Fever." He somehow was one of the better cooks of the Brown men despite spending most of his life behind bars. After one of his regular all night benders he'd come home early afternoon with the munchies and cook up a meal large enough for four grown-ups. If there were no pork chops or ham, he'd make a batch of tuna salad for his special tuna fish sandwich. I couldn't eat fish at the time, but my brother and cousins swear by it. He made his sandwich with three slices of white bread, Big Mac style, accompanied with super gulp sized grape Kool-Aid and a big bag of pork skins swimming in hot sauce. Since my grandparents were usually at work, he'd turn up the music which was usually Earth, Wind and Fire's "Beijo" which is the greatest interlude ever and also one of the most sampled songs in hip-hop. At the time, I was perplexed as to why he needed drugs as I never saw him as high as he got from listening to "Beijo" and I was right there with him bouncing and just feeling good! I still get that feeling whenever I hear this song. I just wish it were an 8-minute interlude.
Tuna Tomato Salad Health Tips
This recipe is loosely based on my Uncle Slick's with some modifications to improve the health profile. Given my household didn't have a similar need for carbs as Uncle Slick I eliminated bread and replaced with beefy tomatoes as the carrier for a keto friendly tuna salad. The tomato is basically used like bread in a bruschetta. I also eliminated his heavy dose of Miracle Whip in favor of a simple olive oil and lemon juice vinaigrette for a more heart-healthy/cholesterol friendly dish.
Flavor Profile of Tuna Tomato Salad
This simple salad is a quick go to for lunch or light dinner. It can be made casual or dressed up for guests or fancy weeknight gourmet on a budget. Fresh, juicy thick tomatoes make for an excellent carrier to the tuna salad. The salty and briny kalamata olives, paired with vinaigrette help lighten the dish. The beans, mild in taste add heft to the dish which helps bring out the herbal aroma of the cilantro. When it comes to beans and herbs, I use whatever I have on hand. Chickpeas, black-eyed peas, white beans, parsley, basil all work. Herbs are essential in providing a "fresh" element given the use of canned meat and beans.
Tuna Tomato Salad Cooking Tips
Use red or pickled onions. They add crunch and flavor. Raw white onions have a strong taste that prevents all the ingredients coming together with balance.

Break the tuna up with your hands and go for chunkier consistency. This will plate better and (assuming you're using a decent quality tuna) allow you to enjoy the tuna flavor.

Make salad ahead of time
Tuna Tomato Salad Meal Planning Tips
Don't fuss if you don't have all the ingredients on hand. Be as flexible as needed with respect to canned protein, herbs, and bean choice. 

Make without tomatoes and use as stuffing for avocados

Choose oil vs. water based canned tuna based on preference. Oil ensures a more moist tuna, whereas water though drier, keeps the calorie count down and provides a cleaner tuna taste.
Dope beats, fresh eats. Enjoy this delicious simple tuna salad recipe for a comfortable low carb lunch or light dinner.    
Keep up with my food exploits as well as original recipes! You can find me on Instagram, Facebook, Twitter, and Pinterest.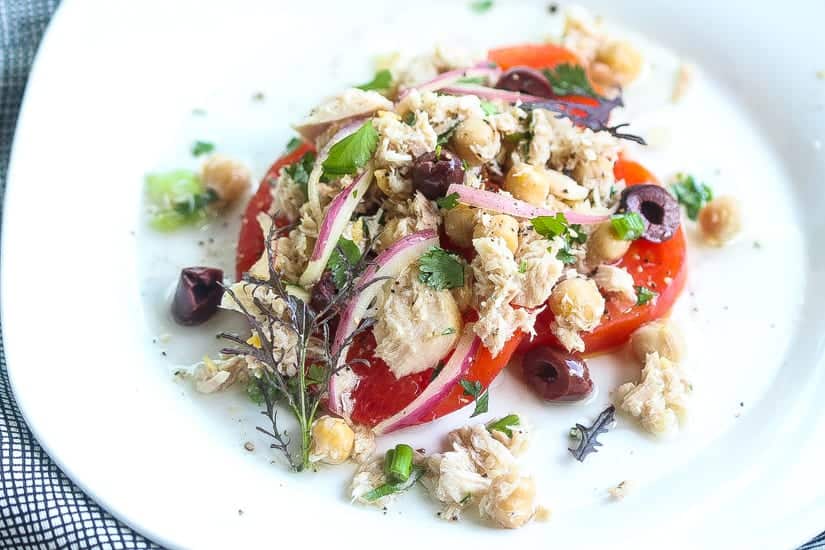 Tuna Tomato Salad
Quick and easy tuna tomato salad recipe featuring fresh and juicy thick tomatoes topped with chunky tuna and bean salad.
Print
Ingredients
3

tablespoons

extra-virgin olive oil

2

tablespoons

fresh lemon juice

1

teaspoon

kosher salt

1

teaspoon

freshly ground black pepper

2

tablespoons

green or kalamata olives

halved

1/4

cup

cilantro leaves

plus more for garnish

1

can

15 oz. beans, drained and rinsed

2

cans

5 oz. each tuna*, preferably packed in natural juices, drained and broken into chunks

1

medium red onion

thinly sliced

8

thick slices large tomatoes

heirlooms work great
Instructions
In a medium bowl, whisk together oil, lemon juice, salt, and pepper. Add cilantro, beans, tuna, olives, and onions and stir gently just until coated.

Arrange tomato slices on 4 plates and spoon tuna mixture on top, dividing evenly. Garnish each with more cilantro
Recipe Notes
Substitute any canned legumes (chickpeas, navy, blackeyed peas) 
Make the salad a day ahead
Nutrition Facts
Tuna Tomato Salad
Amount Per Serving (0 g)
Calories 0
% Daily Value*
Total Fat 0g 0%
Cholesterol 0mg 0%
Sodium 0mg 0%
Potassium 0mg 0%
Total Carbohydrates 0g 0%
Protein 0g 0%
* Percent Daily Values are based on a 2000 calorie diet.