Quick and Easy Vegan Quinoa Salad with Pomegranate
A nutritious, vibrant, and refreshing main dish option that can be added to your 30 minute meals arsenal.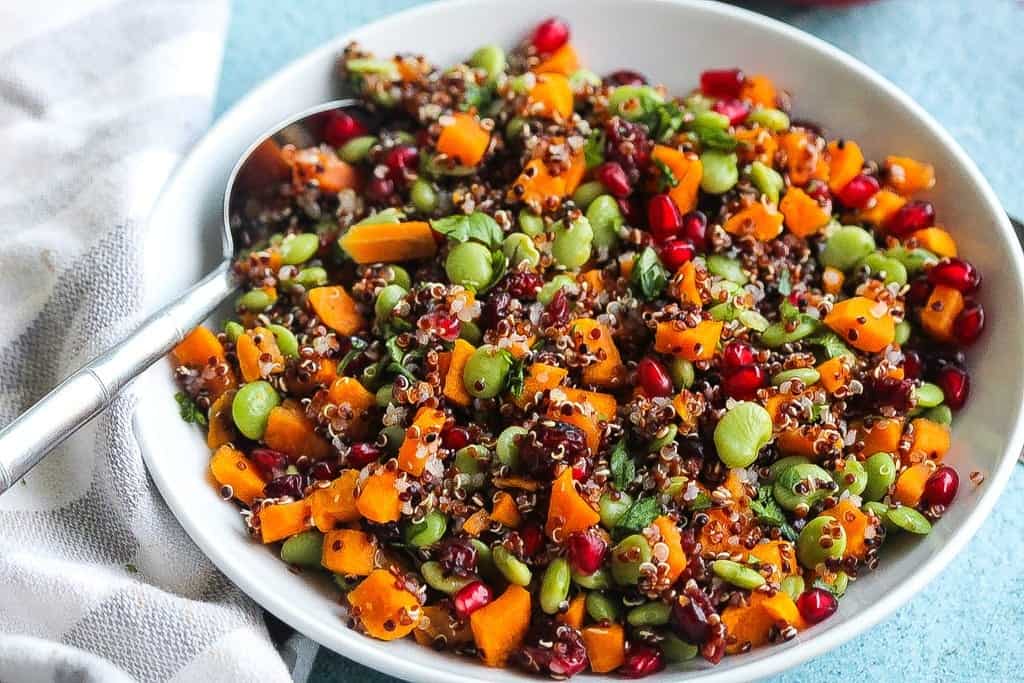 Quinoa is easy to cook and requires little effort to impart flavor. Given this, it's a staple in our house as a busy weeknight go-to. Plus it offers so many other beneficial qualities that I recommend you get familiar with this ancient grain. We use it for both side and main dish options with or without meat.
What is in a vegan quinoa salad?
Quinoa is the base ingredient but my goal for this recipe was to add to my mix of vegan soul food recipes a dish that was bright and colorful. As Austin City Limits music festival gets started I've been listening to a lot of NoName. We've had so much rain the past two months, that Austin is feeling more like Seattle. Though the steady rain has been great for my crops, I'm looking forward to some sunny days.
In addition to the quinoa, this dish boasts a few soul food all-stars that provide color, flavor, and nutrition. Green baby Lima beans and sweet potatoes are common in multiple dishes all across the south. Not as popular as black-eyed peas, but just as tasty when cooked right there ain't nothing better than a good lima bean soup slowly simmered in a smoky pork broth or a bright and zesty succotash. Pomegranate seeds add color, crunch, and a certain tartness that balances well with the lemon citrus and sweet dried cranberries.
Does quinoa salad pack enough protein for a vegan main dish option?
Between both the lima beans and quinoa you have the makings of a protein-rich salad. Lima beans have always been the protein punch added to soups, stews, and salads. Quinoa is actually popular these days because of its high protein content. Technically a seed it contains eight grams of protein per cup. Plus, it's considered a complete protein, meaning it packs all nine essential amino acids your body needs.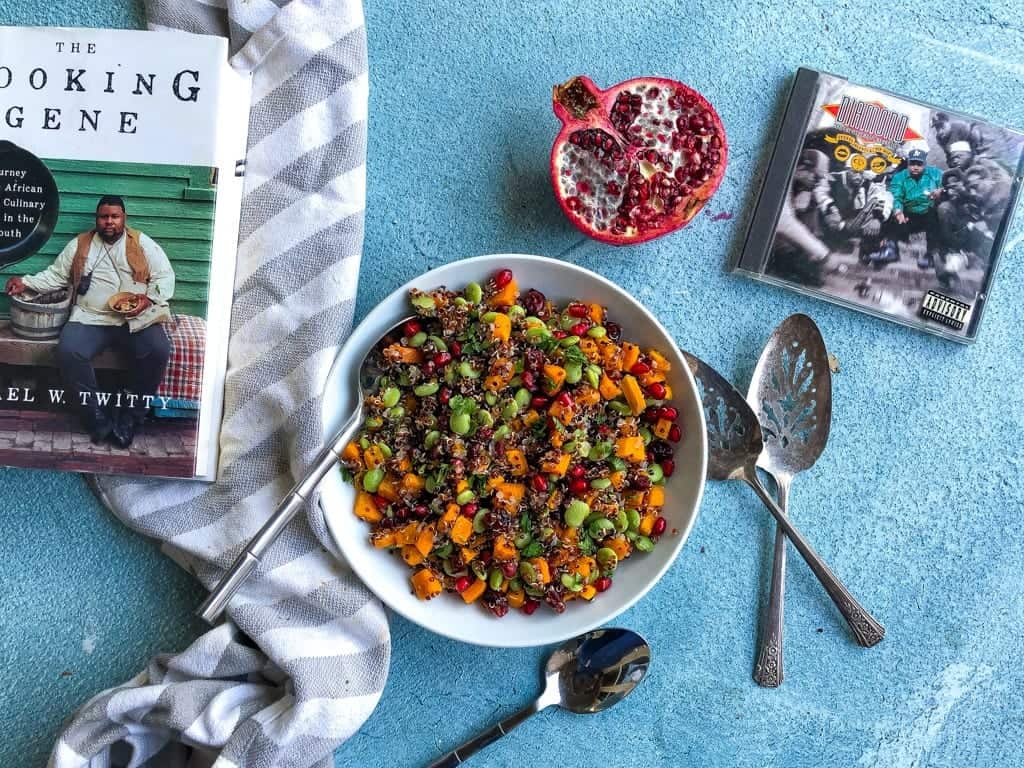 How long can quinoa salad last in the fridge?
The salad is crazy delicious so you're not likely to have much leftover unless you are super disciplined. I admittedly am not, so defer to your own judgment. Should you have or plan for leftovers you have 1-2 days max to enjoy the full flavor and texture of this dish. This is all due to the presence of the lima beans, which perish relatively quickly once they're cooked.
Is quinoa salad gluten-free?
Yes, this is a gluten-free recipe. However, make sure for the quinoa that you read the label. Pure quinoa is gluten-free and thus safe for people with celiac disease gluten sensitivities. However, some caution is advised as this doesn't mean that all products containing quinoa are gluten-free. For more insight, help in making sure try this article https://www.verywellfit.com/is-quinoa-gluten-free-562849
Quinoa salad cooking tips
Dice the sweet potatoes pretty small and cook with the quinoa. This will not only impart some sweetness into the quinoa but help with cooking time as you kill two birds with one stone.

Blanch the baby limas then cool in a bowl of ice to slow the cooking. Beans should be tender but skin should have some snap to them

When cooking the beans

don't add anything acidic like tomatoes, vinegar or citrus to the water as this will make them tough. You can add the citrus later after cooking.

If you are using a fresh, whole pomegranate to avoid a mess halve the fruit then put in a large bowl of water and pull it apart to release the seeds. This will keep the red juice from staining everything they touch.
Quick and easy vegan quinoa salad with pomegranate
For a great vegan soul food dish, try this quick vegan quinoa salad with pomegranate, and please come back and leave me a comment below with your feedback. Definitely take a photo of the dish and be sure to tag #foodfidelity so that I can see them.
You can also keep up with my food exploits as well as original recipes! You can find me on Instagram, Facebook, Twitter, and Pinterest. If you like any of the music you find on the site, visit me at Spotify to find curated monthly playlists.
For other quinoa based vegan soul food recipes try this Turnip Greens Tabbouleh w/ Quinoa.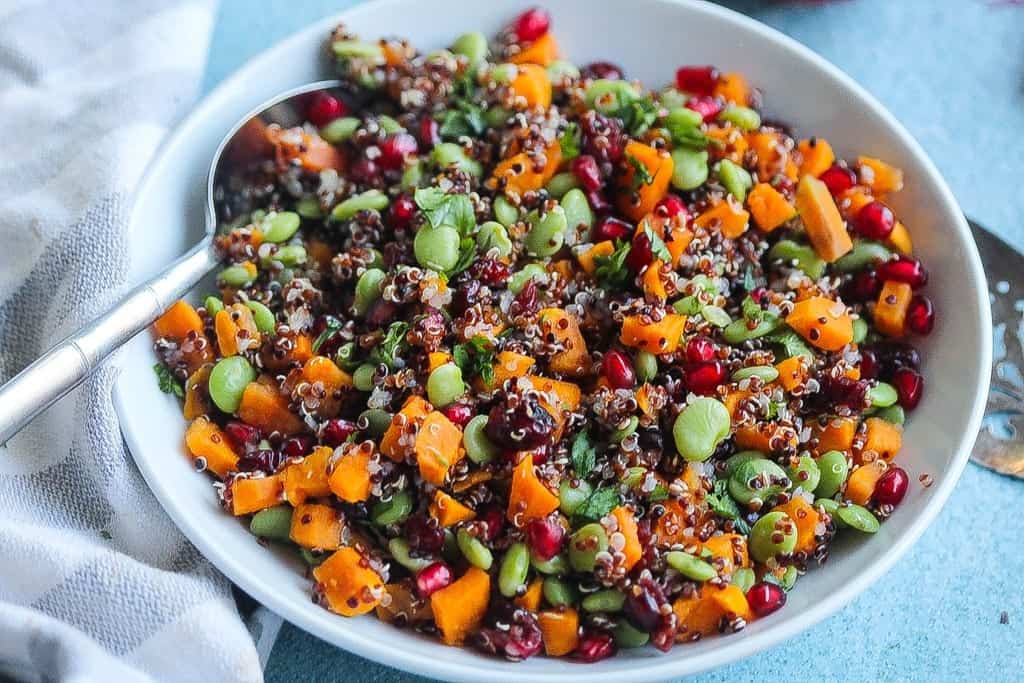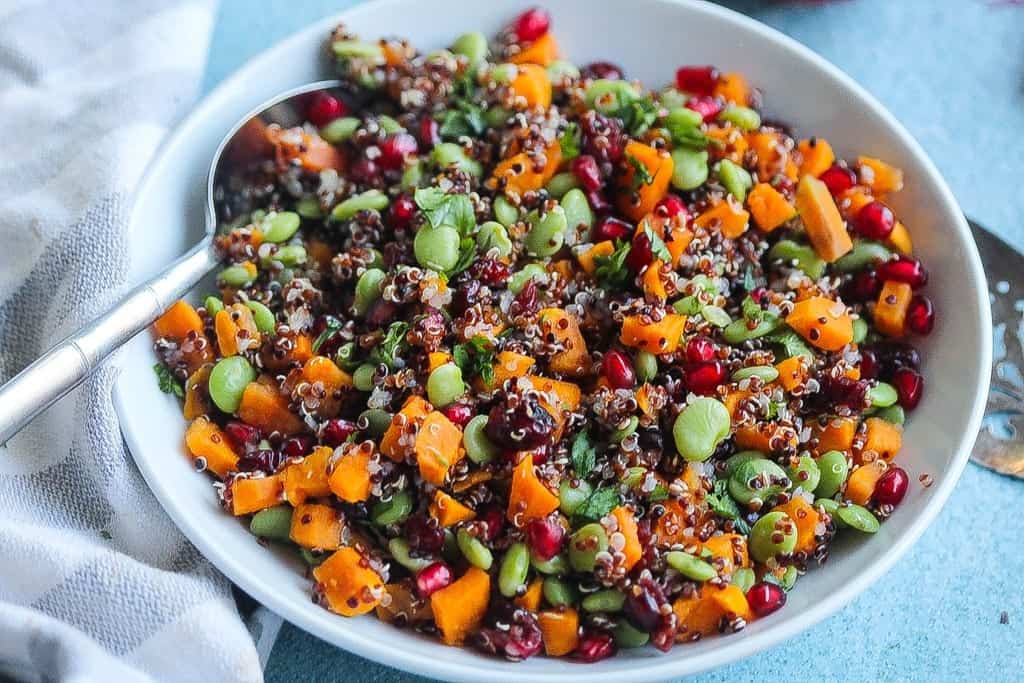 Ingredients
2

cups

quinoa

1

medium sweet potato

peeled and diced

1

cup

fresh or frozen baby lima beans

frozen edamame good substitute

1

cup

pomegranate seeds

½

cup

dried cranberries

½

cup

fresh lemon juice

1

tablespoon

olive oil

1

teaspoon

salt

1

teaspoon

pepper

½

tablespoon

smoked sweet paprika

1

large bunch cilantro

chopped
Instructions
Cook the quinoa according to package directions. For shortcut, cook the diced sweet potatoes with the quinoa. Let cool to room temperature

Blanch lima beans in a sauce pan by adding the beans to boiling water for 2 minutes and then straining into a large bowl of ice water to stop the cooking.

Place the quinoa in a bowl and add the rest of the ingredients. Mix well and serve
Nutrition
Calories:
518
kcal
|
Carbohydrates:
94
g
|
Protein:
16
g
|
Fat:
9
g
|
Saturated Fat:
1
g
|
Cholesterol:
0
mg
|
Sodium:
628
mg
|
Potassium:
926
mg
|
Fiber:
13
g
|
Sugar:
17
g
|
Vitamin A:
5155
IU
|
Vitamin C:
22.4
mg
|
Calcium:
75
mg
|
Iron:
5.6
mg
Subscribe To My YouTube Channel
Subscribe To My YouTube Channel for full length recipe videos. Click the bell icon to be notified when I post new videos.
My YouTube Channel