Black-eyed peas are one of the tastiest and nutritious beans out there! Here are some unique and tasty black-eyed peas recipes for you to try.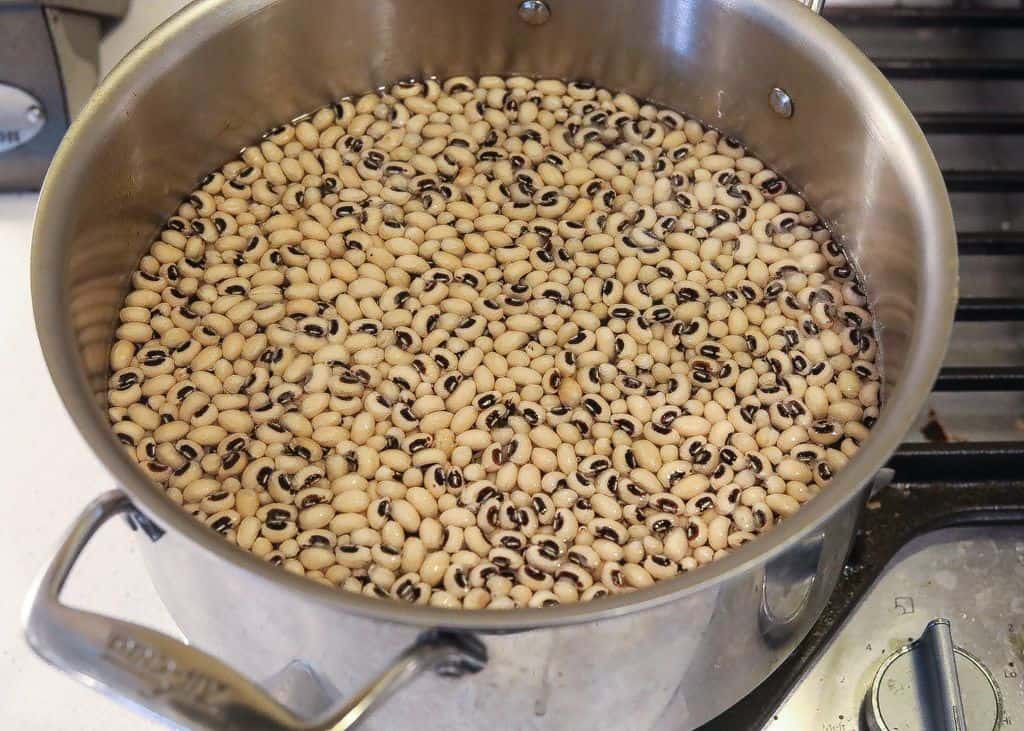 Are you someone who loves black-eyed peas, but only eats them for New Year's luck according to Southern traditions and superstitions? There are actually many different ways to prepare black-eyed peas so that you can enjoy them all year round.
What are the best ways to eat Black-eyed peas?
Black-eyed peas are slept on outside of the South. They are as flavorful and nutritious as any vegetable. They are worthy of their own 101 Class. Here's our list of cool ways to enjoy a highly underrated legume. They feature black-eyed peas cooked in the following main ways:
Traditional. Slow simmer them Southern style in a large pot with your smoked meat of choice. (See below.)
Instant Pot. Black-eyed peas are beans, and Instant pots were made to cook beans! Pressure cooking with an Instant Pot reduces cook time dramatically as in less than 30 minutes easy (see below).
Fried. I know fried and black-eyed peas don't naturally come to mind, but think falafel which is essentially ground beans fried in oil.
Ready to get to these black-eyed peas recipes?
Here are 10 of our best!
Southern Style Black-eyed Peas
A classic black-eyed pea recipe! Soaked overnight and slowly simmered in smoky broth. This recipe replaces smoked ham hocks with turkey legs. It's the same great taste of the South, but made just a tad bit more healthier. You'll love these deeply flavored peas and they will add the most beautiful aroma to your kitchen.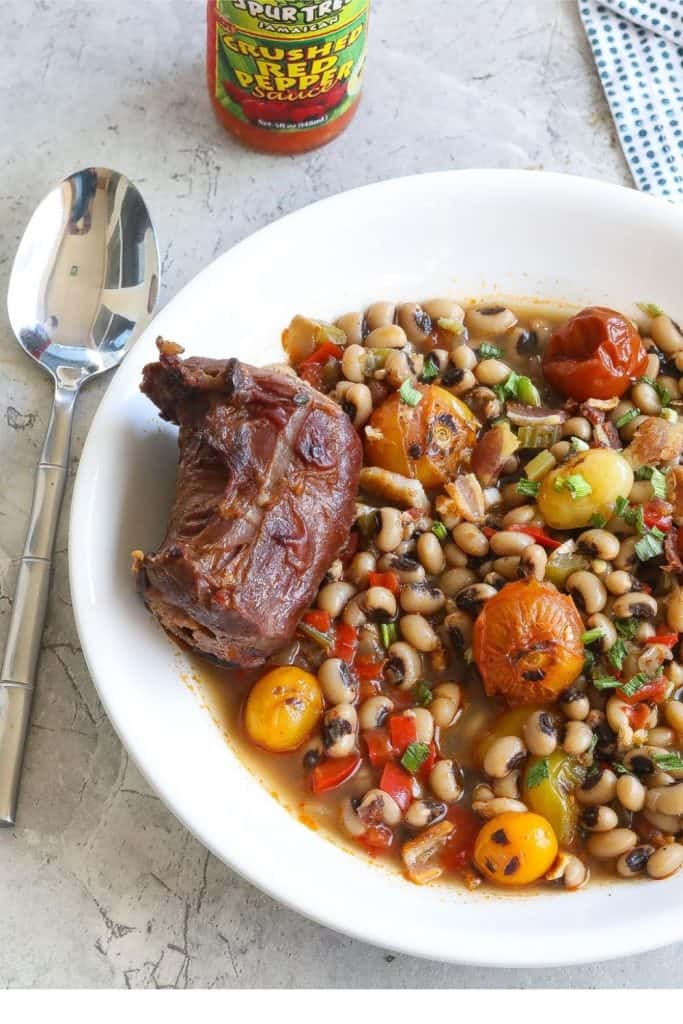 Next up in our black-eyed peas recipes: a truly underrated way to make them! It is a flavorful and healthy way to enjoy a soul food staple. It's cheap, tasty, low maintenance, and can be stretched into multiple recipes by simply adding in fresh vegetables of your choosing. The best thing about this recipe is the longer it sits, the better it gets so much that leftovers may be better than the original.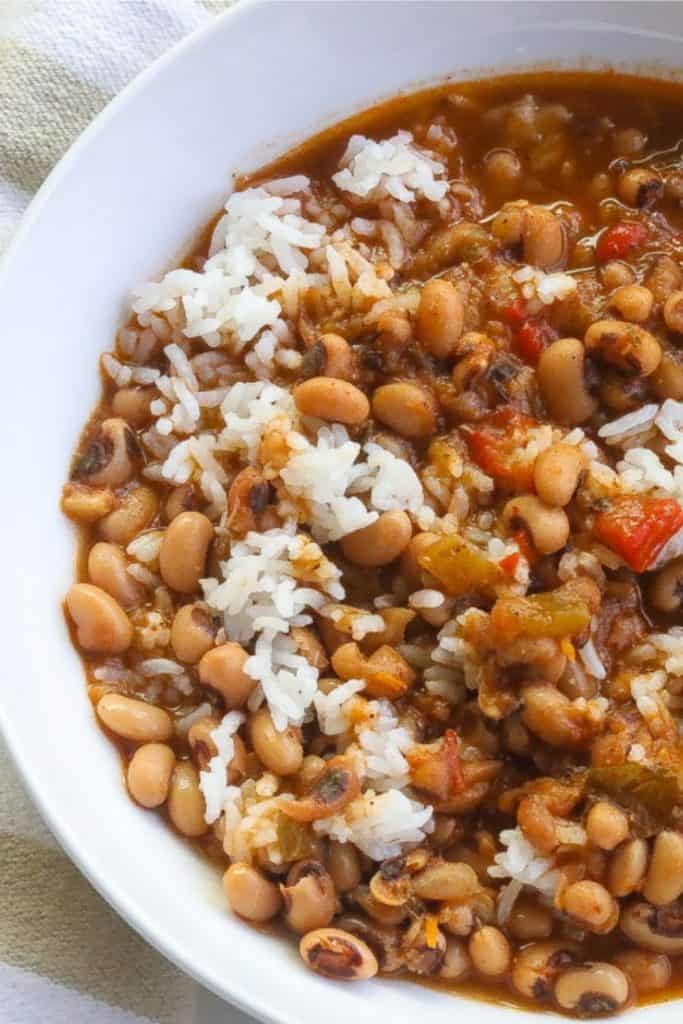 Most people know of red beans and rice! But down South black-eyed peas and rice aka "Hoppin John" is just as popular if not more. You want a big bowl of comfort goodness, then this is it. The peas are creamy and laced with a great seasoning mix led by smoky paprika. Serve them with a batch of hot water cornbread.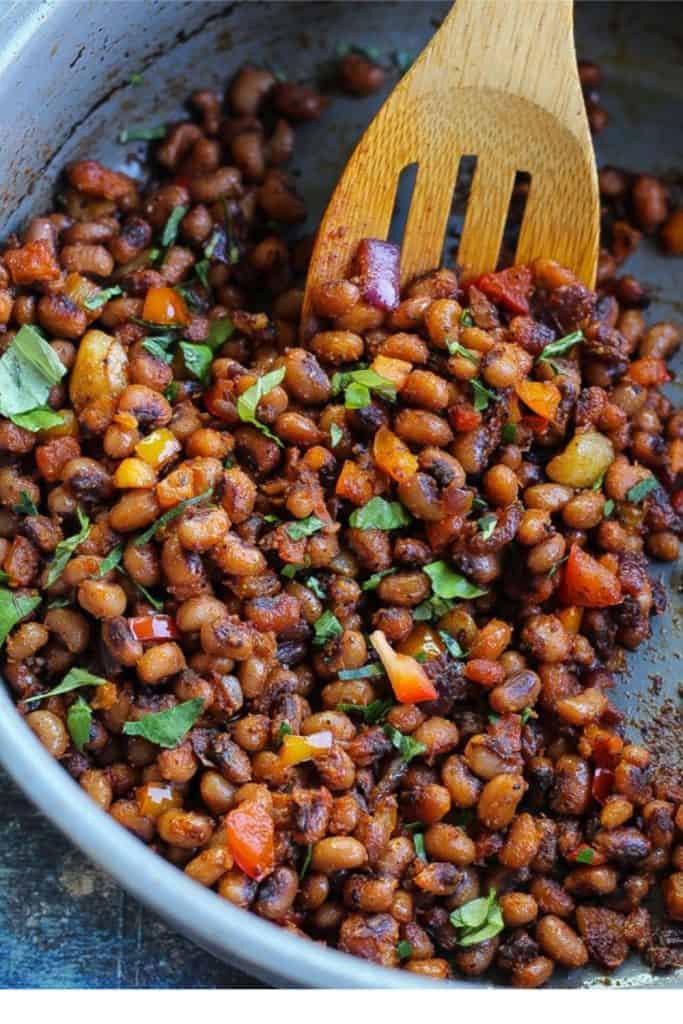 Did you expect to see a roundup of black-eyed peas recipes that included a fried version? I know, I know it's not intuitive or the first to come to mind, but this recipe brings the goods. Pan-frying gives the peas texture and another level of complexity when it comes to flavor. Just don't be afraid to brown these a bit. This is where that extra flavor umph comes from.
This is also the ultimate fast cook side dish. Your oil of choice is simply infused with flavor from spices and aromatic veggies like garlic and onions before a quick fry of canned blackeyed peas.
This is second of our canned black-eyed peas recipes. Here in Texas, we refer to black-eyed pea salad as Texas cavier. It's a summer staple that is quick and simple, but with amazing flavor. It's extremely versatile and you can easily tweak it to create your own version and/or make due with whatever ingredients you have on hand.
Fresh herbs and a bit of citrus makes this dish refreshingly light. It's great as a side but works as a dip with tortilla chips or as a topping for grilled meats like fish or chicken.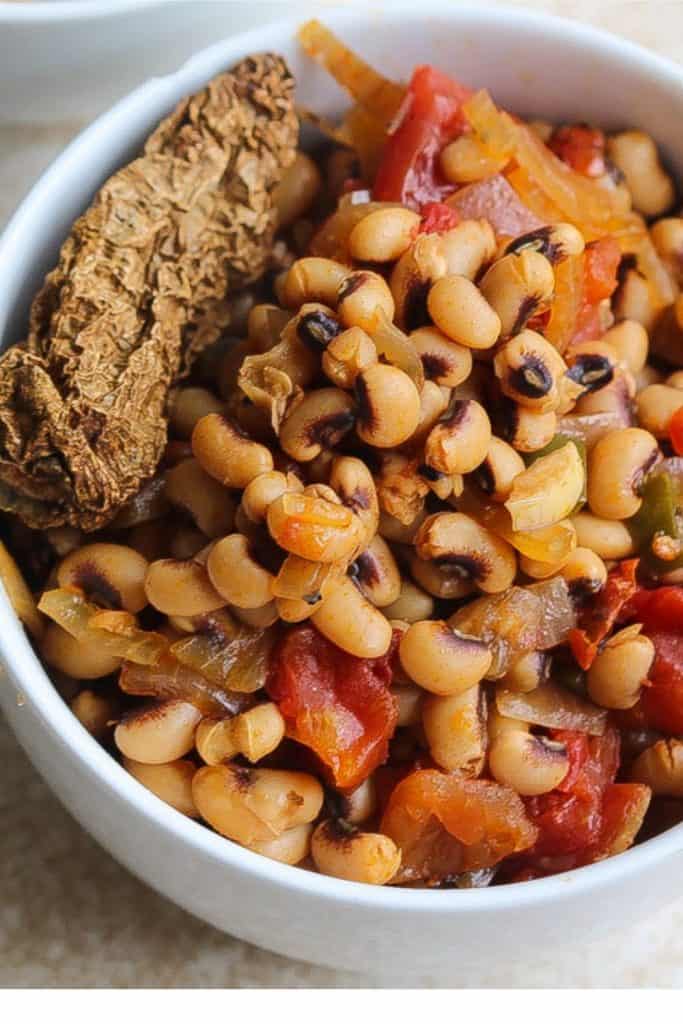 Most black-eyed peas recipes call for flavoring with meat. But here we show love to those who prefer dishes sans meat. These vegan black-eyed peas fully take advantage of the natural flavors and health benefits that black-eyed peas offer.
To replace the smoke flavor common in Southern peas dishes, these black-eyed peas get an infusion of a taste of Mexico as smoky, earthy morita chilis are used to flavor the stock the peas cook in.
Black-eyed Peas and Collard Greens Curry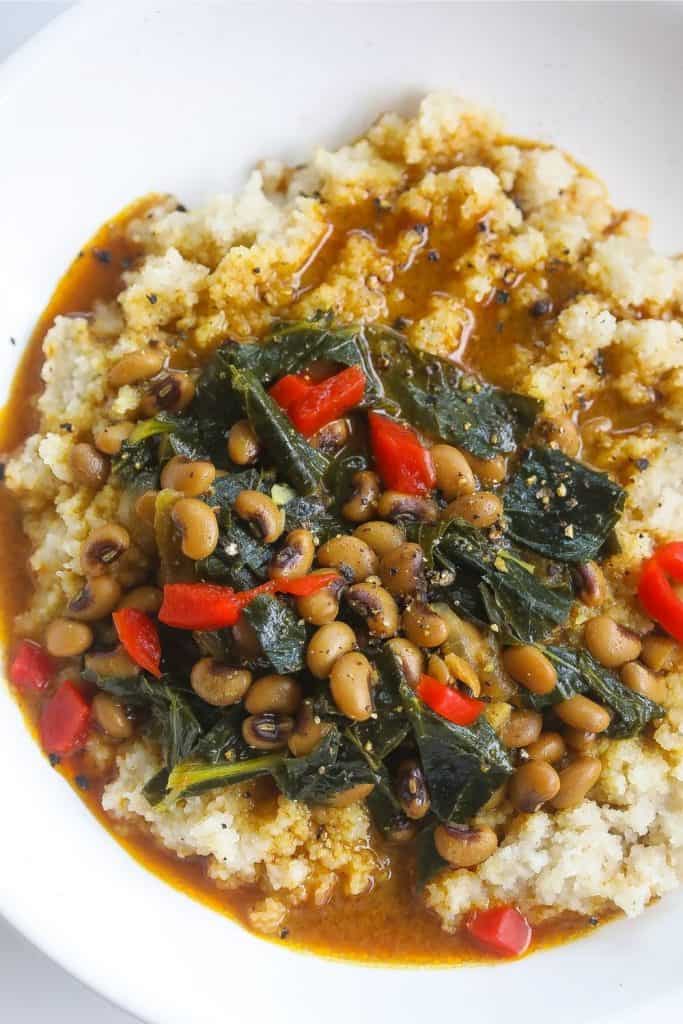 Who doesn't love a good curry dish? This is another vegan way to enjoy black-eyed peas. This dish calls for a pairing with another Soul food staple in collard greens which makes for a great combination. This is vegan soul food at it's finest plus a little Afro-Caribbean to match.
The coconut milk plus the mix of spices (curry, turmeric, paprika) packs a flavor punch and adds a level of richness unseen in your typical black-eyed peas recipes.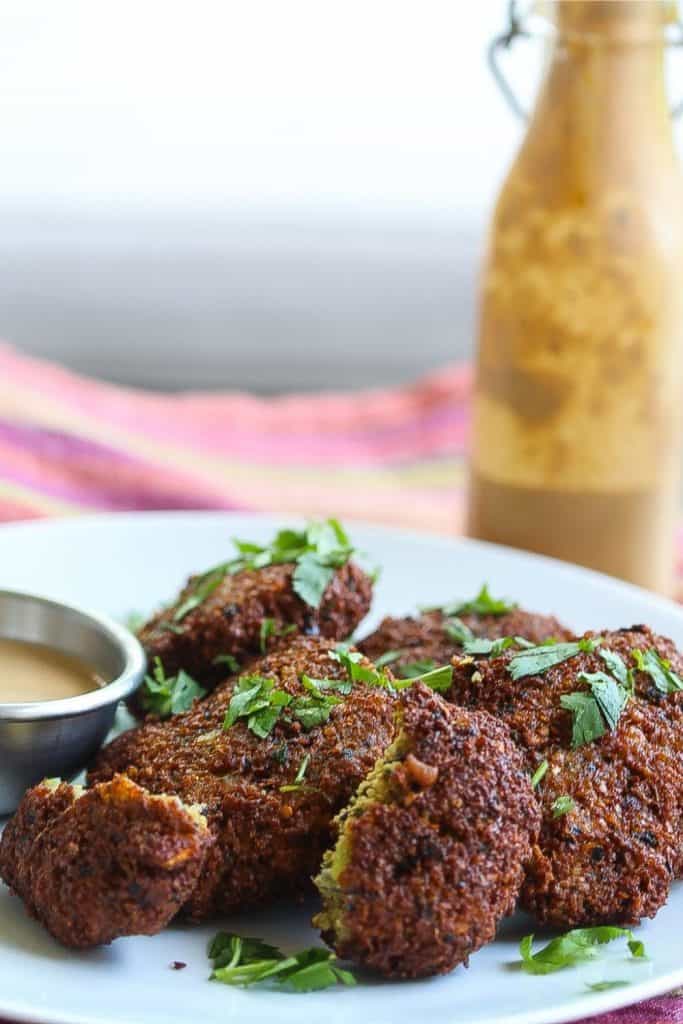 This is a really cool way to enjoy the flavor of black-eyed peas, while also showcasing their versatility. Black-eyed peas give falafel a dimension rarely explored. The fresh herb and dry seasoning mix take this dish from good to unbelievable. The best part is they are so easy to make. Just soak, puree, and fry them in oil then enjoy as an appetizer or main dish.
The Instant Pot and beans are indeed a match made in heaven. Pressure cooking maximizes time and flavor for unbelievably efficient cooking. These are fancied up a bit, for an Italian spin as they are flavored with pancetta bacon and topped with a cacio e pepe mix. If you don't know cacio e pepe - it's an incredibly tasty, but simple pasta dish that is pasta, butter, Pecorino cheese, and lots of cracked black pepper. The cheese and pepper makes these beans "elegant!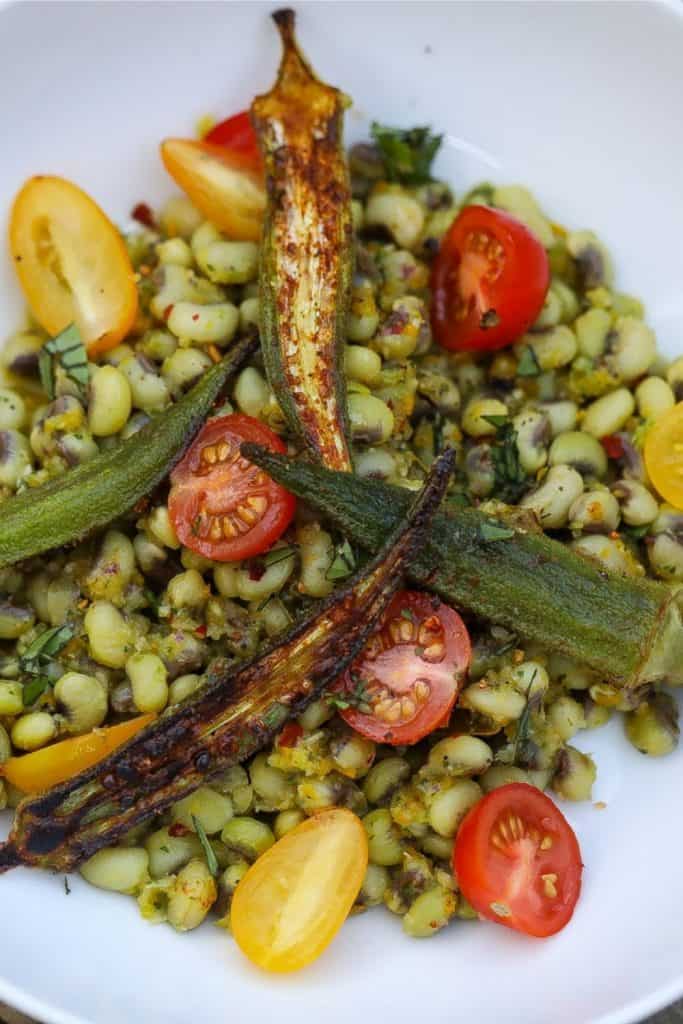 This recipe leverages a very close cousin to black-eyed peas - field peas. Field peas can be substituted in many black-eyed peas recipes as their flavor and texutre are nearly identical to the average palate.
This is a fusion type recipe matching the deep South with Varibbean Haitian cuisine. Okra and field peas are enhanced by Haitian epis which is a seasoning base very similar to a sofrito. Fresh herbs, vegetables and peppers are pureed and served in several types of dishes including soups and stews. In this field peas dish, the epis really opens the dish up and adds depths of flavor.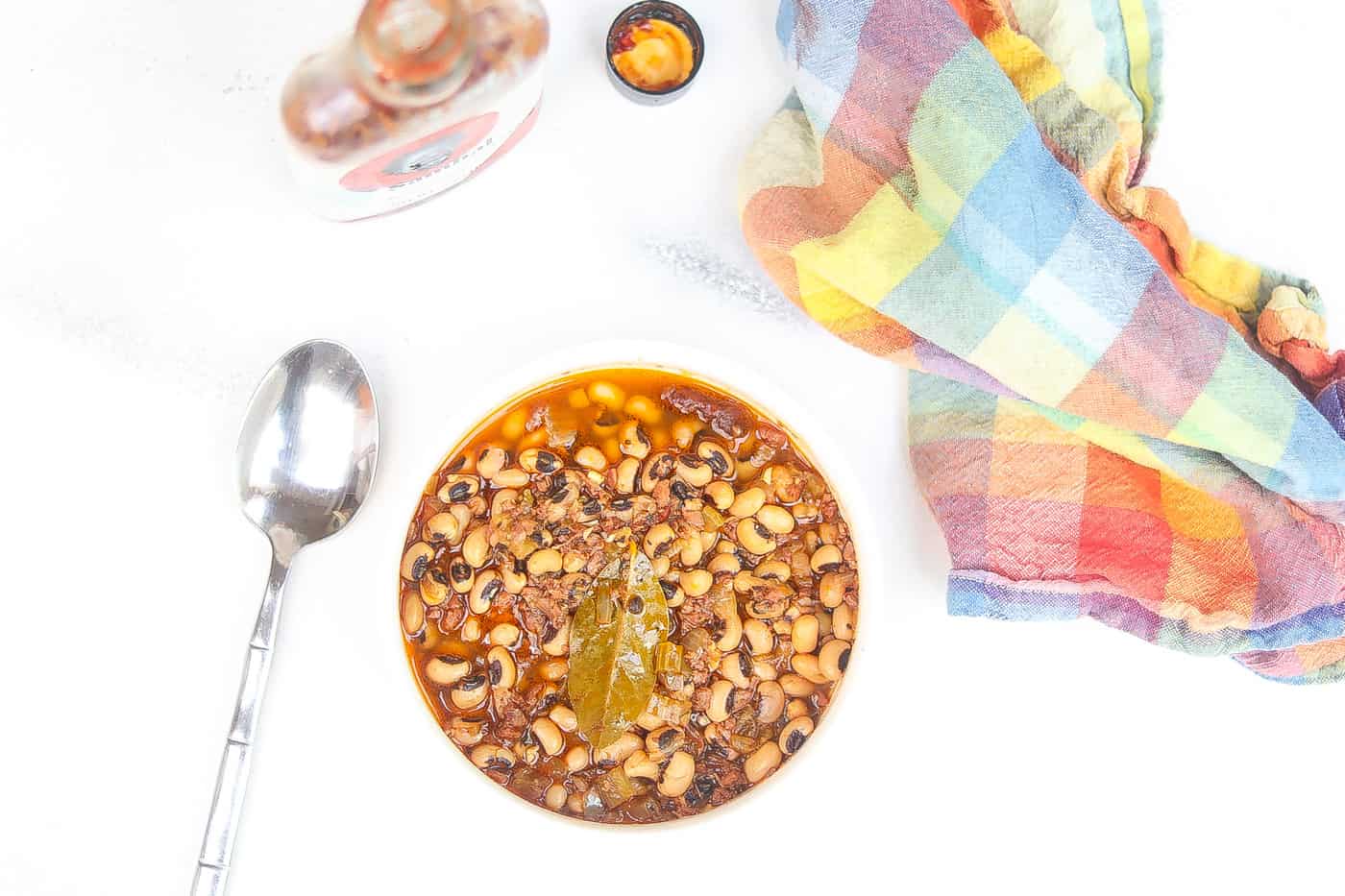 Ingredients
1

pound

dried black-eyed peas

fresh can be substituted

2

tablespoon

olive oil

2

medium

smoked turkey legs

1

large

yellow onion

diced

4

cloves

garlic

diced

3

celery stalks

diced

1

teaspoon

kosher salt

2

teaspoon

smoked sweet paprika

1

teaspoon

black pepper

¼

teaspoon

cayenne pepper

1

teaspoon

garlic powder

1

teaspoon

dried oregano

1

teaspoon

dried thyme

4

cups

chicken stock

2

bay leaves
Instructions
If using dried black-eyed peas, put them in a large pot and cover with about 4 inches of water. Soak the peas overnight, then drain the water (reserve 2 cups of the liquid for later) and rinse. If you're pressed for time, boil the peas for 2-3 minutes, remove pot from heat and let soak for an hour.

Pre-mix the dry spices together in a medium bowl.

Carve one of the turkey legs, removing as much of the meat from the bone as possible. Place turkey pieces into a food processor and pulse to a grind. Set aside.

Heat the oil in a large pot over medium heat. Add the whole smoked turkey leg and saute for 1-2 minutes per side. Remove the turkey and set aside.

Add onion, celery and garlic to the pot and cook, stirring, about 3 minutes. Add a pinch or two of the seasoning to the vegetables as you saute. Add in the ground turkey.

Add ½ the spices and cook until the entire mixture is coated with the spices, about 2 minutes. Add the peas and mix well.

Pour in the stock and reserved water if using, and drop in the bay leaves. Add the turkey leg back to the pot along with more seasoning and bay leaves.

Bring everything to a boil, then reduce to a simmer until the peas are very soft, about 1 to 1 ½ hours.

Taste for seasonings, and add more if desired. Discard the bay leaves, then transfer the black-eyed peas to a serving bowl.
Video
Notes
Use dry or fresh black-eyed peas. If using fresh peas, your cooking time will be shorter and no soaking is needed.
Make your own stock for more flavor and control of salt content.
Pork is traditionally used in Southern style black-eyed peas so feel free to keep this classic with smoked ham hocks or bacon. There are also smoked turkey options beyond legs, including turkey tails and necks.
These can be made vegan with a few tweaks. You'll have to use a really high quality paprika to replicate the smoked meat flavor.
For more flavor reserve 1-2 cups of the soaking liquid and add back to broth when cooking.
If you prefer to make this a true one-pot dish add a bit more stock or water for the rice to cook fully
Serve these with rice, for a Hoppin John recipe.
Other black-eyed pea relatives like purple hull or crowder peas can be substituted for black-eyed peas in this recipe if they are available to you.
Serve with fresh hot pan of cornbread or go really old school with hot water cornbread.
In the South black-eyed peas are eating annually on New Year's Day for good luck, wealth, and prosperity. Whether you believe in the superstition or not enjoy these on any day.
These can definitely be made in an instant pot
Nutrition
Calories:
348
kcal
|
Carbohydrates:
28
g
|
Protein:
33
g
|
Fat:
11
g
|
Saturated Fat:
3
g
|
Cholesterol:
83
mg
|
Sodium:
400
mg
|
Potassium:
845
mg
|
Fiber:
4
g
|
Sugar:
4
g
|
Vitamin A:
203
IU
|
Vitamin C:
2
mg
|
Calcium:
71
mg
|
Iron:
6
mg
Subscribe To My YouTube Channel
Subscribe To My YouTube Channel for full length recipe videos. Click the bell icon to be notified when I post new videos.
My YouTube Channel