Related Salad Posts:
Hey, what's up peeps! Today we're taking it to the next level with a bison steak salad that's off the hook! This ain't your average salad, we're talking about juicy and tender bison steak seared to perfection and served on a bed of fresh greens with all the fixings. The combination of flavors and textures in this dish is gonna blow your mind, so get ready to rock your taste buds with this killer salad!
Have you ever eaten bison steak? If not, you're in for a real treat! Bison is a lean meat that is high in protein and iron, making it the perfect ingredient for a healthy and filling salad. Not only is bison steak a healthier alternative to beef, but it also has a unique and delicious flavor that sets it apart from other meats.
In this recipe, we'll show you how to make a delicious bison steak salad that is sure to impress your taste buds and your dinner guests. So let's get started and embrace the flavors of the wild with this delicious salad recipe!
My grandfather was a hunter. I rarely ever saw him eat meat or fish that he didn't kill or catch. As a matter of fact I think those were the only times he actually ate meat. Otherwise it was onions, cucumbers, tomatoes, and greens.
In his own way he was showing me the way to eating clean meals free from hormones and antibiotics. He wasn't shooting buffalo, but there was a lot of venison.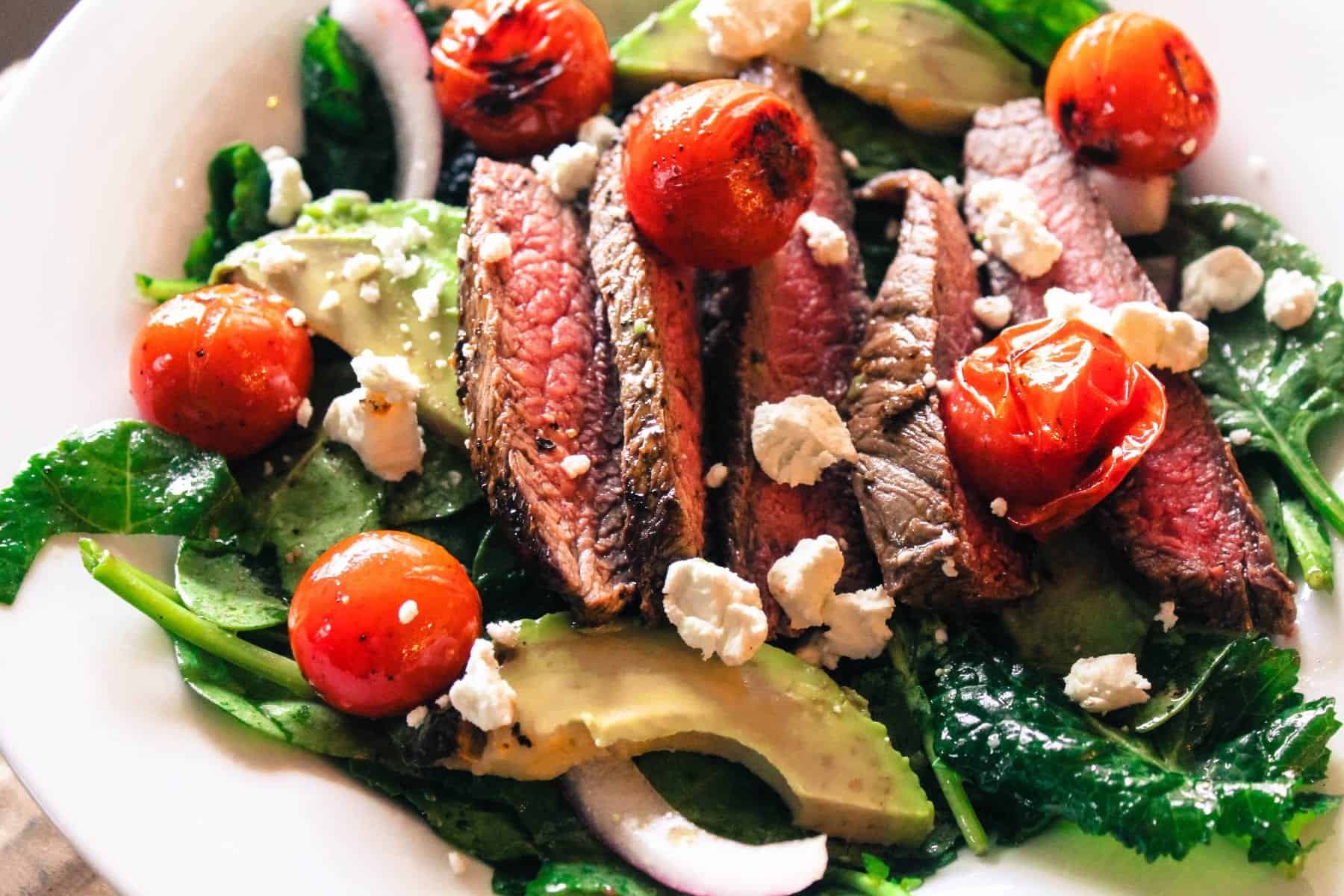 Health Benefits of Eating Bison
Pops instilled in me that provider mentality and blessed me with a spirit of openness. I quickly moved squirrels off my food chain after that fateful day given it's too close to the rodent family for me, but meat like bison steak is fair game! Besides its proximity to beef it has a great taste profile and many greater health benefits, as its much leaner and lower in both cholesterol and saturated fat. Translation - it's easier on the heart and arteries.
What Is Bison Meat
Bison meat refers to the meat of the American bison, also known as the buffalo. It is a lean, red meat that is similar in taste to beef, but with a slightly sweet taste and richer flavor.
Bison meat is high in protein and iron and is considered a healthy alternative to beef due to its lower fat content. It is often used in dishes such as bison burgers, stews, and chili, and can be found in specialty meat markets or ordered online. I'm a big fan of a good bison burger btw.
Beats and Easts (music to pair with Bison Steak Salad)
Bison Steak Salad Recipe Ingredients
The salad ingredients are pretty simple as this is your basic steak salad recipe minus things like olives and peperoncini peppers. The dressing is even more basic - just lemon juice, olive oil, salt and pepper. This is all by design as you want the bison to star so all the other ingredients are complimentary.
Bison Steaks - I prefer sirloin for this salad, but recommend whatever is available to you between a ribeye, t-bone, porterhouse, etc.
Fresh bagged baby kale
Avocado
Goat cheese crumbles
Fresh lemon juiced
Olive oil
Salt
Black pepper
How To Make Bison Salad
There are no real directions for making this salad, as it's really just an assembling project. For those of you who don't prefer free flowing with recipes here are a few loose directions.
Blister the cherry tomatoes first over medium-high heat briefly (2-3 minutes). Remove and set aside.
Rinse the steaks and pat it dry with a paper towel. Rub a mixture of salt and pepper on the meat. Let it sit for 20 minutes before grilling
Preheat your grill to medium-high heat. Grill the steak over high heat for about 3 minutes per side then let the meat rest 5-10 minutes. While steak is resting, make the vinaigrette by mixing all the ingredients in a mixing bowl.
Toss the kale and onions with the vinaigrette. Top the greens with sliced steak, avocado, and cherry tomatoes.
Expert Tips for Cooking Bison
Because bison is so tender, you literally have to be careful to avoid overcooking it. Expect bison to cook about a third faster than beef equivalent. Bisons are leaner than beef, which means they cook faster and can dry out if overcooked.
I'm strictly salt and pepper guy but fell free to use other seasonings of your choice.
I don't recommend cooking beyond medium and actually prefer medium-rare to enjoy optimal moisture and flavor.
Use a meat thermometer to cook to preferred internal temperature. For that slightly rare finish cook the meat to internal temperatures between 120-125 degrees.
I've heard many prefer a low and slow approach to cooking bison steak, but I'm more of the high heat, pan-sear mindset.
To cook, pat the steak dry with a paper towel. Season the steak liberally with kosher salt and freshly ground black pepper.
Make sure the steak has rested enough to reach room temperature. Heat skillet on high and add oil. Fry the steak on each side for roughly 3 minutes each side
Remove the steak from the pan, set aside, and let rest 5-10 minutes.
One of the most important things to consider when cooking bison is the temperature. You want to make sure that your grill or oven is properly preheated to a high temperature before you begin cooking the steak. This will help to sear the surface of the meat, locking in the flavor and juices, and prevent it from getting dry.
what to serve with steak salad
When it comes to serving a steak salad, there are many different options to consider that can help elevate the overall taste and experience of the dish. Whether you're looking for something light and refreshing or hearty and filling, there is a wide range of sides and drinks that can perfectly complement your bison steak salad. Consider pairing your salad with a refreshing cocktail or glass of red wine.
Frequently asked questions (faqs) about bison steak
If you haven't tried bison yet, you might have some questions on your mind. But don't worry, we've got you covered!
How does bison taste?
Bison has a rich, slightly sweet taste that's similar to beef. However, it's often leaner and a bit more tender than beef.
Is bison healthier than beef?
Yes, bison is generally healthier than beef. It's lower in fat and calories, and it's also a good source of protein, iron, and other essential nutrients.
How do I cook bison?
Bison can be cooked just like beef. You can grill it, broil it, or pan-fry it. However, because it's leaner than beef, it's best to cook it to medium-rare or medium doneness to avoid it becoming tough.
Where can I buy bison steak?
Many grocery stores and specialty food markets carry bison. You can also order it online from a variety of retailers. Just be sure to look for high-quality, grass-fed bison meat for the best flavor and nutrition. Now that you know a little more about bison steak, why not give it a try in a salad or other dish? With its rich, delicious flavor and health benefits, it's a great choice for any meal.
Make this recipe
Are you ready to take your taste buds on a wild ride? It's time to try making a bison steak salad. This recipe is a delicious twist on a classic dish, and it's easy to make too! All you need are some fresh ingredients, a hot grill, and of course, a juicy bison steak. So what are you waiting for? Don't settle for the same old boring salad. Elevate your meal game and impress your friends and family with this unique and flavorful dish.
If you make this delicious salad recipe or any other recipes please come back and leave me a comment below with your feedback. Definitely take a photo of the dish and be sure to tag #foodfidelity so that I can see them.
You can also keep up with my food exploits as well as original recipes! You can find me on Instagram, Facebook, Twitter, and Pinterest. If you like any of the music you find on the site, visit me at Spotify to find curated monthly playlists.
Lastly, go to my YouTube channel and subscribe to be notified when new weekly videos are uploaded.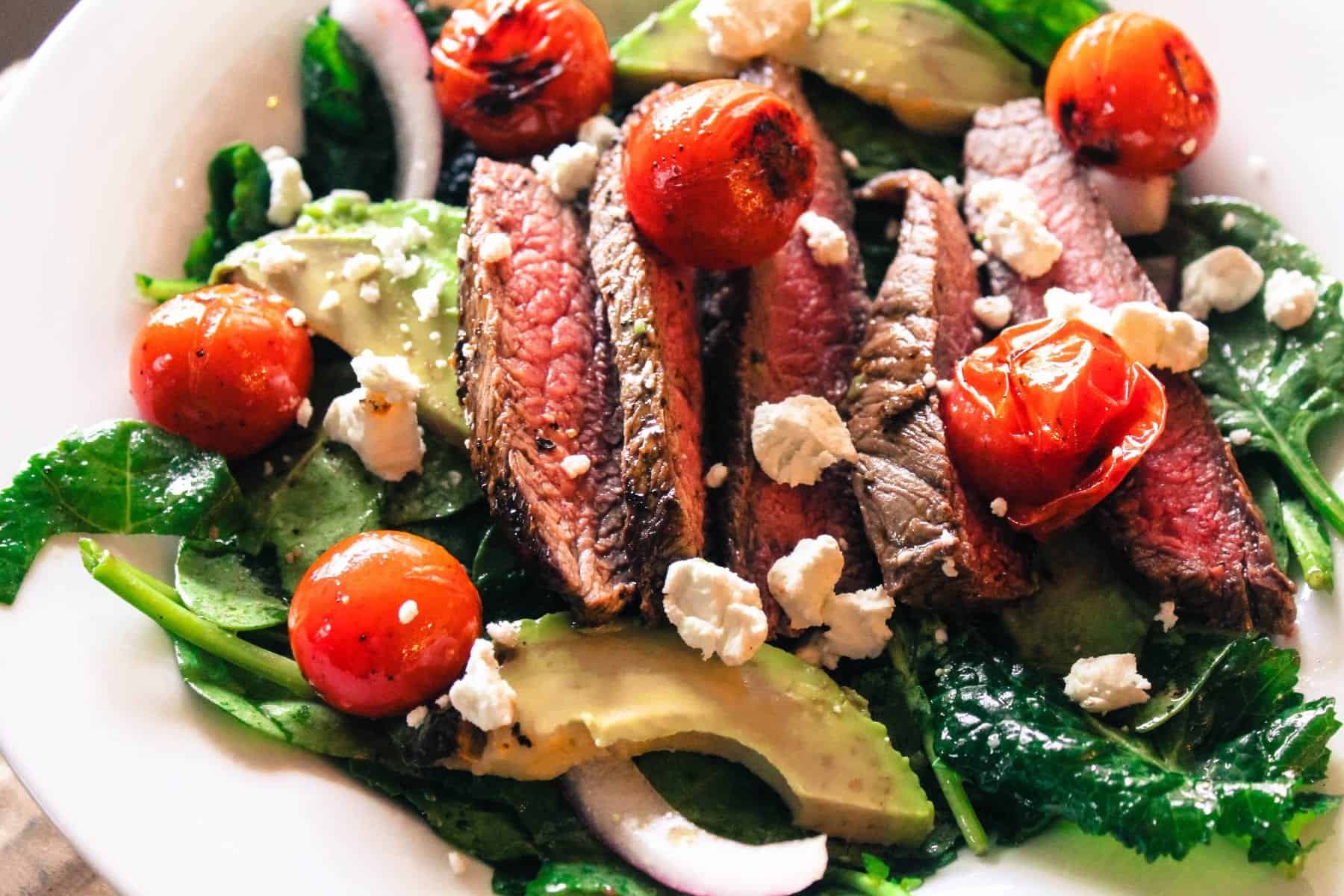 Ingredients
8

oz

bison sirloin steak

4

cups

fresh bagged baby kale

Half an avocado

(cut into slices)

¼

cup

Red Onion

(thinly sliced)

1

tablespoon

goat cheese crumbles

¼

cup

cherry tomatoes

(halved)

1

medium lemon

(juiced)

1

tablespoon

Olive oil

½

teaspoon

Salt

½

teaspoon

black pepper
Instructions
Heat skillet on medium high heat. Add the cherry tomatoes and let sit for 2 minutes until they start to blister. Stir them briefly, turn off the heat, and let them sit 2 minutes more. Remove from pan
Let steak come to room temperature and pat dry with a paper towel. Season both sides of the steak with salt and pepper.
Heat skillet on high and add oil. Pan fry the steak for 2.5-3 minutes per side.

Remove steak from pan and let rest for 10 minutes.
Make the vinaigrette by mixing lemon juice, olive oil, salt and pepper in a bowl.
Toss the kale and red onions with the vinaigrette in a large bowl. Serve the salad in serving bowls and add sliced steak, avocado slices, and cherry tomatoes. Top with goat cheese crumbles.
Notes
This salad could be eaten meatless as a simple side or with any protein source as a main dish.
Subscribe To My YouTube Channel
Subscribe To My YouTube Channel for full length recipe videos. Click the bell icon to be notified when I post new videos.
My YouTube Channel