Smoked tomatoes salad - basically a one ingredient salad recipe. It's just cherry tomatoes and a smoke.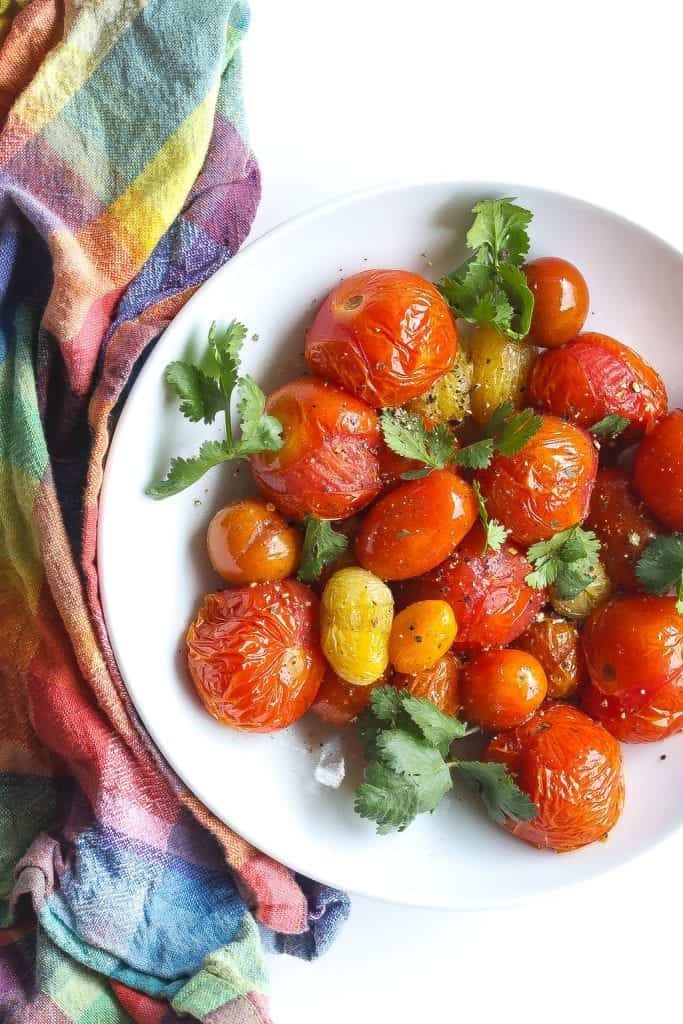 Admittedly this is one of those accidental recipes. I was snacking on cherry tomatoes while tweaking an old fried smoked eggplant recipe and started imagining smokey sundried tomatoes. My imagination moved on quickly from sundried tomatoes to smoked cherry tomatoes. The idea of smokey and slightly blistered juicy tomato poppers sounded so much better.
Though the recipe is simple, execution gave me some concern. The challenge would be smoking at the right temperature and length of time to where the integrity of the tomatoes' texture and shape is only minimally compromised, as you don't want them to essentially come undone.
I smoked this on the grill which meant less control compared to roasting or smoking in the oven with a smoke pouch. Note I'm not recommending you fire up the smoker just for tomatoes. Smoked tomatoes are delicious, so don't get me wrong, I'm just not so sure it's an efficient use of your smoker. As I mentioned earlier, I was smoking eggplant. If you plan to smoke tomatoes, it may require a little pre-planning. Put this cherry tomatoes recipe on the menu on a day you plan to barbecue.
Can You Use Smoked Tomatoes in Other Dishes?
Though the smoked tomato salad is awesome, I actually use the tomatoes as an ingredient in other dishes. They go great in more traditional salads, in salsas, on a pizza, or even an omelet. I've experimented with them in hot sauce recipes and had much success.
Can You Smoke Regular Tomatoes?
I don't see why not! I will be trying early summer as soon as my tomatoes reach peak ripeness. I'm thinking a smoked tomato bisque or a smokey marinara sauce are in order. Perhaps even a dope bloody mary makes sense!
Smoked Tomato Salad Cooking Tips
Smoke at low temperatures. You'll want to stay between 185-225 degrees.
Use a vegetable or seafood grilling pan if you have one. They make it easy to handle the tomatoes while cooking.
Cook time will range between 30-40 minutes. Anytime longer and the tomatoes will begin to lose their form. Tomato size will dictate cooking time so you'll want to start checking after 20 minutes of cooking. Smaller tomatoes will cook faster
Making Smoked Tomatoes Salad
If you make this cherry tomatoes recipe please come back and leave me a comment below with your feedback. Definitely take a photo of the dish and be sure to tag #foodfidelity so that I can see them.
You can also keep up with my food exploits as well as original recipes! You can find me on Instagram, Facebook, Twitter, and Pinterest. If you like any of the music you find on the site, visit me at Spotify to find curated monthly playlists.
For other smoked vegetable recipes try these smoked cabbage wedges, smoked whole carrots or whole smoked jerk cauliflower.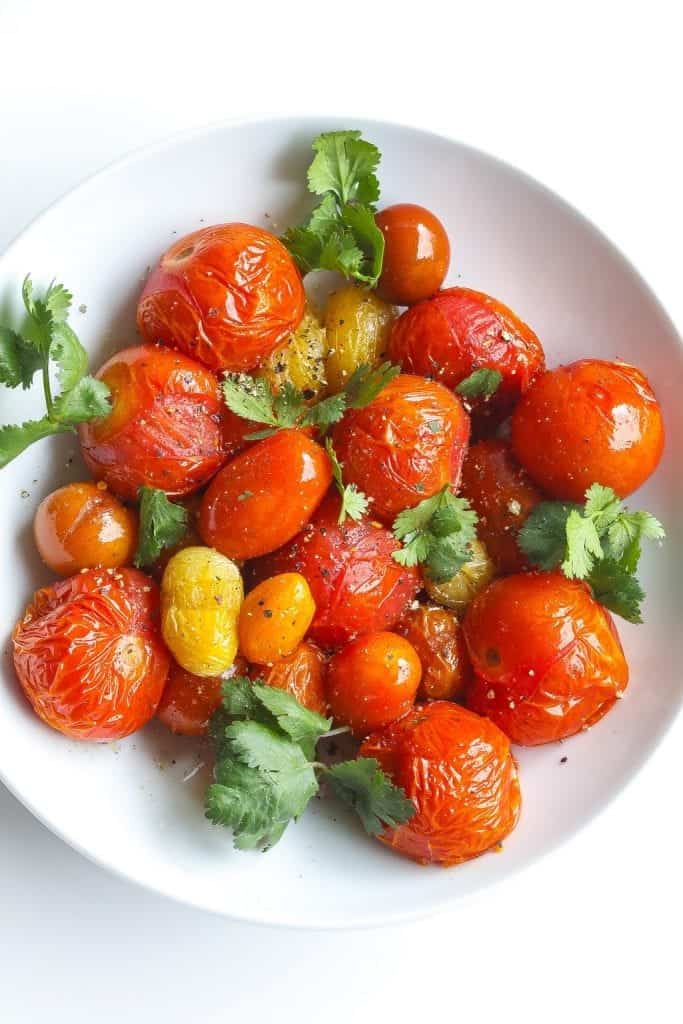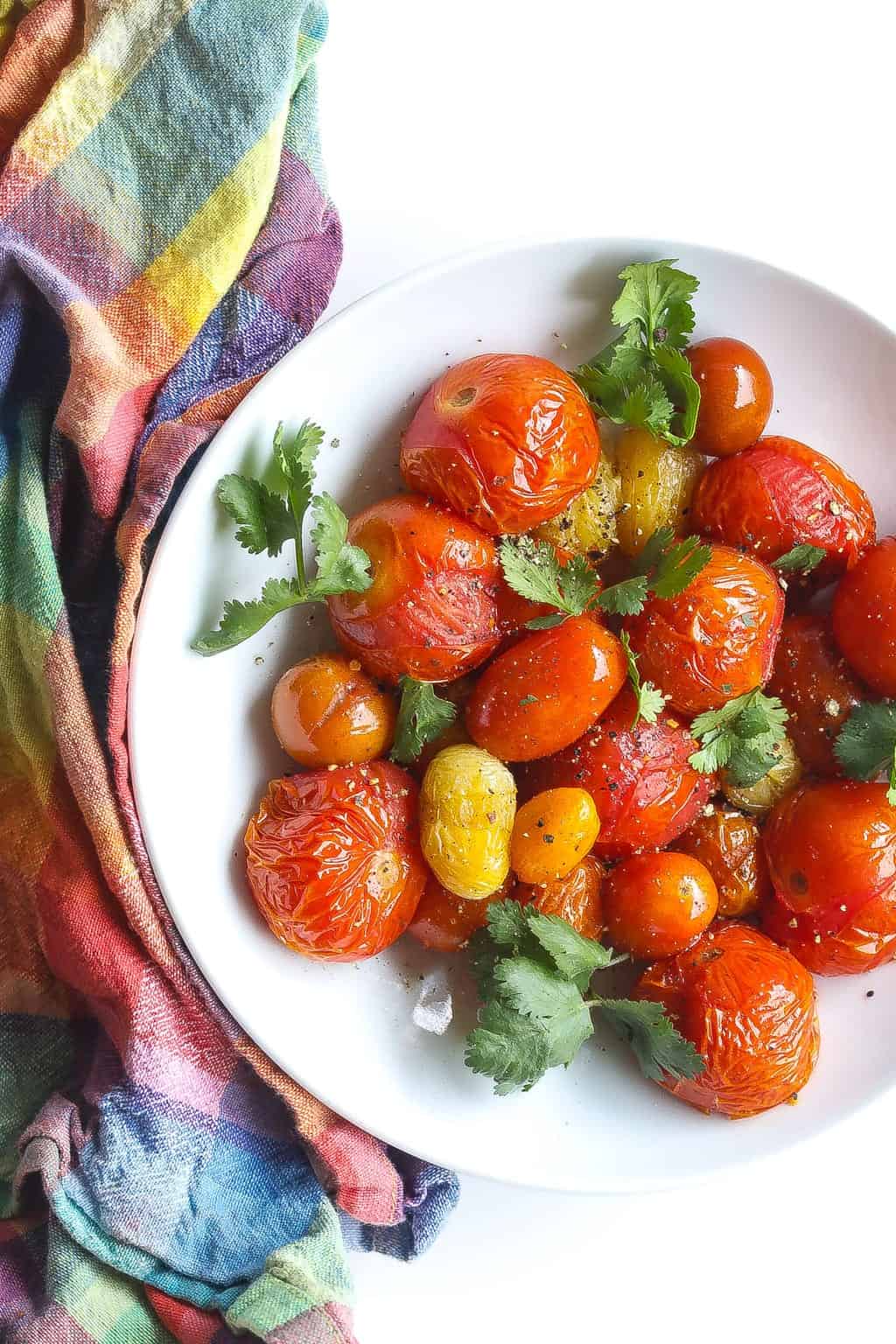 Ingredients
20-25

Cherry Tomatoes

cleaned

2

tablespoon

olive oil

Salt to taste

Black Pepper to taste
Instructions
Add tomatoes to large mixing bowl. Toss with olive oil and salt and pepper

Pre-heat your smoker to 225 degrees.

Place tomatoes in a grill pan and smoke with the lid closed for 30-40 minutes depending on smoker and size of tomatoes

Remove from smoker. Season if additionally if necessary and serve.
Notes
Cooking time will vary depending on size of tomatoes and smoker type. Start checking for doneness after 20 minutes. Watch the skin to check for doneness. Once you see signs of any blistering of the skin they are about ready.
Nutrition
Calories:
92
kcal
|
Carbohydrates:
6
g
|
Protein:
1
g
|
Fat:
7
g
|
Saturated Fat:
0
g
|
Cholesterol:
0
mg
|
Sodium:
18
mg
|
Potassium:
370
mg
|
Fiber:
1
g
|
Sugar:
4
g
|
Vitamin A:
830
IU
|
Vitamin C:
38.8
mg
|
Calcium:
19
mg
|
Iron:
1.2
mg
Subscribe To My YouTube Channel
Subscribe To My YouTube Channel for full length recipe videos. Click the bell icon to be notified when I post new videos.
My YouTube Channel