These simple smoked carrots represent a dish that is so simple to make yet has off the charts flavor. I feel guilty for even including a recipe.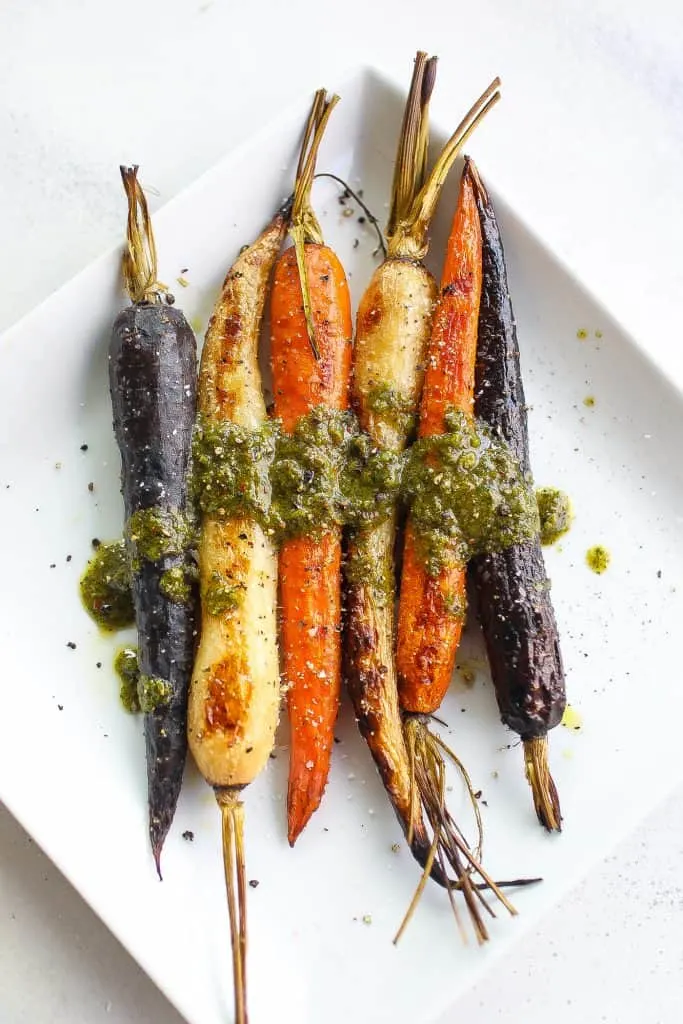 Who woulda thought that carrots would make the best smoked vegetables. Net net after about an hour and a half on the grill, these simple dapper orange beauties are crispy, salty, and smokey on the outside with a sweet moist potato fry like interior. My kids referred to them as carrot fries but smokey, which basically sums them up.
Most of our grill culture focuses on meat, but smoked vegetables are a treat that everyone should experience. The natural flavor of the vegetables is brought out and shine big! Prep is as simple as washing and seasoning the carrots. Smoke time will vary depending on your smoker but should be somewhere between 60-90 minutes. While the carrots smoke you can cook your other items.
Smoked Carrots Ingredients
The ingredients are extremely simple - carrots, olive oil, salt, and pepper. The duty is in the execution.
How To Smoke Carrots
Step 1: Prep the carrots
The smoked carrots are simply rubbed with olive oil, sea salt, and black pepper, but what you get is a well-seasoned vegetable that is something to marvel at. The sea salt intensifies the carrot flavor, which is accentuated with the smoke.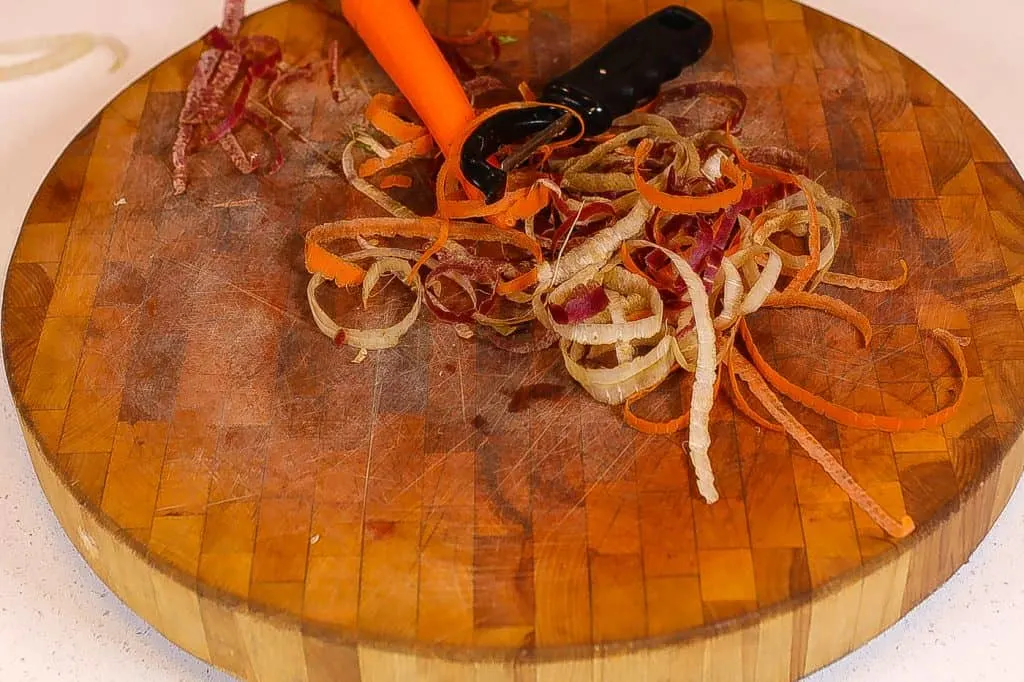 Step 2: Smoke the carrots
Pre-heat smoker to 300 degrees F. Add the carrots, close the lid and smoke for 90 minutes
Serving Suggestions
Keep it simple, serve with quick-cooking vegetables and a protein.
Braised Brazilian Collard Greens
Expert Tips For Smoking Carrots
Choose carrot bunches with their tops as they are freshest and crisp
The darker the carrots the greater the beta carotene
If you buy carrots with tops, cut off the stalks before storing them. Greens draw moisture from the carrots so if not removed they will accelerate carrots becoming limp.
Smoked Carrots Frequently Asked Questions (FAQs)
Do I Have To Peel The Carrots?
It's a personal choice to peel or not with respect to smoking or grilling. No need to worry about the bitter taste of the skin as smoking over those 90 minutes eliminates it and elevates the carrot flavor. If you choose not to peel, you'll want to scrub and wash well. There is nothing like biting into well smoked vegetables only to find yourself with a mouthful of dirt grittiness.
Can I Smoke Vegetables Along With My Protein?
To be efficient and save time I recommend it. These carrots are meant to be cooked indirectly away from the heat, so you'll need to account for this. Depending on your grill you could place the carrots in a "cool" zone while the protein cooks directly or just be mindful of the protein's cook time.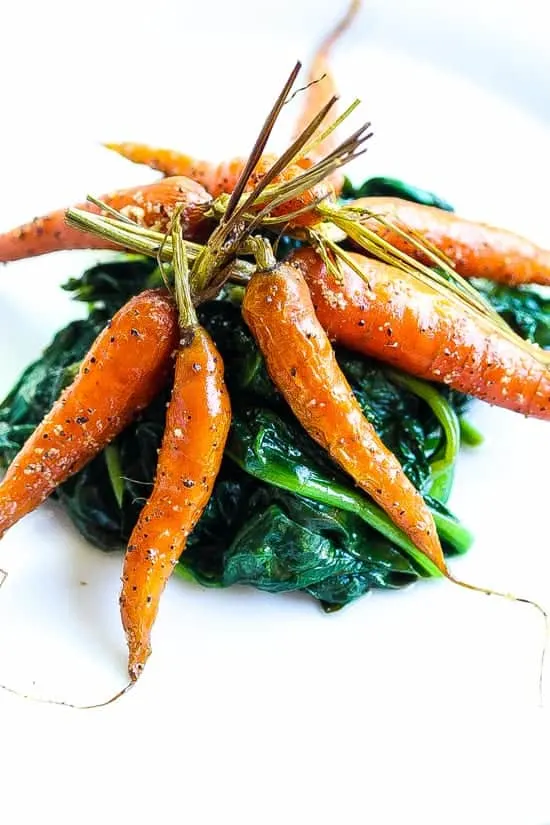 For similar recipes you might like, try these:
Coffee Roasted Carrots w/ Tahini
Roasted Carrots w/ Harissa Glaze
Instant Pot Carrots with Cajun Glaze
These dapper orange beauties are ready to go as a side right off the grill. Another option would be to convert these to an appetizer/finger food. No surprise these make a great dipping veggie!
If you make these smoked carrots or any other from the site, please come back and leave me a comment below with your feedback. Definitely take a photo of the dish and be sure to tag #foodfidelity so that I can see them.
Keep up with my food exploits as well as original recipes! You can find me on Instagram, Facebook, Twitter, and Pinterest.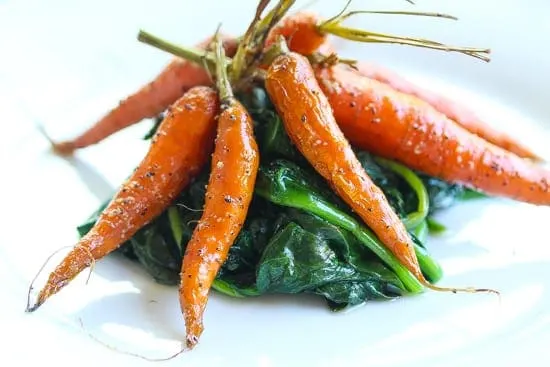 Ingredients
8-12

baby carrots

¼

cup

olive oil

Sea Salt

Black Pepper
Instructions
Peel and de-stem carrots if desired. If not peeling, rinse carrots thoroughly under cold water. Toss carrots in a bowl with olive oil, sea salt, and black pepper.

Prepare smoker for indirect heat pre-heated to 300 degrees.

Place carrots in a vegetable grill pan and cook them with lid closed for 90 minutes, or until they're done to your liking.
Video
Notes
Smaller, thinner carrots are preferred.
If yours are thick then half them lengthwise
Serve with fresh herbs or dip to convert to appetizer
Nutrition
Serving:
0
g
|
Carbohydrates:
0
g
|
Protein:
0
g
|
Fat:
0
g
|
Saturated Fat:
0
g
|
Polyunsaturated Fat:
0
g
|
Monounsaturated Fat:
0
g
|
Trans Fat:
0
g
|
Cholesterol:
0
mg
|
Sodium:
0
mg
|
Potassium:
0
mg
|
Fiber:
0
g
|
Sugar:
0
g
|
Vitamin A:
0
IU
|
Vitamin C:
0
mg
|
Calcium:
0
mg
|
Iron:
0
mg
Subscribe To My YouTube Channel
Subscribe To My YouTube Channel for full length recipe videos. Click the bell icon to be notified when I post new videos.
My YouTube Channel