I love whole roasted carrots this time of year, but I love coffee roasted carrots even more. They're great plain or paired with a sauce like the spicy gochujang tahini sauce in this recipe.
These are amazing for not only the simplicity of their cooking and prep, but more for the complex depth of flavors that are characteristic of the dish. This roasted carrots recipe is a fall/winter staple for us, but its taste profile and eye appeal make it great as a Christmas holiday side.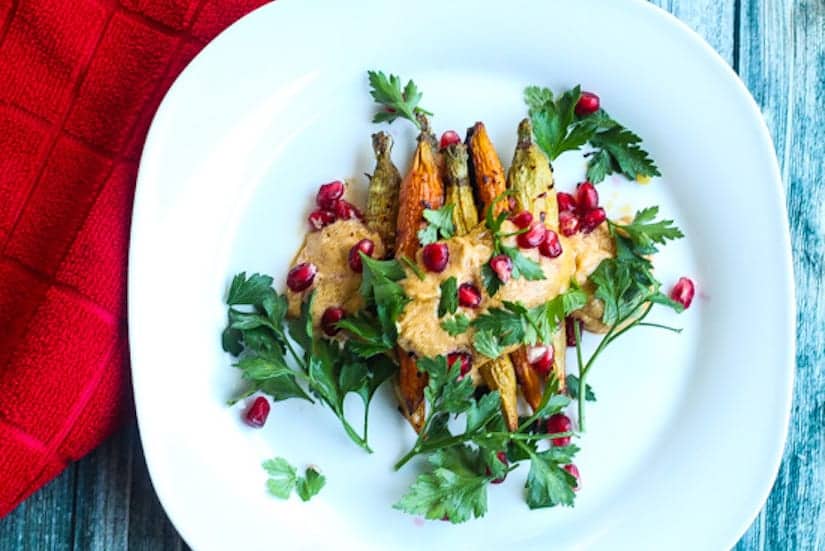 I'm not much of a coffee drinker, but I've been exploring its use as a flavoring agent. I read recently that Ethiopians who invented coffee typically ate whole beans. On the recommendation of a good friend, I bought two varieties of beans and ate a few individual beans in the Ethiopian tradition. Besides getting a great buzz (note feel free to use decaf), I did notice how nuanced the flavors in the different beans were. I know it sounds odd, but trust me and just go with the flow.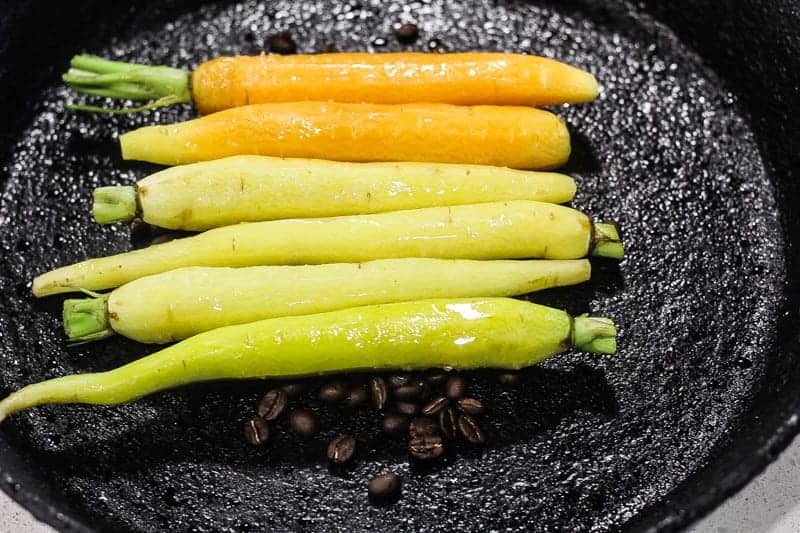 With these in mind, I decided to enhance the flavor of the carrots using a technique I picked up from Chef Daniel Patterson of Coi Restaurant in San Francisco. The carrots are simply baked on a bed of coffee beans whereas when heated the fumes from the beans actually infuse the carrots. It's similar to the impact of slow smoking meat over wood coals. I know coffee roasted carrots sounds odd, but trust me and just go with the flow. Don't worry the carrots don't taste like coffee but do have that roasted flavor that is both earthy and smokey and combines well with the sweetness from the roasted carrots.
What type of coffee beans should I use?
Feel free to use any whole coffee bean you like. I'm new to coffee beans and on first impression, they ain't cheap! So unless you're just a connoisseur and have high-end beans on hand, feel free to buy the budget varieties. I bought from the bulk bin section at my grocery store which is a better value, plus I can buy only the specific amount I need. There isn't much variability across different bean types so the recipe isn't dependent on bean type so much.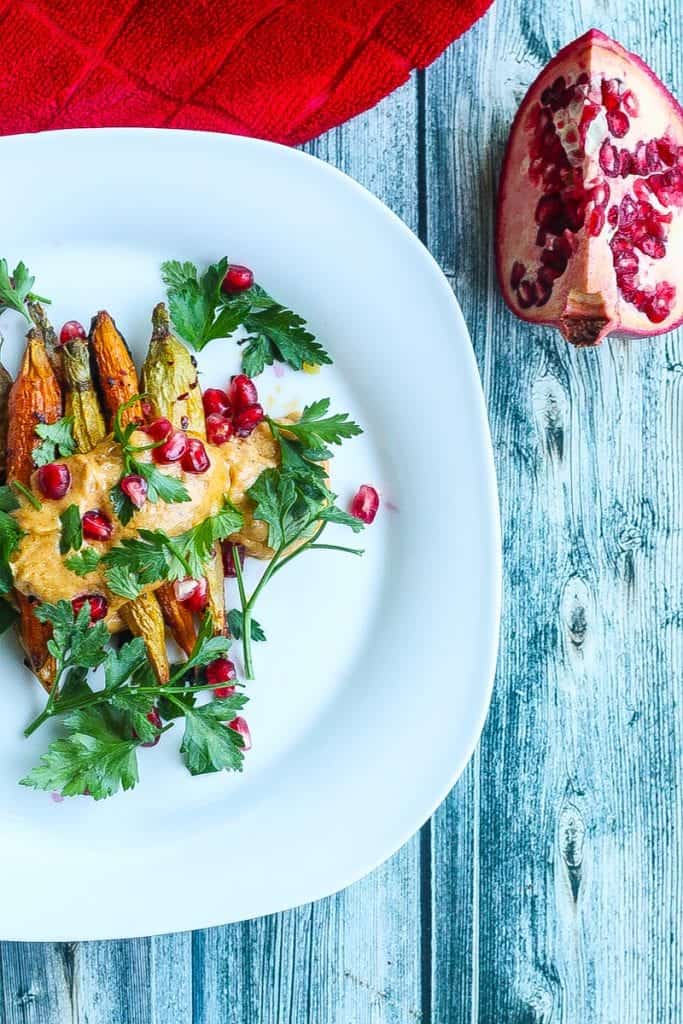 What Condiment Works Well With Roasted Carrots?
I could have stopped simply with the coffee roasted carrots, but I have a relatively large tub of tahini paste and have been looking for different ways to use it. For an earlier blackeyed pea falafel recipe I made a spicy tahini sauce using a Peruvian aji Amarillo paste, so decided to replicate the tahini sauce recipe with Korean Gochujang paste in place of the aji Amarillo.
Gochujang is a fermented red chile condiment with a sweet, savory and spicy flavor. Tahini is essentially "sesame seed butter" enhanced with olive oil and lemon. So when combined with moderately spicy gochujang you get a mild tahini sauce that makes for a delicious condiment. The pomegranate seeds make for perfect texture foils as well provides a tart contrast to the sweet roasted carrots.
Dope beats, fresh eats. Enjoy these coffee flavored whole roasted carrots during the holidays!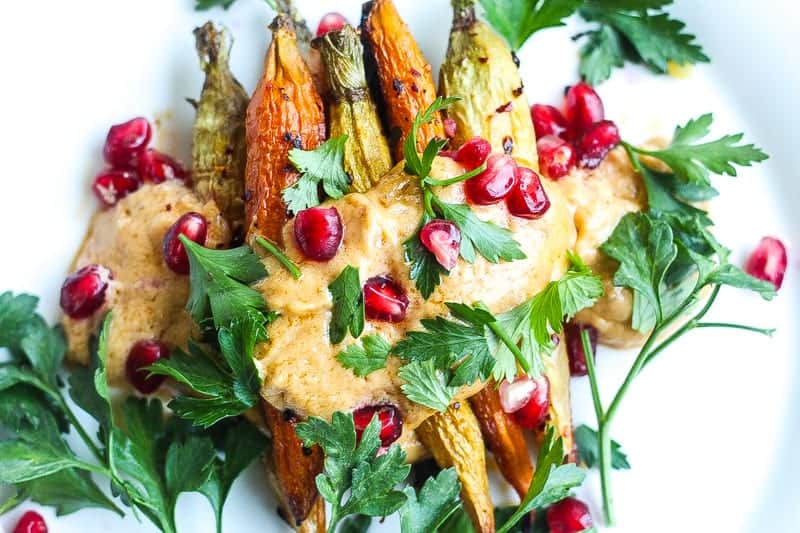 Ingredients
For Carrots
8

whole young fresh carrots

peeled

1

tablespoon

olive oil

Kosher salt

Dark roasted coffee beans
For Tahini Sauce
2

tbsp

tahini paste

2

tbsp

almond milk

1

tbsp

chili paste or hot sauce of choice

Juice from 1/2 small lime
Instructions
For the carrots
Preheat oven to 325 degrees

Toss the carrots in olive and season with salt as well as any other desired spices.

Place a layer of coffee beans in cast-iron skillet or oven-proof pan with tight fitting cover. Arrange carrots on top of coffee beans

Cover the pan and roast for 45-60 minutes. Carrots should be nice and tender

Remove from oven. Discard beans and let the carrots cool to room temperature.

Serve as is or add a spicy tahini sauce with pomegranate seeds
For the tahini sauce
Combine all the ingredients in a bowl and mix well. Adjust consistency with water as needed.
Notes
The sweetness of the carrots and the coffee flavor lends this recipe to other ideas. I used a tahini sauce, but certainly yogurt or even sour cream could work with this dish.