I love grouper. I love ceviche. Grouper is a great ceviche fish. Peruvian ceviche recipe with grouper is a wonderful thing! This version makes for an easy appetizer or if eating alone it's substantial enough when made with sweet potatoes to be an entree.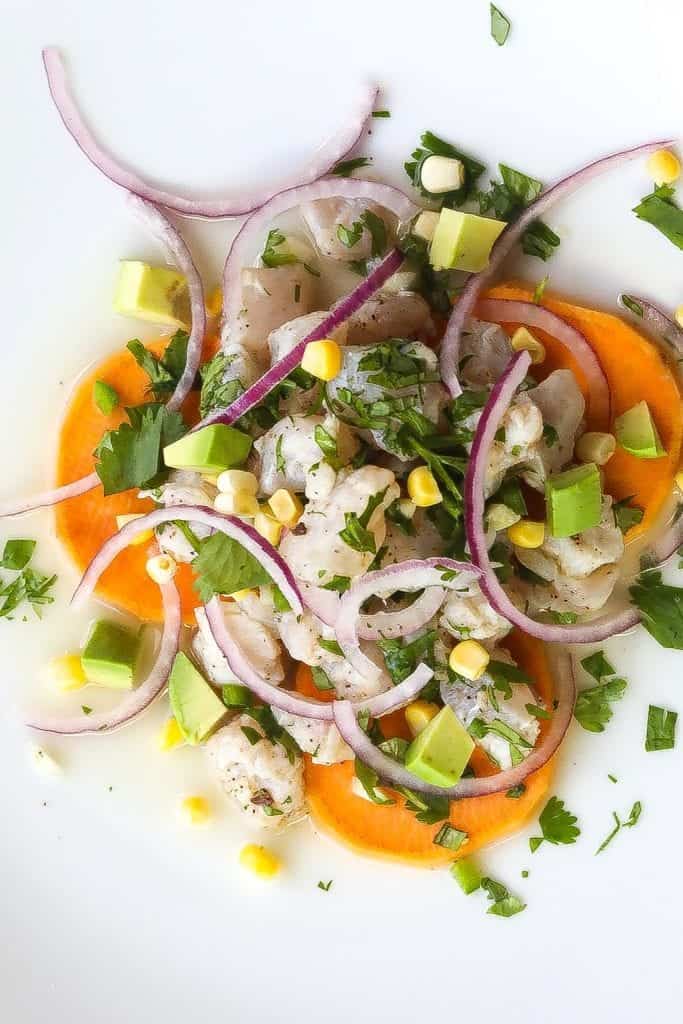 Inspiration for Peruvian Ceviche Recipe
The first time I ever heard of ceviche was during my college days. I was at a local Dallas spot Aw Shucks Oyster Bar in Greenville Avenue. I would become a regular at Aw Shucks but mainly staying in my lane with the gumbo, gulf oysters and a can of Tecate cerveza. I was always impressed by the presentation of this shrimp dish there and finally asked about it. The server called it ceviche, and I was like, what is ceviche? She gave me a sample on a spoon and I was like, give me an order of that!
Back in my college days I was listening to a lot of my fellow St. Mark's alum Steve Miller or any number of hip hop acts that have sampled his music including EPMD, the Geto Boys, Nas, and Ice Cube. My buddy Luke introduced me to The Steve Miller Band back in middle school. Interestingly the boys in my hood, especially my brother clowned me and threatened to revoke my hood pass for my new tastes in music. But then they recognized many of their favorite hip hop songs were based on cats like Steve Miller and I got a pass.
What makes this Peruvian ceviche?
Peruvian ceviche is actually more filling and can be eaten as a main dish vs. the more appetizer like of most other regions. Most ceviche recipes are enjoyed with tortilla chips as an appetizer. Peruvian style includes citrus, fish, and peppers like most, but also includes sweet potatoes and corn. The presence of the sweet potatoes and corn combined with a meaty fish like grouper provides more substance and makes the version of ceviche as a main dish.
Peruvian Ceviche Ingredients
This ceviche is more filling compared to the typical lighter fare. The sweet potatoes and corn add a bit more sustenance to the dish.
Grouper

Garlic cloves

Corn

Avocado

Serrano Pepper

Lemons

Cilantro

Salt

Pepper
How to make Peruvian Ceviche
There are no real steps to making this recipe. You're merely assembling as you would a salad. There are a few key tips to follow that nets best results.
Ceviche Cooking Tips
Freshness is key to fish choice followed by firmness.

Have your fish guy put the fish on ice for transport. Keep it on ice until you prepare the ceviche. Ice helps keep fish fresh and protects the texture and flavor.

Probably goes without saying but make sure all bones and skin have been removed

Use a long, very sharp knife to cut the fish

Marinate the fish completely covered to limit exposure to air which can adversely impact texture
Don't combine the fish with the other ingredients until the fish has completed marinating. You want crisp vegetables and fully infused fish and the only way to ensure this happens is by keeping them separate
15-20 minutes is best length of time for marinating the fish. Anything longer and the fish begins to become mushy. If you prefer softer, mushy texture then let the fish sit longer.
Ask your fishmonger for the freshest firm white ocean fish available
Serving Suggestions
Our trip to Peru made such an impact, I'm an advocate for Peruvian night. Serve these up with a few other Peruvian inspired dishes like:
Peruvian Chicken or Fish Skewers (Anticuchos)
But if you're going for an appetizer menu, include some beef suya skewers, lamb meatballs, and grilled jerk shrimp.
How to choose the freshest fish?
The flesh should look firm and translucent

If you're using whole fish, inspect the eyes. They should be bright, shiny and clear. Cloudy or milky eyes = been sitting out a while

If the skin is still on, it should be shiny, metallic-like

Look at the gills and fins to make sure they're still bright

Poke the fish with your finger. Too soft, then avoid.

Make sure there is no fishy smell. You want ocean-fresh so the fish should smell more salty

Fish flesh should be wet and glossy looking

Whitefish should look translucent vs. opaque and very white.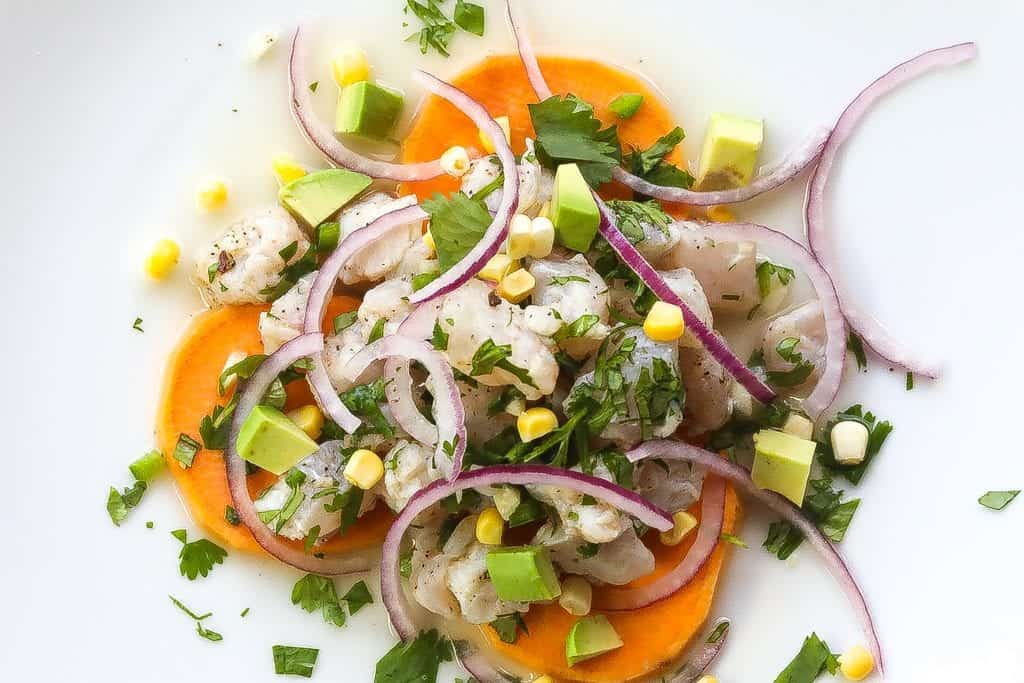 Ceviche Frequently Asked Questions (FAQs)
How long should the fish marinate?
After deciding on your citrus and picking the freshest fish, the next decision is how long to marinate the fish. Too long and you're chewing chalky fish, too short and its raw fish you're eating. Opaque is what you want. If the fish is flaking then its been cooking too long. 15-20 minutes should be enough time.
Can ceviche be made ahead?
Most people make ceviche for party appetizers and thus want to make ahead for planning purposes. Ceviche, the best kind is not a make-ahead dish. If time is an issue for you, feel free to prep all the other ingredients, i.e chop the onions, peppers, and any other vegetables you're using.
For similar recipes, try these:Colombian Seafood StewBrazilian Seafood StewMexican Seafood StewHearty Shrimp Stew
make this recipe
If you make this easy, fresh Peruvian ceviche recipe, please come back and leave me a comment below with your feedback. Definitely take a photo of the dish and be sure to tag #foodfidelity so that I can see them.
You can also keep up with my food exploits as well as original recipes! You can find me on Instagram, Facebook, Twitter, and Pinterest. If you like any of the music you find on the site, visit me at Spotify to find curated monthly playlists.
Lastly, go to my YouTube channel and subscribe to be notified when new weekly videos are uploaded.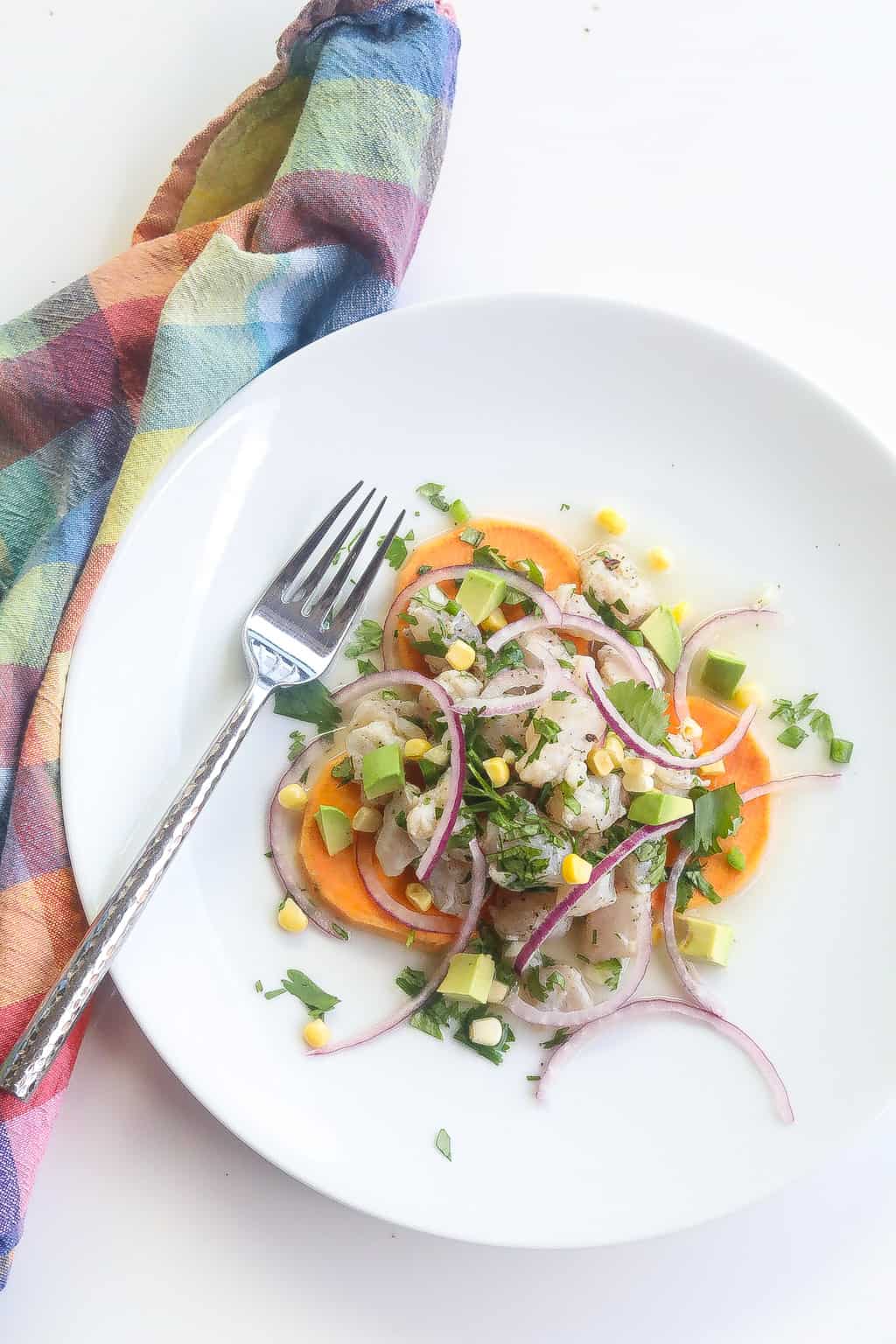 Ingredients
6

oz

white fish fillet (Grouper)

cut into ¾ in cubes

2

teaspoons

green chile (jalapeno or serrano)

seeds, vein removed and diced

2

cloves

garlic

very finely chopped

1

tablespoon

fresh cilantro

chopped

2

small

lemons

juiced

1

small

red onion

thinly sliced

salt and pepper to taste

½

whole

sweet potato

peeled, boiled and cut into 4 slices

1

corncob

cooked and kernels removed

1

medium avocado

diced
Instructions
Place the fish in a bowl and season with salt and pepper. After a minute add the garlic and chile. Mix together well.

Pour lemon juice over the fish. Stir, place in refrigerator covered and let sit for 10-15 minutes.

Add the cilantro and red onions. Mix well and adjust seasoning for taste.

Serve with sweet potatoes, corn and avocados.
Notes
This recipe also works with limes.
For variation grapefruit and orange make for interesting citrus options if you want to change things up.
Nutrition
Calories:
337
kcal
|
Carbohydrates:
34
g
|
Protein:
22
g
|
Fat:
17
g
|
Saturated Fat:
3
g
|
Cholesterol:
31
mg
|
Sodium:
64
mg
|
Potassium:
1249
mg
|
Fiber:
12
g
|
Sugar:
9
g
|
Vitamin A:
442
IU
|
Vitamin C:
81
mg
|
Calcium:
81
mg
|
Iron:
2
mg
Subscribe To My YouTube Channel
Subscribe To My YouTube Channel for full length recipe videos. Click the bell icon to be notified when I post new videos.
My YouTube Channel