Purple potato fries, baked crisp and topped with a homemade seasoning mix for a healthy version of one of the world's most popular sides.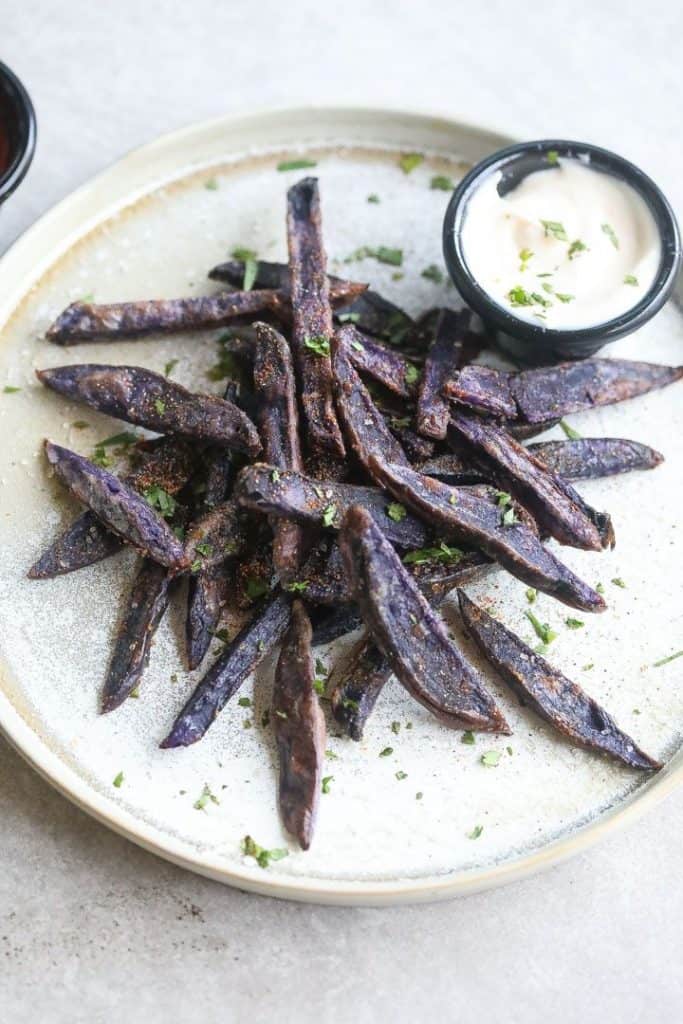 These oven-roasted potato fries are as tasty as they are beautiful. The deep vibrant purple color make these a stand-out and the crispy exterior with soft middle deliver the taste deserving of such beauties.
Purple Potato Fries Ingredients
This recipe is as simple as simple gets. Just potatoes plus da bomb spice seasoning mix. It's inspired by the fries at one of my favorite burger spots back home in Dallas.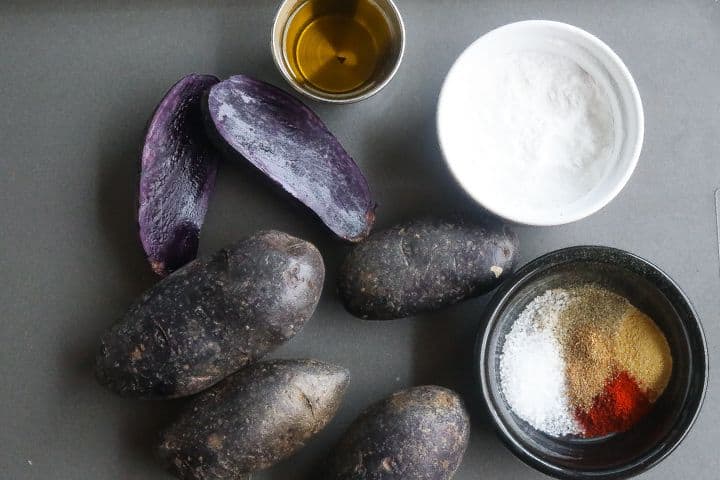 Before moving away from Dallas I was a regular at Burger House and now as father I take my kids for a quick stop during my visits back home. The burgers are great (especially the chili cheeseburger), but I'm there mainly for the fries.
The fries are perfectly cut and highly seasoned as they should be. Warning - you'll want a tall glass of ice water or lemonade afterwards.
Burger House fries are light, yet crunchy with a crispy potato taste enhanced and elevated by a salt, garlic, and peppery based spice mix.
How to make purple potato fries (Step by Step)
I hate calling this a recipe, as it's just French fries. But there are a few steps to take that make these really good.
Step 1: Cut the potatoes as evenly as possible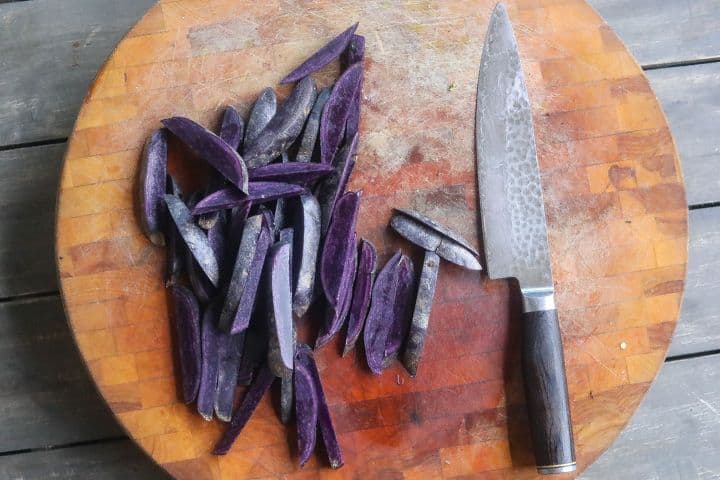 Step 2: Pre-cook the potatoes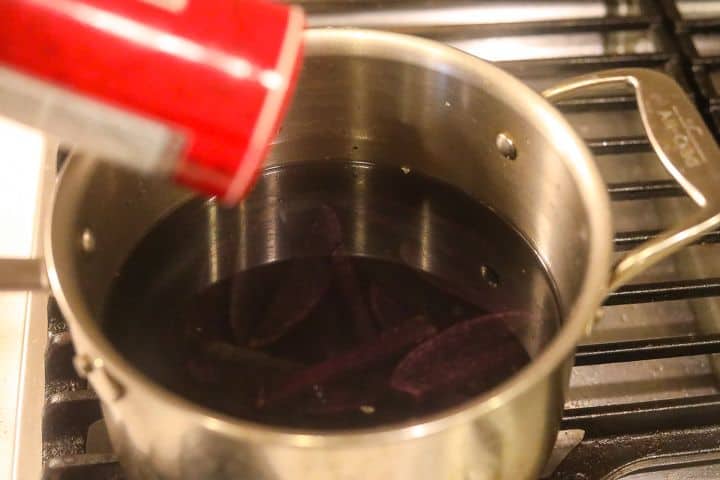 Boil the potatoes for a few minutes in salted water.
Step 3: Drain the potatoes well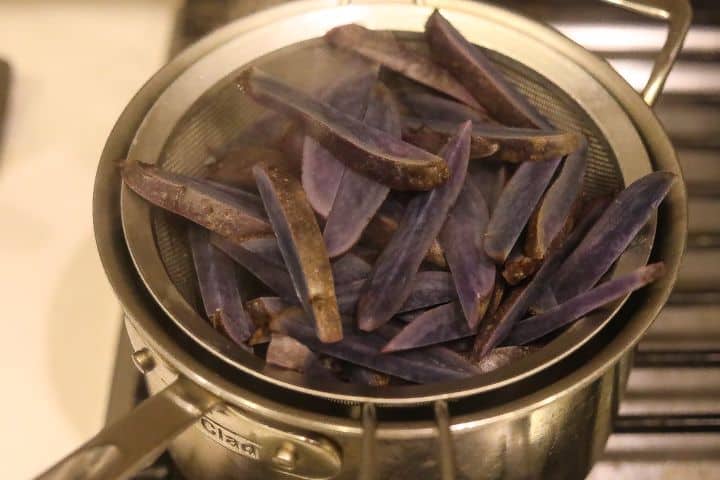 Step 4: Prepare the fries
Put the fries in a mixing bowl and add olive oil and starch. Use a good starch for crispiness I like potato starch, right lol. But feel free to use corn, if that's what you have on hand. Mix the ingredients well.
Step 5: Season the fries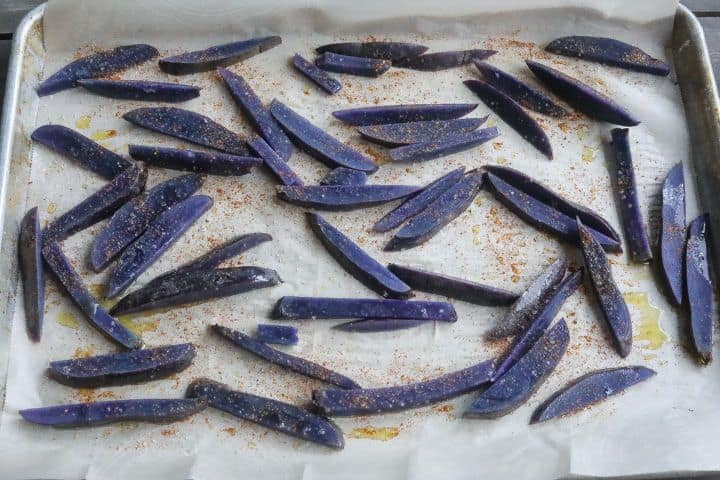 Transfer fries to a parchment paper-lined baking sheet. Spread them out evenly and make sure none overlap. Add seasoning mix.
Step 6: Bake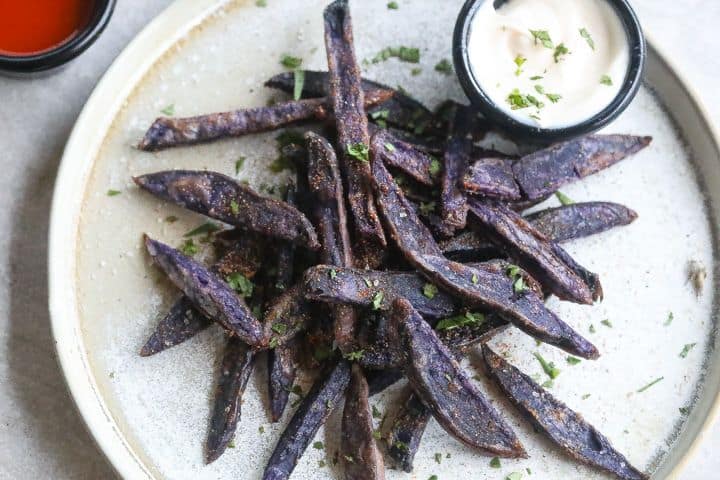 Bake in the oven at 400 degrees for x minutes. Flip midway. Remove from the oven. Add more seasoning and serve.
Serving Suggestions:
I like to roll Belgian style, I.e. with mayonnaise. You can also get fancy and whip up a fancy aoili. My redo keep it simple - season some mayo with the spice mix or lime juice and dip your fries.
After roasting the fries I topped them with my version of Burger House seasoning mix which features sea salt, smoked sweet paprika, garlic, with a little bit of sugar. The end result are purple potato fries that have a light crunchy exterior, with a soft interior, elevated by a spice mix that provides a different oral sensory experience from the crackle of the salt crystals, the peppery bite, and the combined sweet, smokey, and earthy finish.
Eat these oven baked fries with:
Expert tips for cooking purple potato fries
Cut the fries as evenly as possible. Aim for fries ¼ inch thick to get those pillow soft, cushiony fries

Use a starch like potato, tapioca, or corn for added crispiness.

Don't fret if you have none available as the potato fries will still be great minus the additional texture from the coating of starch.
Frequently Asked Questions (FAQs)
where to buy purple sweet potatoes
I picked up purple sweet potatoes from my local Central Market, but I've seen them in Trader Joes and Whole Foods as well as my farmers market.
Does This Recipe Work With Other Potatoes?
No doubt! I follow the same approach with regular sweet potatoes. The seasoning complements the sweet potatoes well. I've yet to make oven-baked fries using regular potatoes, but I know without a doubt the seasoning is a perfect fit with classic French fries.
Can you fry purple potatoes?
Purple potatoes fry very well cooked the traditional way. Baked vs. fried is just a personal choice. They taste great fried, but frying dulls the color, and I personally just hate not having vibrant, purple fries.
If frying, I'd recommend peanut oil for its heat point and clean finish.
Plus, with these purple beauties you don't want to nuke the natural bright color from them.
For similar recipes try these:
If you make these crispy delicious purple potato fries or any other from the site, please come back and leave me a comment below with your feedback. Definitely take a photo of the dish and be sure to tag #foodfidelity so that I can see them.
You can also keep up with my food exploits as well as original recipes! You can find me on Instagram, Facebook, Twitter, and Pinterest. If you like any of the music you find on the site, visit me at Spotify to find curated monthly playlists.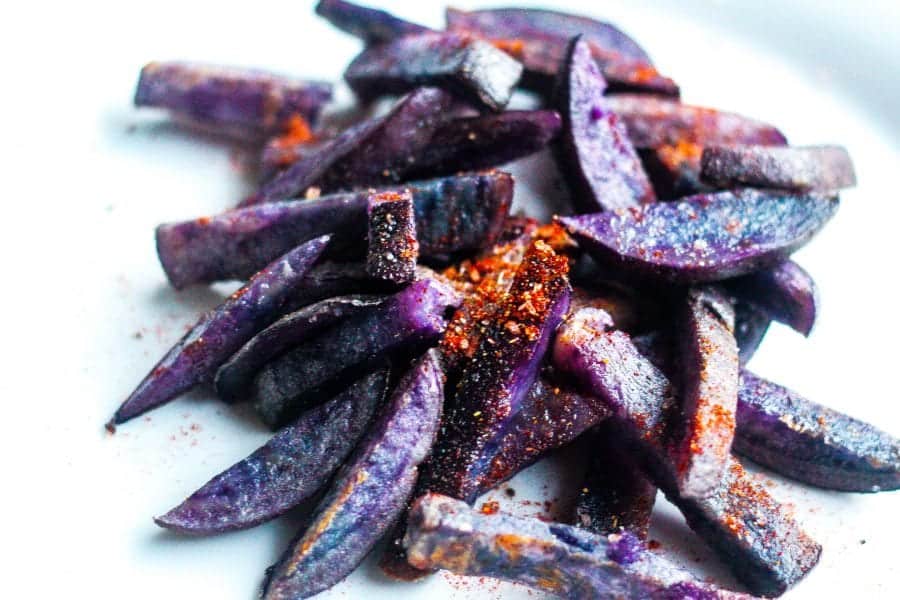 Ingredients
1

lb

purple potatoes

unpeeled and cut into wedges

2 ½

tablespoon

olive oil

1 ½

teaspoon

sea salt

1

teaspoon

sugar

2

teaspoon

smoked sweet paprika

½

teaspoon

black pepper

½

teaspoon

ground garlic

½

teaspoon

coriander

2

tablespoon

potato starch or cornstarch

optional for more crispy fries
Instructions
Heat oven to 400°F. Cut the potatoes evenly in strips or wedges.

Place potatoes, starch, and ½ teaspoon of the salt in a mixing bowl and toss. If not using starch, just exclude and go to next step.

Coat the potato in oil

Transfer to a baking sheet: Spread the coated potatoes out into a single layer on an ungreased baking sheet. Roast 15 minutes then flip and roast another 5 to 10 minutes until potatoes develop crispy exterior.

While potatoes are roasting, combine spice ingredients mixing well.

Once potatoes are done, allow to cool a few minutes then season and serve.
Notes
This recipe works for other potatoes as well including sweet potatoes and plain white potatoes
Nutrition
Calories:
189
kcal
|
Carbohydrates:
26
g
|
Protein:
3
g
|
Fat:
9
g
|
Saturated Fat:
1
g
|
Sodium:
881
mg
|
Potassium:
500
mg
|
Fiber:
3
g
|
Sugar:
2
g
|
Vitamin A:
490
IU
|
Vitamin C:
22.8
mg
|
Calcium:
14
mg
|
Iron:
1.2
mg
Subscribe To My YouTube Channel
Subscribe To My YouTube Channel for full length recipe videos. Click the bell icon to be notified when I post new videos.
My YouTube Channel