If you ever want to make a recipe "Southern" just fry it or smoke it. I doubled down in my Southernness for this fried smoked eggplant recipe.
I attend the Texas State Fair every year. Hundreds of thousands of people attend anticipating the next fried BIG thing. People don't care what it is, the more over the top, the better as long as its fried. Snickers bars, oreo cookies, ice cream, etc. are all in play. From time to time I lean on this insight especially when trying to introduce unfamiliar ingredients/foods to my stubborn, close-minded kinfolk and those of similar mindsets I may be cooking for. If I could figure out a way to smoke and fry quinoa I would do so.
Once upon a time my teen daughter emphatically denounced eggplant. Didn't like the smell, taste, or texture. After trying my fried smoked eggplant, the State Fair of Texas of eggplants, she non-hesitantly tried Stewed Eggplant as well as Lamb Stuffed Eggplant. The fact that this eggplant recipe is teen approved should say enough, but you should judge for yourself. The juicy flesh and crispy exterior ahieved by the combination of smoking and frying is hard to match. The slow smoking of the eggplant infuses it deeply with smokey magic while leaving flesh moist. And because of the long cooking time in the smoker, the frying is more like a quick sear and has the same effect, i.e. gives the eggplant a nice crust and seals in the juiciness.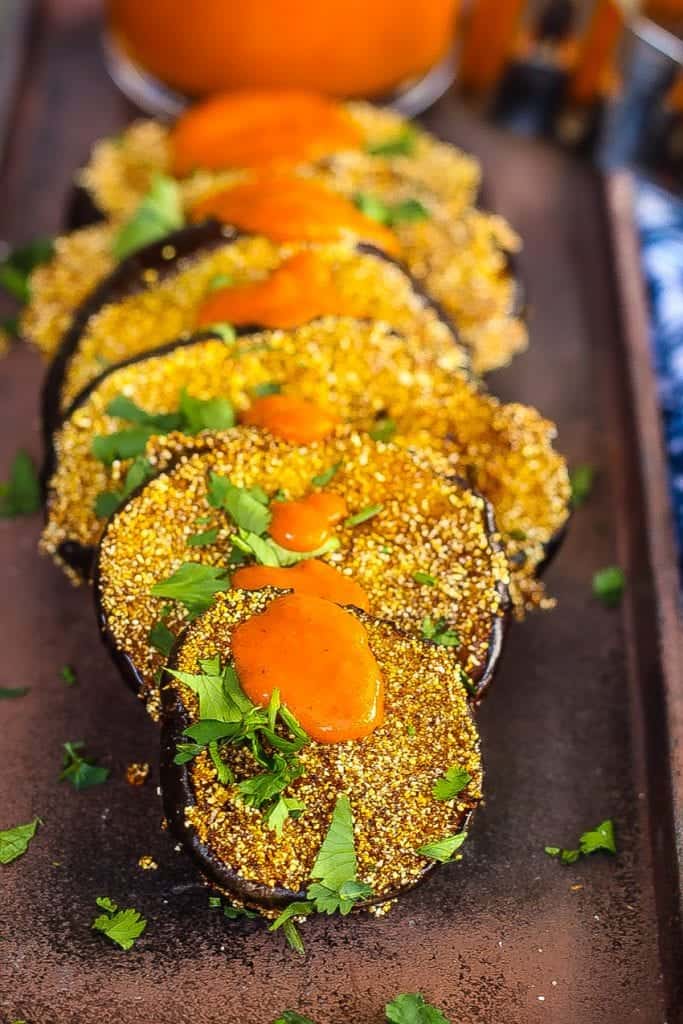 To top off the dish, I used the reserve roasted red pepper sauce I keep on hand. I'm more of a dipper so I dip my fried smoked eggplant in the sauce, but if you're like my son who fancies everything as a ribeye you can knife and fork it with red pepper steak sauce. This dish makes a good party appetizer, dinner side, or a snack for the kids. I bet you can't eat just one!
This recipe is actually a slight twist on Chef Greg Baker's. I modified some of the ingredients to make it vegan. If you prefer a non-vegan feel free to use buttermilk as a wash to coat the eggplant.
Dope beats, fresh eats. Enjoy this fried smoked eggplant!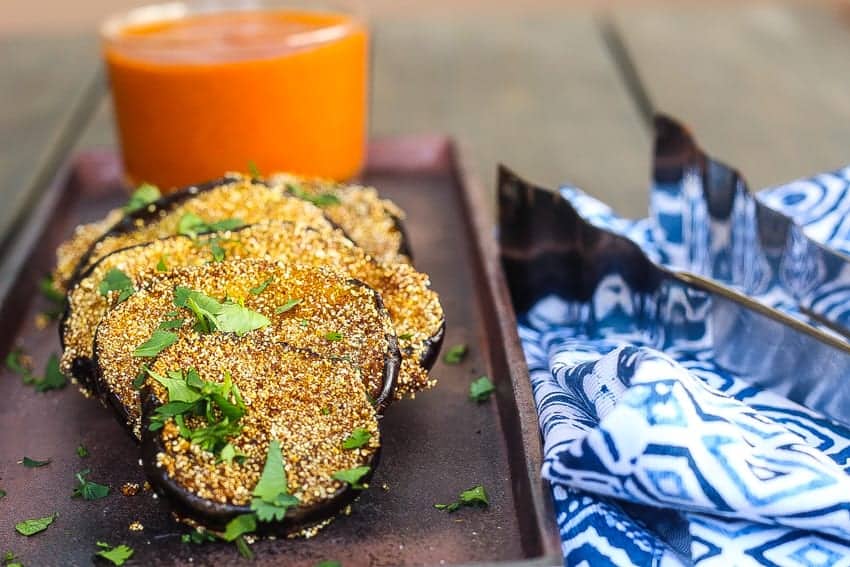 Cook Time:
1
hour
5
minutes
Total Time:
1
hour
10
minutes
Ingredients
1

eggplant

 
cut into 2-inch slices

Kosher Salt

2

cups

almond milk

2

cups

cornmeal breading

1

teaspoon

paprika

1

teaspoon

black pepper

1

teaspoon

oregano

2

cups

canola oil

Roasted red pepper sauce (recipe below)
Instructions
Heavily salt eggplant slices and allow to drain in a colander for 1 hour. Meanwhile, prepare a smoker at 180-200 degrees.

Rinse eggplant, pat dry with a paper towel, and smoker for 1 hour.

Remove eggplant from smoker and let cool

Place almond milk and cornmeal breading in 2 separate bowls. For the cornmeal add paprika, pepper, and oregano mixing well.

Heat oil in a skillet or fryer to 350 degrees.

Bread eggplant slices by first dipping in almond milk, then in breading.

Working in batches, carefully place breaded eggplant slices in hot oil and fry for 2–3 minutes on each side, until golden brown. Remove from oil with a slotted spoon and place on a paper towel-lined plate or wire rack with baking rack beneath to drain.
Notes
For a non-vegan version use buttermilk instead of the almond milk.
Ingredients
2

large red bell peppers

or jar of roasted red peppers, drained

1

tablespoon

rice vinegar

1/4

cup

olive oil

2

teaspoons

paprika

2

garlic cloves

minced

1/2

teaspoon

kosher salt

1

teaspoon

pepper

1

tablespoon

Adobo Sauce

(from canned chipotles)

1

teaspoon

honey

1/4

cup

red onion

chopped

1/2

tablespoon

Dijon mustard

2

basil leaves

chopped
Instructions
Char bell peppers over gas flame or in broiler until blackened on all sides. Enclose in paper bag 10 minutes. Peel, seed, and coarsely chop bell peppers

Place all ingredients into a blender jar.

Blend for 30-60 seconds on high speed, until completely smooth.

Serve immediately or store in the fridge for 1 week
Notes
Jarred roasted red peppers can be substituted for fresh red peppers. If using jarred they come already roasted so can be immediately placed in blender with all the other ingredients.