Jerk BBQ Sauce - a delicious doctored up store-bought sauce that is perfect for creating delicious Caribbean inspired dishes.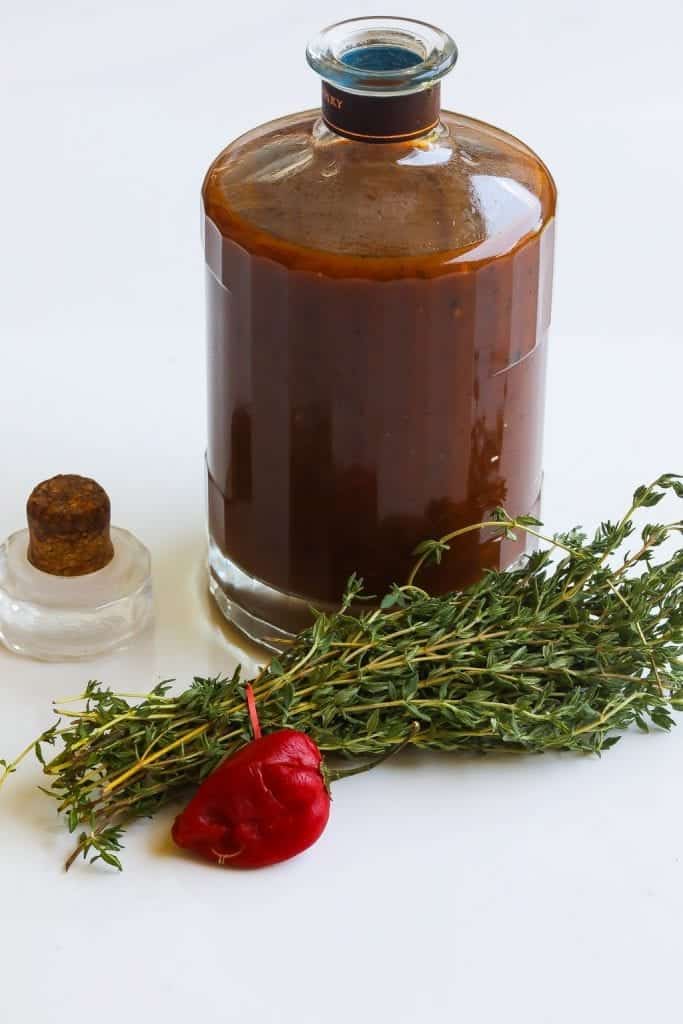 Without a doubt in my book homemade beats store-bought any day. However, sometimes we don't have homemade time or homemade money. Homemade requires investing in ingredients and unless you inherited grandpa's secret recipe a fair amount of tweaking and testing will be required increasing costs.
The compromise is just to buy your very basic commercial bbq sauce and doctor it up. This is what I call customization and convenience at a value cost.
Jerk Sauce Ingredients
This doctored bbq sauce is very simple to make, but the boldness and the complexity of the flavor stand out. The pineapple balances the slight heat from the jerk seasoning and adds some more of that Caribbean element. It will add some time, but if you want to level up this dish you can make my homemade jerk marinade in place of the store-bought.
How To Make Doctored Up Jerk BBQ Sauce
I'd feel too guilty if I actually provided steps to this recipe. There are no steps are expert tips needed. Just add the ingredients to a saucepan and mix well over medium heat then simmer. You'll be seeing pretty lights afterward.
Doctored Up Store-Bought BBQ Sauce Questions
What are common issues with store-bought bbq sauces?
For me, the bottled stuff is just too generic, or too sweet (thanks high fructose corn syrup), or too spicy, or straight up too artificial. Generic means not much of an enhancer. The good news is, there exists an easy solution for whatever ails your store-bought sauce.
What are doctoring solutions to common sauce issues?
For Bland Sauce
Bland is another name for un-seasoned so when I'm looking to improve I employ spices depending on the flavor profile I'm after. I like peppery so white or black pepper is in play as well as classics like garlic powder, cumin, paprika, or onion powder. Dried herbs get consideration also.
Beyond spices and herbs, sauces/condiments like mustard varieties, soy, and Worcestershire work great. For real complexity and next-level stuff liquid will elevate your sauce. Brown liquors (whiskey or dark rum) and beer get it done and take things up a notch. Whatever you decide, don't get caught up in being perfect. Play around, taste and adjust as you go.
For Fake Artificial Flavored Sauce
Assuming you didn't buy liquid smoke enhanced crappy sauce, but are trying to make use of some a friend left behind, you'll need to go heavy on the citrus or other fruit juices, the real stuff, not the bottled lemon juice. Pineapple juice is my favorite and is what I used in my jerk BBQ sauce recipe.
Apple is another good option, particularly if you're pairing the sauce with a pork dish. Sweet (honey, agave, molasses, brown sugar) is basically your friend when it comes to countering liquid smoke. Spicy/hot is another good counter move; fresh, dried or powdered chili peppers and hot sauces will do the trick.
For Too Sweet Sauce
Reach for a vinegar - cider, rice, or red will cut through that sweetness and add the needed acidity. Vinegar choice will depend on the desired flavor profile. Rice vinegar is mild so always a safe choice. Cider has some complexity but is not too strong, so its a favorite in bbq sauces.
What is the best store-bought bbq sauce for doctoring?
One of my first adult jobs was with Kraft Foods. I worked in their "Enhancers" division which included BBQ sauce. So trust me, I know my shit when it comes to these matters. Kraft employs chefs, taste experts, and crazy amounts of consumer research to create the sauce that appeals to the MASSES. They have it down to a science, so if you're going to start with any store-bought bbq sauce, Kraft is it.
Trust me when I tell you they've tested about 50,000 iterations to perfect it. It's not too sweet, too tart, or overly artificial. Instead, it's close to just about right, but lacking in character and personality. The good news is it only takes a few tweaks to get to great.
What Are Flavor Ideas For Doctored Sauce Recipe Ideas?
This month I'm exploring a lot of Caribbean flavors, but trying to to do so with fewer ingredients and little time. This jerk BBQ sauce provides that. Stay tuned for use in a quick Caribbean Brown Stew Chicken dish or braised oxtails as well as earlier post for jerk smoked oxtails. In keeping things simple with this recipe it's just base Kraft BBQ sauce plus sweet (pineapple juice) and heat (jerk seasoning).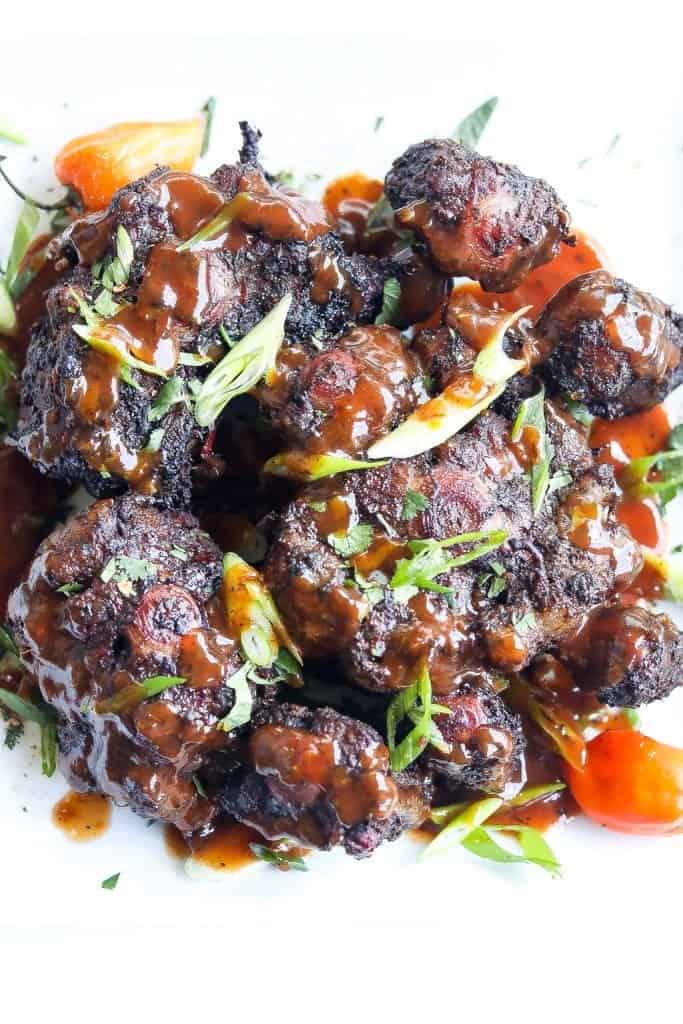 Jerk was my approach, but you can use Kraft as a base for any profile or global inspiration. Just grab your favorite chili paste, spice mix plus a related sweetener, and tangy acidity. Ingredients like pineapple juice provide a 2 for 1 as you get sweet plus acidity.
What can I use Jerk BBQ Sauce with?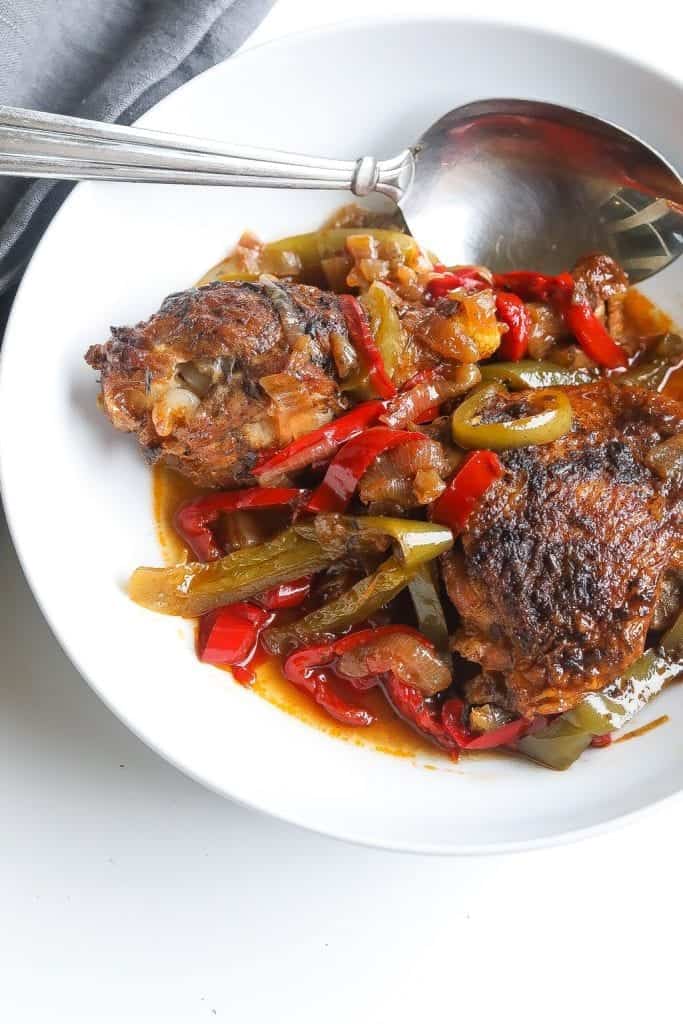 Is Jerk BBQ Sauce Spicy?
For this recipe, I kept the sauce mild, but it's easy to heat things up. Jerk traditionally has some serious eat owing to habanero peppers being the base ingredient. For the jerk seasoning/flavor in this sauce, I used a mild jerk paste (Walkerswood brand) which you can find in any grocery store. Grace brand is another good one. The mild version is about a 2 on a 10 point heat scale.
MORE JERK BASED RECIPES
Pan-Roasted Jerk Chicken Thighs
Jerk Whole Roasted Cauliflower
Making Jerk BBQ Sauce
This recipe is the marriage of two great flavors - jerk and BBQ. It's achieved with just a few ingredients starting with a basic bbq sauce. Pineapple juice and store-bought jerk marinade make this sauce sing and give it its Caribbean profile.
If you make this delicious doctored up store-bought bbq sauce recipe and use it in a dish please come back and leave me a comment below with your feedback. Definitely take a photo of the dish and be sure to tag #foodfidelity so that I can see them.
You can also keep up with my food exploits as well as original recipes! You can find me on Instagram, Facebook, Twitter, and Pinterest. If you like any of the music you find on the site, visit me at Spotify to find curated monthly playlists.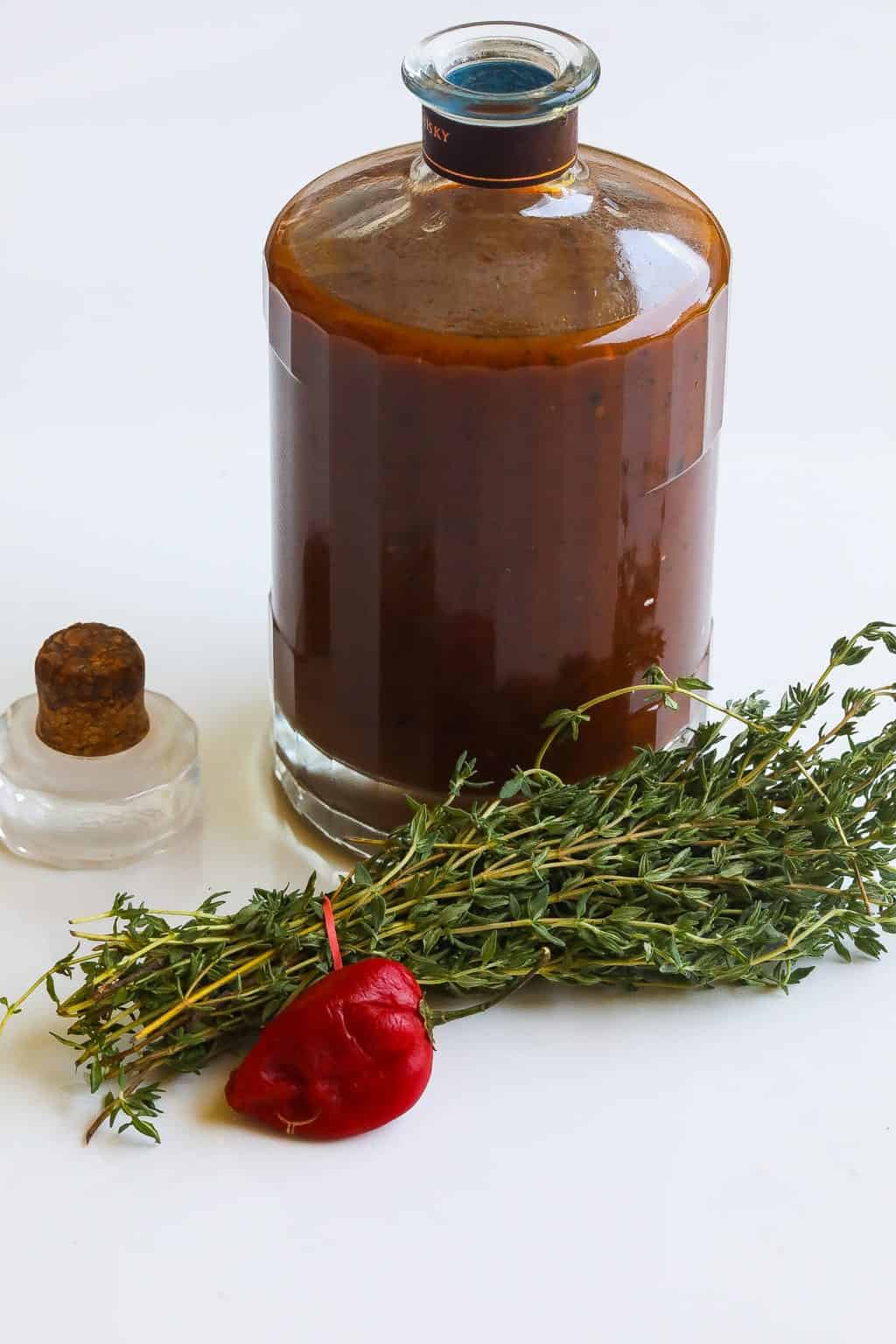 Ingredients
1

bottle BBQ sauce

¼

cup

Jerk paste

store bought Walkerswood brand

1

tablespoon

Worcestershire sauce

6

oz

can Pineapple juice

1

tablespoon

Olive oil

½

tablespoon

kosher Salt

½

tablespoon

Pepper

¼

cup

Cider vinegar

1

cup

ketchup
Instructions
Whisk together all ingredients in a medium saucepan situated over medium heat. Allow to come to a bubble and then reduce the heat to low. Allow to simmer until thickened, about 10 minutes.

Serve immediately or allow to cool slightly and store in an airtight container in the refrigerator for up to a week.
Video
Nutrition
Calories:
44
kcal
|
Carbohydrates:
8
g
|
Protein:
1
g
|
Fat:
1
g
|
Saturated Fat:
1
g
|
Sodium:
487
mg
|
Potassium:
99
mg
|
Fiber:
1
g
|
Sugar:
7
g
|
Vitamin A:
110
IU
|
Vitamin C:
2.3
mg
|
Calcium:
8
mg
|
Iron:
0.2
mg
Subscribe To My YouTube Channel
Subscribe To My YouTube Channel for full length recipe videos. Click the bell icon to be notified when I post new videos.
My YouTube Channel