If you were ever curious about how to cook green lentils, then you're in the right place. This post includes detailed notes as well as a real recipe at the end to demonstrate.
Lentils are common in our house all year round. Mushy lentils are looked upon with disdain by all in the family. Luckily over the years through much trial and error as well as research I've cracked the code for how to cook lentils perfectly, i.e. non-mushy and flavorful.
It's actually not difficult, but like most things requires some discipline. Follow the tips below and you will avoid the mishaps of my trials and tribulations
KEY CONSIDERATIONS FOR COOKING GREEN LENTILS
Buy the freshest lentils you can find
Older lentils take longer to cook and will shed their skins during cooking. Though this doesn't impact taste directly, it does make for highly unattractive/unappetizing lentils
Variety/type of Lentil Matters
Not all lentils are created equal. Lentils come in different colors including yellow, green, brown, orange, and red and each cooks differently making them ideal for different types of dishes.
Green and brown which are most common tend to cook more quickly and evenly so are less likely to get mushy. Yellow, orange, and red lentils break down more during cooking than the others. Cook them too long or too fast and they quickly become mushy.
Check for Pebbles
It's worth it to sift or check for mini-pebbles when prepping lentils. It doesn't happen often, but there is always a chance a loose pebble makes it into your bag/container. Missing them can be a painful surprise if you have the misfortune of biting into one.
Add an Adequate Amount of Water/Liquid
Lentils aren't like rice or other grains in terms of their ability to absorb a lot of liquids. Utilize a 2:1 ratio liquid to lentils. I emphasize liquid vs. simply water because you may want to increase flavor by using a stock. Skew on the safe side of using more than less.
Creatively Add Flavor With Simple Ingredients
Be a flavor-phile and look for ways to add more flavor to your lentils. The easiest way is to use a stock and/or add aromatics like fresh herbs, dried chilis, or spices.
Use Proper Simmering Technique
Lentils should be brought to a rapid boil, then reduced to a simmer uncovered for 25-30 minutes. Cooked in this manner, they should get lumpy without bursting from their shell into sub-optimally flavored mush.
Do Not Add
Salt/Acidity Too Soon
Salting or adding acidic ingredients to the pot too early can be problematic. Salt, vinegar, citrus too early in the cooking process can impede the lentils from softening reaching peak tenderness. It's best to salt/add acidity when the lentils are done cooking but still warm.
MAKING A RECIPE
For a recipe demonstrating how to cook green lentils, checkout these perfectly cooked lentils in this vegan green lentils recipe. The lentils are cooked in a smoky chipotle infused broth. Serve with simple vegetables like broccoli, carrots, or greens.
This is the base recipe I use but feel free to customize to your tastes. Just remember to follow the guidelines above for how to cook lentils. For a simple instant pot based lentil recipe try this lentil stew.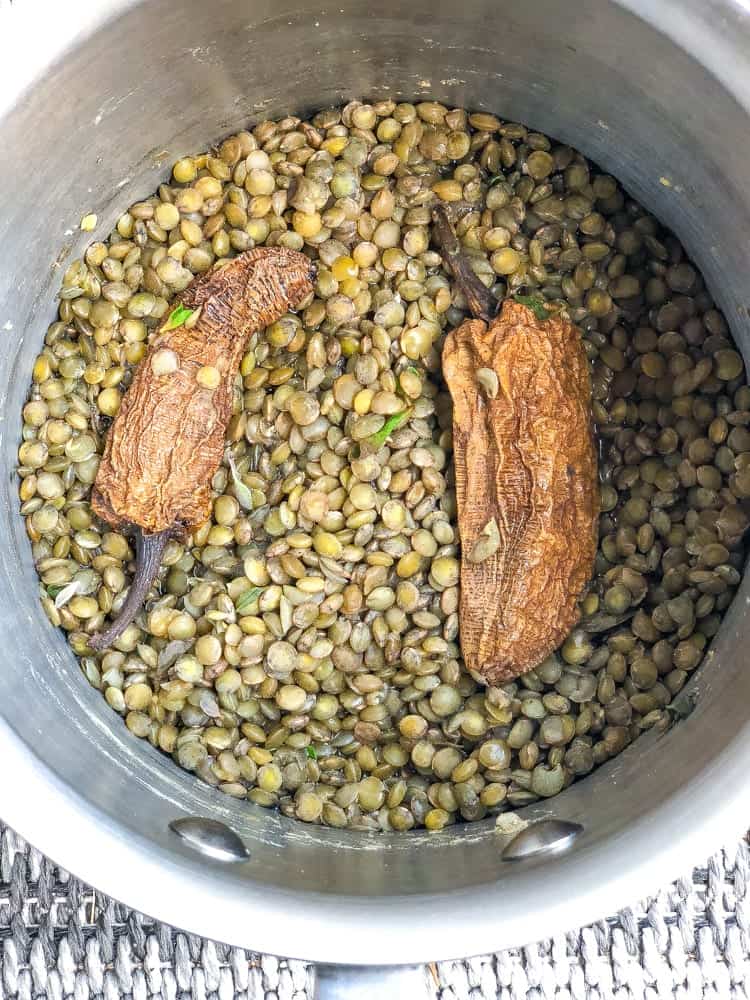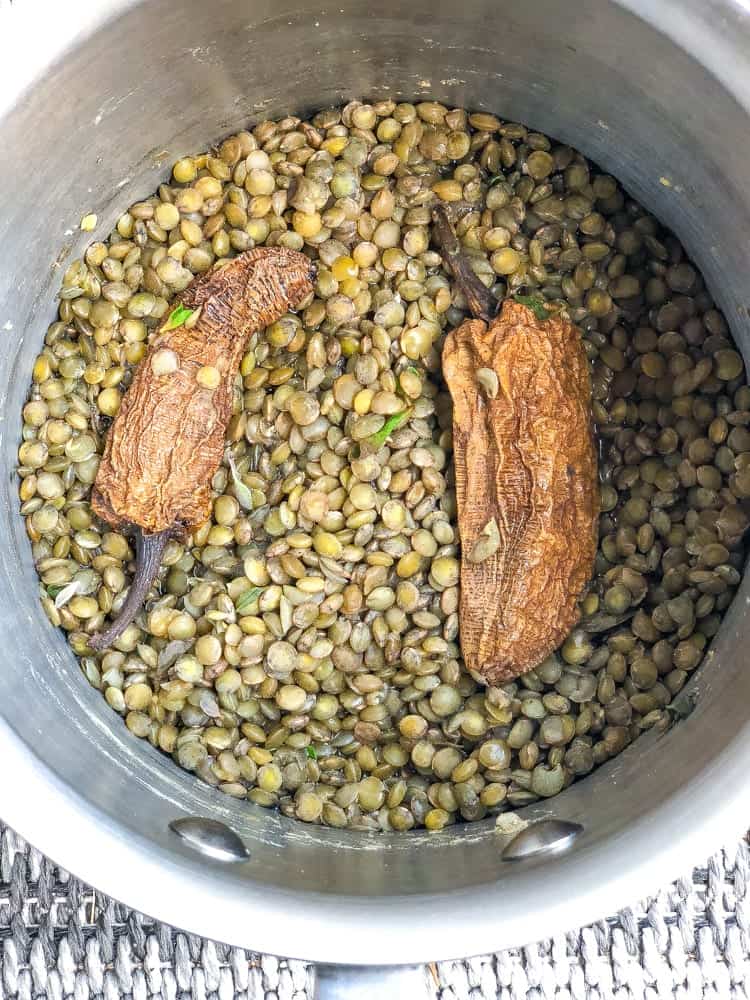 Ingredients
1

cup

dried green or brown lentils

2

cups

vegetable stock

1

bay leaf

1

dried chipotle chili

¾

teaspoon

salt
Instructions
Measure the lentils into a strainer. Pick over and remove any pebbles or debris. Thoroughly rinse under running water.

Transfer the rinsed lentils to a saucepan and add the stock. Add the bay leaf and chipotle chili.

Bring the stock to a rapid simmer over medium-high heat, then reduce the heat to maintain a very gentle simmer.

Cook, uncovered, for 25 to 30 minutes. Add water/stock as needed to make sure the lentils are just barely covered.

Lentils are done as soon as they are tender and no longer crunchy. Strain the lentils and remove the bay leaf and chili. Return the lentils to the pan and stir in ¼ teaspoon of salt. Taste and add additional salt as needed.

Eat lentils as a side as is or add to soups, salads, etc.
Nutrition
Calories:
220
kcal
|
Carbohydrates:
38
g
|
Protein:
15
g
|
Fat:
0
g
|
Saturated Fat:
0
g
|
Cholesterol:
0
mg
|
Sodium:
836
mg
|
Potassium:
564
mg
|
Fiber:
18
g
|
Sugar:
2
g
|
Vitamin A:
275
IU
|
Vitamin C:
2.6
mg
|
Calcium:
33
mg
|
Iron:
4.5
mg
Subscribe To My YouTube Channel
Subscribe To My YouTube Channel for full length recipe videos. Click the bell icon to be notified when I post new videos.
My YouTube Channel