Deep fried Cornish hen recipe featuring a whole Cornish hen marinated, well seasoned and deep fried to a fine crispiness and great flavor.
The brine and the homemade chicken rub give this fried hen an abundance of flavor. It's got a sweet heat from the combination of chili powder and cinnamon.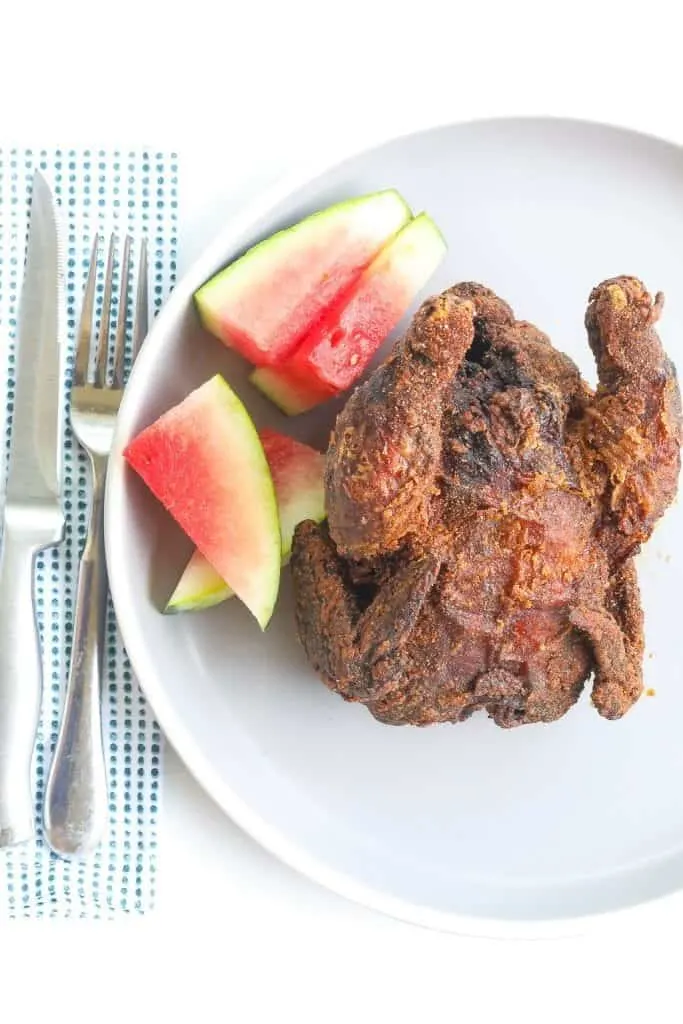 I was looking for whole chicken for single, individual serving size. It's always a pain to fry an entire chicken and not be able to eat the whole bird. A deep fried Cornish hen sounds sophisticated and complicated, but in reality, it is A-U-T-Omatic!
Frying a whole bird is fun in and of itself, but the spice mix adds another element of fun. Cinnamon and Chile powder are the base of the rub, but it's the cinnamon that provides the whoa! factor.
I know you're probably thinking, wtf, cinnamon chicken? Back in the day, I used to watch a lot of Bobby Flay and he used a lot of spice blends pairing cinnamon and chilis which gave me the idea to create the rub in this fried Cornish hen recipe. The cinnamon adds flavor, color, and a great aroma.
Cornish hen vs chicken
Cornish hen is chicken so it taste like chicken and shares most of the same qualities as chicken. It is, however, younger and much smaller than your typical fryer. Youth equals tender, but milder in flavor. To boost the flavor you need a good marinade or seasoning mix.
I used a spiced buttermilk marinade plus finished the hen off with a cinnamon and chili powder based spice mix. Youth also means lean, lower fat and fewer calories. And at such a smaller size, you can treat a whole hen as a single serve. Hence, I fried it whole and ate it all by my self!
MOOD MUSIC
Ingredients Needed For Deep Fried Cornish Hen
For the Buttermilk Brine
Buttermilk
Fresh Cilantro
Fresh Parsley
Kosher Salt
Vodka
For the Dredge
All-Purpose Flour
Corn Starch
Ground Cinnamon
Chili Powder
Brown Sugar
Allspice
Black Pepper
Garlic Powder
Kosher Salt
Paprika
For the Frying
Cornish Hen
Vegetable Oil
How to cook Cornish hen
My mom is a big fan of Cornish hens and frequently roasts or bakes them, not unlike most Cornish hen recipes. I decided to break from tradition and fry mine. Deep-frying cooks the hen faster creating a moist flesh with a super crispy crust.
I followed the same approach as my fried jerk chicken recipe, but just changed up the flavors. I used an herb and buttermilk marinade, then seasoned the flour with a southwestern based rub which contained cinnamon, chili powders, and garlic. Rather than cutting the hen into pieces, I fried it whole. Just remember, if you've deep fried a turkey before, this fried Cornish hen recipe is the same.
Step 1: Brine overnight in buttermilk
Step 2: Dredge in flour + corn starch + chicken rub
Step 3: Fry in Vegetable Oil
Step 4: Remove from oil and let rest.
Step 5: Add used hot oil from the fryer to the chicken and season with spice rub.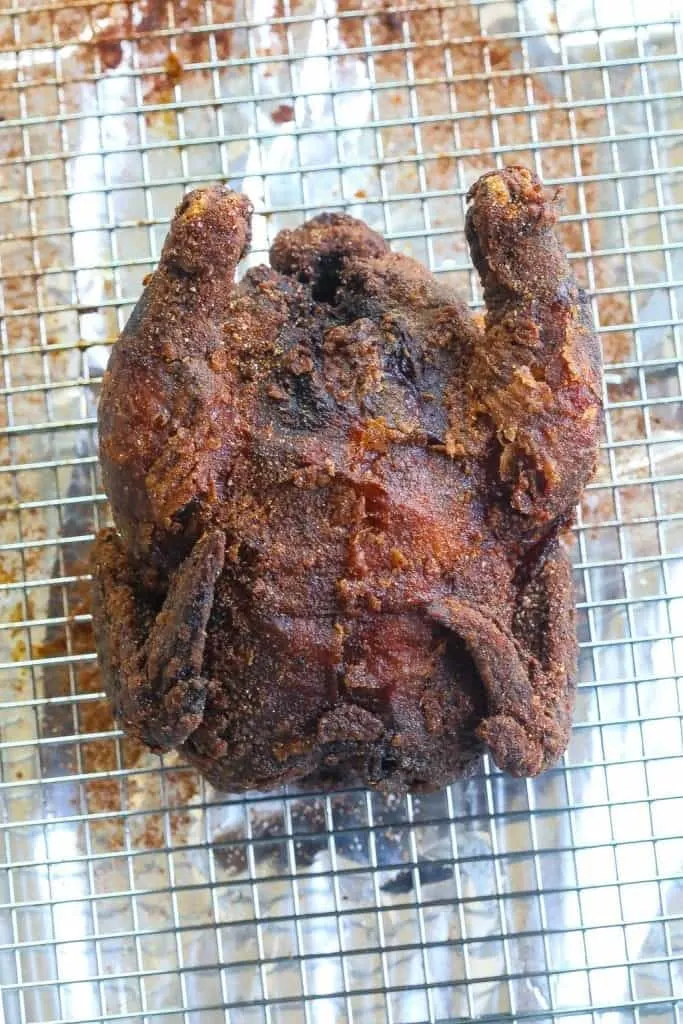 Fried Hen Cooking Tips
Cut the skin open where the breast meets the thigh. This will reduce the possibility of a sudden release of moisture, which can be dangerous while the chicken is submerged in the hot oil

Slowly lower the basket into the oil. Work gently and slowly to avoid oil splatters.

Use a meat thermometer to check for doneness. The thigh should register 165 degrees
MORE FRIED CHICKEN RECIPES
Buttermilk Fried Chicken Wings
Making This Fried Cornish Hen Recipe
If you make this comforting and flavorful deep fried Cornish hen recipe<span< a=""> class="s1"> please come back and leave me a comment below with your feedback. Definitely take a photo of the dish and be sure to tag #foodfidelity so that I can see them.</span<>
You can also keep up with my food exploits as well as original recipes! You can find me on Instagram, Facebook, Twitter, and Pinterest. If you like any of the music you find on the site, visit me at Spotify to find curated monthly playlists.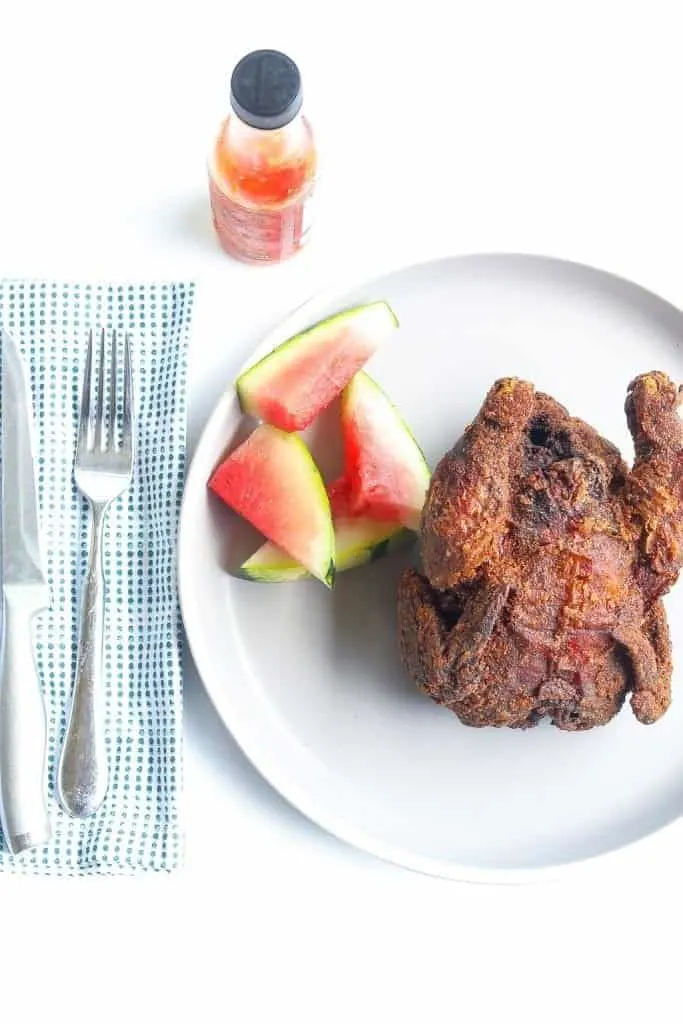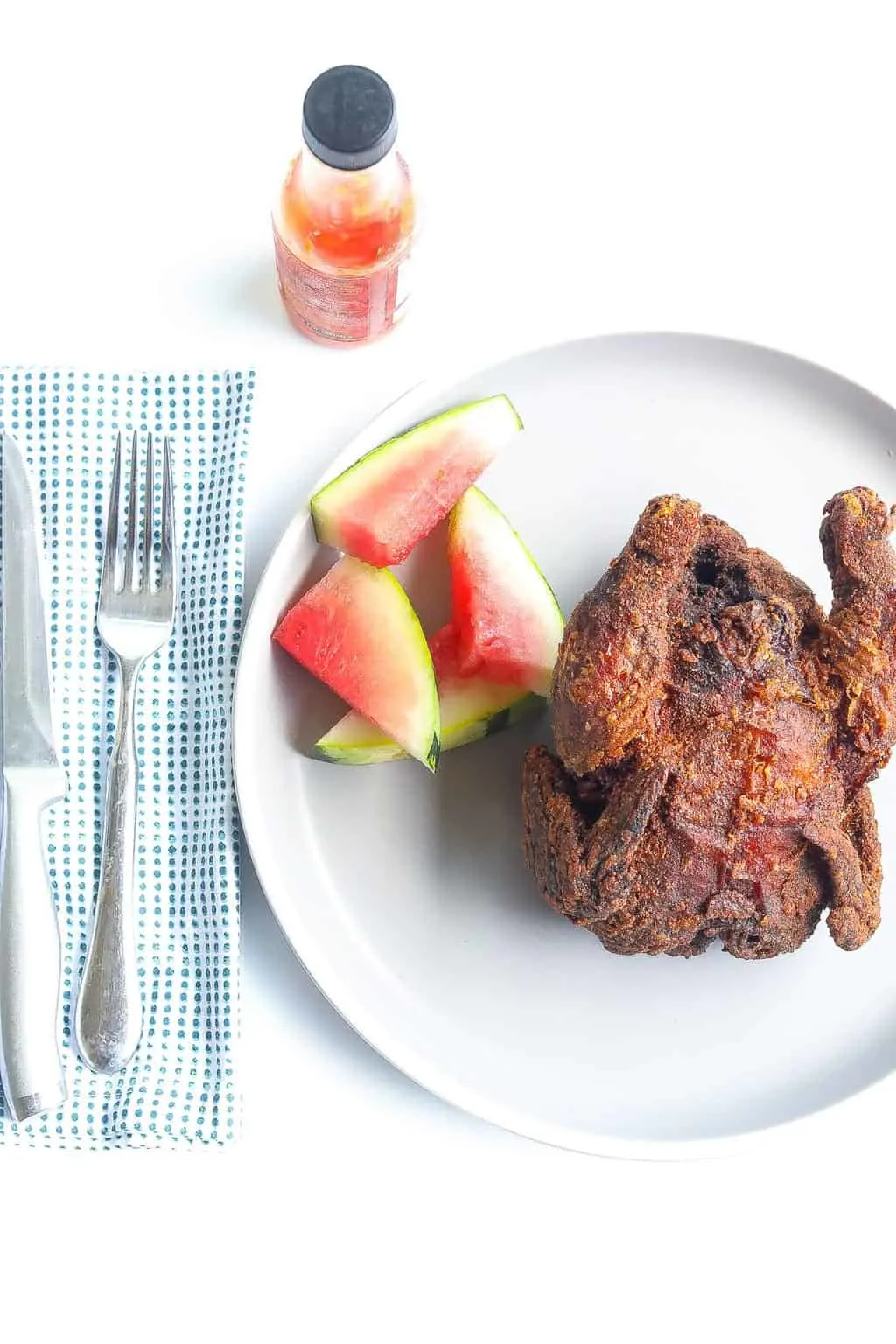 Ingredients
For Marinade
1

pint

Buttermilk

1

bunch

Fresh cilantro

roughly chopped

1

bunch

Fresh parsley

roughly chopped

1

tablespoon

kosher salt

1

tablespoon

vodka
For Dredge
½

cup

all purpose flour

½

cup

corn starch

1

tablespoon

ground cinnamon

1

tablespoon

Chile powder

1

tablespoon

brown sugar

½

tablespoon

allspice

½

tablespoon

black pepper

½

tablespoon

garlic powder

½

tablespoon

kosher salt

½

tablespoon

smoked paprika
For Frying
1

lb

cornish hen

Vegetable oil
Instructions
Marinade Instructions
Blend buttermilk and herbs in a blended.

Place cornish hen in an extra large ziplock bag and add marinade. Let marinate in the refrigerator for at least 8 hours, preferably overnight
Spice Rub Instructions
Mix all ingredients in a mixing bowl and reserve.
Frying Instructions
Remove hen from refrigerator and let reach room temperature

Add oil to the fryer. Be sure not to fill it too high as the hen will take up much space so you'll need to leave room to prevent overflow. Bring fryer to 350 degrees

Mix in about a ⅓ of the spice rub with the flour and corn starch.

Dredge the hen in the flour mixture and then using long tongs slowly add the chicken to the hot oil. If it looks like you're at risk of overflow, stop at this point, remove the chicken, let the oil cool and remove oil as needed.

Fry the hen for 20-25 minutes. Check for doneness using a meat thermometer. Place the thermometer into the thigh to check for doneness. You're good to go at 165 degrees.

Remove the hen and place on a cooling rack and let rest 5-10 minutes.

Cut into quarters and serve.
Video
Notes
For cleaner taste with that golden color use peanut oil instead of vegetable. It's more expensive, but you can use it to fry multiple times before changing the oil.
The spice rub cause for Chile powder. If you have access to a specific Chile like ancho use it instead of the blends.
When dredging the hen, make sure you get into all the nooks and crannies so the bird is well covered
Adding vodka to the marinade helps for evaporation during frying which adds to the crisp.
Be generous with the salt in the marinade to help flavor the inside of the chicken.
If your fryer is not big enough to submerge the entire hen at once then either cut the hen in half and fry or cook one side at a time using tongues to flip the bird.
For gluten-free version swap the all-purpose flour with brown rice flour. The absence of gluten actually adds more crunch to this recipe so it's an added bonus.
Nutrition
Calories:
929
kcal
|
Carbohydrates:
82
g
|
Protein:
52
g
|
Fat:
41
g
|
Saturated Fat:
14
g
|
Cholesterol:
255
mg
|
Sodium:
5712
mg
|
Potassium:
1234
mg
|
Fiber:
7
g
|
Sugar:
18
g
|
Vitamin A:
5355
IU
|
Vitamin C:
40.7
mg
|
Calcium:
405
mg
|
Iron:
6.9
mg
Subscribe To My YouTube Channel
Subscribe To My YouTube Channel for full length recipe videos. Click the bell icon to be notified when I post new videos.
My YouTube Channel