Spicy Ketchup - basic ketchup, doctored up and seasoned with Cuban flavors for an elevated everyday-use condiment.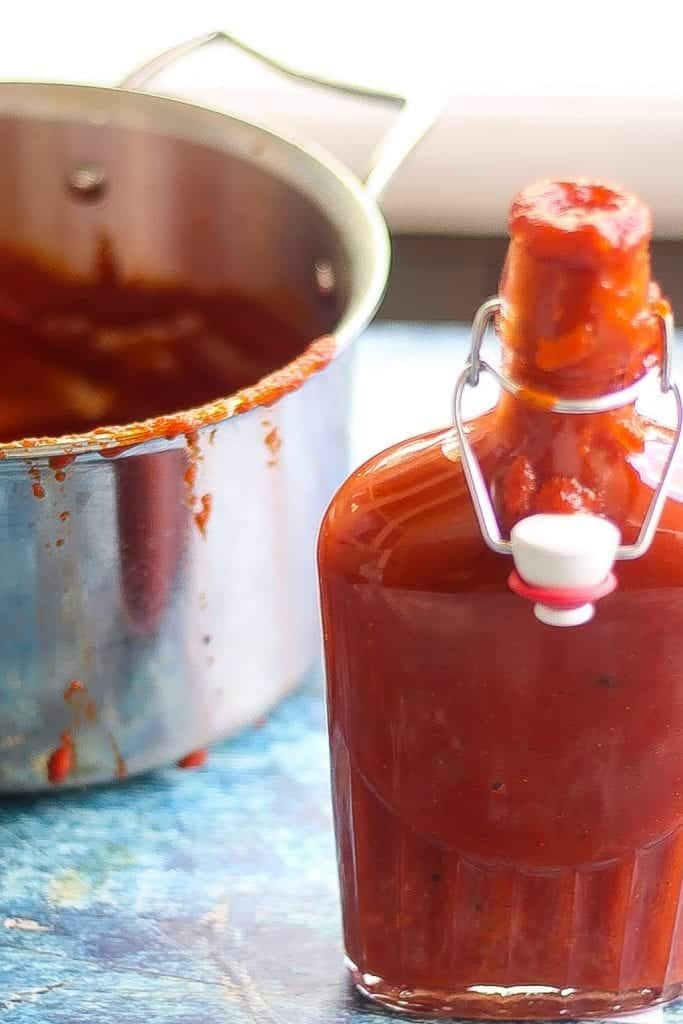 My grandfather hated store-bought condiments especially ketchup, so he kept ingredients like tomatoes, vinegar and Worcestershire sauce on hand to make his own version. My grandmother always bought the store brand stuff.
My grandfather had two issues - one we had hot sauce, which he rightfully viewed as black man's ketchup and two - commercial ketchup lacks real tomato flavor. After tasting his homemade version, my brother and I wouldn't eat any commercial ketchup, not even the big boys Heinz or Hunts.
I inherited my homemade or doctored up ways from my gramps. Not sure if it was intentional or not, but he gave me the formula. Similar to my doctored bbq sauce, I make a few sauces/condiments weekly or monthly as part of meal prep. These simple sauces are packed with soulful flavor, and by using them I can whip together a tasty dish really quick. I made this dish to have a few different Cuban inspired dishes during the month such as a Fritas (burgers) or Sloppy Joes.
What does Cuban Spiced Ketchup Taste Like?
The ketchup doesn't require a lot of ingredients, but it packs a killer punch. One sauce has smokiness, heat, tanginess, sweetness, and savory all of which come together in a well balanced interesting experience. Cumin and paprika are the highlights and add that element of level upness. I used butter in this recipe to sauté the onions, but for a non-dairy version use oil instead. I will admit you do lose a slight bit of richness by swapping out the butter.
What Does Cuban Spiced Ketchup Pair With?
As I mentioned earlier I plan to make Cuban fritas as well as my own kicked up version of sloppy joes. But on a daily basis, it will flavor my eggs, skillet hash, and my kids' fries. Don't be shy about using it, it's just ketchup. So if you're a ketchup on your hot dog (not my thang, but I ain't judging) kinda person, then do your thing.
Making Cuban Spicy Ketchup
This recipe is a great showcase of Cuban flavors. It's achieved with just a few ingredients.
If you make this delicious spicy ketchup recipe and use it in a dish please come back and leave me a comment below with your feedback. Definitely take a photo of the dish and be sure to tag #foodfidelity so that I can see them.
You can also keep up with my food exploits as well as original recipes! You can find me on Instagram, Facebook, Twitter, and Pinterest. If you like any of the music you find on the site, visit me at Spotify to find curated monthly playlists.
For other sauce recipes try these:
Grilled Shrimp with African Peanut Sauce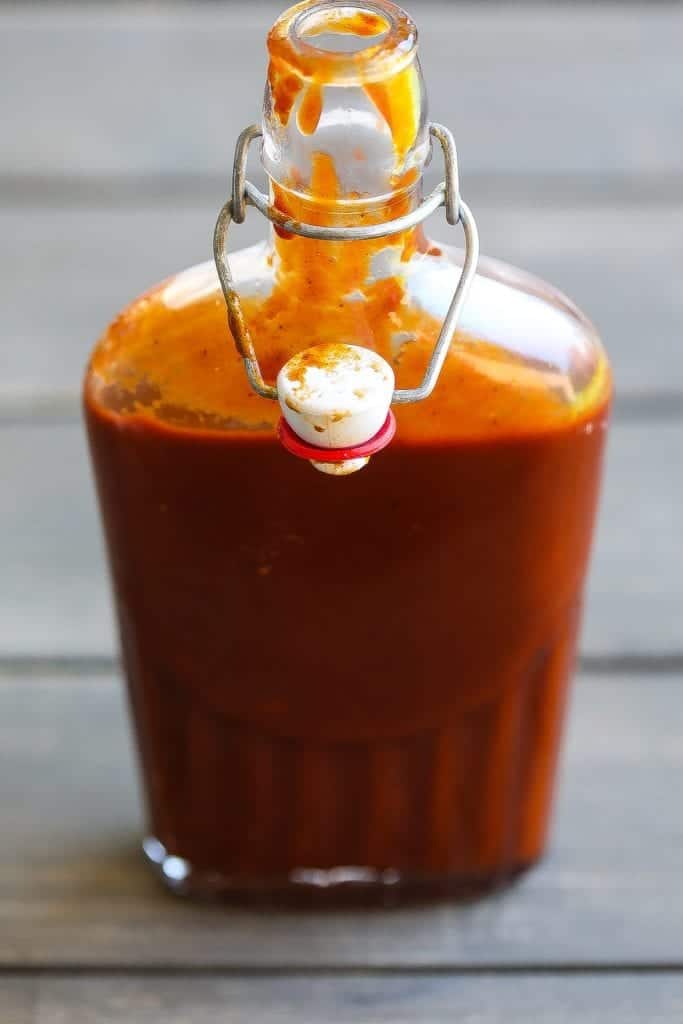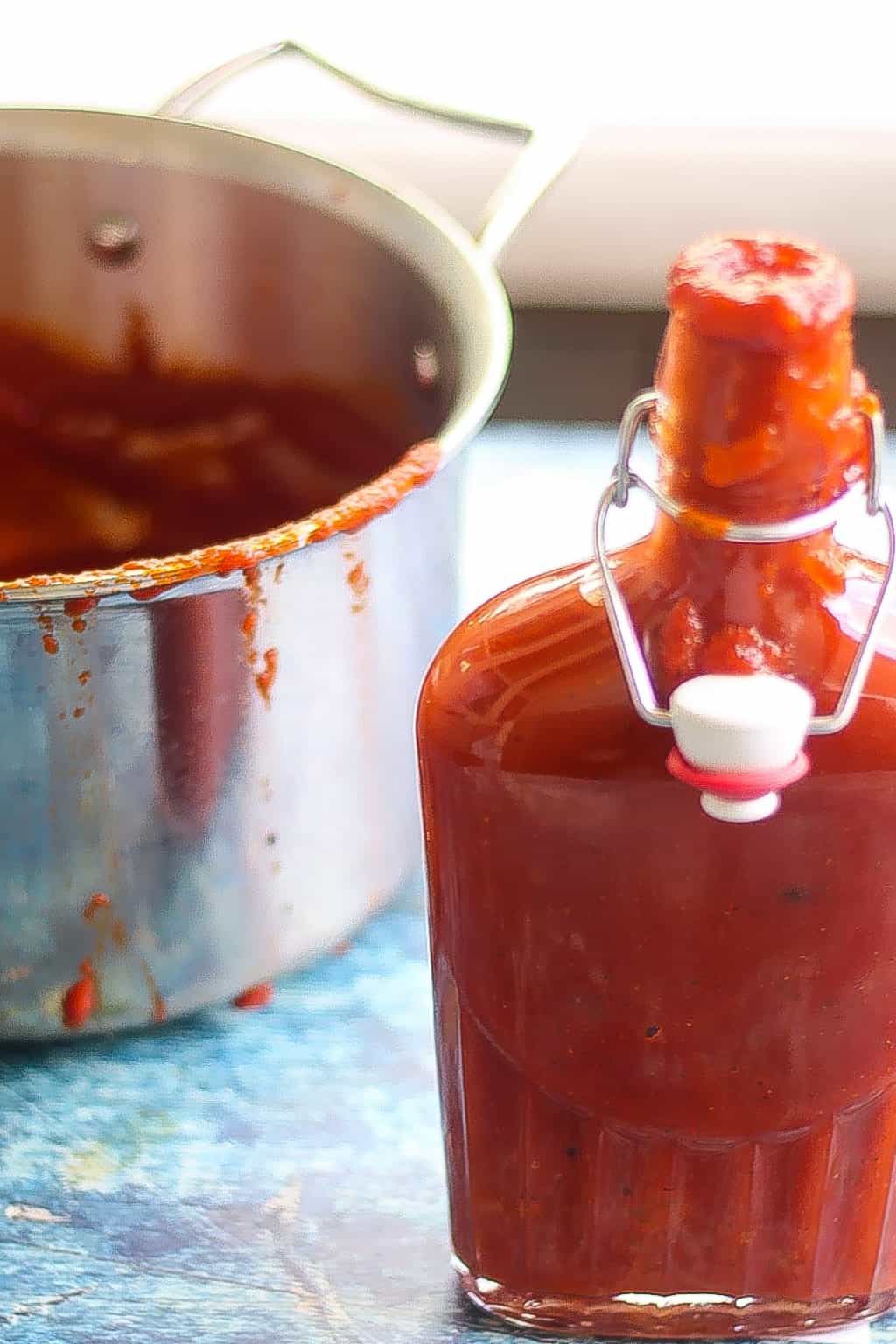 Ingredients
2

tablespoon

butter

unsalted

1

medium onion

chopped

2

garlic cloves

chopped fine

¼

cup

ketchup

¼

cup

tomato paste

1

tablespoon

smoked sweet paprika

1

tablespoon

cumin

1

tablespoon

molasses

1

teaspoon

kosher salt

1

teaspoon

ground black pepper

2

tablespoon

red wine vinegar

1

tablespoon

Worcestershire sauce

1

cup

water

1

tablespoon

hot sauce
Instructions
Heat a saucepan at medium-high heat. Add butter and once melted add the onions and garlic and cook, stirring 5-7 minutes.

Add the tomato paste and ketchup and cook, stirring about 3-4 minutes.

Stir in the paprika, cumin, brown sugar, salt and pepper and cook until fragrant, about 30 seconds.? Stir in the water, vinegar, hot sauce, and Worcestershire sauce and bring to a boil. Reduce to simmer and cook for 20-30 minutes until thickened. Let cool then process in a blender or food processor until smooth, about 1 minute.
Notes
Feel free to substitute dark brown sugar for the molasses.
Nutrition
Calories:
259
kcal
|
Carbohydrates:
35
g
|
Protein:
4
g
|
Fat:
13
g
|
Saturated Fat:
8
g
|
Cholesterol:
31
mg
|
Sodium:
2074
mg
|
Potassium:
935
mg
|
Fiber:
5
g
|
Sugar:
22
g
|
Vitamin A:
4495
IU
|
Vitamin C:
18.9
mg
|
Calcium:
98
mg
|
Iron:
5.7
mg
Subscribe To My YouTube Channel
Subscribe To My YouTube Channel for full length recipe videos. Click the bell icon to be notified when I post new videos.
My YouTube Channel