Sunomono aka Japanese cucumber salad is a perfect summer side dish that will make you forget about those boring summer salads.
It's healthy, super simple (5 ingredients) to make, hella refreshing, and works well with any main dish.
Super thin slices of Japanese or Persian cucumbers are soaked in a rice vinegar based sauced. The excess moisture is then removed leaving behind cucumbers that are tasty AF and still have a bit of crunch to them.
Add this traditional Japanese meal to your easy recipes repertoire. Summer is almost here and this dish makes for a great summer salad.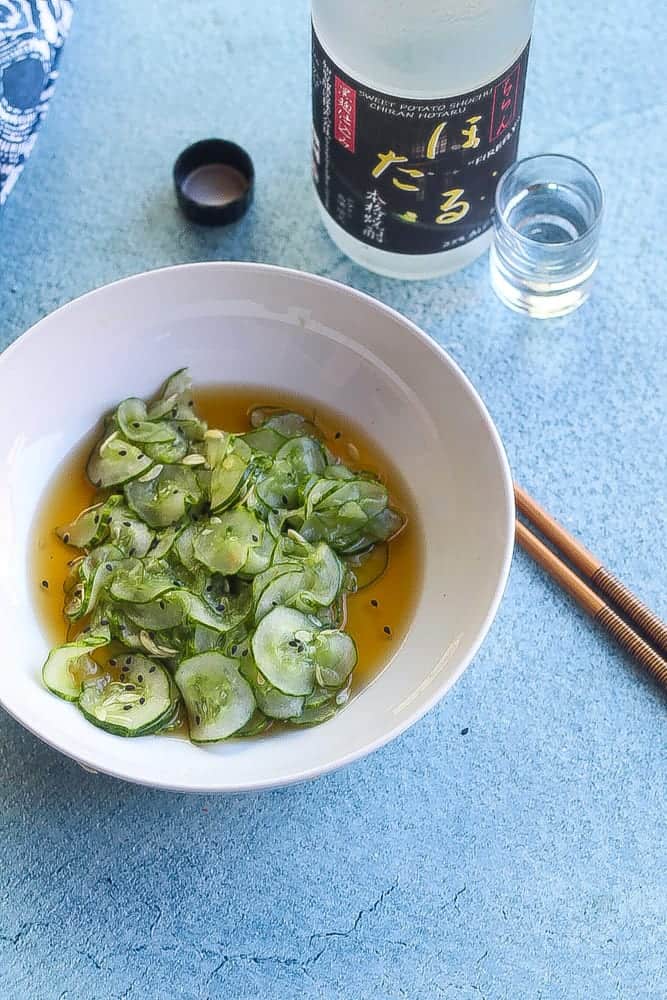 what is sunomono?
It is a term that refers to a range of vinegar-based Japanese dishes. It's a common dish in Japanese cooking.
Dishes are primarily seafood or vegetable dishes dressed simply with a vinegar dressing that creates a tangy, but slightly sweet flavor profile. At its core, it is not much different from your traditional American cucumber salad, but it has more character with its combination of briny taste, a touch of sweetness, and crunchy cucumber.
For this Asian cucumber salad the cucumbers are thinly sliced and the marinade includes more commonly used Japanese ingredients like rice vinegar, soy sauce, and sesame seeds.
However, though just as timeless, it tastes so much better and offers a true wow type experience for such a simple and refreshing side dish.
How To Make This Japanese Cucumber Salad Recipe (Step by Step)
Step 1: slice the cucumbers
Using a vegetable peeler remove the cucumber skin. Then with a sharp knife cut the cucumber into ultra thin slices. Discard the green skin.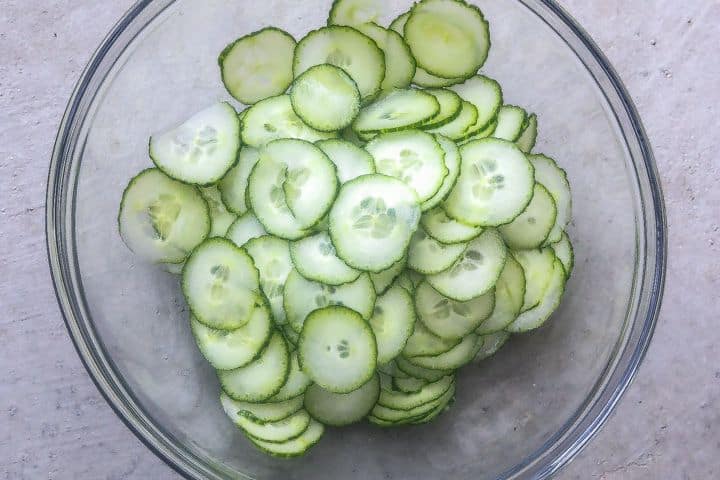 Step 2: Salt the cucumbers
Place the sliced cucumbers in a medium bowl. Sprinkle the salt all over the cucumbers ensuring that all slices are well salted.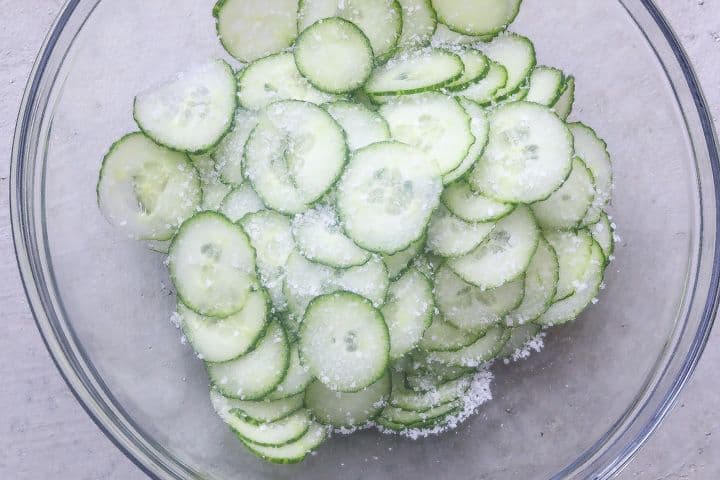 Step 3: make the dressing
Add the rice vinegar, mirin, and soy sauce together in a separate small bowl. Mix well.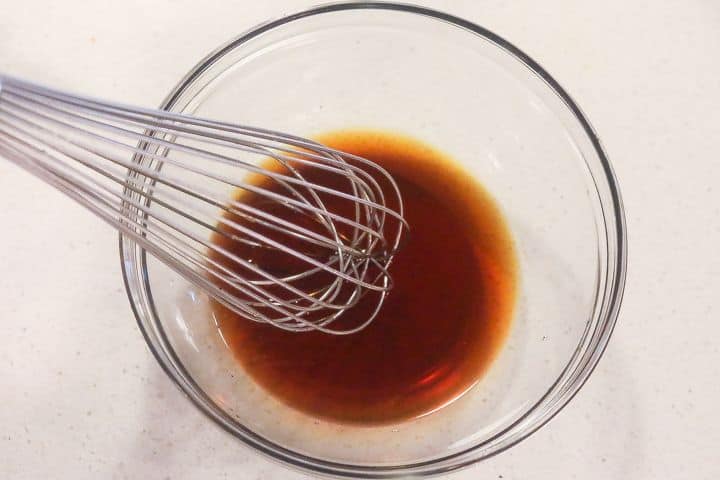 Step 4: remove the moisture from the cucumbers
Leave the cucumbers alone with the salt for about 10 minutes. Using your hands squeeze the excess liquid from the cucumbers.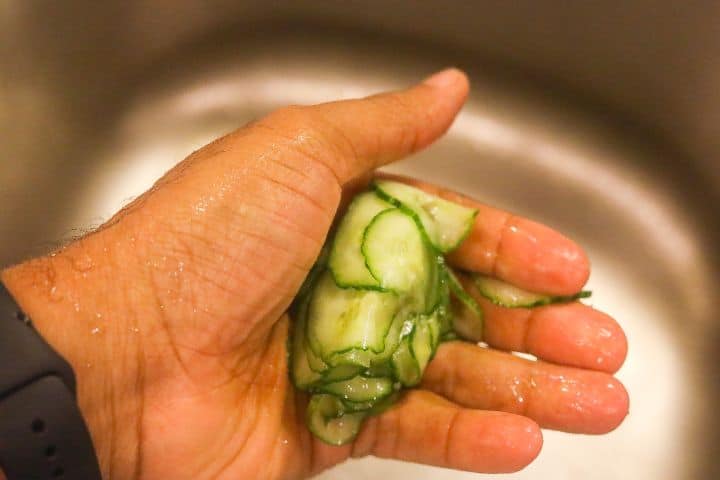 Step 5: assemble the salad
Combine cucumbers and the vinegar mixture and mix well. Top with sesame seeds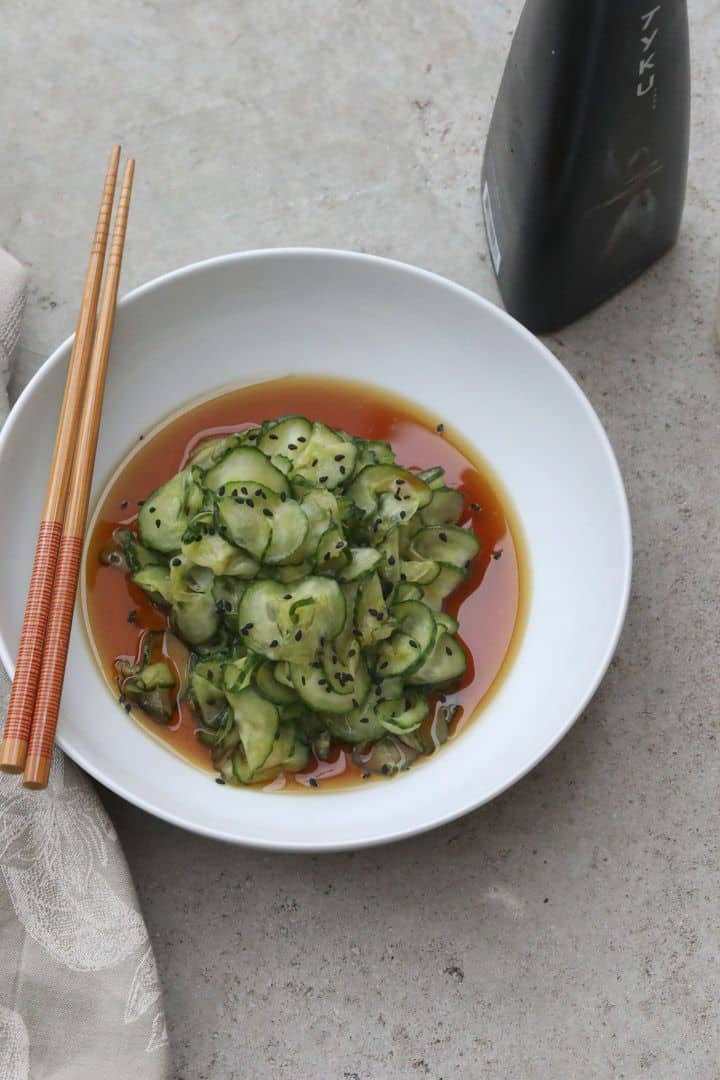 sunomono cooking tips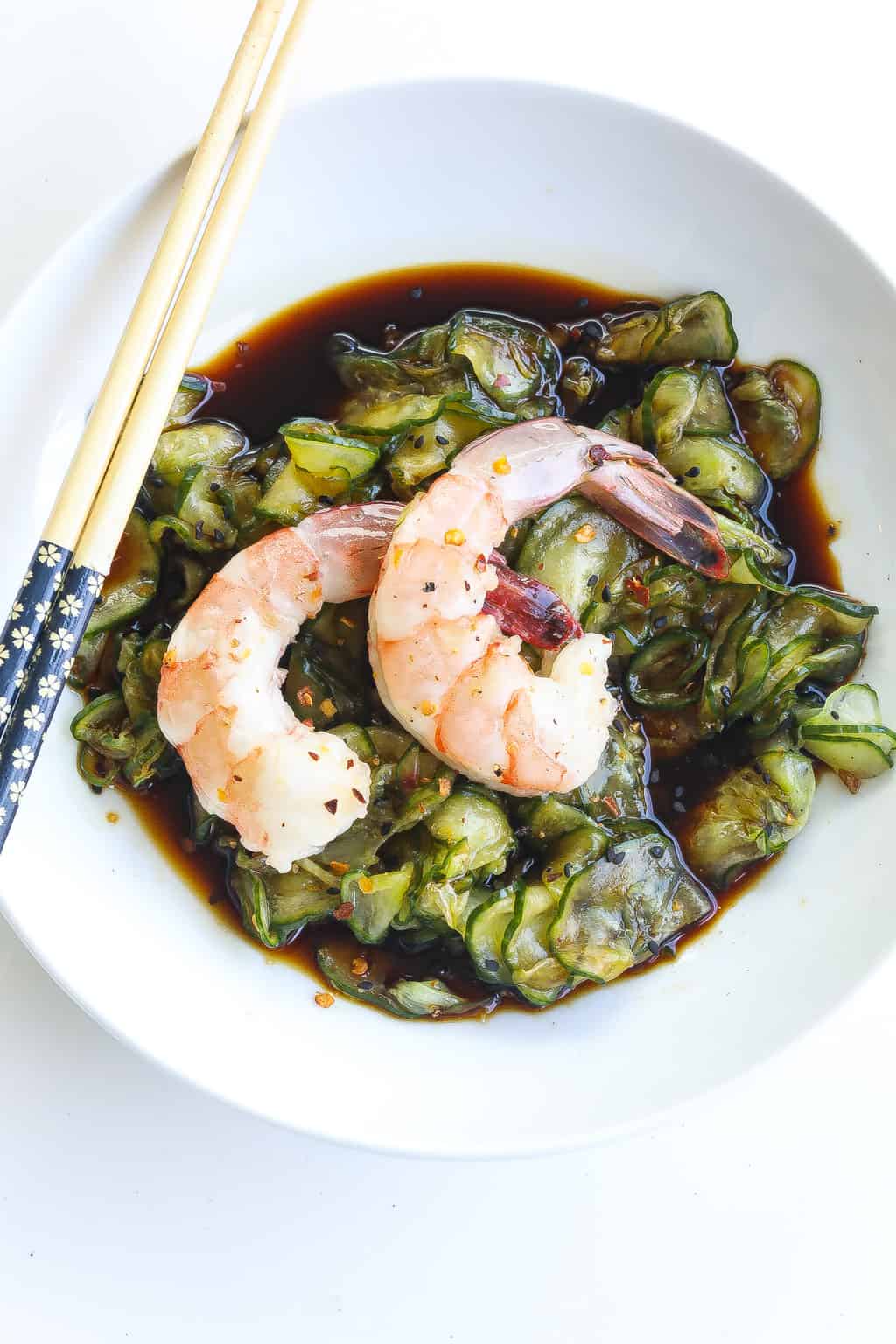 Squeeze as much moisture from the cucumbers as possible. This is the key to that nice, crisp texture.
Small cucumbers work best. Persian cucumbers are smaller and work well as a substitute for long and thin Japanese cucumbers
Select good fresh cucumbers. Check your cucumbers for soft spots. You want crisp Japanese cucumbers. Starting with softer ones will lead to soggy non-crispy cucumbers. Even baby cucumbers are a good option.
If using American style cucumbers, be sure to remove the seeds given there are so many present unlike Japanese ones.
Don't make this recipe overcomplicated. The beauty of Japanese food is the great flavor it achieves via simple ingredients and steps.
serving suggestions
Cucumber salads are briny and cut through the fat of fried foods as well as smoked meats. Checkout out a few main dish pairing options as these:
Buttermilk Fried Chicken Wings
Korean-Style Flanken Short Ribs
Sunomono Recipe Frequently Asked Questions (FAQs)
What's the difference between Japanese cucumbers and regular cucumbers (American ones)?
As you can see from the picture, Japanese cucumbers are longer, skinnier, and with an irregular shape. They sort of resemble a skinny, green humpback whale. They also have a much thinner skin, which in my humble opinion makes peeling them unnecessary.
Texturally, there aren't as many seeds. For those present, they're typically smaller. After having my first taste, admittedly it will be hard to go back to plain American cucumbers. These are crisp, crunchy and delicious with a sweetness similar to melons.
what other cucumber varieties can work in this salad?
I was fortunate to cop these at my farmers' market. And on occasion, I run across them into specialty grocery stores. You may have more luck finding Persian or English cucumbers in more mainstream grocery stores.
Of the two, I'm more partial to the Persian as they are not very thick and are closer in taste and crunchiness to Japanese ones. Choose cucumbers that have few seeds; the fewer the better and there are several different cucumber varieties that meet this criteria.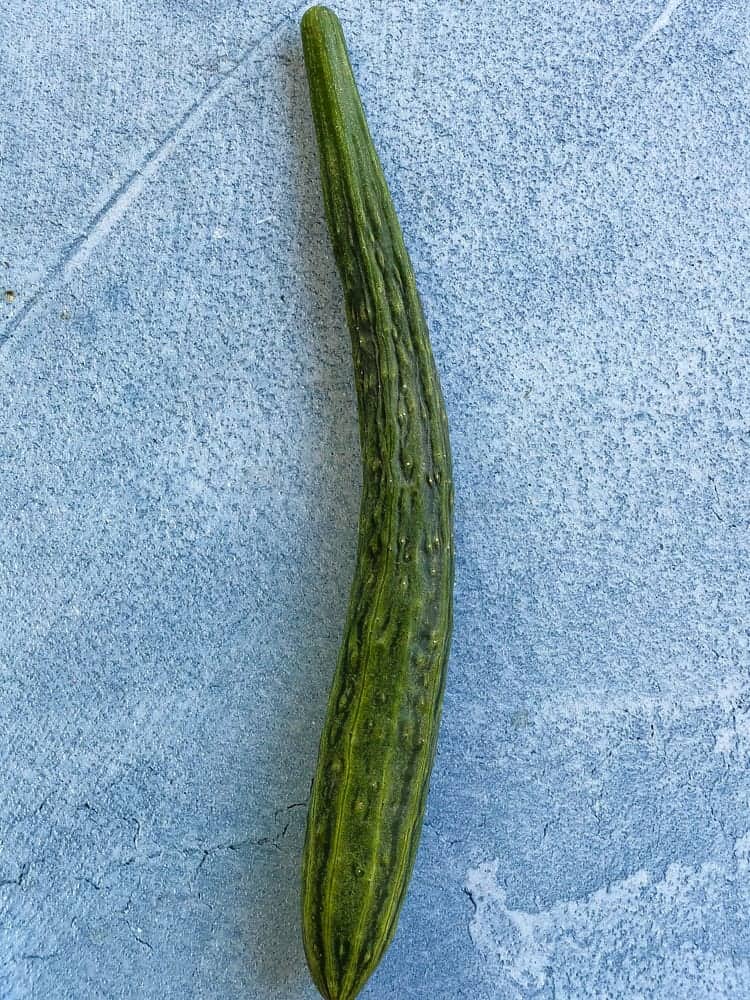 For other cucumber based recipes try:
African Cucumber Sambal Chili Sauce
If you make this simple and delish Sunomono salad please come back and leave me a comment below with your feedback. Definitely take a photo of the dish and be sure to tag #foodfidelity so that I can see them.
You can also keep up with my food exploits as well as original recipes! You can find me on Instagram, Facebook, Twitter, and Pinterest. If you like any of the music you find on the site, visit me at Spotify to find curated monthly playlists.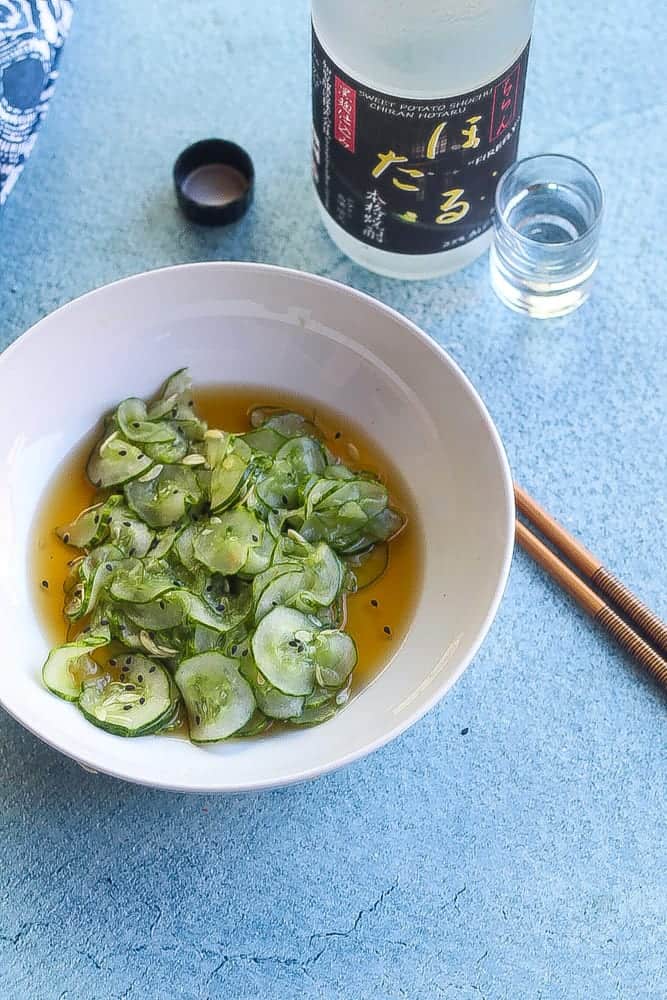 Ingredients
1

Japanese cucumber

2

teaspoon

salt
Vinegar Sauce
2

tsp

rice vinegar

2

teaspoon

mirin

2

teaspoon

soy sauce

sesame seeds
Instructions
Wash and slice the cucumbers as thin as possible.

Place the sliced cucumbers into a small bowl and sprinkle the salt. Toss the cucumbers and salt in order to coat the cucumbers evenly with salt.

Leave the cucumber with salt for 10 minutes to draw the moisture out

Using your hands, squeeze the water out of the cucumbers.

Combine mirin, vinegar, and soy sauce in a mixing bowl to make the sauce

Place the cucumber in a mixing bowl and pour the vinegar sauce over the cucumber.

Serve it in a small bowl and sprinkle with sesame seeds.
Notes
Use unseasoned rice vinegar
Dress simply. Seaweed is a good partner, but not necessary
Seafood like crab, lobster, octopus, etc. can elevate this from a simple side to something more substantial
Squeeze as much moisture from the cucumbers as possible. This is the key to that nice, crisp texture.
If using American style cucumbers, be sure to remove the seeds given there are so many present unlike Japanese ones.
Other vinegars can be used for different flavor/color profile - white vinegar, apple cider vinegar, balsamic vinegar, wine vinegar.
Japanese cucumbers are recommended to use for this dish. If using alternatives, target thinner varieties. For wider/thicker types remove seeds and soft flesh before slicing.
Garnish with sesame seeds. I used black for presentation but feel free to use traditional off white colored ones.
Fresh ginger make for a great finishing touch as well
Nutrition
Calories:
33
kcal
|
Carbohydrates:
7
g
|
Protein:
1
g
|
Fat:
0
g
|
Saturated Fat:
0
g
|
Cholesterol:
0
mg
|
Sodium:
2226
mg
|
Potassium:
220
mg
|
Fiber:
0
g
|
Sugar:
3
g
|
Vitamin A:
155
IU
|
Vitamin C:
4.2
mg
|
Calcium:
24
mg
|
Iron:
0.5
mg
Subscribe To My YouTube Channel
Subscribe To My YouTube Channel for full length recipe videos. Click the bell icon to be notified when I post new videos.
My YouTube Channel