Green and Purple Daikon Radish Salad
Asian daikon salad, a most beautiful and tasty thing!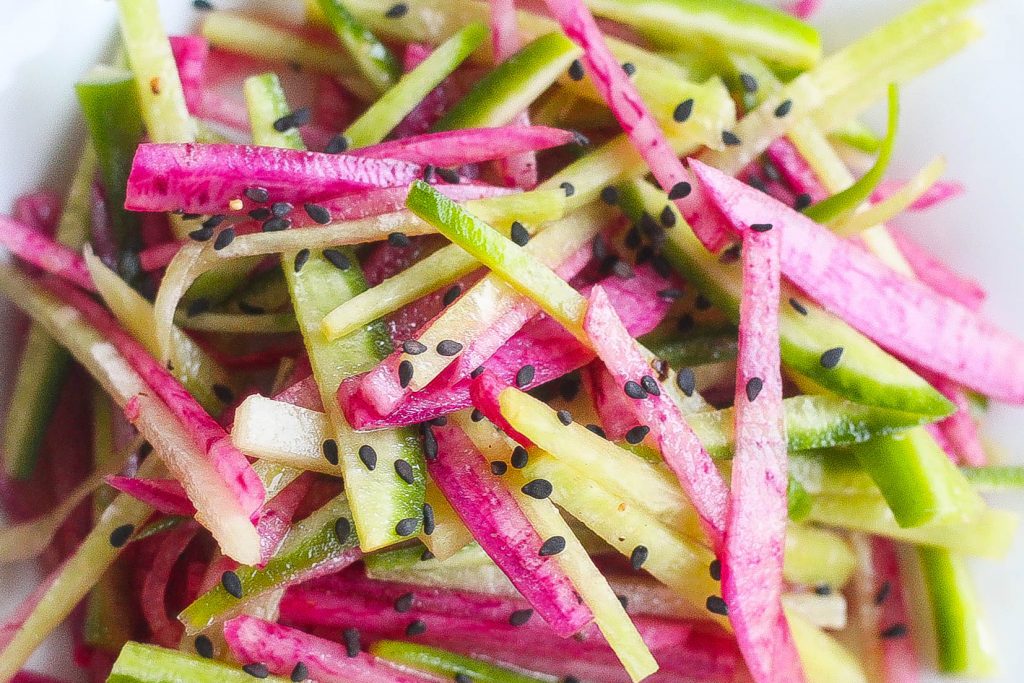 We're in that time of year where you can find a crazy amount of radish varietals in the produce section. As evident by previous posts , I'm partial to the watermelon radish. However, they aren't the only beautiful ones in the family. Certain grocery stores and definitely farmer's markets carry colorful green or purple daikon like these. It's always a tough choice when both the watermelon radish and colorful daikon radish are both available, but I had a matchstick-like daikon salad in mind as I envisioned this dish. It's like they give me that Prince in "Purple Rain" movie look screaming at me to make a choice. Boy those beautiful ones will get you everytime.
Typically daikon are white, and actually look like a thicker white carrot. They are common to Asian cuisine, particularly Chinese and Japanese. Not only are these daikon beautiful in color, they have the flavor to match. Whereas most radishes are peppery and sharp, these I'd characterize as crisp with a mild sweetness depending on which part of the daikon you use as the flavor of daikon changes from leaf to tip. The top part is usually the mildest and well suited to eating raw. The middle tends to be sweeter and for my money is the best part of the daikon given has a mix of both spicy and sweet flavors. The tip is the spiciest part.
Since this daikon salad recipe is a raw one I excluded the spicy end tips to achieve more balance. If you decide to include the spicier ends, then you might want to increase the amount of honey/sugar in the dressing. If you're hesitant or unsure, feel free to cut the daikon into thirds and sample from each section. It should be quite apparent which works best with your palette as well as give you some guidance as to how to use in any future recipes.
I first discovered daikon radish when I ate my first Vietnamese Bahn Mi sandwich. The Bahn Mi has become one of my favorite sandwiches. And part of what makes it work is the crisp, pickled daikon that the recipe calls for. Back in the day I came to know the sandwich as it was recommended as a hangover cure. Don't ask me why or how it works, just trust me when I say it does. I'm not saying I drink a lot, but it did take about 10 Saturday Banh Mi fixes for me to realize that I had a daikon radish problem which made me feel better about myself.
It's not just the hangover cure; daikon has many great health benefits. It's abundant in Vitamin C and is also well known as a source of the digestive enzyme amylase (a diastase), which breaks down complex starches into maltose. The presence of amylase combined with daikon's high amount of dietary fiber makes raw daikon a great aid in digestion.
Daikon Salad Recipe
If you make this green and purple daikon radish salad, please come back and leave me a comment below with your feedback. Definitely take a photo of the dish and be sure to tag #foodfidelity so that I can see them.
You can also keep up with my food exploits as well as original recipes! You can find me on Instagram, Facebook, Twitter, and Pinterest. If you like any of the music you find on the site, visit me at Spotify to find curated monthly playlists.
For other daikon recipes try this Braised Daikon. 
Ingredients
1

Tbsp

tamari or light soy sauce

1

Tbsp

rice vinegar

1

Tbsp

sesame oil

1

tsp

honey or sugar

1

Tbsp

black sesame seeds

1

Daikon
Instructions
In a bowl, mix soy sauce, vinegar, sesame oil, honey and sesame seeds.

Peel and cut Daikon into very thin into match sticks.

Mix Daikon well with dressing.
Nutrition
Serving:
0
g
|
Carbohydrates:
0
g
|
Protein:
0
g
|
Fat:
0
g
|
Saturated Fat:
0
g
|
Polyunsaturated Fat:
0
g
|
Monounsaturated Fat:
0
g
|
Trans Fat:
0
g
|
Cholesterol:
0
mg
|
Sodium:
0
mg
|
Potassium:
0
mg
|
Fiber:
0
g
|
Sugar:
0
g
|
Vitamin A:
0
IU
|
Vitamin C:
0
mg
|
Calcium:
0
mg
|
Iron:
0
mg