Simple, quick and delicious braised daikon recipe featuring mild peppery daikon slowly simmered in fresh squeezed orange juice for a healthy and flavorful easy weeknight side.
I've been reading the book On Vegetables lately and it has some great simple ways to enjoy vegetables such as this Daikon recipe which I tweaked just slightly. Just a few simple ingredients, little prep, and some easy cooking nets a beautifully delicious side dish.
Musical Inspiration for Braised Daikon
Rapper/Singer Phonte released a new album last month called No News Is Good News. Besides the usual dope beats and lyrics, I've had this one in heavy rotation given its subject matter. Phonte tackles issues of diet and the connection to long-term health lamenting on the track "Expensive Genes" the increasing number of African Americans dying young due to diet habits.
It's like 40 years old is 3/4 life. Our biggest fears were shots or armed robbery, Now the biggest fears are clots and oncology. The poignant and straight-shooting lyrics are a strong reminder of the control that we have on our health.
Daikon Radish Nutrition
Daikon radish is almost touted as a superfood given its multitude of health benefits. This hearty vegetable has the capacity to boost metabolism and combat bloating due to its diuretic properties. Daikon has many other amazing benefits that include cancer prevention, stronger immune system, lower inflammation, and improved digestion. Further, it helps strengthen bones, detoxify the body, improve respiratory health, and stimulate weight loss.
Flavor Profile of Braised Daikon
Cooked daikon radishes are somewhere between onions and turnips on a pungency scale making them a great complement to the sweetness of fresh orange juice. By cooking them via a slow simmer, you can coax out a mellow sweetness with just a hint of the peppery daikon flavor. The long braise brings about a comforting flavor with a soothing texture. The Aleppo pepper is added as a finishing touch for color and also some more savory notes. Aleppo is very mild so there are no heat concerns, but it has cumin like earthiness and a slight saltiness.
Braised Daikon Recipe Cooking Tips
If daikon is not available in your area, try using a different kind of radish.

Note one daikon root has a range of flavors: (1) the part closest to the leaves is said to be the sweetest, (2) while the end of the root has the most bite to it (3) and the middle is somewhere in between.

Daikon doesn't necessarily have to be peeled, but they do need a good scrubbing.

Use a mandolin slicer to ensure evenly cut pieces and to cut down on prep time
Braised Daikon Meal Planning Tips
As a root vegetable they keep very well in the refrigerator so you can plan to cook later in your planning cycle

These are great warm, but also chilled as leftovers.

Reserve some to make a raw salad later such as this Raw Daikon Radish Salad
Key Equipment for Braised Daikon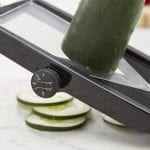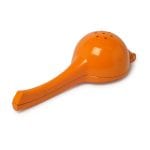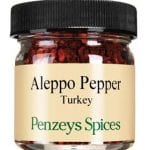 Dope beats, fresh eats. You can't beat the simplicity of this daikon radish recipe.
Keep up with my food exploits as well as original recipes! You can find me on Instagram, Facebook, Twitter, and Pinterest. 
Ingredients
1

large daikon radish

cut into 1/2 inch slices

2 1/2

cups

strained fresh orange juice

2

teaspoons

kosher salt

1

teaspoon

Aleppo pepper

optional
Instructions
Combine daikon, orange juice and salt in a pan in a single layer.

Set pan over medium heat and cook until orange juice evaporates below the surface of the daikon

Flip the slices carefully after about 20 minutes, as they will be soft and you don't want to break them.

After about 10 minutes began continuously basting the daikon by spooning the reduced OJ on top.

Add Aleppo the last minute or so of cooking and then serve.
Notes
If daikon is not available in your area, try using a different kind of radish.

Note one daikon root has a range of flavors: (1) the part closest to the leaves is said to be the sweetest, (2) while the end of the root has the most bite to it (3) and the middle is somewhere in between.

Daikon doesn't necessarily have to be peeled, but they do need a good scrubbing.

Use a mandolin slicer to ensure evenly cut pieces and to cut down on prep time
Nutrition
Serving:
0
g
|
Calories:
58
kcal
|
Carbohydrates:
13
g
|
Protein:
1
g
|
Fat:
1
g
|
Saturated Fat:
1
g
|
Sodium:
793
mg
|
Potassium:
341
mg
|
Fiber:
1
g
|
Sugar:
10
g
|
Vitamin A:
306
IU
|
Vitamin C:
64
mg
|
Calcium:
27
mg
|
Iron:
1
mg