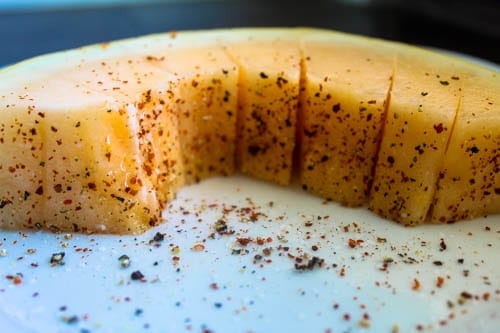 During the forever long Texas heat we keep fresh melons on hand daily. We rotate different varietals from the standards like watermelon, honeydew, and cantaloupe to unique varietals like Crenshaw and Canary. We eat it plain, roasted like my previous recipe post or seasoned. I used yellow Crenshaw melons for this recipe as its one of the sweetest varieties in the melon family, but watermelon works just as well; just be sure you choose ripe. Also similar to most melons it is an excellent source of vitamins A, B6 and C.

Vitamin B6 helps in the production of neurotransmitters, the chemicals that allow brain and nerve cells to communicate with one another, ensuring that metabolic processes such as fat and protein metabolism run smoothly. It's why B6 supplements are used to treat memory loss and ADHD. No point in waiting to become deficient, I'm all for prevention vs. cures.
The sweetness of the melon pairs well with the salt and pepper mix. to fruit/foods. The spice mix is a much less tart version of the Mexican tajin seasoning typically added to provide some "tang" Aleppo peppers, in particularly are a good fit. They are a dark red, robust, sweet and sharp chili pepper from the Aleppo region of Syria, with moderate heat and strong fruity flavor. Flavor wise its very similar to paprika, but slightly more heat.
Make this, leave it out on the table or in the fridge and reach for this as a snack instead of a bag of chips or cookies. For other melon based recipes try this melon cucumber soda.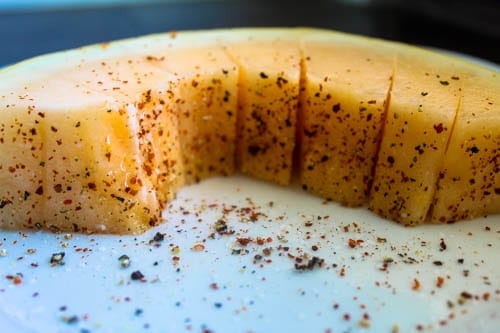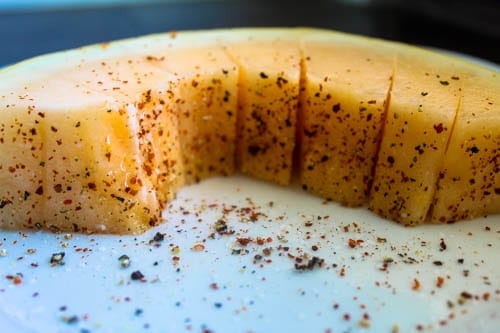 Ingredients
6

slices

melon

1

tablespoon

freshly black pepper

use a peppermill

1

tablespoon

Aleppo pepper

½

tablespoon

kost salt
Instructions
Mix spices in bowl and sprinkle on the melon. Serve and enjoy
Subscribe To My YouTube Channel
Subscribe To My YouTube Channel for full length recipe videos. Click the bell icon to be notified when I post new videos.
My YouTube Channel