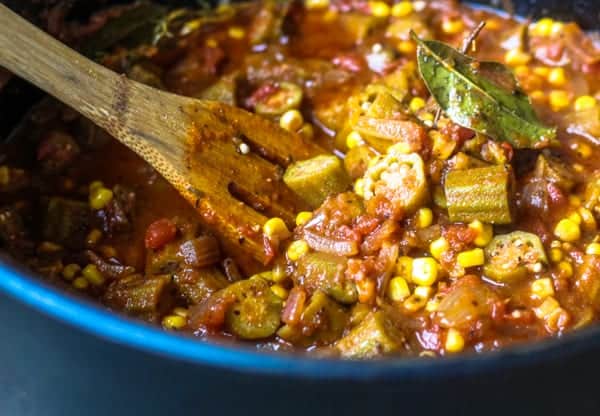 This stewed okra recipe kicks off what I'm calling Dallas month in honor of my hometown. So for the rest of the month, all recipe posts will feature my version of foods I ate at home or at various new and old local restaurants. Likewise, all music will feature Dallas artists. Interestingly, I currently live in Austin, TX which bills itself as the "music capital of the world", but Dallas arguably is home to the best musicians in Texas. Erykah Badu, Lisa Loeb, Roy Hargrove, Steve Miller, etc. all hail from Big D and represent a diverse group of genres.
My grandmother aka "MaDear" made stewed okra and tomatoes at least once a month. In her recipe, she added corn, which I appreciated for the additional texture. Corn kernels add a much-needed crunchiness in my humble opinion. I also recall MaDear being very heavy handed with the paprika which adds a smoky and earthy flavor. Now I say start with a tablespoon and adjust as necessary depending on your tastes.
The best part about cooking stewed okra is the aroma that is produced via the slow cooking of the ingredients which includes fresh herbs and spices. Whenever I get a whiff smokey paprika and/or stewed tomatoes and okra I think about Home. Home for me is MaDear's house in Oak Cliff, Dallas, TX and the music of the incredible Roy Hargrove.

I tweaked the recipe by including a sofrito. This is optional, but I highly recommend it as it adds some "bottom" to the dish. My uncle slick always used to say that music wasn't good unless it had that bottom provided from a bass. If you're unfamiliar with sofrito, it's commonly used in Caribbean cuisine, especially Puerto Rican and Cuban, to season stews, beans, and rice dishes. It's basically a blend of herbs, spices, and tomatoes cooked slowly. I prefer to let mine sit in the refrigerator overnight to allow all the flavors to come together. Depending on where you live, you can find store bought sofrito, but it's more fun and tasty to make your own.I served the stewed okra with grits, but feel free to substitute with rice or go without either.
Great beats, better eats. Enjoy this stewed okra and tomatoes recipe with Cuban sofrito!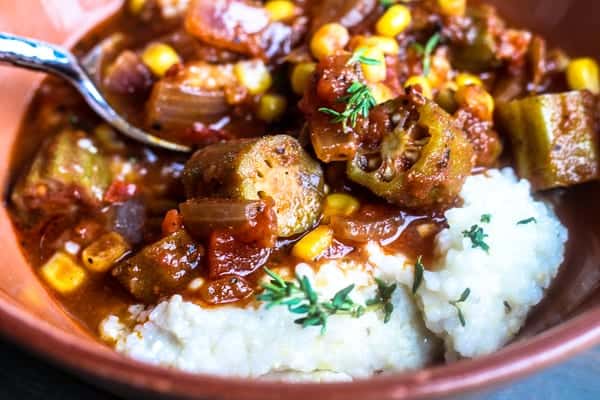 Stewed Okra with Cuban Sofrito
Print
Ingredients
Stewed Okra Ingredients
2

tablespoons

canola oil

2

teaspoons

garlic minced

1

bay leaf

½

medium onion chopped

1

tablespoon

smoked paprika.

1

tablespoon

fresh thyme

14

oz

can of diced tomatoes

14

oz

can corn rinsed and drained

2

cups

fresh sliced okra

½

teaspoon

cayenne pepper

2

cups

water/vegetable broth or more if necessary

Salt and pepper to taste

Cooked Stone Ground Grits

optional
Sofrito Ingredients
1/4

cup

extra virgin olive oil

1

medium red onion

diced

1

red bell pepper

cored, seeded, de-veined and diced

4

large garlic cloves

peeled and chopped

1

small can no-sodium diced tomatoes

1/2

cup

dry red wine

1

cup

fresh herbs medley

basil, oregano, parsley, etc.

Salt and black pepper

to taste
Instructions
Make the sofrito:
In a medium-sized pan, heat the oil. Add the onion, peppers, and garlic, and cook over medium heat until onions are translucent and tender, about 10 minutes.

Stir in the tomatoes and let cook for about 5 minutes, until it thickens and reduces. If liquid remains, continue cooking for another 5 minutes. Add the wine and herbs and let cook for 5 minutes, until the wine reduces and the flavors combine.

Remove from the heat and allow to cool slightly. Pour mixture into a blender or food processor. Puree for about one minute, until the sauce still has some texture. Season with salt and pepper to taste. Will keep refrigerated for 5 days, or freeze for up to 3 months. Makes about 2 cups.
Make the Stewed Okra
Heat a saucepan with about 1 tablespoon of oil. Add onions, garlic, bay leaf, thyme and paprika then sauté for about 2 -3 minutes.

Then add tomatoes, cayenne, and corn, cook for about 5 minutes.

Stir in okra, add water/broth, sofrito, salt and cook for about 5 minutes or more stirring occasionally. Adjust seasonings to taste

Serve with grits or rice.