This sous vide flat iron steak is great alone, but the accompanying basil tomatillo salsa is also a game changer. Together, the tender, juicy beef is enhanced by the acidic and herbal salsa. The tangy tomatillos provide a nice crunch which is a good counter to the flat iron steak.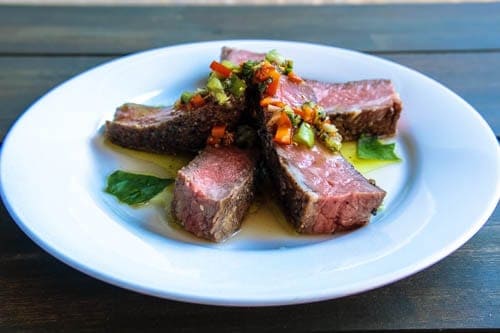 This sous vide flat iron steak recipe is a household favorite, particularly for my daughter, Kari. It's simple, delicious and in Kari's words "you can taste everything!" She captured the beauty and essence of sous vide cooking as the natural flavors of the food are both preserved and enhanced. Kari and I are the most carnivorous of the Browns and typically beef makes it on the menu at her requests.
Given our similar music interests, including our crazy affinity for the new jack swing era of R&B. Bobby Brown's "Don't Be Cruel", Guy's "Guy", BBD's "Poison" and Keith Sweat's "Make It Last Forever" albums represent the Mt. Rushmore of that era for us. During the week I get subliminal messages through Kari singing or playing songs from one or all of these albums. This week it was "Don't Stop The Love" that left me open and vulnerable to her request for beef on the menu. This was followed by a trip to my guys at Salt and Time Butcher Shop to procure the beef of choice.
Without going too far off on a tangent let me just say, hate him or love him, Keith Sweat made it okay for the 80's and 90's generation for hardcore fellas to drive in their cars and bump slow jams without the presence of a female. Outside of Zapp's "Computer Love" and perhaps Whodini's "One Love" guys couldn't really listen to a slow jam solo or with other guys. The boom of the 808 bass applied generously to "Make It Last" made it okay even for the most homophobic of brothers. Whether it was a Jeep or Buick Regal with Cerwin Vega house speakers in the trunk from 1988-90 it was either Keith Sweat or "Great Adventures of Slick Rick."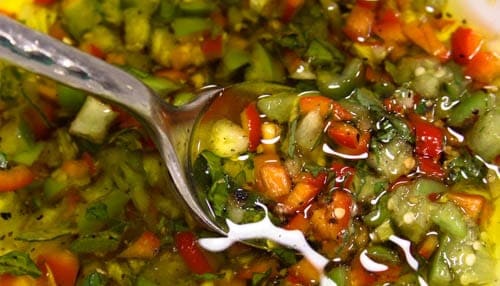 The sous vide essentially is hands-free cooking. Most of the work for this recipe comes from making the basil tomatillo salsa. By work I mean picking herbs from my garden and chopping them along with the other ingredients. The reality is you can just toss all the ingredients in the food processor/blender and let the machine do all the work. I chose to chop manually because I tend to be a control freak for certain things and plus chopping at times can be highly therapeutic for me. Trust me when I tell you its a great way to work some anger out, preferably when you're alone.
I use the Sansaire brand Sous Vide Immersion Circulator for my sous vide cooking. Which you can find info using the link or do a general search on sous vide cooking to learn me about the technique/approach. For steak cut I went with a flat iron, a lean but flavorful cut. It's similar to flank but thicker making it perfect for this sous vide recipe, but you could easily grill or broil it.
Dope beats, fresh eats. Enjoy this delicious sous vide flat iron steak topped with the unique, simple and colorful basil tomatillo salsa!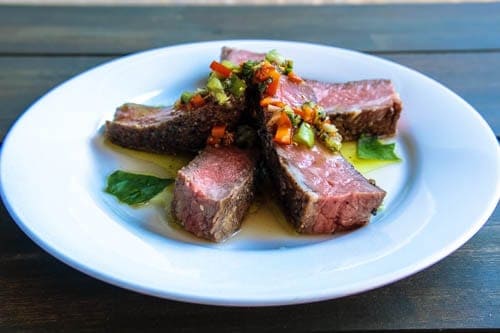 Sous Vide Flat Iron Steak
Print
Ingredients
Sous vide water bath

(I use a large plastic rectangular container and a Sansaire portable sous vide machine )

Large

, heavy fry pan (cast iron skillet is perfect)

Ingredients

1 1/2

pound

flat iron steak

1

tspn kosher salt

1/2

tspn fresh ground black pepper

1

tspn olive oil

(for searing)
Instructions
Attach the Sansaire to the container of your choice, and preheat a sous vide bath to 125°F for a rare-medium-rare

Season the steak lightly with salt and pepper, put into a food-grade cooking pouch, and vacuum seal or use quality zip lock back.

Submerge the pouch in the water oven and cook for 3 hours.

Remove the steak from the pouch and pat it dry with paper towels.

Heat cast iron skillet on high heat and then sear the steak about 1 minute a side.

Remove the steak and let rest for 5-10 minutes. Letting the steak rest is crucial so don't skip this step

Slice the steak against the grain and arrange on serving plates.
Basil and Tomatillo Salsa
Print
Ingredients
1

small shallot

4

garlic cloves

4

large basil leaves

1/2

cup

olive oil

1

tbsp

red wine vinegar

1

red jalapeno chile

(seeded)

2

tomatillos

1

tbsp

kosher salt

1

tbsp

fresh black pepper
Instructions
Place all ingredients in blender or food processor and pulse to make coarse paste