Related Posts:
I'm not saying this is the best Cornish hen recipe ever, but these smoked cornish hens are basically next level "herb chicken!"
These little birds get top-notch treatment; they're dry brined, marinated, smoked and then fried for both internal juiciness and external crispiness.
Most recipes for smoke cornish hens involve pieces of the hen, but I prefer to smoke the entire cornish hen. These small chickens are much easier to manage your typical broiler chickens.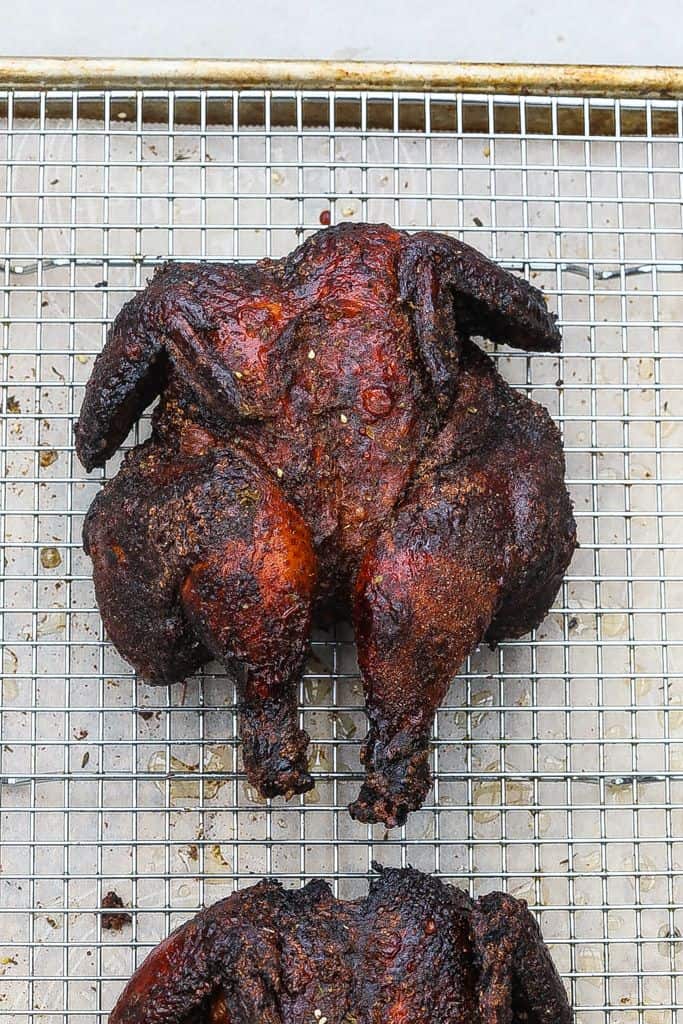 This recipe may sound highly involved, but it's actually not. The steps are super easy to execute, but you will have to plan ahead since it's a multi-day process. I normally start the brine on Thursday night and cook Sunday afternoon.
This is a beautiful aromatic, great tasting bird. One look and you'll be asking me to break you off…a piece.
What is Cornish Game Hen?
Cornish game hens are a breed of chickens. I call them mini chickens due to both their size and age. I like them because they can be served as an individual serving of shared among two people. If you up the number of sides then you can stretch things to 3 people. Their youth, make them extra tender. Check-out the article how they are different than regular chickens to understand how regular chickens and Cornish hen.
Smoked Cornish Hens Ingredients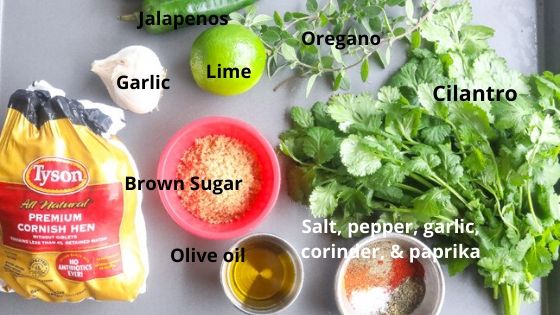 This is your basic herb chicken recipe that's been flipped and leveled up using a Cornish hen. The recipe doesn't call for a lot of ingredients because it is very technique driven. Fresh herbs are a must for the marinade.
For the cornish hen brine solution
Kosher Salt
Black Pepper
Garlic Cloves or Garlic Powder
Ground Coriander
Smoked Paprika
For the Marinade
Fresh Cilantro
Fresh Oregano
Jalapeño Chili Pepper
Garlic Cloves
Lime juice
Olive Oil
Kosher Salt
Black Pepper
Brown Sugar
Cornish game hen
How To Make This Cornish Game Hen Recipe (Step by Step)
Step 1: Prepare the hen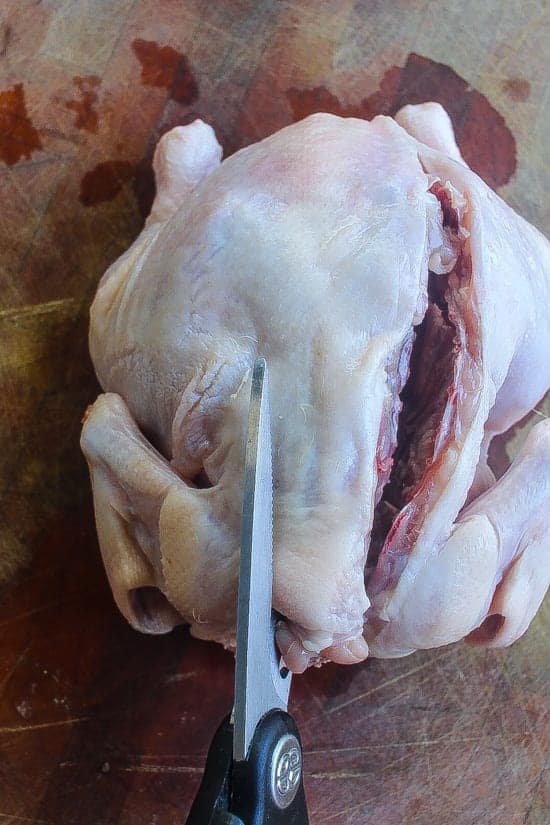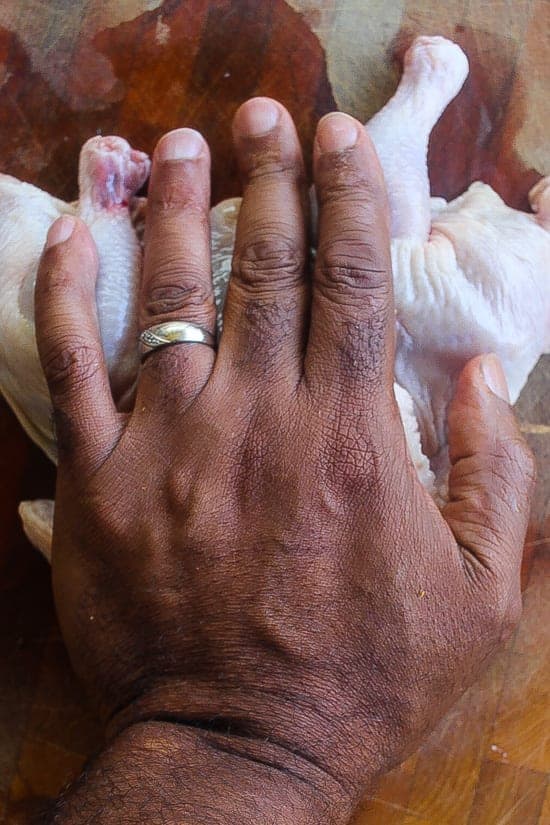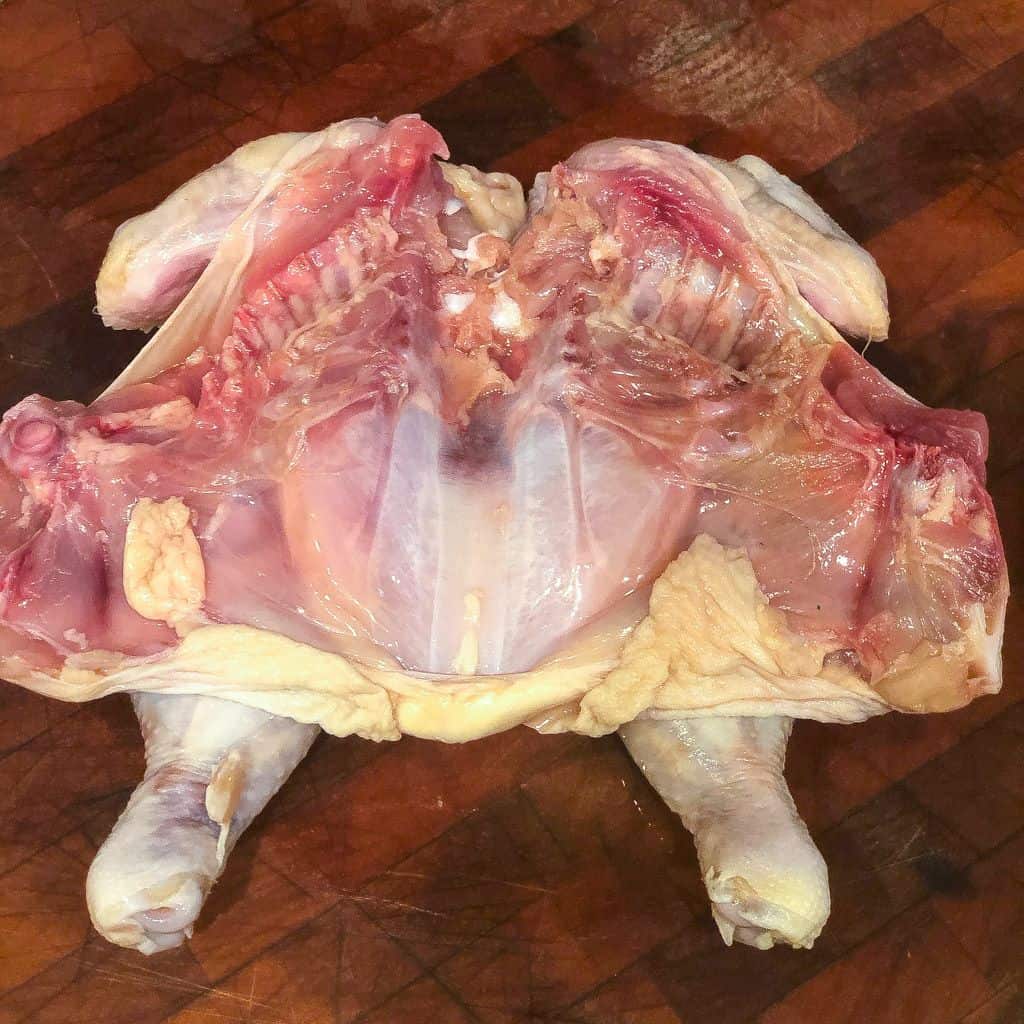 Cut along the right of the backbone from the tail to the neck.
To flatten the bird, you need to break the breastbone. To do this, press down on each of the wings, at the same time until the bone cracks.
Step 2: Brine the hen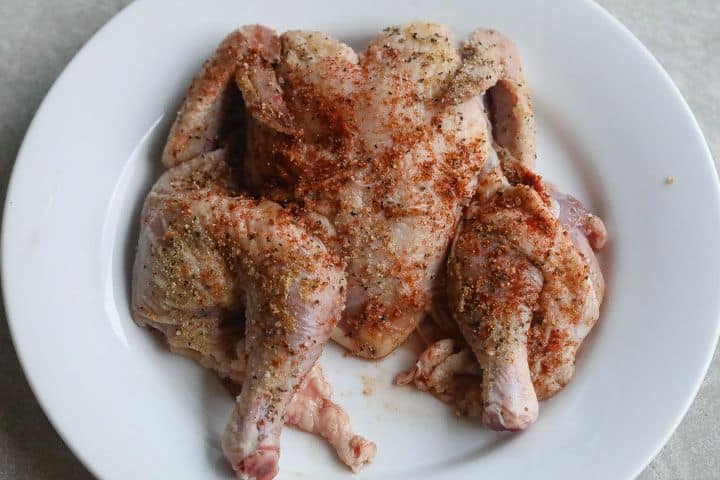 Step 3: Marinate the hen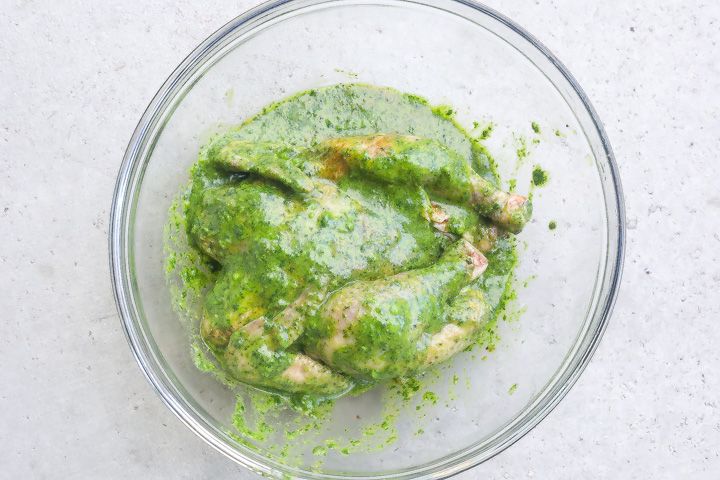 Step 4: Smoke the hen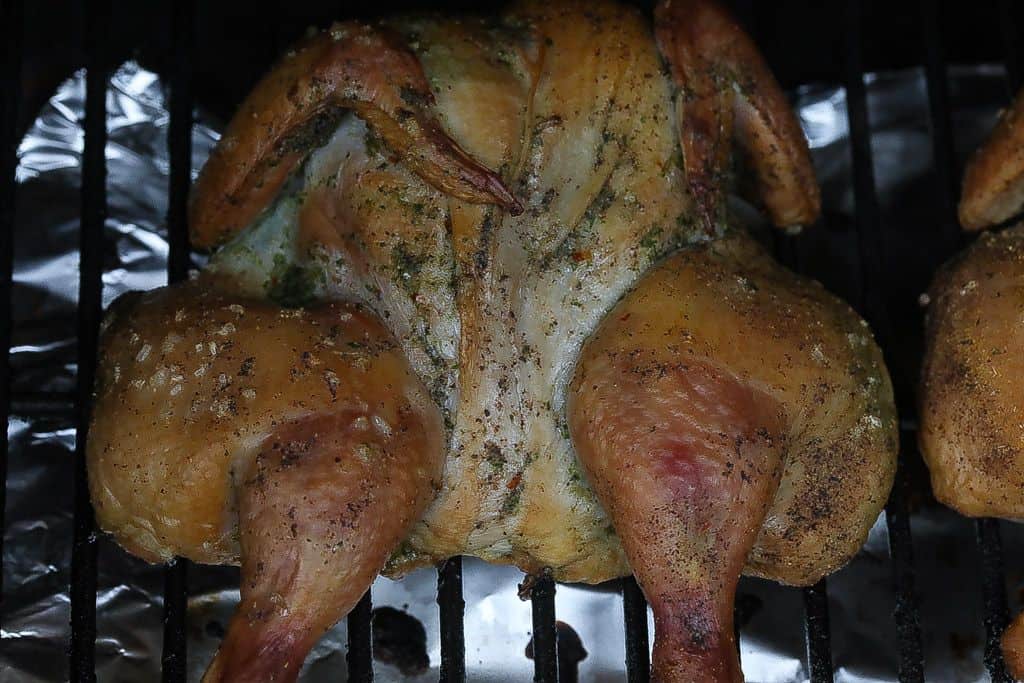 Step 5: Fry the hen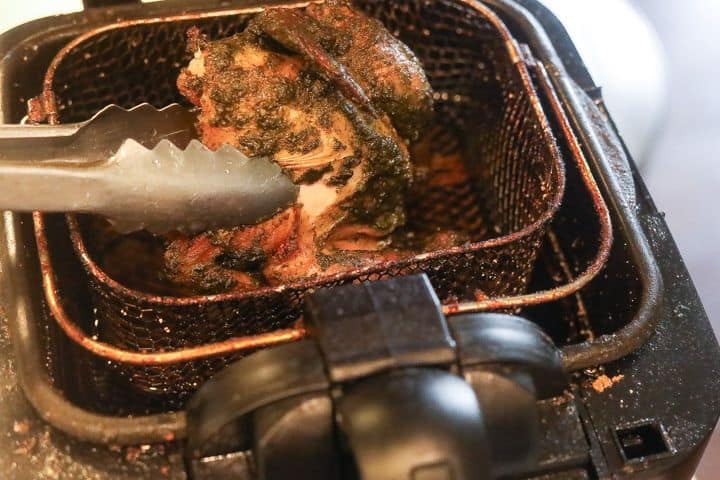 Serving Suggestions
The more I write this post the more I move to thinking this is in fact the best Cornish hen recipe. Most recipes call for roasting, but smoking plus frying combination is soooo much better! This is a comforting dish so I like to prepare it with other comforting dishes like:
Collard Greens w/ Smoked Turkey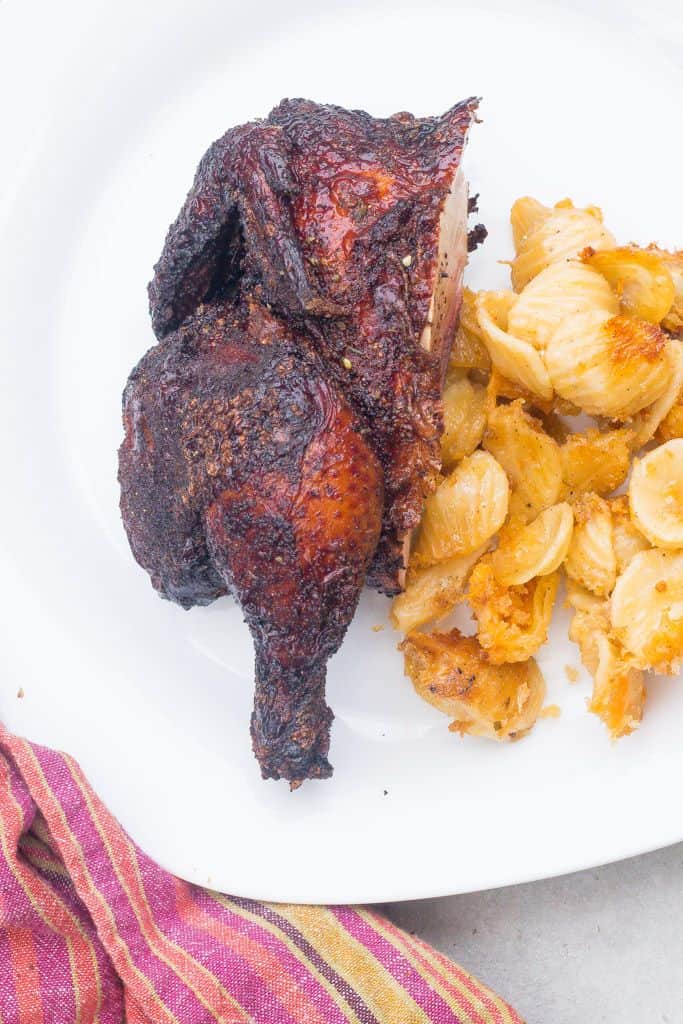 Expert Cornish Game Hen Recipe Tips
Keep your dry brine ingredients simple. Between the brine, marinades, and smoking there will be more than enough flavor
Spatchcock aka butterfly your hen for faster and more even cooking. Use a good set of kitchen sheers to cut the back away
If using frozen hens, make sure they thaw fully before cooking
Smoke cornish hens between 225-250 degrees F. Cooking at too high a temperature mike cause chicken to cook too fast risking drying out.
Use a digital meat thermometer to test for doneness. Smoke the game hens until internal temperature reaches 165 degrees F.
The frying step might seem odd but it levels up this smoke cornish game recipe. Most smoked chicken recipe have loose fatty skin particularly around the breast meat. Frying adds additional flavor while also crisping up the bird's skin.
Let hen rest for 5 minutes after the final step. If you slice into it immediately juice will leak everywhere
I eat these hens as is. They were liberally seasoned and cooked in two distinct steps so there is more than enough flavor. But if you prefer feel free to serve with your favorite bbq sauce or try my jerk barbecue sauce or Alabama white sauce.
These are great for special occasion like Christmas but are also great on weekends.
Frequently Asked Questions (FAQs)
Where Can I Buy Cornish Hens
Cornish hens are fairly mainstream. You can easily find them in most grocery stores or even Walmart. I find them more often in the freezer section and occasionally behind the glass of the meat market section.
Does Cornish Hen Taste Like Chicken?
Yes, given they are in fact chickens, but slightly milder since they are much younger in age.
How do you spatchcock a cornish hen?
It's actually pretty easy to spatchcock hens. The key is having a sharp knife or really good kitchen shears. Simply cut along each side of the backbone of the hens and then remove it. Once the bone is removed lay the hen cavity side down and then press down hard with your palms to break/flatten the hen.
How long does it take to smoke a hen?
It requires about 1 ½ - 2 hours to smoke hen. Cooking time will vary some depending on size of the hens, type of smoker, temperature cooked at etc.
What kind of smoker works best?
I use either a kamado joe ceramic egg style smoker, but a pellet smoker like a Traeger works well also. Pretty much most smokers are suitable.
For similar smoked chicken recipes try these:
Smoked Jamaican Jerk Chicken Recipe
Make This Recipe
This smoked cornish game hens recipe is perfect for anyone who loves great food. The bird is rubbed with a spice blend, then smoked to perfection. The result is a juicy, flavorful, and slightly charred chicken that will be the star of any meal.
If you're looking for an impressive yet easy recipe to make, look no further than this smoked cornish hen. Just follow the simple instructions and you'll have a delicious dish that everyone will love. So what are you waiting for? Get cooking!
If you make these delicious smoked Cornish hens or any other from the site, please come back and leave me a comment below with your feedback. Definitely take a photo of the dish and be sure to tag #foodfidelity so that I can see them.
You can also keep up with my food exploits as well as original recipes! You can find me on Instagram, Facebook, Twitter, and Pinterest. If you like any of the music you find on the site, visit me at Spotify to find curated monthly playlists.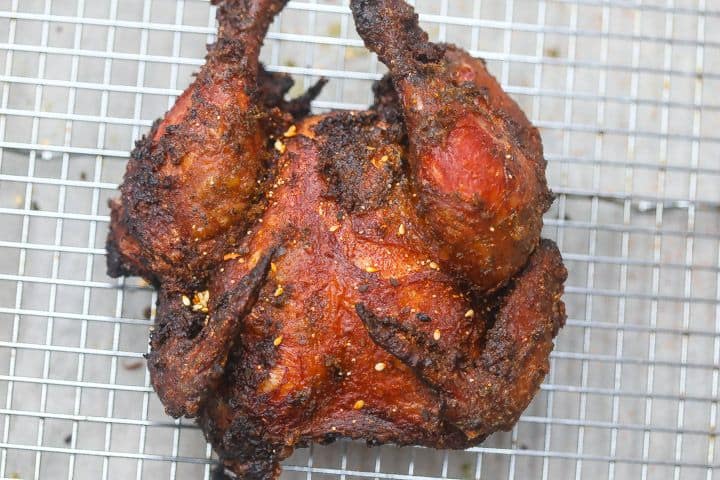 Ingredients
For the brine
1

tablespoon

Kosher Salt

1

tablespoon

Black Pepper

½

tablespoon

Ground Garlic

1

teaspoon

Coriander

½

tablespoon

Paprika
For the Marinade
2

cups

Fresh Cilantro

leaves only

1

tablespoon

Fresh Oregano

leaves only

2

Jalapeños

de-seeded and de-veined

4

Garlic Cloves

roughly chopped

2

medium Limes

juiced

¼

cup

Olive Oil

½

tablespoon

Kosher Salt

1

teaspoon

Black Pepper

1

tablespoon

Brown Sugar

1 ½

lbs

Cornish game hen
Instructions
Remove the backbone from the Cornish hen using kitchen sears or a sharp knife. With hen remaining skin side up press down firmly with palms of the hands to break the breast bone

Mix brine ingredients together and rub generously all over the hen. Place the hen on a plate lightly covered with plastic wrap and refrigerate overnight.

Mix the marinade ingredients in a blender or food processor. Feel free to make ahead. Add the brined hen to a large ziplock bag and add the marinade. Let sit overnight.

Remove hen from the refrigerator and take out of the ziplock bag. You can rinse off the marinade or leave as is (I don't rinse). Start smoker and preheat to 250 degrees while the hen rests and reaches room temperature. Smoke the Cornish hen about 1 ½ hours. Remove and set aside.

Preheat fryer with oil to 350 degrees. Fry the Cornish hen for 2 minutes.
Notes
Keep your dry brine ingredients simple. Between the brine, marinades, and smoking there will be more than enough flavor
This is essentially herb chicken so feel free to make changes to fresh herbs used in the marinade. Parsley, thyme, rosemary are all good adds in some combination.
Spatchcock aka butterfly your hen for faster and more even cooking. Use a good set of kitchen sheers to cut the back away
If using frozen hens, make sure they thaw fully before cooking
Let hen rest for 5 minutes after final step. If you slice into immediately juice will leak everywhere
Nutrition
Calories:
1007
kcal
|
Carbohydrates:
23
g
|
Protein:
61
g
|
Fat:
75
g
|
Saturated Fat:
17
g
|
Cholesterol:
344
mg
|
Sodium:
5456
mg
|
Potassium:
1148
mg
|
Fiber:
6
g
|
Sugar:
8
g
|
Vitamin A:
2536
IU
|
Vitamin C:
44
mg
|
Calcium:
134
mg
|
Iron:
5
mg
Subscribe To My YouTube Channel
Subscribe To My YouTube Channel for full length recipe videos. Click the bell icon to be notified when I post new videos.
My YouTube Channel