Related posts:
Yo yo yo, what's good y'all! Today I'm finah share with y'all one of my favorite recipes: smoked lamb ribs with a fennel-based dry seasoning rub. Now, let me tell you, you can't ever go wrong with good smoked meat.
And when you add in that aromatic fennel seasoning, it takes the flavor to a whole 'nother level. The smoky goodness and tender meat of these lamb ribs will make you feel like you're in lamb heaven lol.
The combination of the smokiness and the aromatic fennel creates a mouth-watering experience that is hard to resist. Whether you're an experienced pitmaster or a beginner, this recipe is easy to follow and is guaranteed to result in a delicious meal that everyone will love.
There's nothing quite like perfectly smoked lamb ribs. The succulent meat, the rich flavor, the crispy bark... it's all heavenly. And when you add a fennel rub to the equation? Well, that's just next level.
The key to great smoked lamb ribs is all in the preparation. First, you'll want to choose a good quality lamb rib - look for well-marbled meat with a healthy layer of fat. Next, it's all about the rub.
A fennel rub will give the lamb a nice fragrant flavor, without being too overpowering. Just mix together some fennel seeds, salt, pepper, and a few other base spices, and rub it all over the lamb. Then it's time to smoke.
Smoking lamb ribs is pretty simple - just set your smoker to 225 degrees Fahrenheit and let it do its thing for 3-4 hours. If you're using a charcoal smoker, you'll want to add some wood chips for flavor (we like hickory or applewood).
Once the lamb ribs are cooked through, they're ready to enjoy. Serve them up with your favorite sides and share with your friends and family!
I know many people avoid lamb ribs because they tend to be on the fatty side. I personally like the added flavor, but if it bothers you feel free to remove some of the fat before or after cooking.
The dried fennel rub is The One and makes for great lamb seasoning providing a subtle anise flavor which is a pleasant surprise to the tangy lamb.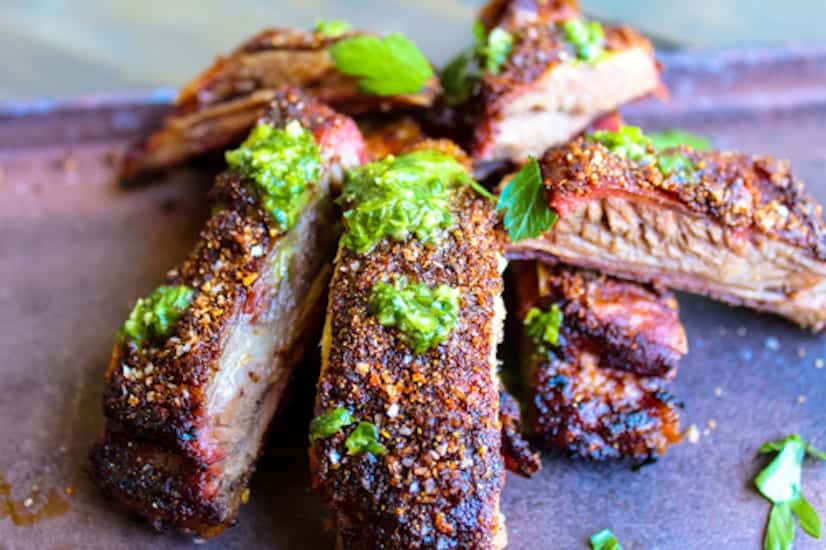 Beats and Eats (music pairing with Lamb Ribs)
Smoked Lamb Rack Ingredients
This is a simple ingredient list. It's just a rack of ribs plus the dry rub mix. You will be hard-pressed to find ground fennel anywhere, so you'll have to buy fennel seeds and grind them yourself. Don't worry fennel seeds are readily available in most markets/stores. The presence of brown sugar balances the flavor keeping the fennel in check, while also helping with caramelization.
Lamb Ribs (go for a rack of ribs)
Fennel Seed
Paprika
Garlic Powder
Cumin
Brown Sugar
Kosher Salt
Ground Black Pepper
Smoking Racks of Lamb Ribs (Step by Step)
This smoked lamb ribs recipe is as simple and hands-off as they come for a barbecue recipe, but don't let this fool you. These ribs are delicious. The fennel rub provides a nice crusty exterior texture while also helping to trap in the juicy succulence of the slow-smoked lamb rib.
You really don't need step by step directions and I feel guilty for calling them out. It's simply rub the ribs with seasoning and slow-smoked a few hours at low temperatures. It's actually not all that different from making smoked beef ribs or pork ribs. Keep in mind smoking time will vary depending on grill type.
Step 1: Remove the ribs membrane
Peel the thin skin membrane from the back of the ribs. It will be slick and slippery so use a paper towel for a better grip.
Step 2: Season and marinate
Mix the dry spices together in a small bowl or ramekin. Place the ribs on a wire rack lined baking sheet. Season generously and let marinate a few hours, but preferably overnight.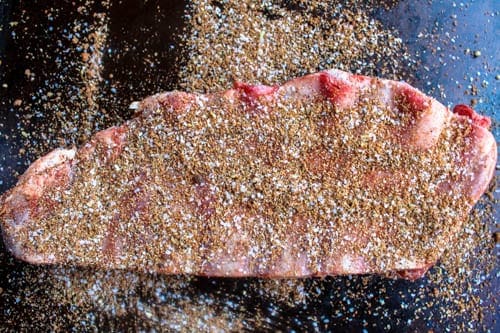 Step 3: Smoke slow and low
Prepare your smoker for low and slow indirect cooking. Place the whole rack of ribs on the grill grate. Smoke lamb ribs at 225-250 degrees F for a few hours. Cooking time will vary depending on size of the rib rack and cooking temperature. Loosely cover the ribs with aluminum foil. Let the lamb rest 5 minutes or so.
Using a carving board and a sharp knife cut the smoked slab into individual ribs and enjoy.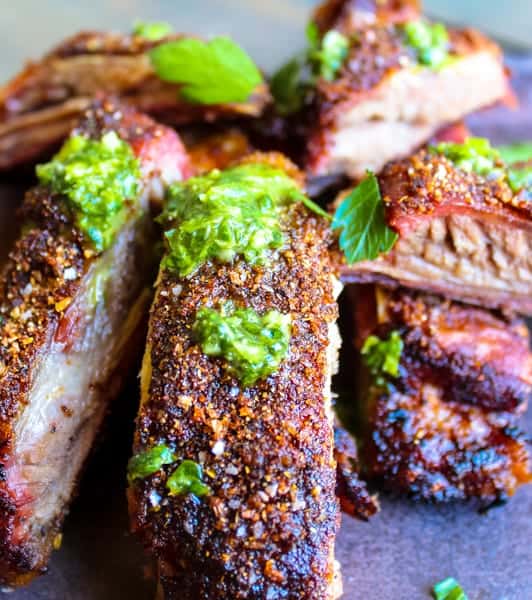 Serving Suggestions
In most parts of the country ribs are slathered in barbecue sauce. Trust me when I tell you the rub is so dope, sauce is absolutely unnecessary for these lamb ribs. However, if you going to ignore my reco please refrain from using any commercial sauce. Either try this beet greens salsa or some other herb-based sauce. I like my ribs with either fries or slaw or both. Feel free to pair any of the sides below:
Crispy Oven-Baked Potato Fries
Roasted Mini Potatoes in Chili Lime Sauce
Expert Rib Cooking Tips
Definitely remove membrane or silver skin that covers the bone side of the ribs.
To remove the skin take a butter knife and slide it under the bone-side skin creating just enough space to peel the skin away with your hands. The skin will be slick so grabbing with a paper towel will likely be necessary.
Be generous with the application of the rub applying to both sides. However, do reserve some to add as a finishing touch to ribs once they're done cooking
Fennel with its strong licorice flavor profile can be tough to eat when used in too high of quantity, so tread lightly as a little goes a long way.
Lamb ribs are a very fatty cut, so feel free to trim some of the fat away with a sharp knife before cooking.
Feel free to spray the ribs with apple juice while they smoke.
The fennel rub not only adds great flavor, but it helps form a nice crust on your ribs.
I skipped slathering these beauties in traditional bbq sauce and opted for a salsa verde, but zhoug sauce also works great.
Serve these ribs with side dishes like Southern potato salad, green beans, baked beans, or collard greens slaw.
Where To Find Lamb Ribs
Lamb ribs or "Denver" ribs, as they are called are not easy to find. You'll need a local specialty type grocery store or a local butcher. I've been fortunate to live in cities like Chicago and Austin where quality butchers are present.
I bought these beauties from my guys at Salt and Time Butcher Shop in my neighborhood. You gotta start with good product to end with great product. All is not loss if lamb ribs aren't available, as beef or pork are suitable replacements to pair with the rub.
Frequently Asked Questions (FAQs) About Cooking Ribs in A Smoker
How long does it take to smoke lamb ribs?
It usually takes around 4-5 hours to smoke lamb ribs at a temperature of around 225-250°F. However, the cooking time may vary depending on the size of the ribs and the smoker used.
Do I need to marinate the lamb ribs before smoking them?
It is not necessary to marinate the lamb ribs before smoking them, as the dry seasoning rub will provide enough flavor. However, some people like to marinate the ribs for a few hours to tenderize the meat.
What kind of wood should I use for smoking lamb ribs?
I prefer a fruitwood like apple or a hardwood like oak for these ribs. Cherry is also a good pairing with lamb. Whether you have cherry, apple, pear, etc. go with what is available to you. Just don't use mesquite as that super strong flavor will overpower everything else. Checkout this guide for pairing wood with smoked ribs for more detailed breakdown.
Can I use the same dry seasoning rub for other meats?
Absolutely! The fennel-based dry seasoning rub works well on other meats such as pork, chicken, or beef. Just adjust the cooking time according to the type of meat and its thickness.
Can I store the leftover smoked lamb ribs?
Yes, you can store leftover smoked lamb ribs in an airtight container in the refrigerator for up to 3-4 days. You can also freeze them for up to 3 months. Just make sure to reheat them thoroughly before serving.
For similar recipes you might like try these:
Smoked Pork Ribs w/ African Spice Rub
Making This Smoked Lamb Ribs Recipe
Well that's a wrap on these tasty bad boys. Delicious smoked lamb ribs with a fennel-based dry seasoning rub, yessir!!!. I gotta tell you, these ribs are sure to satisfy any cravings for a good ol' fashioned comfort food meal. The tender meat infused with smoky flavor and the aromatic fennel seasoning make these ribs a true crowd-pleaser. So next time you're in the mood for some mouth-watering ribs, give this recipe a try.
If you're looking for a delicious and impressive dish to serve at your next party, look no further than the best lamb ribs in the world. This recipe is easy to follow and produces succulent, tender ribs that will have your guests asking for seconds.
So fire up the smoker and get ready to wow your guests with the wonderful flavor of these smoked lamb ribs!
If you make these ribs or any other from the site, please come back and leave me a comment below with your feedback. Definitely take a photo of the dish and be sure to tag #foodfidelity so that I can see them.
You can also keep up with my food exploits as well as original recipes! You can find me on Instagram, Facebook, Twitter, and Pinterest. If you like any of the music you find on the site, visit me at Spotify to find curated monthly playlist.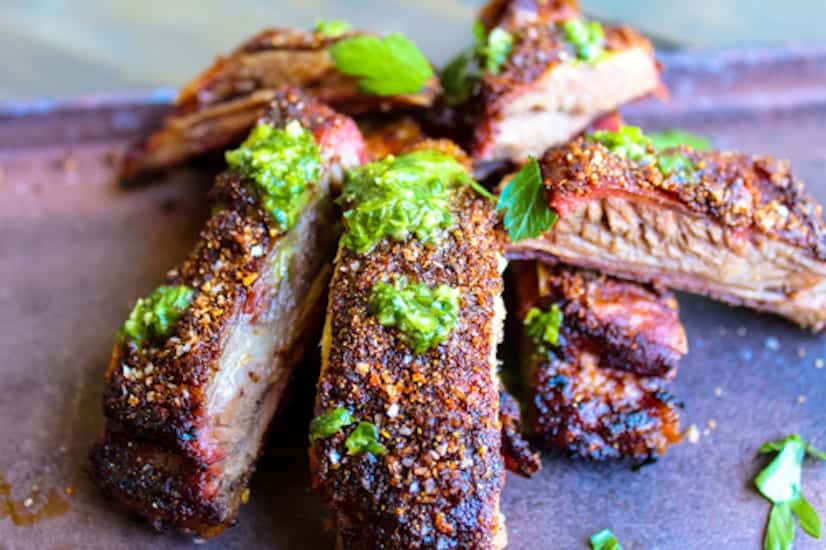 Ingredients
1

rack

Lamb (Denver) Ribs
Spice Rub
1

tablespoon

Ground Garlic

2

tablespoon

Paprika

1

tablespoon

kosher Salt

½

tablespoon

Cumin

1

tablespoon

Course Black Pepper

1

tablespoon

Ground Fennel

½

tablespoon

Brown sugar
Instructions
For the spice rub
Combine all spice ingredients in a mixing bowl and mix thoroughly.
Prepare the ribs
Place rack of ribs meat side down. Remove membrane (thin paper like skin on back of ribs). Easiest way to do this is to use a butter knife to slide under the skin at the middle part of the rack. Once loosened use pliers or a paper towel to slowly pull the membrane away from the ribs.

Generously season both sides of the ribs with the rub. Let the ribs sit for an hour in the refrigerator. When ready to cook remove from the refrigerator and let come to room temperature.

Prepare smoker for indirect smoking. Once temperature of 225 degrees is reached, place ribs in the smoker and close the lid and smoke for 4 hours. I use a rib rack to smoke them upright but if not smoke them bone side down.

Remove, let cool. Top off the ribs with an additional application of the rub.
Notes
Rub works well on beef and pork ribs as well.
Use coarse spice ingredients for more texture
Nutrition
Calories:
663
kcal
|
Carbohydrates:
7
g
|
Protein:
36
g
|
Fat:
54
g
|
Saturated Fat:
17
g
|
Cholesterol:
182
mg
|
Sodium:
1934
mg
|
Potassium:
699
mg
|
Fiber:
2
g
|
Sugar:
2
g
|
Vitamin A:
1688
IU
|
Calcium:
63
mg
|
Iron:
4
mg
Subscribe To My YouTube Channel
Subscribe To My YouTube Channel for full length recipe videos. Click the bell icon to be notified when I post new videos.
My YouTube Channel