Braised collard greens, a quick and healthy way to get a soul food staple on the week night menu!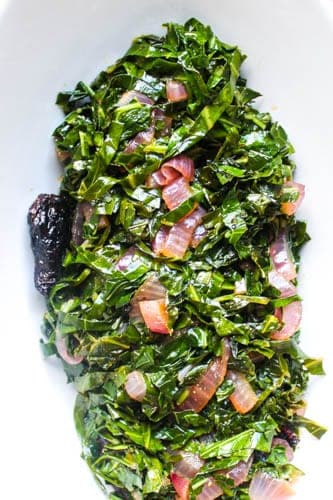 We like to eat greens as often as possible. Collards are a particular favorite in my house. However, traditional methods of cooking collards require a lot of cooking time, and we don't have that luxury during the week. This idea of a modern family puts more emphasis on convenience which eliminates many of the old ways of cooking. The most underrated casualty is the lost cultural connection  over cooking for many African American families – newer generations don't have the time nor skill to make many of the traditional dishes given lifestyle changes and their impact on culinary needs.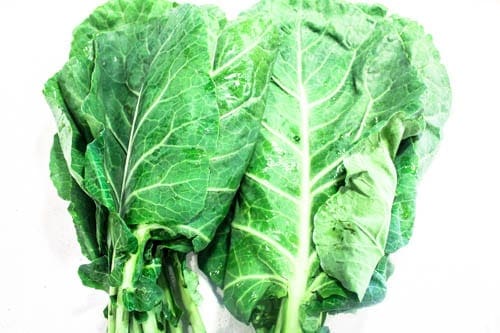 I developed this recipe because I wanted a weekday greens option that was vegetarian friendly yet still had that smokiness common to the smoked pork used in traditional "soul food" collard greens. Basically, I love greens, specifically collards and needed a way to get my fix on daily. This braised collard greens recipe is it!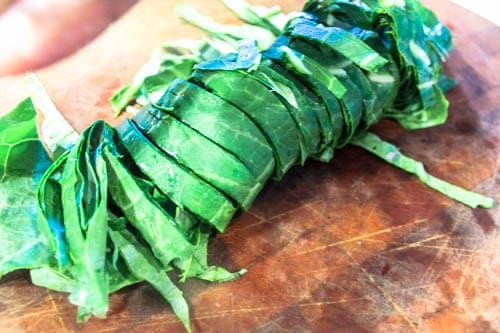 To speed up the cooking time I cut the collard leaves into thin strips. For the smokiness and flavor I substitute dried chile peppers such as a chipotle or morita. These are all purchasable in Latina markets and/or hispanic food section in mainstream markets.
Great beats, better eats. Enjoy these braised collard greens!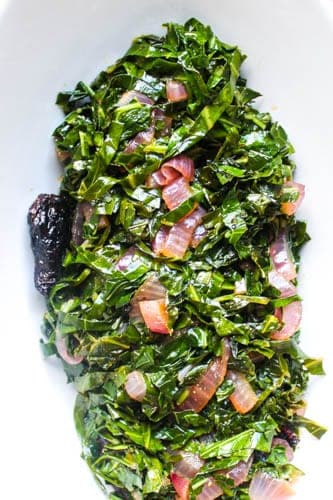 Braised Collard Greens
Print
Ingredients
3

bunches collard greens

1/4

cup

extra virgin olive oil

3

tablespoons

garlic

minced

3

dried smoked chiles

chipotle or morita

2

tablespoons

balsamic vinegar

Coarse salt and ground black pepper
Instructions
Trim stems of collard greens, keeping leaves whole. If necessary, trim the large vein of the stem (in center of leaf) so that it is flat with the leaf. Rinse leaves under cold water and then stack, still wet, starting with larger leaves on the bottom. Tightly roll stacks of leaves lengthwise, like a cigar. Slice crosswise as thinly as possible.

Heat dried peppers in skillet over medium heat for 3 minutes than add oil and red onions to saute for 3 minutes. Add garlic and stir until garlic is golden brown, 2-3 minutes. Add collard greens, saute with tongs so garlic and onions get tossed in with greens, until they start to wilt, about 1 minute. Add vinegar , salt, and pepper and continue sauteing until greens have all wilted and begin releasing their moisture, 2-3 minutes.

Transfer collards to a serving bowl. Season with more salt and pepper to taste and serve.
SaveSave
(Visited 36 times, 1 visits today)