Nothing like some raw collard greens chiffonade to get me off that slide! Simply prepared, healthy and tasty way to get collard greens in your life any day of the week.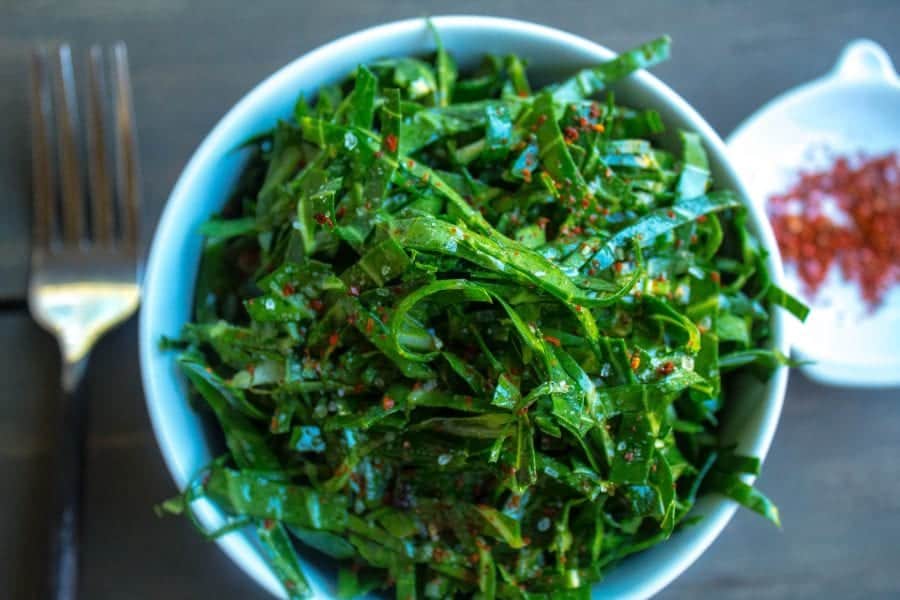 We eat collard greens in one form or another at least once a week in our household. This healthy collard greens recipe made chiffonade style is my go-to recipe when I'm in a pinch. It's especially useful if/when my schedule is out of whack and I've hit that slide in terms of eating habits.
MOOD MUSIC
MAKING RAW COLLARDS INSTRUCTIONS
Since these are raw, obviously there is no cooking, at least not in the traditional sense. These cook like ceviche which features raw ingredients being cooked by acidic ingredients like lime juice or vinegar. To "cook away" the natural bitterness requires cutting the greens chiffonade style.
What is Chiffonade?
Chiffonade is a fancy way of describing a slicing technique in which herbs or leafy green vegetables are cut into long, thin strips. This is accomplished by stacking leaves, rolling them tightly, then slicing the leaves perpendicular to the roll.
CHIFFONADE COLLARDS CONSIDERATIONS
The key is having a sharp knife and cutting as thinly as possible. You see this technique used most often for herbs like basil and mint, but I thought collard greens would work just as well.
Raw collards allow you to enjoy all their wonderful health benefits as they are rich in vitamins and minerals. Cooking no matter how you skin it breaks down food on some level and the longer you cook the more nutrients you lose. So if you consider the traditional way of cooking collard greens, i.e. long simmering in a pot, unless you're drinking the broth you're missing many of the nutrients.
A homemade lemon vinaigrette provides a quick, healthy, and yet very flavorful way to enjoy collard greens. The acid from the lemon and rice vinegar help break down the greens and remove the bitterness, while the spices and garlic help balance the flavor out. For additional flavor top with my tequila based hot pepper sauce.
MORE COLLARD GREEN RECIPES
Collard Greens With Smoked Turkey
Collard Greens Chow Chow Relish
Instant Pot Brisket Collard Greens
Quick Brazilian Collard Greens
For another raw salad recipe check out this raw beet salad with lime vinaigrette.
MAKE THIS RAW COLLARDS RECIPE
If you make these delicious vegan raw collard greens, please come back and leave me a comment below with your feedback. Definitely take a photo of the dish and be sure to tag #foodfidelity so that I can see them.
You can also keep up with my food exploits as well as original recipes! You can find me on Instagram, Facebook, Twitter, and Pinterest. If you like any of the music you find on the site, visit me at Spotify to find curated monthly playlists.
For other healthy collard greens recipes try this Smoky Braised Collards, Wine Braised Vegan Collard Greens or Southern Collard Greens w/ Smoked Turkey.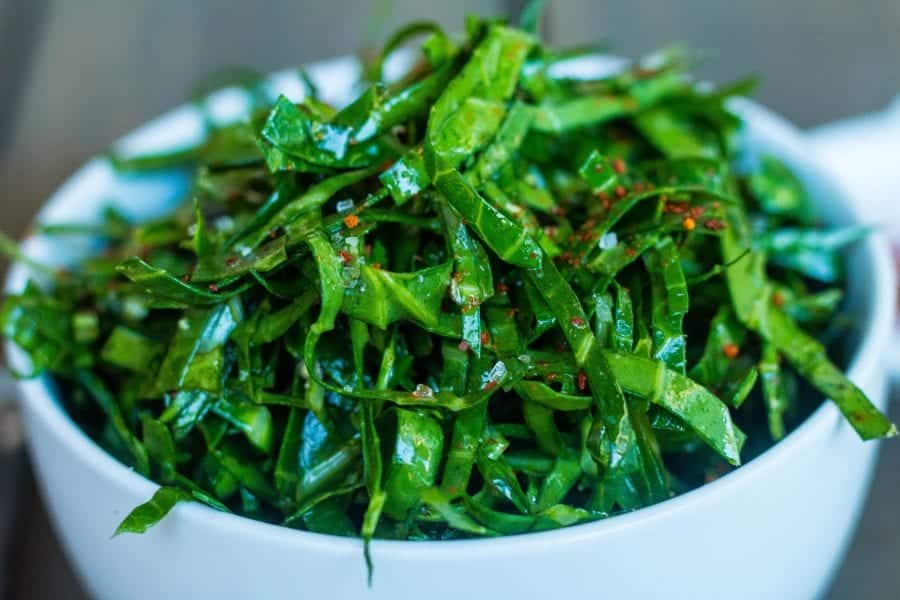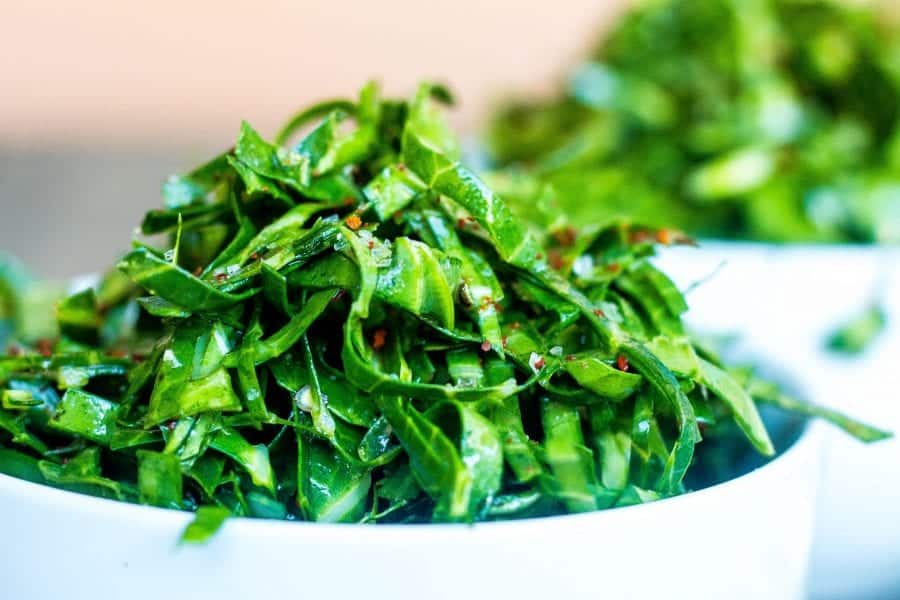 Ingredients
Collard greens leaves

Juice from 2 medium lemons

2

garlic cloves

minced

1

tablespoon

rice vinegar

1

tablespoon

olive oil

1

teaspoon

Aleppo pepper

1

teaspoon

kosher salt

1

teaspoon

black pepper
Instructions
Slice away the tough veins from the center of the collard greens leaves.

Stack 8-10 halves of leaves on top of each other and roll tightly.

Using a very sharp knife, chop the roll into very thin ribbons.

Wash the sliced collard greens very well under cold water and drain.

Mix the remaining ingredients in a bowl.

Place the collard greens in a large bowl and toss well with the dressing. Add additional Aleppo pepper if desired. Season with kosher salt and pepper to desired taste. Serve immediately or let sit for awhile to allow the flavors to merge further.
Subscribe To My YouTube Channel
Subscribe To My YouTube Channel for full length recipe videos. Click the bell icon to be notified when I post new videos.
My YouTube Channel