Quick wine braised collard greens that are silky smooth and tender in a deeply flavored broth perfect for an easy weeknight gourmet side for dinner or special occasion.
Badass collards shouldn't be reserved for just Sunday soul food dinners and holidays. These silky-smooth meatless braised collard greens were meant to be enjoyed on weeknights as well.
Musical Inspiration for Wine Braised Collard Greens
If I could only eat one food, it'd likely be collard greens. My love affair with this dark cruciferous aphrodisiac runs deep and goes way way back. It was the first vegetable I planted, cared for, and harvested as a youngster working in my grandfather's garden. I don't have a favorite or preferred way to enjoy them, as I'm more into trying to discover as many ways as possible to enjoy them. Michael Henderson's song "Let Me Love You" was on mind when I made this dish. Recently my daughter hinted at wanting some good greens this week while taking a break from her studies. In the same conversation she asked me if I knew who Michael Henderson was and more importantly wanted to know "who talks about a trolley in a love song". Of course I stayed cool and hid my excitement that her spotify playlist included Michael Henderson, but then went on to explain how great writers and poets were excellent at setting the scene for their audience before then taking the opening to further discuss the contributions of one our slept on unsung musical greats. If you think I'm embellishing look him up here on wikipedia.
How to Cook Greens without Meat
Traditional southern or better yet black people style collard greens you find in any legit soul food restaurant or at big mama's house call for long, slow cooking in a smoky meat based broth usually with pork or turkey. I get questions all the time from many followers looking for a no taste compromise meatless alternative. They want to know how to cook greens without meat. These are people who are vegan or just looking to reduce meat consumption for health reasons. Often the question behind the question is how do I get that smoky, savory flavor without meat. It's a fair question, and luckily one I have a good answer for. Though I'm not vegan, I am aware of keeping cholesterol and blood pressure in check hence I do experiment and look for meat free recipes particualarly as it relates to sides. From this perspective most sides I eat/cook are plant-based. The solution for cooking meatless greens with that heavenly smokiness is using dried smoky chili peppers. You essentially infuse your broth with smoke similarly to how you make tea. Just allow the chiles to steep in your broth before adding the greens.
Wine Braised Collard Greens Health Tips
We're always looking for ways to get mo greens into our lives and collard greens is one of the healthiest soul food vegetables out there. We grow collards and they make the menu cut at least once a week. Collard greens offer all types of benefits as they decrease the risk of obesity and overall mortality, diabetes, and heart health. This is great news for my fellow Southerners and soul food connoisseurs, but hold up! This assumes you cook them properly to get both maximum flavor and optimal health benefits. Properly means no super long cooking times, heavy use of pork fat, and over the top salting.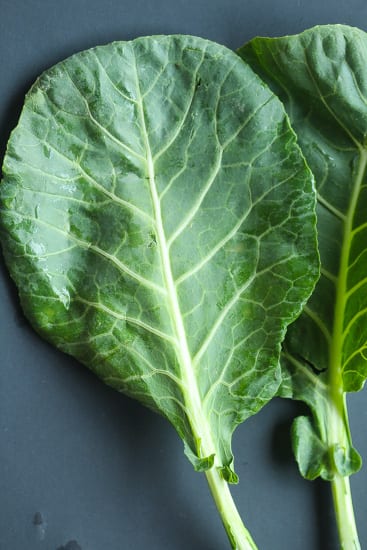 Wine Braised Collards Cooking Tips
Don't forget to remove the dried chiles otherwise they will dissolve in your broth and leave your greens spicy AF!

The smaller you cut the collards, the faster they cook. This is important as traditional methods call for long cook times to eliminate the bitterness while having the adverse impact of cooking away all those great nutrients. Unless you're drinking all that pot liquor you're missing out on the health benefits. Smaller pieces allow for quicker flavor absorption with less erosion of nutritional elements.

Use a sweeter wine like a Riesling or German gewürztraminer. Cooking will concentrate their sweetness and help offset the bitterness you get with the shorter cooking time.

If you choose a non-vegan route, use a leaner protein like smoked turkey. Saute in the initial step and add back in to the broth during the finishing steps
Flavor Profile of Wine Braised Greens
Though using a quicker cooking time than the traditional long-simmering versions, these wine braised collard greens have a much deeper flavor. The concentrated sweetness of the wine eliminates the natural bitterness of the greens while also along with the cider, helps ensure tender, smooth collards vs. that raw crunchy taste and mouthfeel. The cider vinegar also brings in the acidity to balance against the sweetness and maintain the savory integrity of the greens. The dried chiles are a great alternative flavor enhancer to smoked meats. It's not as deep a smokey flavor you'd get from smoked ham hocks or neck bones, but it's cleaner and more aromatic and absent of fat and cholesterol if you're monitoring. Adding smoked sweet paprika brings in that smokey element as well.
Braised Collards Meal planning Tips
Use freshest collards available and cook them soon after purchasing or harvesting

The braised greens can be made ahead and refrigerated for up to 2 days. IMO they taste better after sitting a while.

Make your own stock. You can produce more flavor, less salt, and more of a fresh vegetables taste.

Don't break the bank on the wine. Choose a moderate priced white, and make sure to poor yourself a glass while cooking!
Dope beats, fresh eats. Enjoy these beautifully delicious wine braised collard greens any day of the week or for your next Soul Food Sunday dinner.
For other quick meatless collard greens recipes try these Collard Greens Chiffonade or Miso Soup with Collard Greens. If you're interested in twists on classic soul food try these Crown & Coke Braised Ham Hocks or Braised Beef Neck Bones Sandwich.
Keep up with my food exploits as well as original recipes! You can find me on Instagram, Facebook, Twitter, and Pinterest. 
Ingredients
2

large bunches collard greens

pulled from stems and chopped

5

dried Chile peppers

or smoked meat for non-Vegan option

1

yellow onion

thinly sliced

Pinch

red pepper flakes

1

tablespoon

olive or canola oil

4

cloves

garlic

minced

2

cups

low-sodium vegetable broth or homemade

1

cup

white wine

Riesling or gewürztraminer

1/4

cup

cider vinegar

1

tablespoon

smoked sweet paprika

Kosher salt and freshly cracked black pepper

Cut and trim the collard greens

removing the tough stems. Roughly chop the trimmed greens into 1/2-inch ribbons.
Instructions
Heat the dried chiles in a large skillet over medium heat until fragrant, 2-3 minutes. Reduce heat and add oil to allow the chiles to infuse oil with smokiness.

Add the onions, garlic, paprika, salt, pepper and red pepper flakes to the same skillet. Add more oil if necessary. Saute until the onions are softened, fragrant and beginning to brown, 5 to 7 minutes. Remove the chiles.

Add the collard greens, stirring constantly until softened and all leaves coated well. Pour in the broth and wine and bring to a simmer. Reduce the heat to medium-low, cover and cook until the greens are tender, about 30 minutes.

Once the greens are tender add the vinegar and season more with salt and pepper.
Nutrition
Serving:
0
g
|
Carbohydrates:
0
g
|
Protein:
0
g
|
Fat:
0
g
|
Saturated Fat:
0
g
|
Polyunsaturated Fat:
0
g
|
Monounsaturated Fat:
0
g
|
Trans Fat:
0
g
|
Cholesterol:
0
mg
|
Sodium:
0
mg
|
Potassium:
0
mg
|
Fiber:
0
g
|
Sugar:
0
g
|
Vitamin A:
0
IU
|
Vitamin C:
0
mg
|
Calcium:
0
mg
|
Iron:
0
mg