Flavorful duck gumbo with deep smokey undertones, thickened with both okra and file, and complimented with a simple and easy dark oven baked roux.
The first time I made this smoked duck and andouille gumbo recipe I didn't really get a chance to enjoy it. Gumbo has always been an experience for me, worthy of rumored Outkast reunion level anticipation or first day of school wardrobe level planning. I don't buy new clothes, pencils, or trapper keepers for gumbo, but I have a gumbo spoon, gumbo bowl, and a special gumbo roux skillet!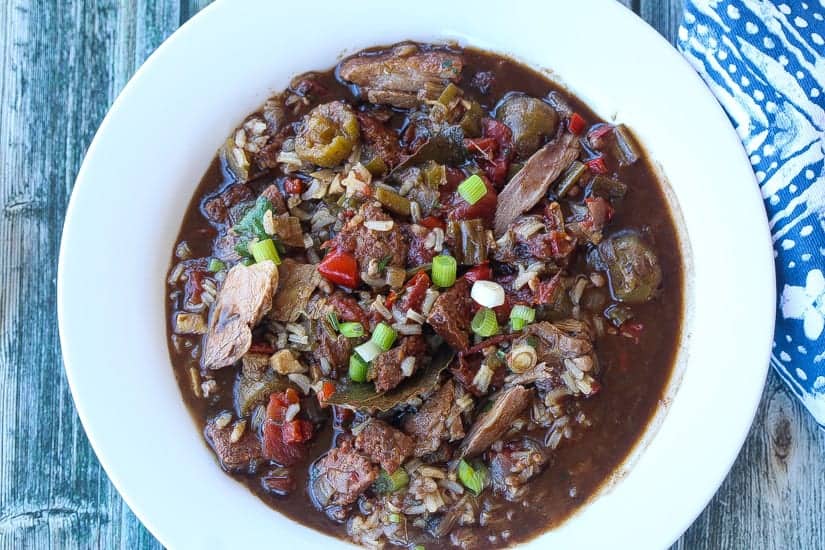 A house just ain't a home until you've cooked gumbo in it. I remember when we bought our nice big house in Chicago. We were super excited to be moving in after having been in temporary housing for what seemed like a few years, enduring contentious negotiations, and customizing a significant amount home buildout including the kitchen. I figured we'd get settled and after a few days I'd unpack the kitchen boxes to make my duck and andouille gumbo.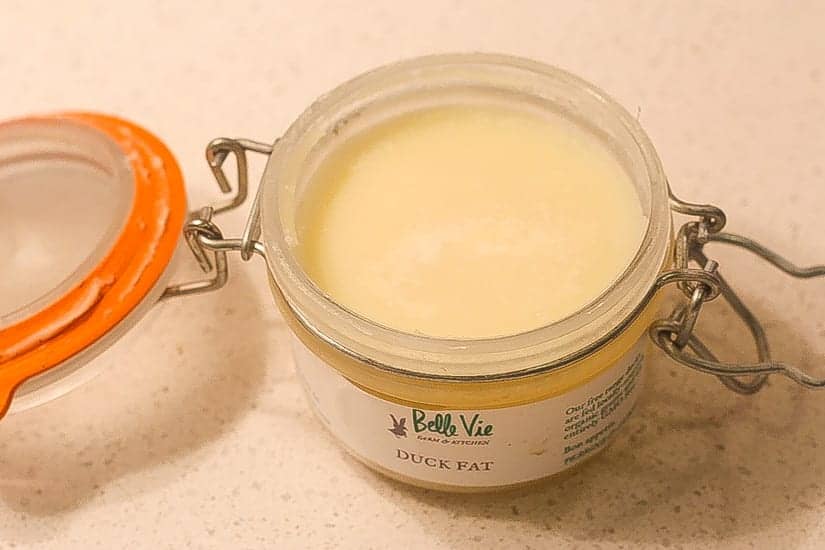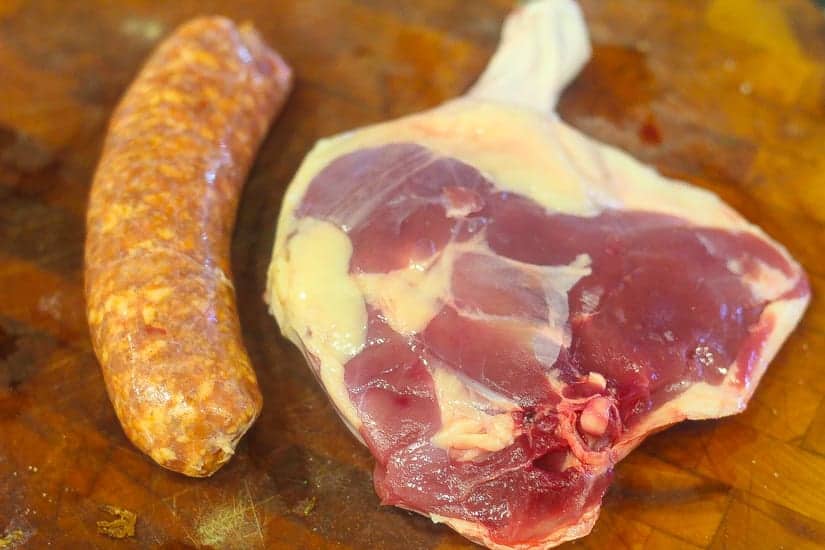 Gumbo Ingredients
I had copped my duck fat and duck legs after work near my office then grabbed the rest of the ingredients including the andouille sausage and the holy trinity from the grocery store closer to my house. My plan was to smoke the duck first and then finish the gumbo late that night after putting the kids down. I prefer to let my gumbo sit over night in the refrigerator as the flavors come together even more.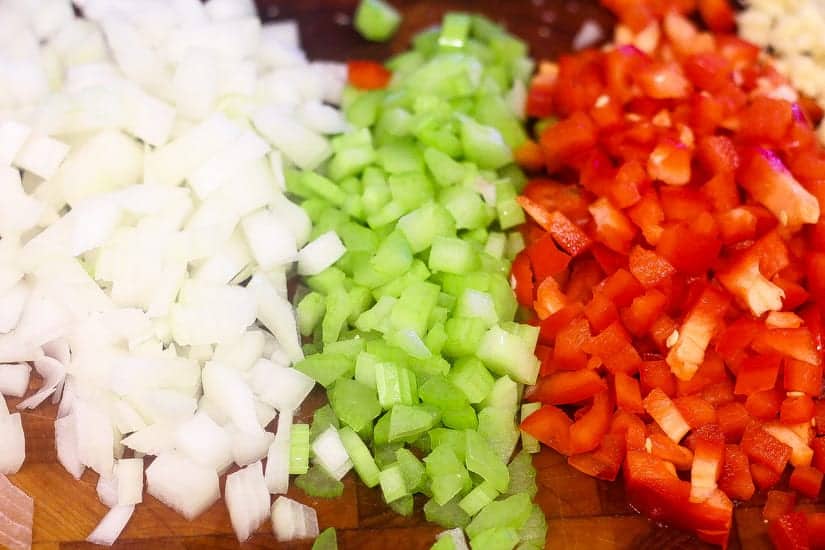 Making the Gumbo Roux
New house, busy work week needless to say I was managing and multitasking a lot. With the duck smoking outside I had no interest in making a traditional roux in terms of stirring the pot damn near an hour for an insane forearm workout. I prefer a very dark chocolate colored roux, so it would definitely take a while. In order to give my duck the careful attention I needed, I decided to "cheat" and bake the roux. This is super simple and nets whatever color you prefer without the chance to burn the roux unless you fall asleep and/or forget about it. The only downside, assuming you're a "purist" is the guilt for making such an effortless perfect roux.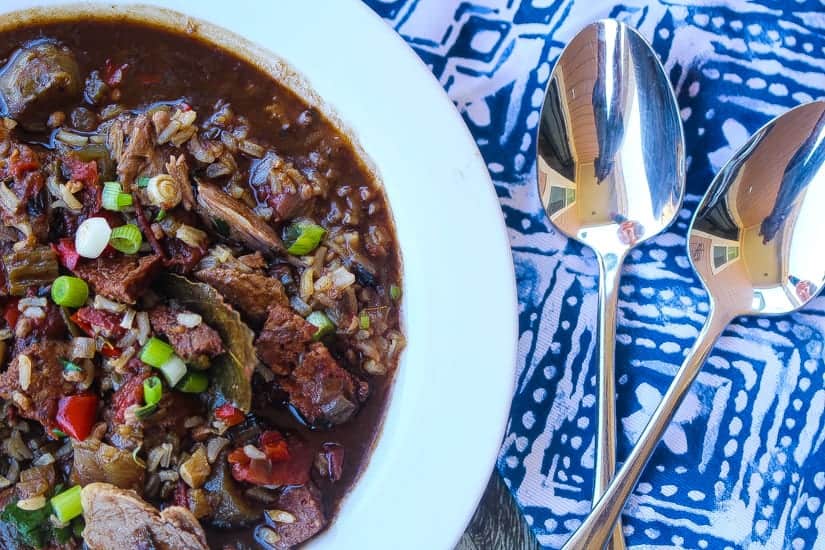 With the duck and roux done I could begin the slow process of layering the flavors that gives gumbo that umph or as we say "putting your whole damn foot in it!" As the aroma of fresh herbs, smoked duck, spicy andouille, and holy trinity of onions, peppers, and celery permeated the entire house my night got interesting to say the least. It actually became a nightmare as my wife and kids lay asleep upstairs. I decided to do a perimeter check of my new house and make sure the smoker fire had been completely eliminated in my backyard. Dressed in a wife beater and flip flops accesserozed with a golf club just in case there were ay surprises I walked to the back of the house, cleaned up, reflected proudly on my new crib before returning inside to begin shutting things down for the night.
As I went to my basement to power down my laptop and TV I noticed several bright lights coming through the side basement window. To bright to ascertain the source, I rushed upstairs in protection mode. Once upstairs there was loud aggressive knocking on my front door. I looked out the front window to see at least four Chicago police SUVs. Amped up and still clutching my golf club which I had instinctively grabbed on the way back to the main floor, I opened the door to several officers hands on weapons telling me to get on the ground in my own house and to drop my weapon.
I was confused, angry, and scared all in those few seconds. Confused as to why cops would be yelling at me to kneel in my own house, angry that my family was being threatened in the worst type of killjoy move, and scared that this was all going to end badly for me.Somehow in the midst of all this I was able to stay calm, comply and survive. The officers mentioned that a neighbor had reported an attempted break-in and after checking my ID which didn't have my new address, alarm bells went off again. Thinking on my feet I motioned to cable/internet receips as well as a open box of family photos. Satisfied they told me to have a nice day, but offered no apology. Get out the house and get to know your neighbors.
Now I'm pissed at the officers, pissed at my neighbors who had been so kind on moving day, and damn sure not up for gumbo. I never ate it. Based on the smell of the first floor, I'm sure my previous smoked duck and andouille gumbo was da bomb and as good as this version. My kids had no issues and enjoyed it fully. For them it was a good day.
Duck and Sausage Gumbo Flavor Profile
The duck fat combined with the duck leg and silky dark roux add intense richness. I used red bell peppers instead of green for a slightly sweeter profile. If possible use fresh ingredients only, which I did for all except the diced tomatoes I included. Tomatoes can be a hot button item when discussing gumbo recipes amongst many from Louisiana.
The argument goes that tomatoes have no place in gumbo. However, despite the fact that most Americans attribute gumbo to Creole influence, it, like most culinary efforts globally, is rooted in African cuisine. West Africans brought okra gumbo/stew with them during slavery. My grandmother frequently made reference to "okra gumbo" which she made with tomatoes and thus they make an appearance in my recipe.

Key Tips for Making Duck Gumbo
You don't have to smoke the duck leg until it's done. You're not aiming to cook it fully, only to get that smokey flavor. The duck will have plenty of time to finish cooking when added to the gumbo.
The gumbo roux is everything! Use a heavy cast iron skillet for the roux. It holds heat well and will brown evenly. Aim for dark roux to get that rich and classic authentic authentic Louisiana gumbo taste
Make your own chicken stock. Store bought doesn't offer enough complexity nor depth of flavor
Thickness is achieved via the okra or file. You can use one or the other or both if you're compelled, but generally one is enough. Adjust the amount of each depending on desired thickness
Make gumbo well in advance as it gets better with time.
Choose a very heavy pot, preferably a big cast iron dutch oven when making a large volume of gumbo. Avoid light weight pots as they do not conduct heat evenly causing the need for more frequent stirring to avoid burning ingredients on at the bottom.
Key Equipment Needed
Making Duck and Sausage Gumbo recipe
If you make this rich, flavorful duck gumbo, please come back and leave me a comment below with your feedback. Definitely take a photo of the dish and be sure to tag #foodfidelity so that I can see them.
You can also keep up with my food exploits as well as original recipes! You can find me on Instagram, Facebook, Twitter, and Pinterest. If you like any of the music you find on the site, visit me at Spotify to find curated monthly playlists.
For another gumbo recipe try this Gumbo Z'herbes or for an untraditional take try this African gumbo. Also, rather than store bought stock make your own using this Homemade Chicken Stock recipe.
Keep up with my food exploits as well as original recipes! You can find me on Instagram, Facebook, Twitter, and Pinterest.
Ingredients
3

duck leg quarters

Fresh thyme

Fresh oregano

Fresh basil

4

whole bay leaves

2

cups

dark roux

using your preferred roux recipe or quick oven baked version

2

medium onions

chopped

4

ribs celery

chopped

2

red bell peppers

chopped

2

tablespoons

garlic

minced

2

tablespoons

kosher salt

1/2

tablespoon

black pepper

2

tablespoons

smoked paprika

1

teaspoon

cayenne pepper

1

pound

frozen or fresh okra

sliced

1 14

oz

can diced fire roasted tomatoes

1

pound

andouille sausage

¼

cup

chopped green onion

¼

cup

chopped parsley
Instructions
Smoke duck according to manufacturing instructions. Once smoked, remove meat and reserve for gumbo, saving bones for stock. (The smoking may be done a day in advance)

Cover duck bones with water in a 2-gallon stockpot. Add 2 bay leaves plus 2-3 stems and leaves of all three herbs and simmer for two hours. Strain and reserve stock.

Pre-heat oven to 400 degrees. Combine 1 cup of duck fat and 2 cups of flour in a cast iron dutch oven and mix well. Add roux to the oven and bake until you achieve desired color. You may need to check and stir every 15-20 minutes until browned.

Once roux is done place pot on the cooktop (be careful as pot will be quite hot). Add onion, celery, bell pepper, garlic, salt, pepper, cayenne, and paprika. Let simmer until vegetables are almost wilted.

Slowly add stock to the roux, stirring to create a smooth consistency and dissolving the roux fully. Let simmer an hour.

While simmering, cut reserved duck meat and andouille into cubes. Set aside.

Adjust seasoning if needed and add tomatoes, remaining bay leaves, okra, duck meat, andouille, green onion, and parsley. Simmer for 15 minutes.

Serve hot over rice of choice.
Notes
If you don't have access to duck fat for your roux, feel free to substitute your oil of choice. Vegetable, canola, reserved chicken or bacon grease will all work.
Subscribe To My YouTube Channel
Subscribe To My YouTube Channel for full length recipe videos. Click the bell icon to be notified when I post new videos.
My YouTube Channel