This creamy Israeli couscous salad with mushrooms and kale dish is the perfect comfort food. It's a delicious and filling weeknight gourmet dinner option that requires so little effort but nets big returns.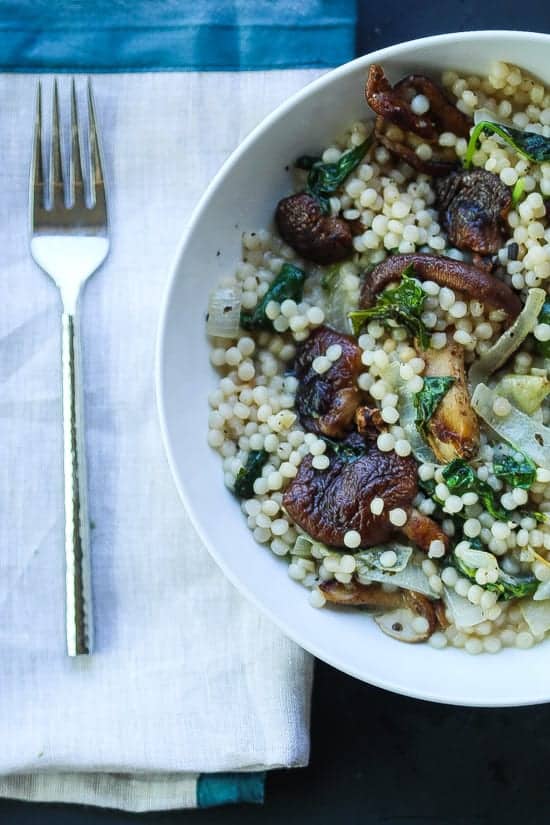 Regular granular couscous is more often used as a side. However its more pasta like cousin Israeli has enough heft to be the main dish. We always referred to them as pasta pearls hence why you might also hear it referred to as Pearl couscous. Israeli couscous has that ready-made chewy al dente texture. I wanted something hearty and filling but meatless. If you like risotto but don't want the work risotto requires, couscous with its chewy texture, short cooking time, and ease of cooking gets it done.
A few years back I worked for Near East Foods which specializes in pre-packaged products like couscous, quinoa, and rice pilaf. At the time we were developing couscous recipes for promotional work including for the website and TV. We didn't have commercial kitchens back then so I developed recipes at my house.
Back then Raphael Saadiq's "Stone Rollin" album was out and in steady rotation while I was in my own personal couscous lab. The track "Movin Down The Line" would take me to a really good place as it reminded me how fortunate I was to come home to such an awesome wife daily. We shared many good couscous meals together thanks to brother Saadiq. I was eating/cooking couscous daily and this recipe was one I played around with during those days though I tweaked it to reflect today's times.
Creamy Israeli Couscous Flavor Profile
I went for a filling, quick meatless dish that would also be gourmet. The shiitake mushrooms provide that meaty flavor as well as helps to elevate the dish. I toasted the couscous before cooking them which adds some serious depth of flavor to an otherwise bland ingredient. Toasting Brings out the savory element.
I also included both lemon juice and zest to brighten the dish. The light citrus node pairs well with the greens and adds some acidity to balance against the creaminess from the almond milk. The onions are sauted slowly before building this dish. This brings out the natural sweetness of the onions as well as adds a bit of that caramelized taste. The mild and fluffy couscous brings the entire dish together.
Creamy Israeli Couscous Cooking Tips
Toast the couscous before cooking as it makes a big difference in flavor

Israeli is very different than grainy couscous. Treat it more like pasta in terms of cooking approach. If you've never cooked with it, follow the package directions exactly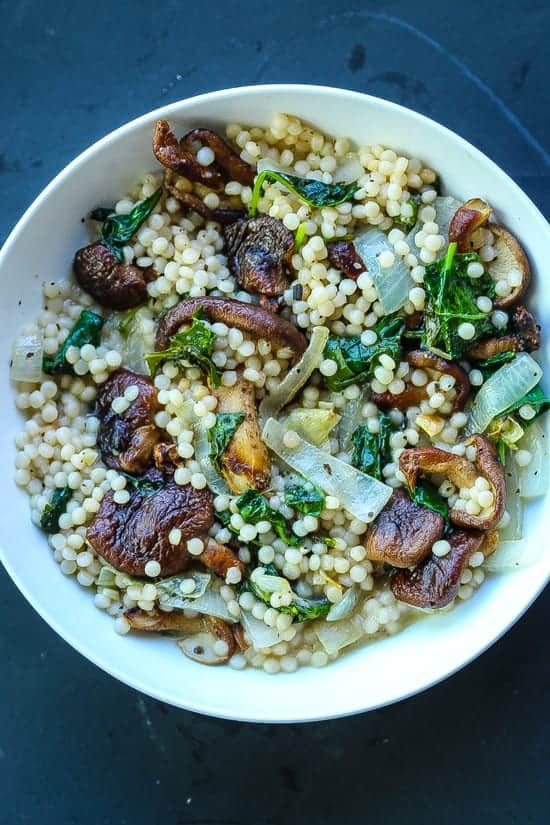 Creamy Israeli Couscous Meal Planning
Make a large batch because it's great for meal prepping. Use it for different dishes served either cold or hot

Israeli couscous is made from wheat flour, so be careful if you're looking for a gluten-free option. it is not a gluten-free food, though it is vegetarian and vegan.
Creamy Israeli Couscous Health Benefits
Israeli couscous is fat and cholesterol free, low in sodium and includes significant amounts of vitamin C, potassium, protein and fiber. However, if you're watching your weight note that is relatively high in calories so pair it with lower calorie ingredients.

Israeli couscous has a low glycemic index, making it healthy and high-fiber. That high dietary fiber means it helps you feel fuller longer.
Enjoy this delicious and filling vegan Israeli couscous salad for a weeknight gourmet solution!
For another quick Gourmet Israeli couscous recipes try this Grilled Scallops with Israeli Couscous or Citrus Couscous.
Keep up with my food exploits as well as original recipes! You can find me on Instagram, Facebook, Twitter, and Pinterest.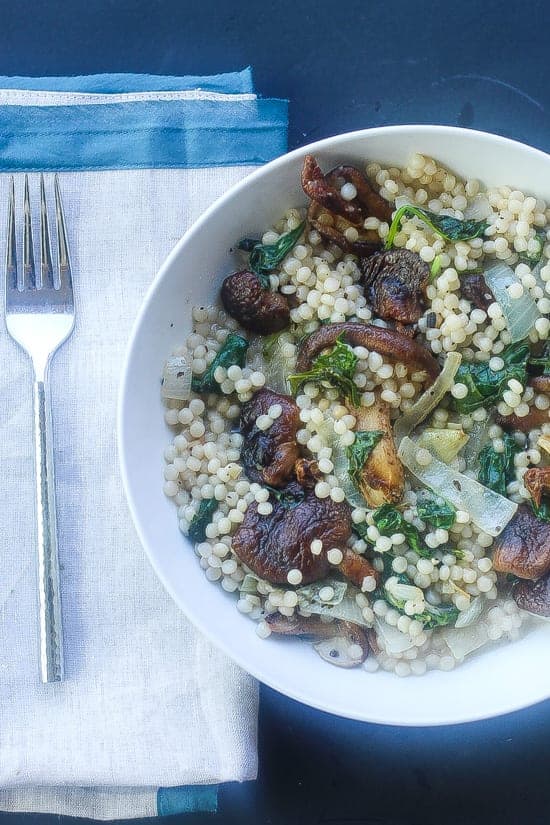 Ingredients
1

lbs

shitake mushrooms

3

cups

Israeli "Pearl" couscous

1

yellow onion

thinly sliced

1

clove

garlic

minced

1

teaspoon

kosher salt

1

teaspoon

ground black pepper

½

tablespoon

smoked sweet paprika

3

cups

spinach or kale

washed and roughly chopped

2

tablespoons

almond milk

2

tablespoons

olive oil

Juice from 1 lemon

Lemon zest
Instructions
Toast the couscous in a skillet. Remove from skillet and then proceed to cook the couscous according to package directions.

While couscous is boiling in a cast-iron skillet heat olive oil over medium to high heat, then add in mushrooms but be careful not to overcrowd the skillet. Cook until browned fully, flipping as needed. This should take about 3-4 minutes per side. Remove mushrooms from the pan and set aside.

In the same skillet, add in your onions and sauté them for 10 to 15 minutes or until they become translucent. After about 10 minutes add the spices and stir.

If needed add more oil. Add in garlic and sauté for 2 to 3 minutes and then stir in the spinach until it begins to wilt.

Add the couscous, almond milk, mushrooms and lemon juice mix and simmer low heat for 2 minutes. Add zest, mix well taste and adjust seasoning as needed.
Notes
Toast the couscous before cooking as it makes a big difference in flavor Israeli is very different than grainy couscous.
Treat the couscous more like a pasta in terms of cooking approach. If you've never cooked with it, follow the package directions exactly
Nutrition
Serving:
0
g
|
Carbohydrates:
0
g
|
Protein:
0
g
|
Fat:
0
g
|
Saturated Fat:
0
g
|
Polyunsaturated Fat:
0
g
|
Monounsaturated Fat:
0
g
|
Trans Fat:
0
g
|
Cholesterol:
0
mg
|
Sodium:
0
mg
|
Potassium:
0
mg
|
Fiber:
0
g
|
Sugar:
0
g
|
Vitamin A:
0
IU
|
Vitamin C:
0
mg
|
Calcium:
0
mg
|
Iron:
0
mg
Subscribe To My YouTube Channel
Subscribe To My YouTube Channel for full length recipe videos. Click the bell icon to be notified when I post new videos.
My YouTube Channel