New Orleans Barbecue Shrimp Recipe
Classic New Orleans style bbq shrimp appetizer.
Despite the confusing name, this barbecue shrimp recipe is neither grilled nor contains barbecue sauce. There is nothing about it that says barbecue, but it is as delicious as all get out, and will make you forget about such details. These fat, juicy shrimp with butter, garlic, spices, beer, and Worcestershire sauce glistening all over their bodies were an instant classic in my house when I served them.
 Â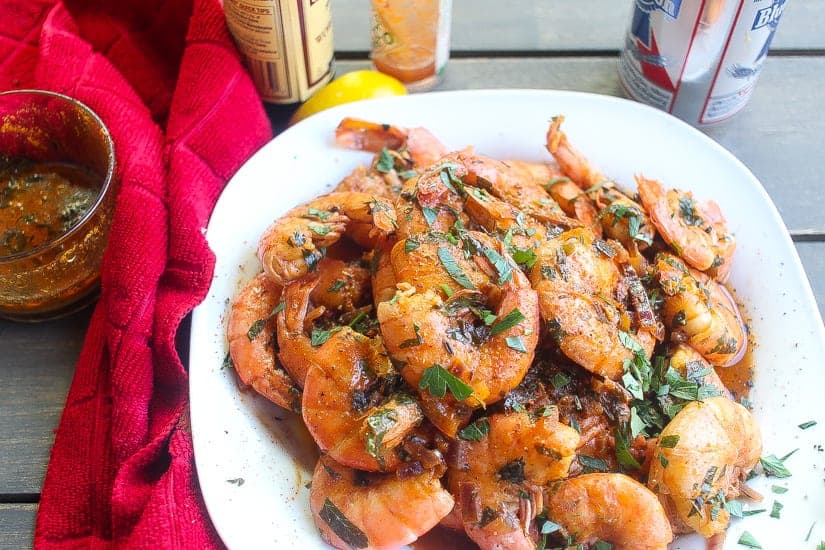 I had my first plate of barbecue shrimp during one of my early adult trips to the Big Easy city of New Orleans. I had driven down with my Uncle Rick, who only carried two cassettes – Bobby "Blue" and The O'Jay's. We listened to Bobby on the way there and The O'Jay's on the way back. I learned all the lyrics to "Ain't No Love In The Heart Of The City" and can now imitate the famous Bobby Bland snorting sound. We stopped at this hole in the wall shack for some grub.
Back then, if BBQ was on the menu, then BBQ was what I was having. It didn't matter the protein type, I was going IN! I ordered the barbecue shrimp and was damn right indignant when the plate arrived absent of any smoke or grill marks. The lack of sauce was less of an issue, as I'm a Texas boy accustomed to eating "real Que" a.k.a. no sauce. However, it did have this magical aroma from the sweet combination of herbs, creole seasoning, fresh garlic and Worcestershire sauce. My love and familiarity with Worcestershire goes back to my grandfather who used it on/in everything and called it Wooooo eerily similar to Rick Flair's famous call!
The platter of barbecue shrimp came with shells on. Don't even think about removing the shells, heads, and tails before cooking. Leaving them on locks in all that moisture and flavor the sauce. Just be prepared to make a fun mess. Grab a roll of paper towels and keep them nearby. As you peel the juicy shrimp, don't sweat the sauce rolling off the shrimp from your fingers down your forearms. It's just part of the deal. The best part is the finishing move. Make sure you have some white crusty French bread on hand to sop up that sauce that's also laced with butter, lemon, and beer.
Dope beats, fresh eats, best life. Enjoy this barbecue shrimp appetizer, but don't forget the bread for some real deal sopping. Wooo!
For other shrimp based recipes try this Mofongo Relleno or Shrimp Stew.Â
Keep up with my food exploits as well as original recipes! You can find me on Instagram, Facebook, Twitter, and Pinterest.Â
Ingredients
2

pounds

large gulf shrimp

head and tail on, unpeeled

1

lager style bottle of beer

3

tablespoon

of creole seasoning

1/2

cup

Worcestershire sauce

1

cup

of butter

6-8

cloves

of garlic

2

lemons

juiced

1/2

tablespoon

kosher salt

2

tablespoons

of ground black pepper

1/4

cup

fresh parsley

chopped

1

loaf French bread
Instructions
Heat large skillet on medium high heat beer for 3 minutes. Beer should be bubbling.

Add shrimp, spices, lemon juice, Worcestershire sauce, parsley, and garlic and cook over moderately high heat for 2-3 minutes.

Reduce heat to low and add cubes of butter, stirring constantly and adding more cubes after each additional cube has melted.

Cover the skillet and remove it from the heat. Let sit for 15 minutes so that the shrimp can absorb the flavors and finish cooking, stirring every 5 minutes or so. To serve plate shrimp and pour the sauce over the top. Serve with warm French bread.
Notes
Warm the bread and serve heated
To emulsify the sauce, be sure to add a little butter at a time while stirring rapidly.
Don't overcook the shrimp or they'll become tough and hard to peel.
Nutrition
Serving:
0
g
|
Carbohydrates:
0
g
|
Protein:
0
g
|
Fat:
0
g
|
Saturated Fat:
0
g
|
Polyunsaturated Fat:
0
g
|
Monounsaturated Fat:
0
g
|
Trans Fat:
0
g
|
Cholesterol:
0
mg
|
Sodium:
0
mg
|
Potassium:
0
mg
|
Fiber:
0
g
|
Sugar:
0
g
|
Vitamin A:
0
IU
|
Vitamin C:
0
mg
|
Calcium:
0
mg
|
Iron:
0
mg