We kicked off our Kwanzaa celebration with this grilled Piri Piri Shrimp appetizer. Vibrant, fiery, with a little citrus this was a great way to start. Afterall, what's not to love about perfectly grilled jumbo shrimp.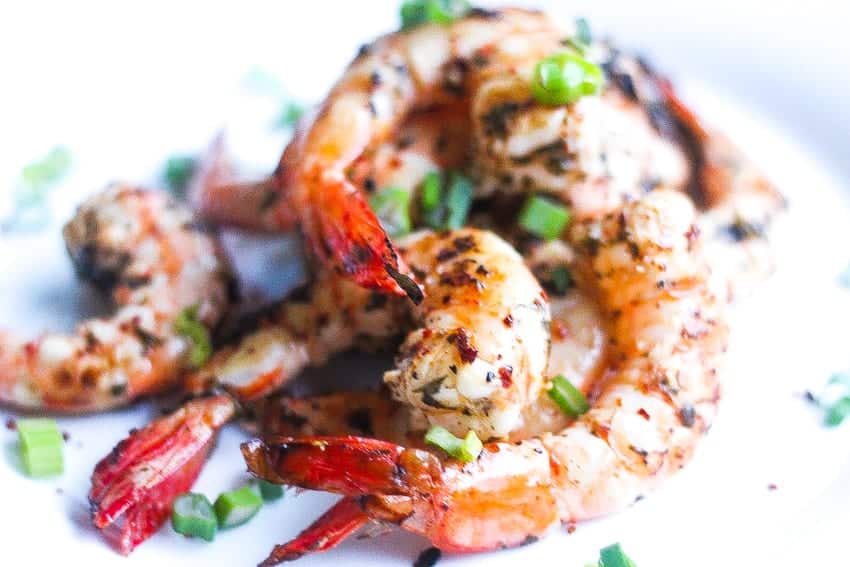 Honestly, after cooking a bunch for a big Christmas family dinner I don't have the energy for much more cooking. Plus, being the introvert that I am, I'm exhausted from all the conversations. I love family gatherings but am tired nonetheless. However given Kwanzaa celebrations run from day after Christmas through New Year's there is cooking to be done unless you prefer to eat out. We do a mixture of both in our house.The day after is reserved for leftovers then it's rotation between home, restaurants, and friends' homes. I tend to make condiments like this beet chutney and cucumber relish well in advance and then most of the other dishes are pretty low involved.
Low involvement is just what these piri piri shrimp are. All you need is a hot grill or grill pan and some piri piri seasoning to get these juicy jumbos in a few minutes! Traditional peppers used in native African cuisine are super spicy. If fire isn't your thing, I recommend deseeding the chiles prior to using them in your spice rub. Likewise if you choose to avoid whole chiles, use minimal amounts of chile flakes.
These are a quick cook over some serious high heat, so if you want these piri piri shrimp to tasty very piri piri, then do two things: One – use a good high quality smoked sweet paprika, as it will provide that smokey essence familiar to cooking over an open fire plus that bright red piri piri color. Two – be generous with the spice mix before and after cooking. The flavor is in the rub with the complexity achieved via the cardomom, ginger, and oregano. With the cardomom you get that fruity aroma and lemony, flowery taste. The ginger has milder lemony notes but is also peppery which makes it a good partner for the floral cardomom and earthy paprika
Dope beats, fresh eats. Enjoy these piri piri shrimp as a quick appetizer. Top them with a quick hit of fresh lemon juice and thyme right before serving.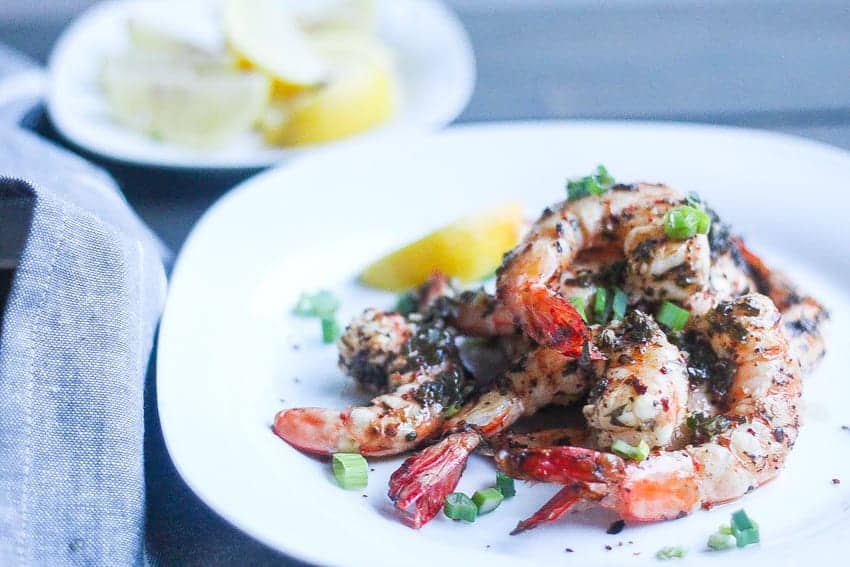 Piri Piri Shrimp
Print
Ingredients
6-8

Jumbo Shrimp

shells removed, deveined, and cleaned

1

teaspoon

sea salt

½

teaspoon

ground Cardamon

½

teaspoon

brown Sugar

½

teaspoon

Ground dry Ginger

2

teaspoons

Paprika

2

teaspoons

ground dried Pequin or birds eye chili

substitute red chili flakes

2

teaspoons

Garlic powder

2

teaspoon

dried oregano
Instructions
Add all spice/herb ingredients to a mixing bowl and blend well

Pat dry the shrimp with a paper towel. Season with half the spice mix and let sit in the refrigerator uncovered for 20-30 minutes

Pre-heat stove-top skillet pan on high heat. brush shrimp on both sides with oil. Grill shrimp on each side 2-3 minutes

Serve with the reserve spice mix, fresh lemon juice, and fresh thyme.
Recipe Notes
For an interior moist shrimp make sure to dry the exterior well before cooking. The refrigerator step helps this.
You can adjust any spice amounts to suit your taste. Rub will last for up to 2 months if stored in air tight jars