Welcome to the world of crispy and flavorful air fryer broccolini! If you're a fan of this good and good for you vegetable, get ready to take your broccolini game to the next level and get perfectly cooked broccolini with that nicety crunch using the magic of your air fryer.
Whether you're looking for a quick and easy side dish or a delicious addition to your favorite recipes, air fryer broccolini is here to deliver an explosion of flavors and textures that will leave your taste buds wanting more.
Make this TWO-ingredient super quick roasted broccolini recipe. Broccolini pieces are seasoned with tajin spice and cooked in less than 5 minutes in air fryer for a quick and delicious side dish.
Most of the time I eat broccolini raw, lightly seasoned with olive oil and sea salt. However, for a cooked version, you can't beat air fryer roasted broccolini. It's simple, but next-level flavor. It's lightly charred, the natural sweetness is concentrated, then the added tajin just puts it over the top.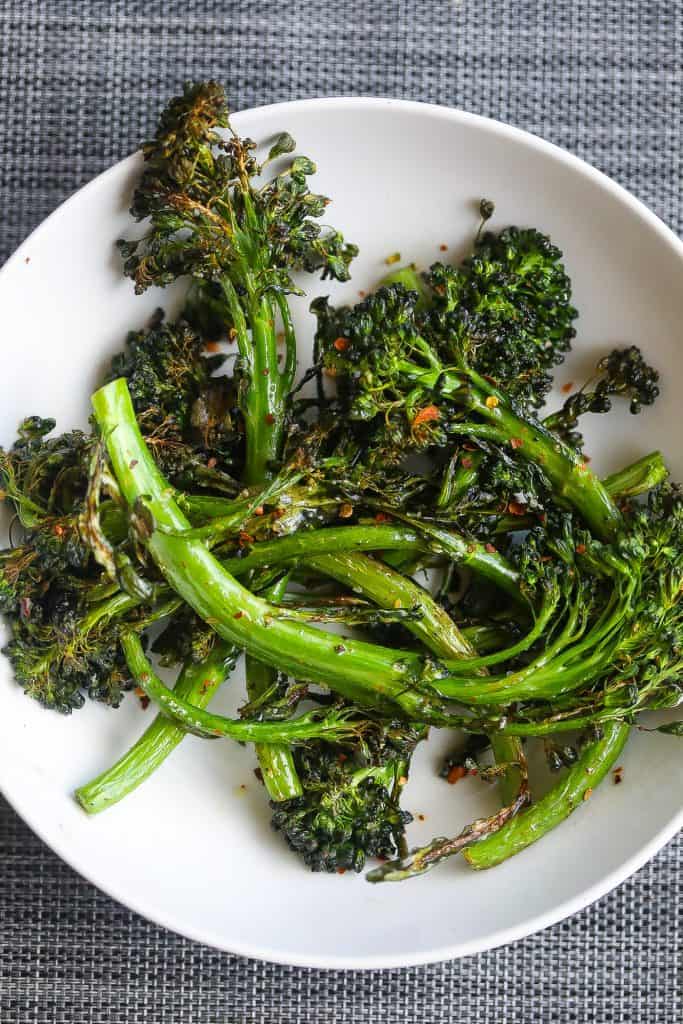 What Is Broccolini
Broccolini, also known as baby broccoli or broccolette, is a vegetable that resembles a smaller and more delicate version of traditional broccoli. It has long, slender stems and small florets, and it is a hybrid vegetable that combines the flavors of broccoli and Chinese broccoli.
Broccolini has a milder and sweeter taste (can be eaten raw) compared to regular broccoli, and it is tender and easy to cook. It is a versatile ingredient that can be used in various dishes, from salads and stir-fries to roasted or grilled preparations.
Broccolini vs. Broccoli Rabe
Broccolini and broccoli rabe are both green vegetables, but they differ in terms of their appearance and flavor. Broccolini has long, slender stems with small florets, while broccoli rabe has thicker, more substantial stems with larger leaves and florets. In terms of taste, broccolini has a milder and sweeter flavor, similar to regular broccoli, while broccoli rabe has a slightly bitter and more pronounced flavor.
Health Benefits Of Broccolini
Broccolini is not only delicious but also packed with several health benefits. This nutritious vegetable is a good source of vitamins C and K, providing immune support and aiding in bone health. It is also rich in dietary fiber, which promotes digestion and supports a healthy weight. Broccolini contains antioxidants that help protect the body against oxidative stress and reduce the risk of chronic diseases. Including broccolini in your diet can contribute to a well-rounded and nutritious meal.
Beats and Eats (music to pair with broccolini)
I've had broccolini cooked many ways, but I'm starting to believe air frying may be the best method for cooking next level broccolini. The beauty of using your air fryer is you get stems cooked all the way through while not overcooking those delicate florets. That's magic!
Air Fryer Broccolini Ingredients
Broccolini
Tajin seasoning
Extra Virgin Olive Oil
Parmesan Cheese (optional)
How to air fry broccolini (step by step)
You really don't need directions as it's really really simple, but I'll include steps for those unfamiliar with either broccolini or air fryer cooking.
Step 1: Prep the broccolini
Rinse the broccolini, then pat dry with paper towel
Step 2: Season the broccolini
Toss broccolini in a large bowl with olive oil. Add the tajin seasoning and toss again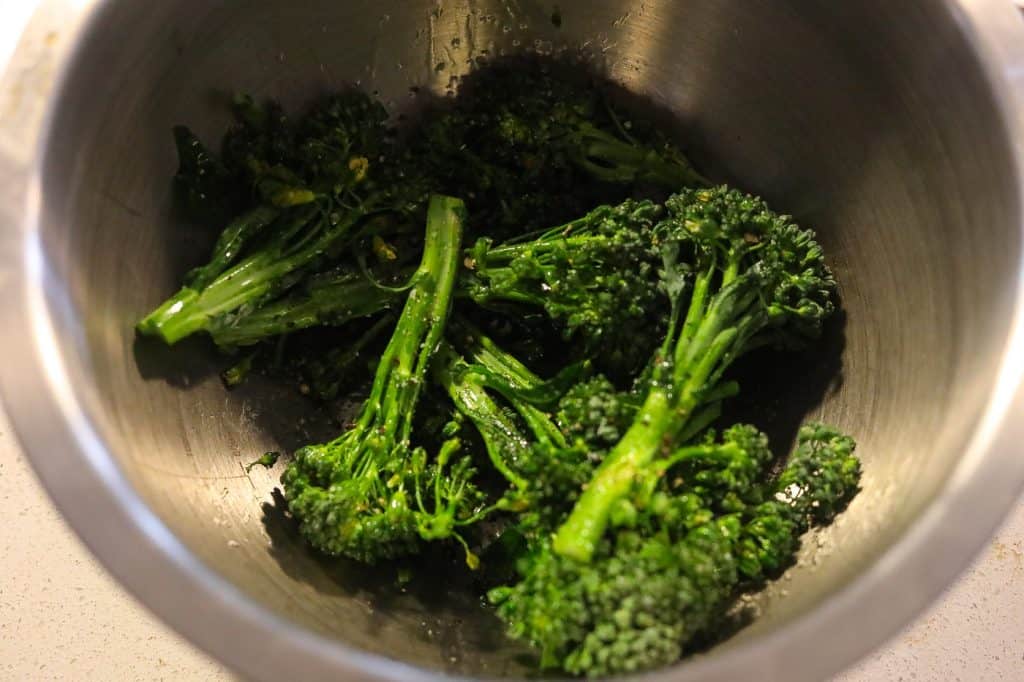 Step 3: Roast the broccolini
Pre-heat the air fryer to 330 degrees F. Add broccolini and cook for 3 minutes. Remove and serve immediately. Give it a splash of fresh lemon juice as a finishing touch. Lemon zest also adds more flavor.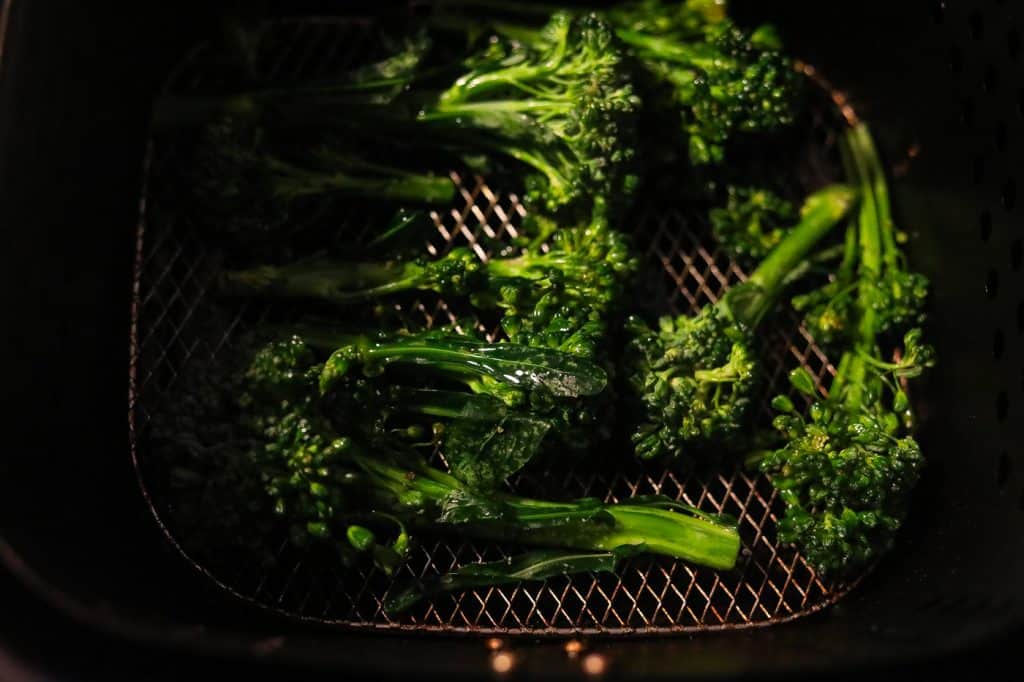 How To Trim Broccolini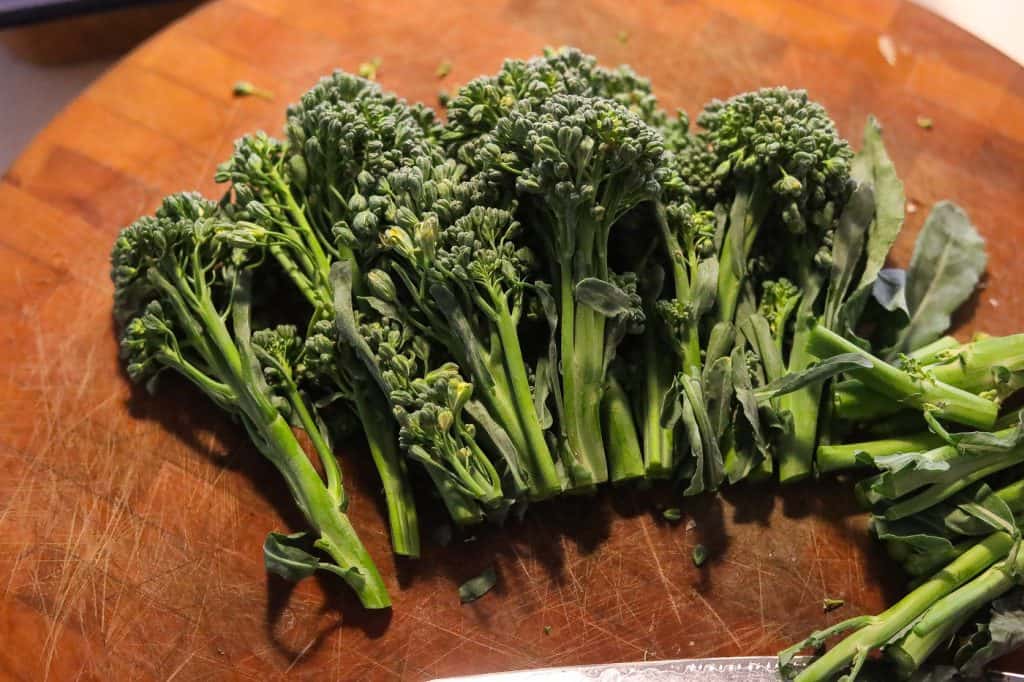 To trim broccolini, follow these steps:
Rinse the broccolini under cold water to remove any dirt or debris.
Lay the broccolini flat on a cutting board.
Using a sharp knife, trim off the tough ends of the stems, about ½ inch to 1 inch. Leave only the thin stalks
If desired, remove any large leaves or tough outer layers from the stems.
Optional: You can also trim any longer stems to ensure uniformity in size, if desired.
Serving Suggestions
Broccolini works with just about any meal. I normally prepare this dish as part of a quick weeknight dinner menu. I eat it as is, but I will share that it pairs well with my homemade buttermilk ranch dressing or can be topped with a nice shredded cheese. Eat as a side to air fryer pork chops.
It also pairs well with pan-fried fish, blackened chicken, blackened pork chops, or air fryer hot dogs, Piri Piri shrimp.
Other sides for consideration include Smoked Cauliflower and fried blackeyed peas.
Expert Air Fryer tips for cooking
Don't crowd the air fryer with the broccolini. Make sure the florets don't overlap and there is ample space for each
Cook time will vary by the thickness of the broccolini, but we're talking seconds vs minutes.
Note the delicate florets cook much faster than the stems. So trim thicker stems for a more uniform cook
Season how you wish. I was having fun with tajin so used it, but don't use too much as a little goes a long way. Simple kosher salt and pepper is always a good thing. Other spices for consideration include garlic powder, cayenne pepper, smoked paprika, etc.
I some time will sprinkle on cotija or parmesan cheese for a slight bit of indulgence. Sesame seeds or minced garlic both also make for good toppings.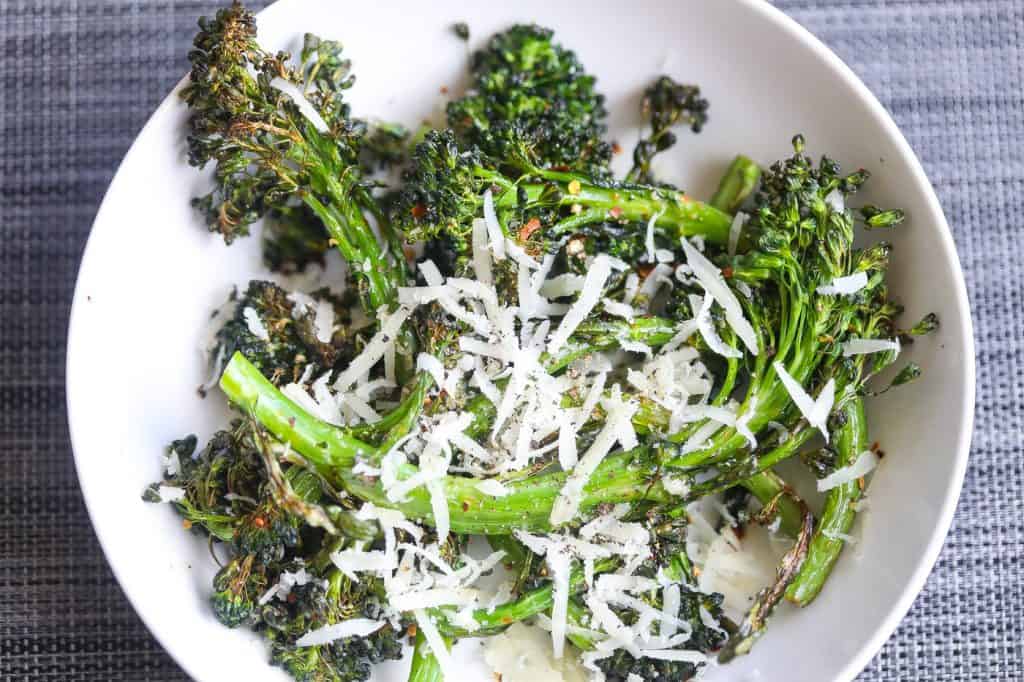 Other Ways Of Preparing Broccolini
Broccolini is a versatile vegetable that can be used in various ways. Here are some ideas for using broccolini:
Sautéed: Heat some olive oil in a pan and sauté broccolini with garlic and a pinch of red pepper flakes for a simple and flavorful side dish.
Roasted: Toss broccolini with olive oil, salt, and pepper, then roast in the oven until tender and slightly caramelized for a delicious and crispy texture.
Stir-fried: Add broccolini to your favorite stir-fry recipe, along with other vegetables, proteins, and your choice of sauce for a quick and nutritious meal.
Grilled: Brush broccolini with olive oil and grill over medium heat until charred and tender. This imparts a smoky flavor and adds a unique twist to your grilled dishes.
Steamed: Steam broccolini until tender-crisp, then season with lemon juice, salt, and pepper for a light and refreshing side dish.
Frequently Asked Questions (FAQs) About Air Fried Broccolini
Where can you buy broccolini?
Broccolini is seasonal, but can be found in most grocery stores/supermarkets. Trader Joe's, Whole Foods and other more specialty stores will have it on hand off-season as well.
What's the difference between Broccolini and broccoli?
Broccolini and broccoli may look similar, they are very different. Broccolini is a hybrid of broccoli and Chinese broccoli and is thinner and longer with a much sweeter taste.
What is tajin?
Tajin is a Mexican spice blend featuring ground chilis, dehydrated lime juice, and salt. It's used primarily to season fruit like melon, jicama, and mango.
Can I use regular broccoli instead of broccolini in the air fryer?
While broccolini and broccoli are similar, broccolini has a longer, thinner stalk and milder flavor. You can use regular broccoli in the air fryer, but adjust the cooking time accordingly.
How do I prevent the broccolini from getting too dry in the air fryer?
To prevent dryness, lightly coat the broccolini with oil before air frying. This will help retain moisture and enhance the crispy texture.
What temperature and time should I set for air frying broccolini?
Preheat the air fryer to 400°F (200°C). Depending on the thickness of the broccolini, cook for about 8 to 10 minutes, shaking the basket halfway through to ensure even cooking.
Can I season broccolini before air frying?
Absolutely! You can season broccolini with various spices like garlic powder, chili flakes, or lemon zest before air frying. Experiment with different flavors to suit your taste preferences.
How do I store leftover air-fried broccolini?
Allow the broccolini to cool completely, then transfer it to an airtight container and refrigerate for up to 3 days. Reheat in the air fryer or oven for a few minutes until warmed through.
For similar quick side dishes you might dig, check out these:
Air Fryer Broccoli w/ Cheese Sauce
Make Air Fryer Broccolini
This air fryer broccolini recipe is a game-changer when it comes to enjoying this delightful vegetable. Its crispy texture, vibrant color, and enhanced flavors make it a standout dish that will impress both your family and guests.
With the convenience and efficiency of the air fryer, you can whip up a batch of perfectly cooked broccolini in no time, bringing a healthy and delicious addition to your meals. So, go ahead and embrace the magic of the air fryer, savor every crispy bite of your broccolini creation, and let your taste buds dance with joy.
If you make this super easy and tasty roasted broccolini recipe please come back and leave me a comment below with your feedback. Definitely take a photo of the dish and be sure to tag #foodfidelity so that I can see them.
You can also keep up with my food exploits as well as original recipes! You can find me on Instagram, Facebook, Twitter, and Pinterest. If you like any of the music you find on the site, visit me at Spotify to find curated monthly playlists.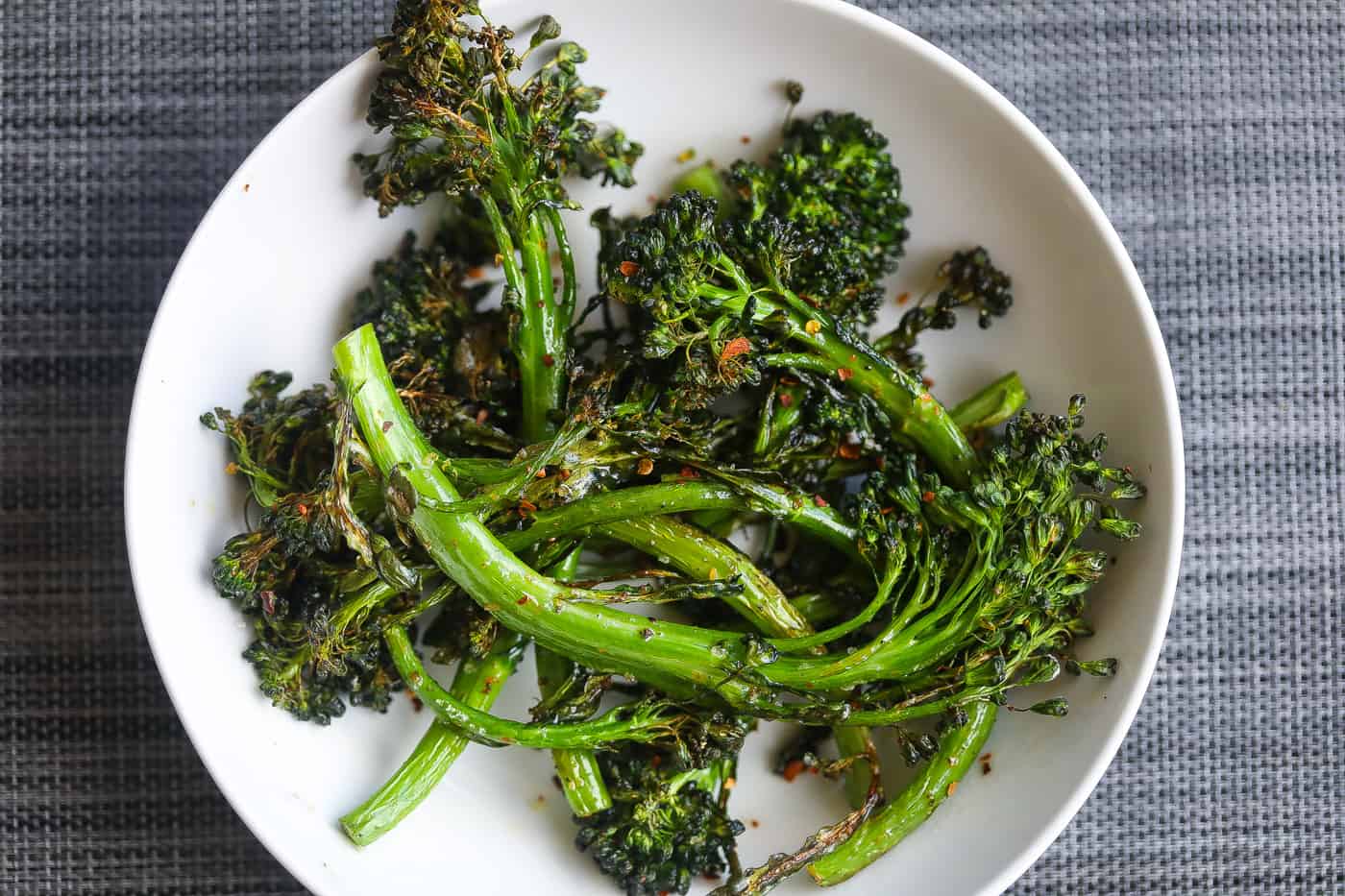 Ingredients
2

bunches

broccolini

2

tablespoon

olive oil

1

teaspoon

tajin
Instructions
Rinse and dry the broccolini

Toss in olive oil, then season with tajin

Pre-heat air fryer to 330 degrees F. Add the broccolini and cook for 3 minutes. Remove and serve
Notes
Don't crowd the air fryer with the broccolini. Make sure the florets don't overlap and there is ample space for each. Cook in batches if needed
Cooking time will vary by the thickness of the broccolini, but we're talking seconds vs minutes.
Note the florets cook much faster than the stems. So trim thicker stems for a more uniform cook
Nutrition
Calories:
97
kcal
|
Carbohydrates:
6
g
|
Protein:
3
g
|
Fat:
7
g
|
Saturated Fat:
1
g
|
Sodium:
25
mg
|
Fiber:
1
g
|
Sugar:
2
g
|
Vitamin A:
1500
IU
|
Vitamin C:
78
mg
|
Calcium:
60
mg
|
Iron:
1
mg
Subscribe To My YouTube Channel
Subscribe To My YouTube Channel for full length recipe videos. Click the bell icon to be notified when I post new videos.
My YouTube Channel